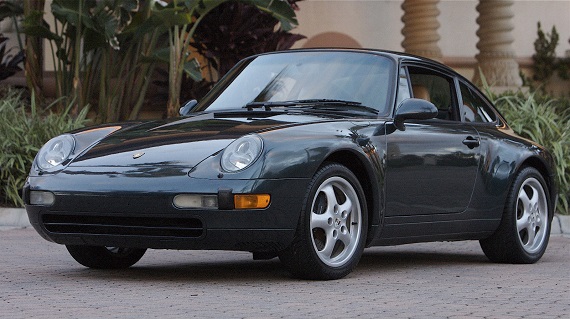 We'll continue our brief green theme for the week with this Aventurine Green Metallic 1995 Porsche 911 Carrera Coupe, located in Florida, with 135,351 miles on it. While many surely exist we do not come across higher mileage examples of the 993 as often as with the other 911 models – not surprising given that they are the youngest of the air-cooled cars – so our grasp of the market and their values once we reach this sort of mileage is a bit less sure. As with any second-hand car those extra miles shouldn't necessarily dissuade us from keeping it in consideration, we must simply take greater regard of its care over those miles. And as we have seen with many other examples, a higher mileage vehicle that has been well cared for actually can make for a better alternative to a car with fewer miles that has been neglected. What will be different is our approach given the general collector appeal of the 993. That places this car directly in front of us as a driver-quality example and one that an owner should be capable of getting plenty of joy from over the coming years, but without having to pay the typical 993 premiums. For those in search of that final air-cooled magic this 993 may offer great promise.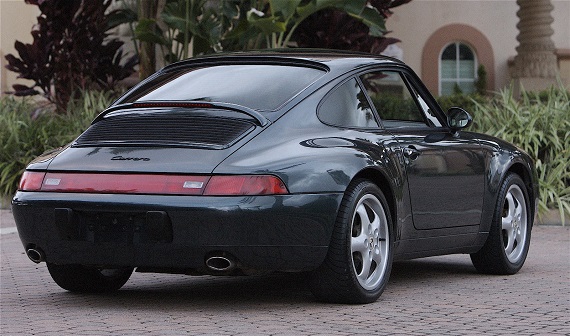 Year: 1995
Model: 911 Carrera
Engine: 3.6 liter flat-6
Transmission: 6-speed manual
Mileage: 135,351 mi
Price: Reserve Auction ($45,000 Buy It Now)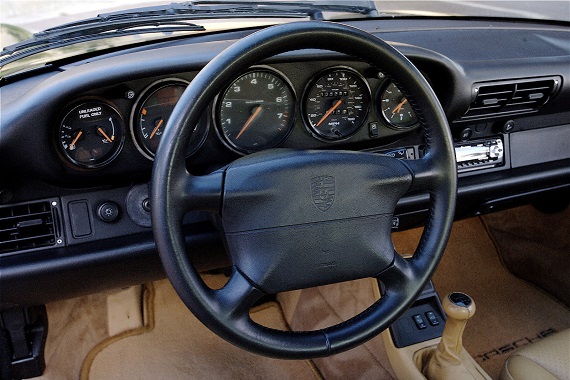 1995 Porsche 911 6 speed manual trans

Here for sale is a 1995 Porsche 993 in Aventurine Green with tan leather, This 2 owner car has 135,351 miles from new and still wares it original paint and shows really nice for a 20 year old car….. The front bumper cover has some light sand blasting from the road and is to be expected. This car is a desirable 6 speed manual trans car. Not often seen special order Aventurine green that changes in the light…. sometimes it looks green sometimes it looks blue or even grey, really accentuates the cars lines in my opinion.

My research shows this;
The 993 is the company's internal name for the version of the Porsche 911 model manufactured and sold between late 1993 and early 1998 (model years 1995-1998 in the United States), replacing the 964. Its discontinuation marked the end of air-cooled Porsche's, with the 993 being not just the last air-cooled 911, but also the last of the hand built 911s.[2] The 993 generation of the 911 is often referred to as the best and most desirable of the 911 series, not only because of its beauty, but also because its performance is very good, even by modern standards, and the 993 was "the last complete 'modern classic'"; "the 993 was and forever will be that last fresh breath of air that Porsche gave the world; elegance and muscle all in one package."

As indicated by the mileage, this car was used regularly by the previous owner who was an Embry Riddle graduate with a degree in Aerospace engineering, however more recently had a business in Electrical engineering and consulting until his recent passing. With his office in town the car was only driven 60,000 miles in the last 15 years or 4,000 miles a year.
The car runs great with no maintenance lights on and has a set of Sumitomo tires with plenty of life left. Although I am not a Porsche enthusiast but rather an Italian car guy, It is obvious that this car was always garaged and loved its entire life. As seen in the photos the car has the VALET key, tire inflation kit, and the original tool roll, as well as the owners hand book and service book.
I would call this an investment grade car with huge upside considering the cars are representative of the last pure 911's
E-mail for anything I have missed.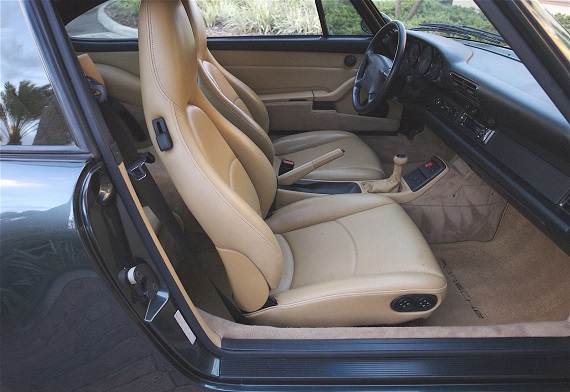 I find myself complaining about the photography in these ads far too often, but I do wonder if those selling cars online realize the need for such photography to really help a car stand out. Here we get a nice mix of pictures, but none are hi-res and everything is shaded. Like many metallic colors, Aventurine Green needs to be seen in both sun and shade to get a full sense of its depth and the way it shifts in the light. Those qualities are, after all, part of the appeal of colors such as these. Here it looks drab rather than vibrant. That said we can get a reasonable sense of the this 993's condition and overall it looks in fine shape. Though we can't get much sense of the exterior paint's condition, both the interior and the engine bay look crisp and tidy so we can hope those qualities will have carried over to the rest of the car. We aren't offered much in the way of information on its maintenance history so that certainly will lead our list of questions, but with a PPI we can hopefully put to rest many of those concerns. At $25,100 bidding is still far from the $45K BIN price so we may not see a sale here, but once a sense of how the market values this 993 has been established then someone should be able to get themselves a nice value for a wonderful 911 model.
-Rob