Warning!
This post is in our archives. Links in this post may have been updated to point to similar cars available to bid on eBay.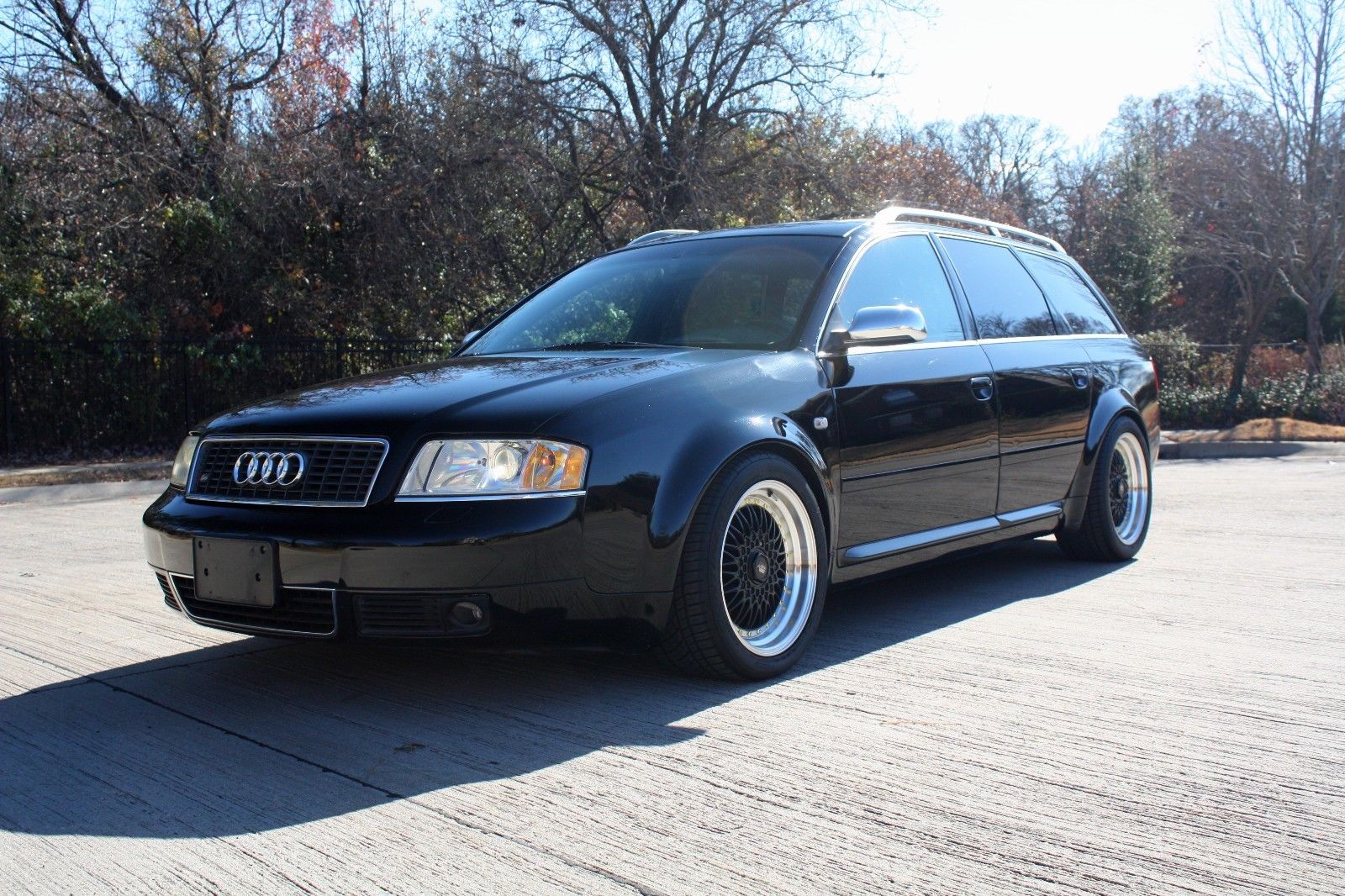 Back to wagons!
One of the more captivating baffling options in the used performance wagon market must surely be the C5 Audi. Despite the reputation for 100% metaphysical certitude that they'll fail – probably catastrophically, they're fan favorites. Often as a retort to internet commentaries that they're not reliable, actual owners will chime in, demanding respect and steadfastly assuring the audience that the Allroad's reputation is undeserved.
'It's been 100% reliable!' they'll insist.
Of course, the recipe to actually make it reliable involves major reworking of the engine and suspension. And, sometimes the electronics, too. On top of that, it turns out that various people's definition of 'reliable' varies greatly – especially for Audi owners. Basically, to be deemed 'unreliable', an Audi must first assassinate a major public figure, then make a Star Wars reboot featuring only Jar-Jar Binks, then kneel during the National Anthem (easy to do, as most have failed suspension on at least one corner), and finally when you turn the key the engine does the action sequence out of a Michael Bay Transformer movie. If, and only if, those conditions are met will fanatics finally fail to reply to the assertion that the Allroad just isn't a reliable car.
But, it's cool. And so you probably want one, even though you know it'll bankrupt you. So the smart way to buy an Allroad is to not buy an Allroad: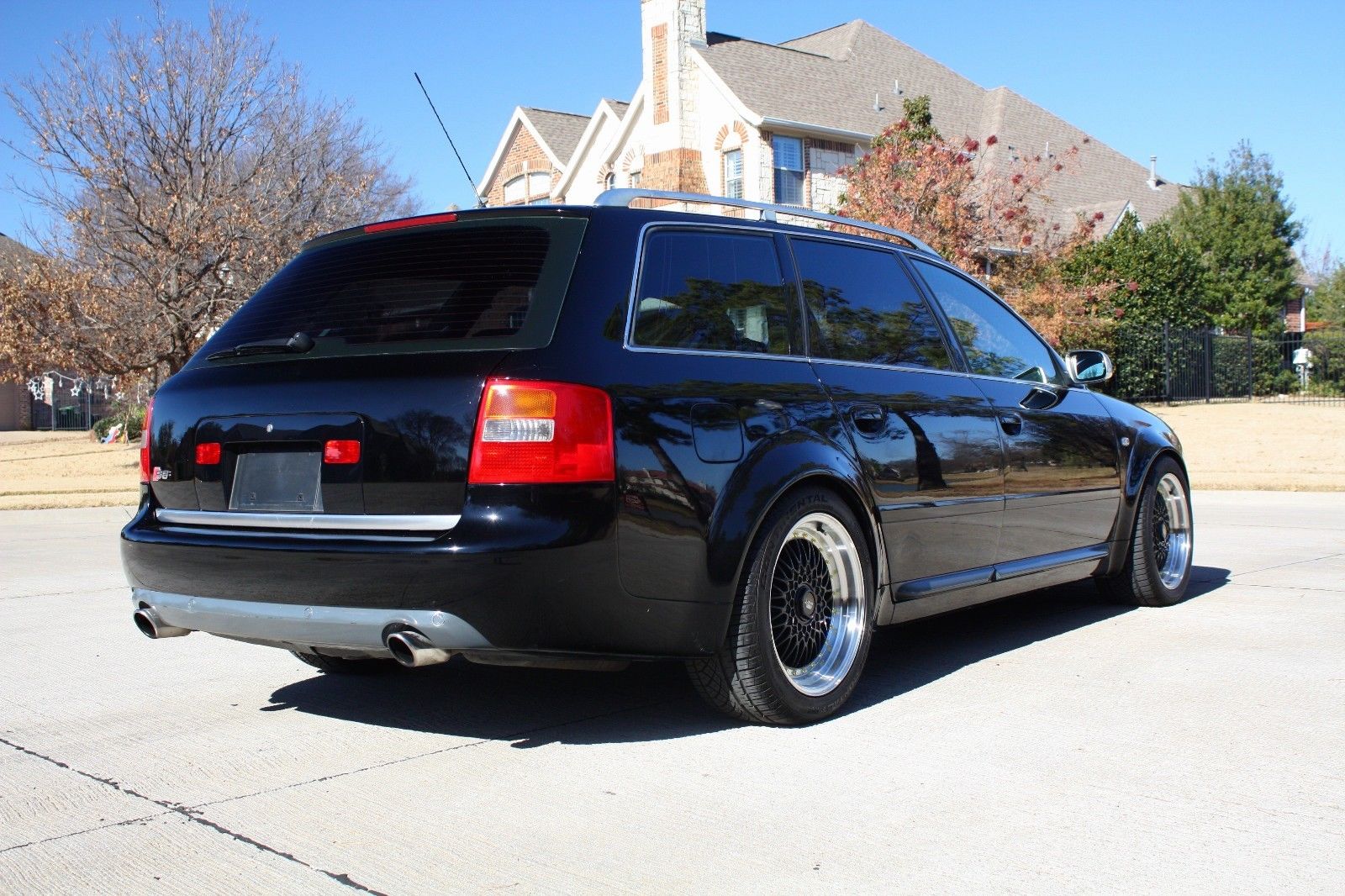 Year: 2002
Model: S6 Avant
Engine: 4.2 liter V8
Transmission: 5-speed automatic
Mileage: 82,500 mi
Price: $14,500 Buy It Now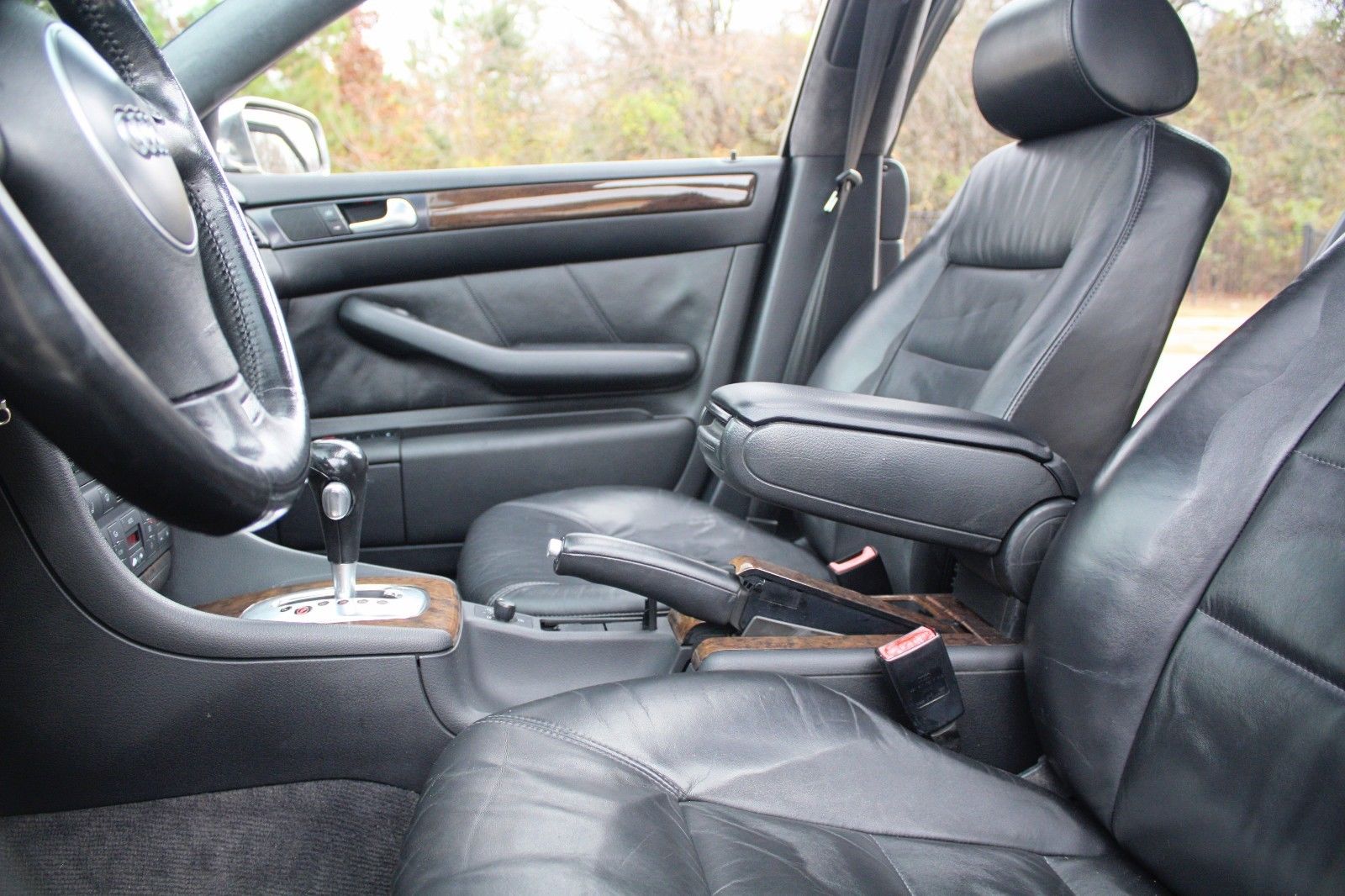 . Here you are , We offer what you should own and drive .
. We are specialist in low mileage high end toys .

Fully loaded , Serviced and ready for new home . YOU CANT FIND ANYTHING BUT PERFECTION IN THIS CAR .

This car runs and drives like brand new car .

Absolutely Clear Title in Hand ." You can Find The AutoCheck Report in the Pictures "

The Car is in an Unbelievable condition and highly optioned , its is a really hard to find car .

BLack on Black " Which is a really Color Combination " Inside and Outside are in great condition , perfectly works and you cant find any mechanical issue . She is Equipped with remote key ! All Tools , Spare tire , Jack , MedKit are still brand new and never used , Auto Adjustable Xenon Headlights , Bose Premium Sound System , Premium Audi Leather Seats .

All Services are recently done with best parts and fluids in the market like Mobil 1 , MANN etc ; Dry Cleaned FLOOR MATS .
What Services ?
Here is the list of them :

Brand New M1 0w40 Engine Oil , Brand New Oil Filter , Brand New Air filter

Brand New H&R Lowering Kit Coil Spring , Front and Rear ,

Brand New Wheels ,

Brand New Continental Tires ,

Alcantara Headliner just Dry Cleaned ,

ABS Pump just repaired which is a common Problem on this Car ,

Instrument Cluster is just serviced and the display is replaced with Geniune Audi part ,

Fuel System , valves and Intake Manifold are washed ,

Brakes checked and in great shape and condition ,

Coolant System is flushed and refilled with AUDI Coolant ,

Absolutely No fault Code .

All Maintenance and services have been done by our ASE certified technician .

Deposit should be made in 48 hours via PayPal and the full payment should be made in 3 days and we will help you for shipping if you win the auction . the deposit is non refundable .
We accept Cash , Money orders , Cashiers checks and Wire Transfers . No hidden fees .
Buyer should pay the title transfer fees and sales tax .

Fully Detailed And Ready For YOU ! Feel free to contact us , you can text or email us .
817 -715 -4849 info@salukimotors.co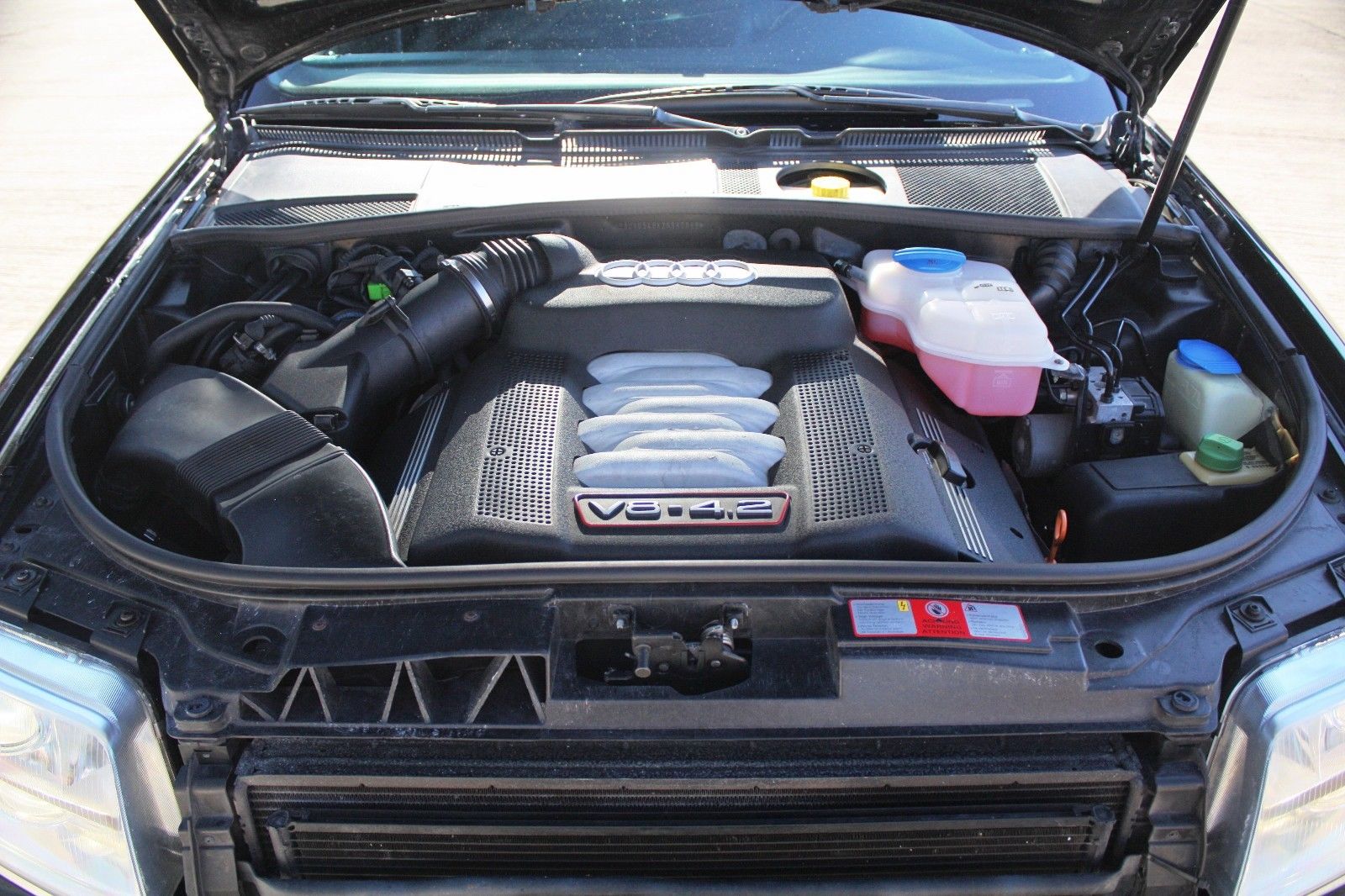 This S6 Avant caught my attention because of the all-blacked out stance. Granted, it's not entirely my cup of tea, but it certainly does draw attention. It looked great, the mileage is pretty low as far as these now 16 year old Autobahn destroyers go, and it's had recent maintenance. On sale from a second-hand dealer, as usual the price is steep – $14,500 is pretty much all the money for a C5 these days.
But a few things stuck out in the listing. First was the somewhat odd choice of ESM (read: cheap Chinese) BBS RS knockoffs. While they're certainly popular because they're a heck of a lot cheaper than real BBSs, what stood out to me was that the RS design didn't really fit the C5 and was an odd choice. I looked closer. While I was staring closer, I couldn't help but notice that the paint on the driver's side rear quarter just didn't look right. Coupled with brand new wheels and suspension, I immediately thought 'this thing's been totaled'. So, I decided to look for it in other places.
Lo and behold, there it was as part of a Copart auction in California, replete with a salvage history. Poctra.com actually lists the bidding history. In October, it sold for $1,900. Listed as mileage exempt, with salvage history and scratches/dents disclosed but not much else, it appeared to have the original S6-specific Avus wheels painted black and back taxes owned. But there was no major damage shown, so perhaps the salvage history predates it going to auction. The Autocheck does not display any real anomalies other than a gap in registration and a failed emission test, but then it also doesn't display the car going to auction because it conveniently stops in October, 2016. There are a lot of close-up shots in the gallery, but also a careful skip of that back corner with the suspect reflection.
Still it generally looks like the seller has done a nice job polishing up this Avant, and I'm certainly glad that it was saved rather than discarded or parted out. But they're also not disclosing the whole story, yet asking top-dollar. I last looked at a 2002 S6 Avant in August. With only 52,000 miles, no salvage history and a fresh timing belt service, it sold for only $13,000:
So, a much better buy than this example, hands down. Further, there's a lower mile 2003 S6 Avant currently on eBay for only $10,900. While the S6 may be a better solution to the C5 problem, this particular rescue Avant is probably not the one to grab – at least at this price.
-Carter