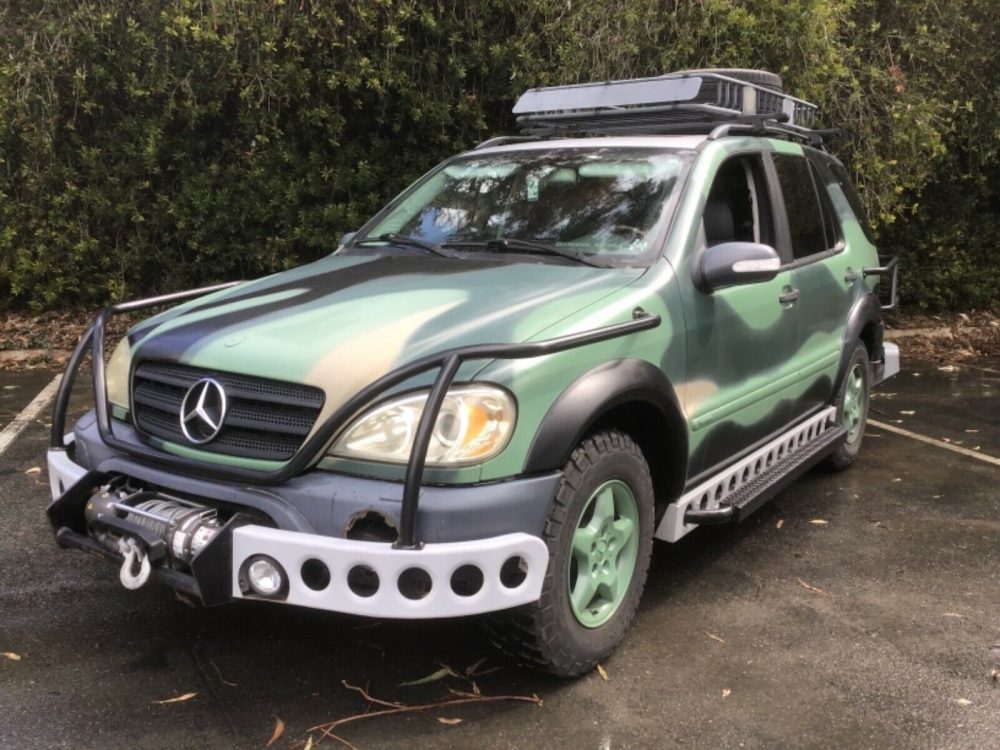 Update 3/3/19: Sold for an impressive $20,300!
Last month I did a quick history lesson on the W163 Mercedes-Benz ML-Class and how it came to be made in America. One of the most interesting pieces of the ML story also involved another aspect Americans love: wildly fictional movies. If you are looking at this car, you probably know what I'm talking about. Somehow, Mercedes got in contact with Universal Pictures during the filming of The Lost World: Jurassic Park about using the then pre-production ML in the film. Somewhat ironically, while Ford Explorers had replaced Toyota Land Cruisers used in the Jurassic Park novel, in Lost World it would be the Explorer now being replaced. Somehow, a deal came together and suddenly you were watching a couple of ML320s with a bunch of added on armor roam around a fictional world full of dinosaurs. One of the stars of the film, Jeff Goldblum, was given a free ML320 as part of the deal and the craziest part is that he actually used the ML as his daily driver for over 15 years. He must not be into cars that much.
Unlike other vehicles from the Jurassic Park franchise, the Jeep Wrangler and Ford Explorer, you would never see someone hack up a ML320 to replicate the version from the movie. Probably that's because it wasn't very smart to totally destroy a luxury SUV just to pay tribute to a film that was considered a letdown compared to the original. Fortunately, prices of first-generation MLs have hit play money type levels and someone in California took the plunge into full movie mode. Now it is up for sale and ready to be passed on to the next person who constantly wants to be stopped to answer questions about it in the grocery store parking lot.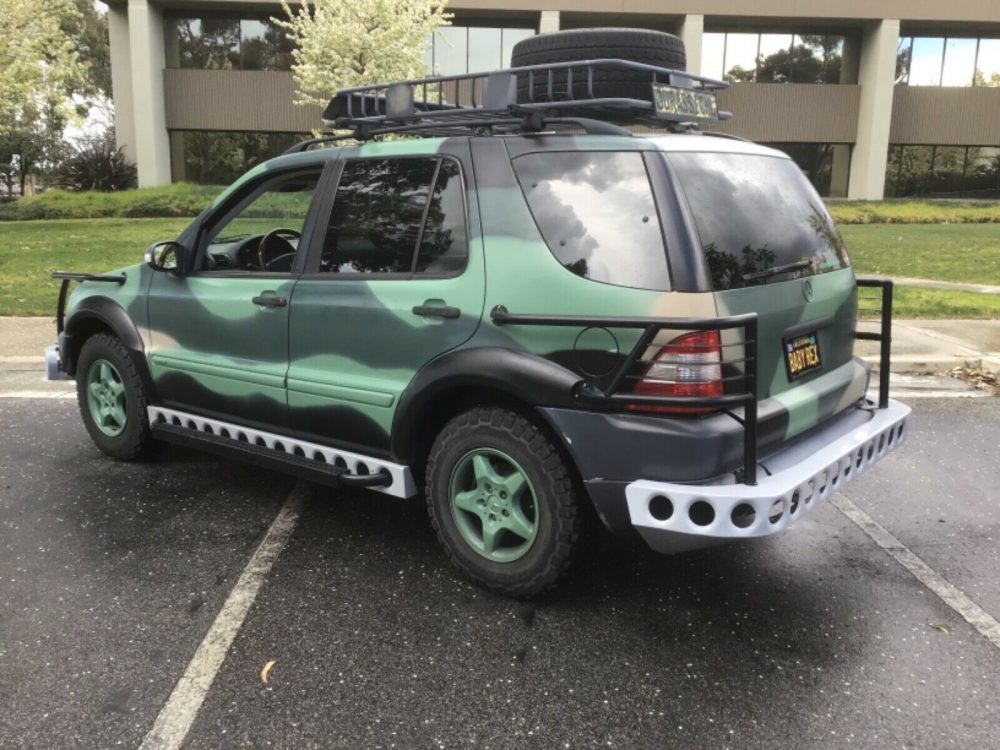 Year: 2002
Model: ML320 Jurassic Park Replica
VIN: 4JGAB54EX2A290161
Engine: 3.2 liter V6
Transmission: 5-speed automatic
Mileage: 213,000 mi
Price: Reserve Auction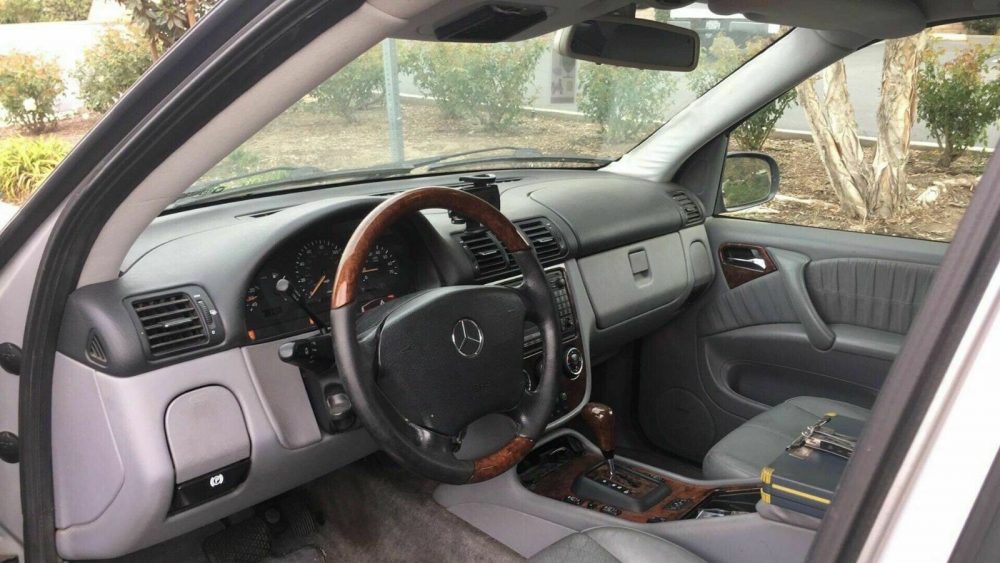 2002 ML320 Sport
213,000 miles
V6 engine
Automatic transmission
Clean California title with a clean vehicle history report.

Engine & driveline:
Only used factory recommended Mobil oil (synthetic)
Transfer case and rear differential fluid changed 1,200 miles ago.
No rebuilds. Runs great, and proudly does long distance drives.

Has been to Long Beach Comicon, Jurassic World Fallen Kingdom event at Universal Studios Hollywood, multiple Wal-Mart toy release and dvd release events, as well as Bob's Big Boy car shows in Burbank.
Can also be seen in several episodes of Restoration Of The Jurassic RV on YouTube. All of the M-Class vehicles, used on screen, were pre-production prototypes. Meaning they will never be driven on public roads. Only two road legal replicas have ever been made. A truck version, currently in Germany, and this one here in Southern California.

Interior:
Grey perforated leather seats are in excellent condition, minus a tear in the driver butt portion.
All electronics work.
Wood trim is 9/10 & has rare wood grain factory option steering wheel.
Carpet is 8/10. Driver section should be shampooed by a detail shop
Door cards are in great shape.
All windows function, including rear electric quarter windows.
Mercedes-Benz factory Bose surround system works excellent, including factory subwoofer and navigation (original MBZ nav cd included, works great)
Excellent working heater and AC.

Exterior:
Jurassic armor trim was all freshly made for the build (in 2017) out of cold rolled steel, that was mig welded, bead rolled, and hydraulic dimple dyed.
Camouflage is painted on, not vinyl wrap.
BF Goodrich Mud Terrain KM-2 tires have 7/10 tread left
Warn XD9000i winch works excellent.

Cons:
-Right rear door lock and hatchback lock mechanisms not working. They only work manually.
-Check engine light is on, due to Evap code for a loose gas filler neck, which causes the fuel tank to not fully pressurize.
-Occasional small fluid leak from power steering pump.
-Front and rear plastic Mercedes bumpers have some paint chipping, as well as cracks
-Driver's seat butt needs reupholstery

This is a solid driving vehicle with a 100% clean title. It has only been registered in California and has a good vehicle history report. This is a once in a lifetime chance to have a road legal version of the vehicles used in the famous sequel, The Lost World – Jurassic Park
Major props to the seller, who was also the builder, for making this car. Unlike the Jeep, it isn't just adding some color and BFG tires. All those bumpers and brush guards were a custom job that needed to be MIG welded, bead rolled and hydraulic dimple died. I can totally understand why they didn't go for the brush guard over all the windows like the real movie examples because not only is it incredibly impractical, but the cost of the steel and also the added weight would be troublesome. I think this is a real sweet spot of doing enough to say that it is the Jurassic Park SUV, but not so far that it kills all utility over ever using the car on the street.
As for the price, I have no idea. At the end of the day it is just a 2002 ML320 with 213,000 miles, but all the value is that is a Jurassic Park ML. Are there a bunch of Jurassic Park super fans out there dying to own this? I have no idea. Generally movie cars do pretty well as long as they are instantly recognizable, which this car borders on. You have to consider that the movie is now 22 years-old and isn't instant a classic like the first film. Also the Jeep and Explorer a lot more self explanatory than this one as I'm sure a lot of people think this thing is being driven by an upper-middle class doomsday prepper. Either way, I'm stoked to see it and I can't wait to see what it sells for.
– Andrew