Warning!
This post is in our archives. Links in this post may have been updated to point to similar cars available to bid on eBay.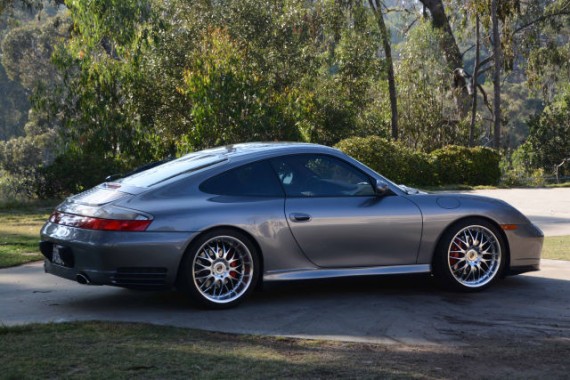 I always get a kick out of hearing people knock the Porsche 996 911, especially for its looks. The runny egg headlights, and the large taillights make it an easy target, but I'm always quick to remind folks that even the worst looking 911 is still much more enjoyable to look at than the majority of other vehicles. This is especially true in the case of the Carrera 4S which borrows its extra wide, and aggressive look from the 911 Turbo. While reclusive purists will firmly declare that an AWD 911 is the work of the devil, aka. accounts who saw their value, I'm firmly in the camp of open minded individuals who see them as the perfect 4 season vehicle. When everyone else has had to put their toys away for winter, the C4S owner gets to keep playing with his. Charging up snow covered roads on a set of Bizzaks sounds like my idea of a good time, and on top of that, a 911 with a Thule rack is a beautiful thing. If you're the type to not be too precious about your cars, and use them as they were intended to be used, there's no need for a winter beater if you drive a C4S, just an extra set of wheels, and tires.
CLICK FOR DETAILS: 2003 Porsche 911 Carrera 4S on Cars.com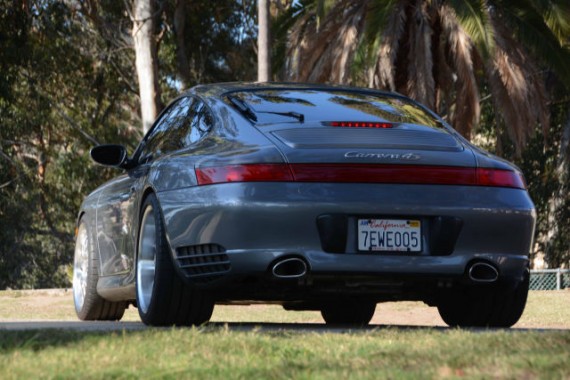 Year: 2003
Model: 911 Carrera 4S
Engine: 3.6 liter flat-6
Transmission: 6-speed manual
Mileage: 63,500 mi
Price: $33,500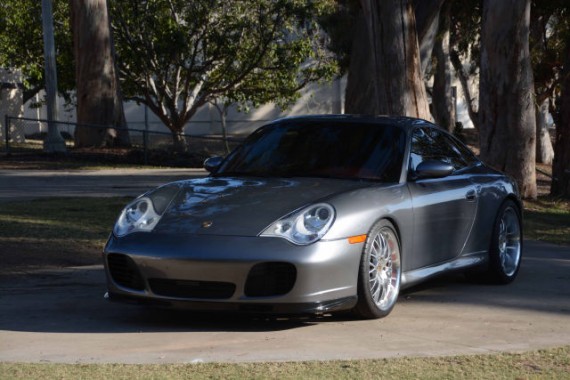 Pristine, performs as-new, never wrecked or painted body, clean CarFax, Seal Grey exterior, Boxster Red interior (special order), 6 speed manual transmission, X51 engine package (345 horsepower, std is 320hp), rear wiper, sport seats, sport exhaust, Porsche short shift kit, 19 inch wheels with Michelin Sport tires, K and N air filter system, new Bilstein PSS10 suspension system ($3500. Fully adjustable height and rebound), tinted windows, radar detector front and rear, stainless steel threshold covers, special upgraded steering wheel, never raced or tracked, the 4S has the identical wider body as the Turbo Changed model, newer clutch, with counter shaft bearing update, 2 keys, engine oil changed every 3,000 to 4,000 miles, extensive mechanical history documented by European Motor Sports in Vista, CA, cold air a/c, this is an immaculate, well maintained, fast car with no issues or deferred maintenance. Spends 95+% of its time covered and in a garage, never smoked in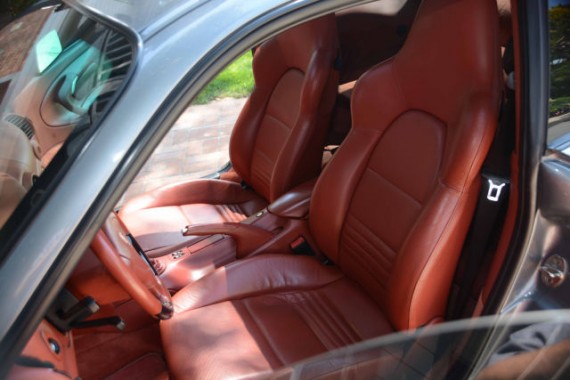 Is it hard to picture the above car handling its own in inclement weather? Absolutely, but that's due to the shiny 19″ wheels, and perfect stance afforded by the Bilstein coilovers. A set of winter wheels, an increase in ride height, and this rig would look the part. It certainly won't have trouble backing up the look either, as it has been tastefully modified. The current owner opted for an X51 engine package that bumps power up to 345 horses, a Porsche factory short shift kit, sport exhaust, and perhaps most interestingly, a Boxster Red interior. Contrary to what many Porsche owners think, a red interior doesn't make the car any faster, but I think it does loads to improve the overall aesthetic of this example. Imagine getting back to your 911 after a full day on the mountain, what do you want to greet you? An interior awash in black or grey? Heck no, you want to warmth, and vitality of red. Added bonus in this example, you get the sports seats which are night, and day better than the regular thrones stuck in the 996s. The only thing I'm on the fence about is the specialty steering wheel, which appears to have piano black trim sections at the top and bottom. Not sure why anyone would want that, but steering wheels are easily replaced, and a full alcantara option wouldn't be out of place here, especially on days when you forget your gloves.
Now then, I've spent the majority of this piece championing the C4S as a winter ride, probably because it's 100 freaking degrees in Los Angeles. The great thing about the C4S is that it has the potential to check all the boxes I've mentioned, but if you live in a one season climate, you can just leave it as is, and enjoy a killer example of a 911. The 996 won't be the unloved car for much longer, and I think the tide has already begun to turn in terms of enthusiasts' opinions on them. How fast this will be reflected in the market is unknown, but there's no time like the present. If you've been on the fence waiting to join the 911 owners club, this is a solid opportunity to get in with a wonderful example.
-Andrew