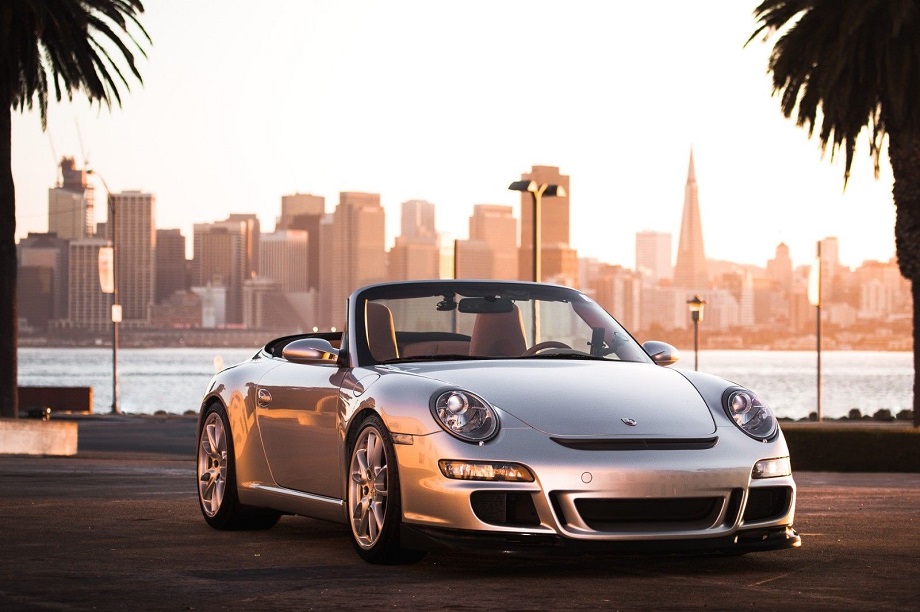 I post this mainly out of curiosity because that's pretty much what this 911 is: a curiosity. This is a 2005 Porsche 911 Carrera S Cabriolet. It's located in California, has an Arctic Silver Metallic exterior over a Sand Beige interior and has 77,243 miles on it. Nice car!
The current owner decided he wanted a little more out of his Cabriolet and has attempted in some regard to replicate both the appearance and performance of the 911 GT3. As I'm sure you are aware the GT3 does not exist as a Cabriolet. I don't imagine it ever will, nor do I imagine there is much desire for such a machine. But car enthusiasts being what they are, they tend to crave more performance even when the performance already is pretty good or even when they've chosen the model with somewhat compromised performance because the roof has been cut off. And I guess that's how we got to where this 911 is now.
I will say it does look great. The GT3 front always has looked better than that of the standard 911 and here juxtaposed with the Cabriolet rear it's a pretty attractive design. It's party in the front, business in the back. It's a reverse mullet. Personally I'd actually be satisfied with the alterations to its appearance, but this owner didn't want to stop there and put in a bit of effort to improve its overall performance. I doubt it's up to GT3 levels, especially given that I'm sure this Cabriolet still weighs a good bit more than a GT3 (according to Excellence a Carrera S Cabriolet weighs around 250 lbs more than a GT3), but performance should be elevated nonetheless. As I said, it's kind of a curiosity. I don't know that I'd ever think to do this to a 911 Cabriolet, but it's not a bad idea.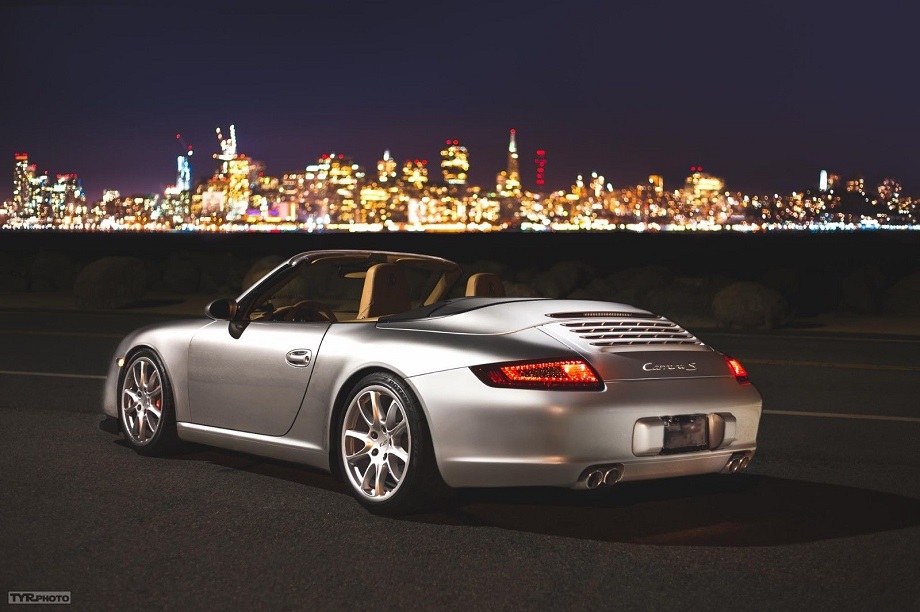 Year: 2005
Model: 911 Carrera S Cabriolet
VIN: WP0CB29925S765761
Engine: 3.8 liter flat-6
Transmission: 6-speed manual
Mileage: 77,243 mi
Price: Reserve Auction ($50,000 Buy It Now)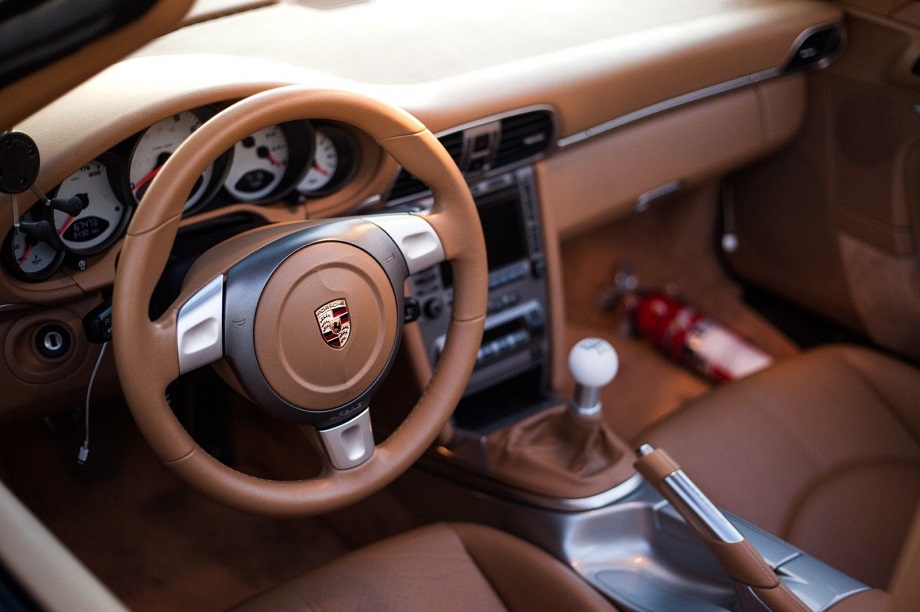 2005 Porsche 911 Carrera S Cabriolet (GT3 Conversion)

WP0CB29925S765761

The project objective was to create replicate the capability of a GT3, using factory components, but in a 997 Cabriolet platform. I have owned this car for 6 years and made these modifications in phases. The paint and finish is in excellent condition and she would be equally at home on the road or at the track.

Engine:

3.8L Flat 6 – 380HP

GT3 Throttle Body ($500)

ECU Flash – EVOMSit installed by Sharkwerks ($900)

IPD Plenum ($1275)

Stock exhaust, but have a Fister (Gundo) available if you prefer

Also a 3rd center radiator kit is included if you would like it (not yet installed)

Suspension:

Bilstein PSS9 Coilovers ($5000 installed)

GT3 Lower Control Arms ($2000 installed with corner balance)

GT3 Adjustable Sway Bars (5 hole front, 3 hole rear) ($1000)

RSS Rear Dogbones ($1500 installed)

RSS Bumpsteer kit ($1000 installed)

RSS Transmission Mounts ($400)

Wheels:

GT3 Factory OEM 19" wheels ($5000)

RE71-R tires ($1500)

Black and silver centers ($200)

ARP Studs

Interior:

Numeric Racing Short Throw Shifter ($700)

Derlin Function First Shift Knob ($120)

Console painted body color ($400)

Upgraded e-Brake to aluminum version ($550)

Underhood protection Das Shield ($200)

Trunk protector (OEM) ($200)

Exterior:

GT3 OEM Front End ($3000 with paint)

GT3 OEM Brake Ducts

Expel Clear paint coverage $2000

Silver hood badge ($100)

LED tail-lights included (as pictured) if you want them but OEM stock ones currently installed as I would get the occasional error message saying a bulb was out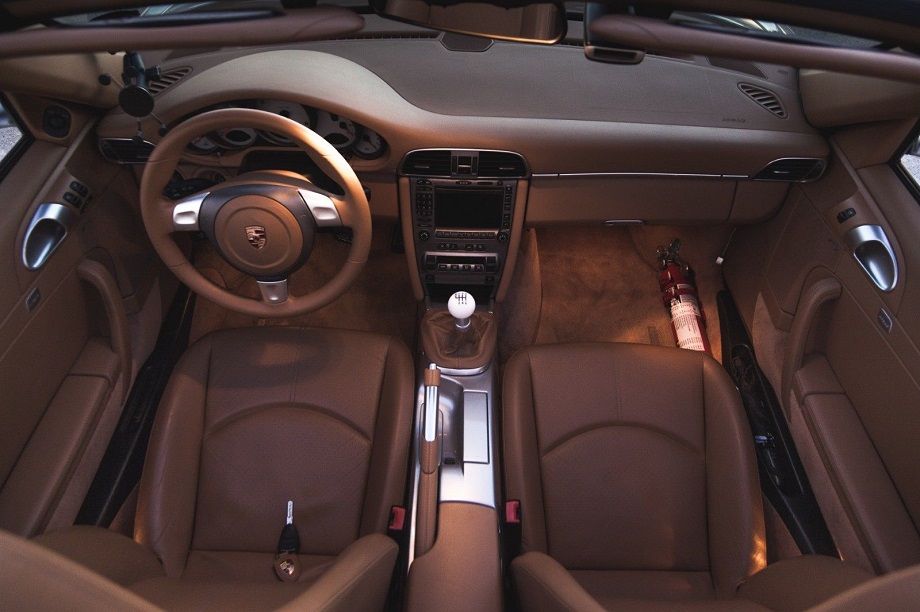 These aren't collector cars so I'm not sure the lack of originality should have much affect on this 911's appeal. Still this auction sits unbid upon. Perhaps that's because of the much too high BIN price so potential buyers don't want to bother or perhaps there's a general wariness of the build. I don't know. There certainly is plenty to have checked out on this 911 and hopefully ample documentation of the various modifications will be available. I'm not sure all of the original parts are available, but I don't know if that should matter. If you want a regular Cabriolet just buy one instead of this one.
The thing is if you do like these modifications, then this Carrera S could make for a good buy. Everything here does look in very nice condition and that bodes well. The seller may not be willing to budge from the BIN price at this time, hoping to come across the buyer for whom everything here is perfect. It'd still cost less than buying a Carrera S and doing this yourself. However, if such a buyer doesn't come along soon then hopefully he'll be open to a lower price. Ask plenty of questions and make sure everything was done properly. If so, this is a really sexy Cabriolet and one you aren't likely to see elsewhere.
-Rob