I've had my eye on the 911 GT2 a lot lately. Mostly that's because we're seeing the GT2 RS hit our shores. There are a lot of those for sale and you probably shouldn't buy one. With very few exceptions, they're all kind of the same too. As I was looking at those and their insane prices I came across this 2008 Porsche 911 GT2 with 18,511 miles on it and an asking price less than half what sellers are asking for the current GT2 RS. Don't get me wrong – the GT2 RS is the better car. It has 700 hp, all kinds of crazy aero, a boatload of lightweight materials, and plenty of tech to help you get around a track as quickly as possible. It laps the Nürburgring around 45 seconds faster than the GT2 we see here. That is not an insignificant difference and the sort of thing we probably should expect with a full decade of continued development under its wings.
But I look at this GT2 and realize that it's a much better looking car. It has a manual transmission. With 523 hp on tap it isn't exactly suffering for power and with that power being channeled entirely to the rear wheels the driving experience surely will hold your attention and be plenty exhilarating. It's a phenomenal car that very few are capable of fully exploiting and I wonder if maybe I'm spending too much time looking at the wrong thing.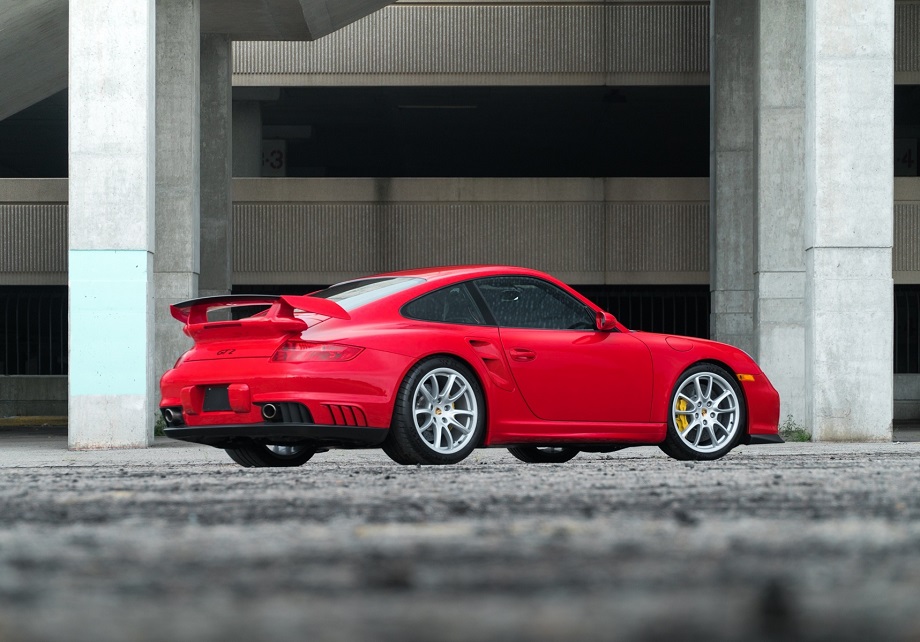 Year: 2008
Model: 911 GT2
Engine: 3.6 liter twin-turbocharged flat-6
Transmission: 6-speed manual
Mileage: 18,981 mi
Price: $199,997 Buy It Now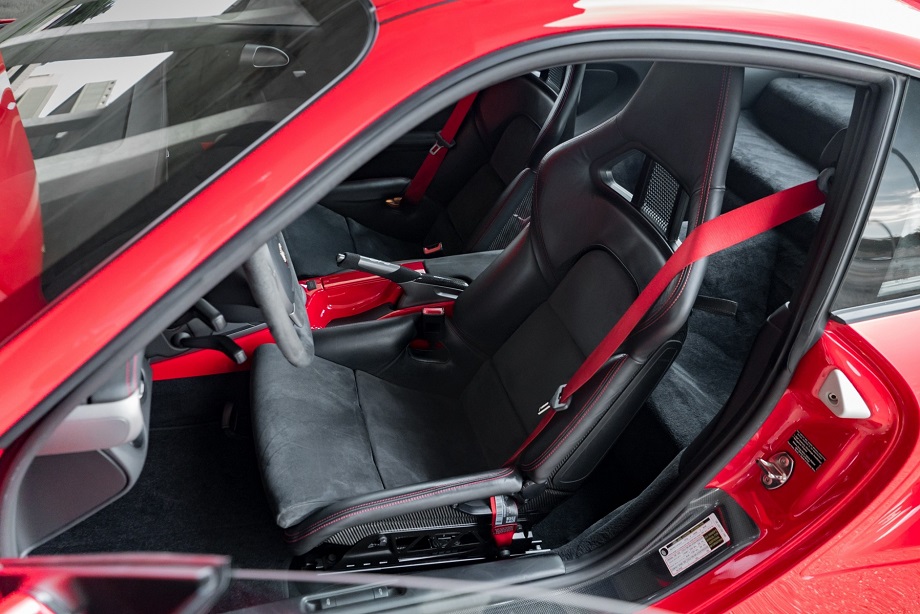 -Chassis # WP0AD299X8S796293
-18,511 Miles From New
-1 Of Only 185 US Examples
-Very Well Optioned & In As-Delivered Configuration
-Recently Serviced & Clean CARFAX

As with any truly great sports car, the GT2 can find its roots in motorsport. Birthed by necessity to fulfill homologation standards for the 1993 LeMans 24 Hour Race. Originally conceived along side the GT1, the GT2 would become the platform for all out creativity, technology, and limitless performance within the shell of the 911. It has allowed Porsche's engineers to solely focus on lap times rather than bottom lines and as a result any GT2 from any of the 4 generations rarely disappoints those lucky enough to get behind the wheel.

The 997 variant, or 3rd generation GT2 debuted in 2007. While over 1,000 examples would be built only 185 would make it stateside for US distribution. Putting it well on the list of rare and collectible limited-production examples from Porsche. While the GT2 has many hallmarks, and on paper it has the formula next to that of a pure-bred race car, it can only be described in extremes. Essentially it is lighter (3,170 Pounds), faster (204 MPH), and more powerful (523 BHP) than any other Porsche road car before it, with the exception of the GT1. By today's standards it is still a fast car, a rare car, and one that any serious collector should consider to round out a proper Porsche collection.

Chassis # WP0AD299X8S796293 is a 2008 GT2, finished in the seldom seen (for a GT2) Guards Red over Black and well ordered with a host of options such as Folding Sports Bucket Seats, Interior Carbon Package, Center Console In Guards Red, on and on, a very well optioned example detailed by its build sheet (available for review). Early history via the clean CARFAX report shows that the car was delivered new to Stoddard in Ohio before making its way to Illinois with it's second owner in 2010 with just 100 miles noted. Between 2012 and 2017 it remained in FL with a brief residency in TX with a dealer who took it on trade. Within the past year the car received a big service at Porsche West Broward.

Upon LBI Limited's acquisition the car received an Xpel clear bra throughout the front ½ of the car along with the rockers and rear ¼'s and wing. A fluids and filters service was completed at Fred Lavery Porsche in Birmingham, MI and the car readied for its next caretaker. The condition can be easily understood through the descriptors below and the detailed photos. This GT2 overall is a fantastic original paint example with inviting mileage and without any needs. Included in the sale is the clean CARFAX report, current DME report, and laminated build record.

Please visit www.LBILimited.com for many more pictures and details. Worldwide shipping is available upon request. Follow us on Instagram and Facebook at @lbilimited with the hashtag #ClaimYourClassic.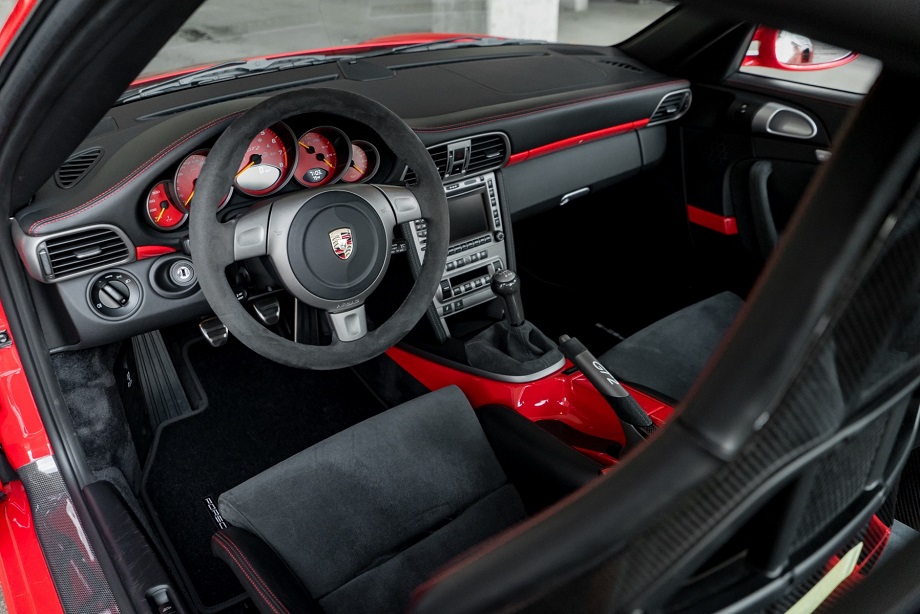 If you're still with me, then perhaps you too are thinking that a 997 GT2 just might make sense, which brings me to the particular example we see here. I like my Porsche GT cars in bright colors and Guards Red possesses all the brightness you probably need while being both a historical Porsche color and also one that is fairly uncommon on the GT2. I'm not really sure why it's uncommon, but it is. Whoever originally put this build together did a nice job of bringing that red into the interior with the painted console and dash along with a good bit of deviated stitching. I'm not really a red gauge face guy, but they don't look too out of place here. Everything comes together with nice contrast, but without being over the top. When you're driving a GT2 the car itself already is over the top, you don't really need to stretch all of that too far with the interior. It's purposeful, functional, and also nice to look at. Obviously, you do need to like having a red car, but if you do then I think this one works quite well.
It probably goes without saying, but this GT2 also looks to be in excellent condition. You'll always want to get a PPI with a car like this, but I'd approach this one with few concerns. It sounds like it comes fully documented and is entirely original. It seems like it's jumped around a little bit from owner to owner so hopefully it can find itself in a long-term home with an owner who can appreciate it for a while.
To add to my discussion above regarding value, you even could step back one more generation and save more money with a 996 GT2, but I think taking that step forward one generation to the 997 is worthwhile. I will admit, I am not in the market for a $200K toy. Nor a $400K toy. But you could get a GT2 like this one and GT3 RS (either a 991.1 or the 997) for the same cost as what seller want for the GT2 RS. And if your focus is long term value I'm not sure you'd be worse off. This one might make a good start in that endeavor.
-Rob