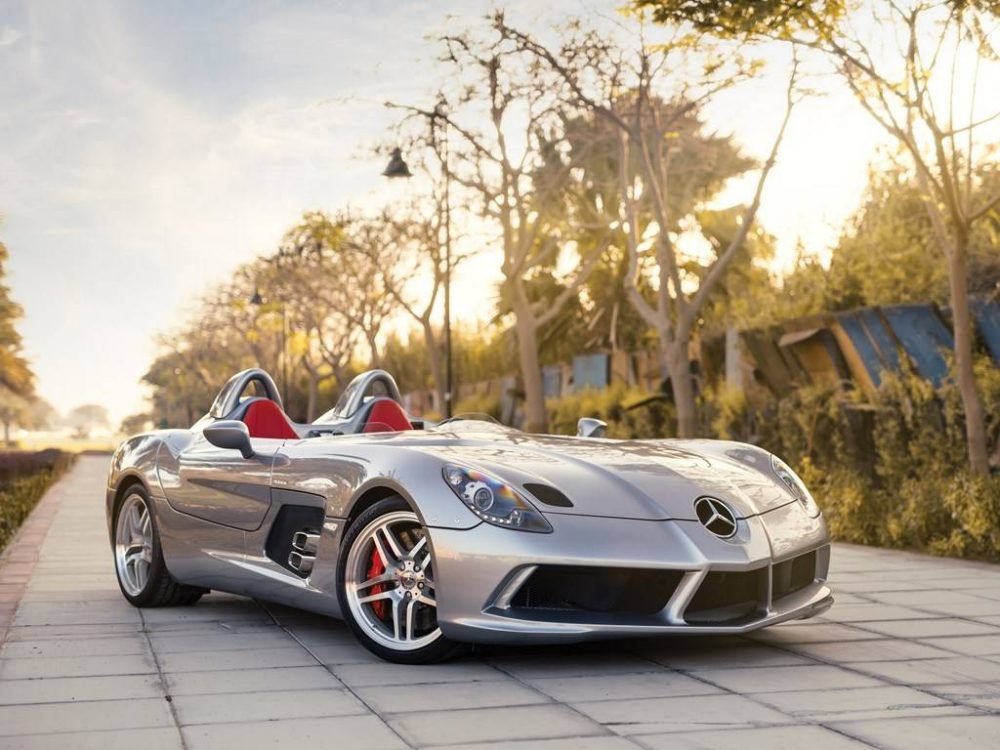 There aren't many modern cars like the Mercedes-Benz SLR McLaren Stirling Moss. I've gone over the history of this wild machine before, but the short of it is they are based off the SLR but with crazy styling and two very tiny pieces of glass that basically do nothing. Only 75 examples were created to be sold the general public for actual legal road use. By "general public", I mean current SLR owners who had to pony up $1,000,000 for the privilege to buy one of these. After purchasing them, most were stashed away in collections and very rarely see the light of day let alone be driven on a road because believe it or not, really rich people don't like to eat bugs. However, this example going up for bid at RM Sotheby's in Italy has over 8,400 km on the odometer. Someone drove this car over 5,000 miles!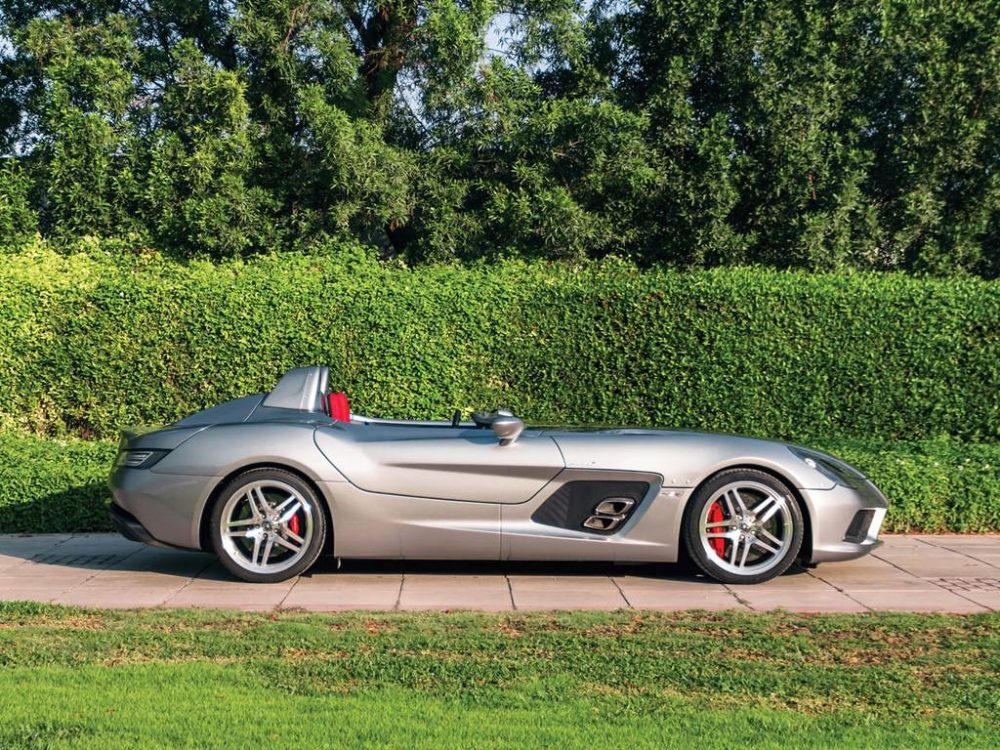 Year: 2009
Model: SLR McLaren Stirling Moss
VIN: N/A
Engine: 5.4 liter supercharged V8
Transmission: 5-speed automatic
Mileage: 8,400 km (5,219 mi)
Price: Reserve Auction
The Mercedes-Benz SLR McLaren Stirling Moss was unveiled at the 2009 North American International Auto Show; a lightweight speedster variant of the SLR as potent in performance as it is arresting in appearance. Just 75 examples were built, offered exclusively to existing SLR owners as a modern homage to the exquisite 300 SLR that Stirling Moss campaigned to victory in the 1955 Mille Miglia.

Rather like the 300 SLR, nearly all the creature comforts of the car it is based on were sacrificed in the pursuit of performance, aesthetics and extreme driver (and passenger) enjoyment. This even included the windscreen and roof, which not only adds to the visual drama but ramps up the intensity of the driving experience ten-fold. Indeed, when Car Magazine road tested the car in 2009, they likened the experience of full throttle acceleration to "standing on the wingtip of a 747" and sighted the 0-100 km/h time of 3.5 seconds and top speed of 354 km/h achievable only by those "whose neck muscles can bear it". This level of performance is accomplished by utilising the same 641 bhp, 5.5-litre supercharged AMG V-8 that powers the SLR 722 Edition and pairing it with 200 kg of weight savings; achieved by adoption of the speedster style as well as the extensive use of carbon fibre for the bodywork, underside and new aerodynamic package.

This fantastic Sterling Moss edition left the factory in December 2009 as a European-specification example delivered to Luxemburg. Since then, it has covered just under 8,400 km from new. It has had a total of two owners and presents in pristine condition, specified in the special-order colour of Antimony Grey Crystal over a spartan, yet luxurious interior of black leather, enhanced with Silver Arrow 300 SL red trims and accents. It is truly breath-taking in its appearance.

Like all cars of this type, it has benefitted from being regularly exercised and enjoyed during its life and is notable for its participation in the 2012 Mercedes-Benz 1000 Miglia challenge. Naturally, it has always been looked after by Mercedes-Benz and it will be offered fully serviced and with numerous accessories including goggles in their original bags, hats, tonneau covers, and service manuals; ready for its next owner to enjoy to the full.

Acquisition opportunities of cars like the SLR Stirling Moss are rare and the visceral driving experience it offers is unique. Equally stunning as a stationary piece of art as it is enthralling as a hyper-car, it would make a wonderful addition to even the finest collections or indeed the ultimate weekend toy.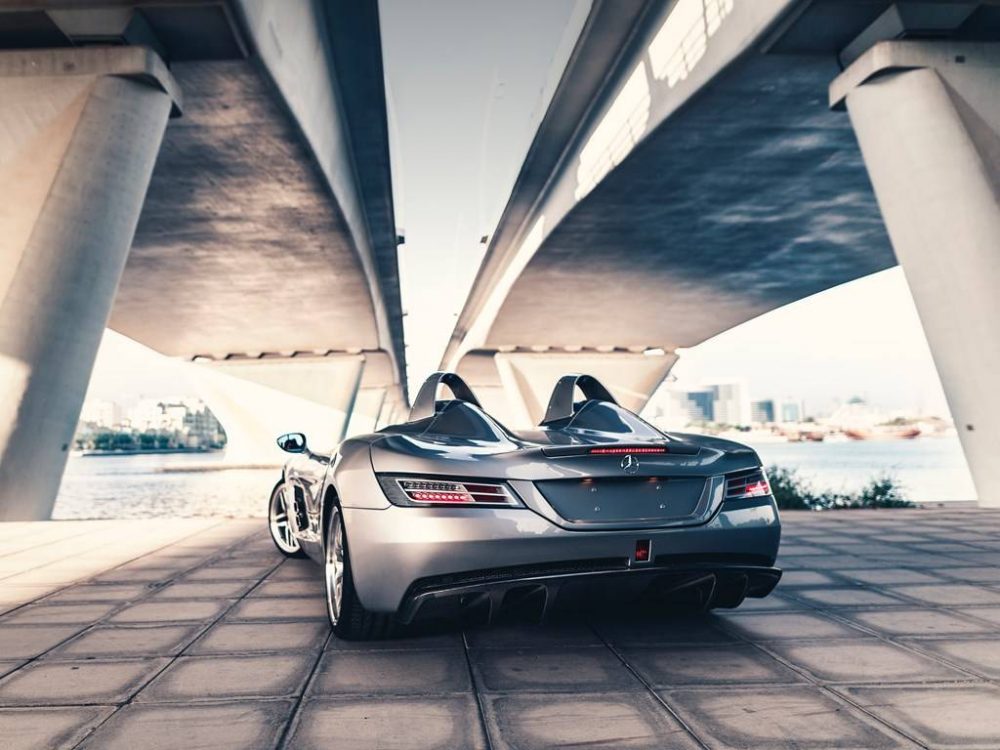 According to the story, this car was delivered new to Luxembourg (hey now) and a lot of these miles were done on the Mercedes-Benz Mille Miglia Challenge which is a 1,600 km grand tour around Italy. How quaint. From there, it sounds like it went to a second owner for more miles. Still, I don't know how you rack up that many miles in a car setup like this. The good news is that the goggles and tonneau cover are included, just encase you wanted to go for another jaunt around the Italian countryside.
How much? Well, Sotheby's has this car guided at €1.850.000 – €2.200.000. That isn't as bad as I expected because rumor has it that these usually trade around €2.700.000 range, but I suppose this car has all these miles and isn't as highly sought after as the other 74 cars with a few hundred miles on them. I'm curious to see what this one does when it goes up for auction at the end of May as you have to be a pretty hardcore Mercedes fan to spend this kind of dough for even as rare as something like this.
– Andrew