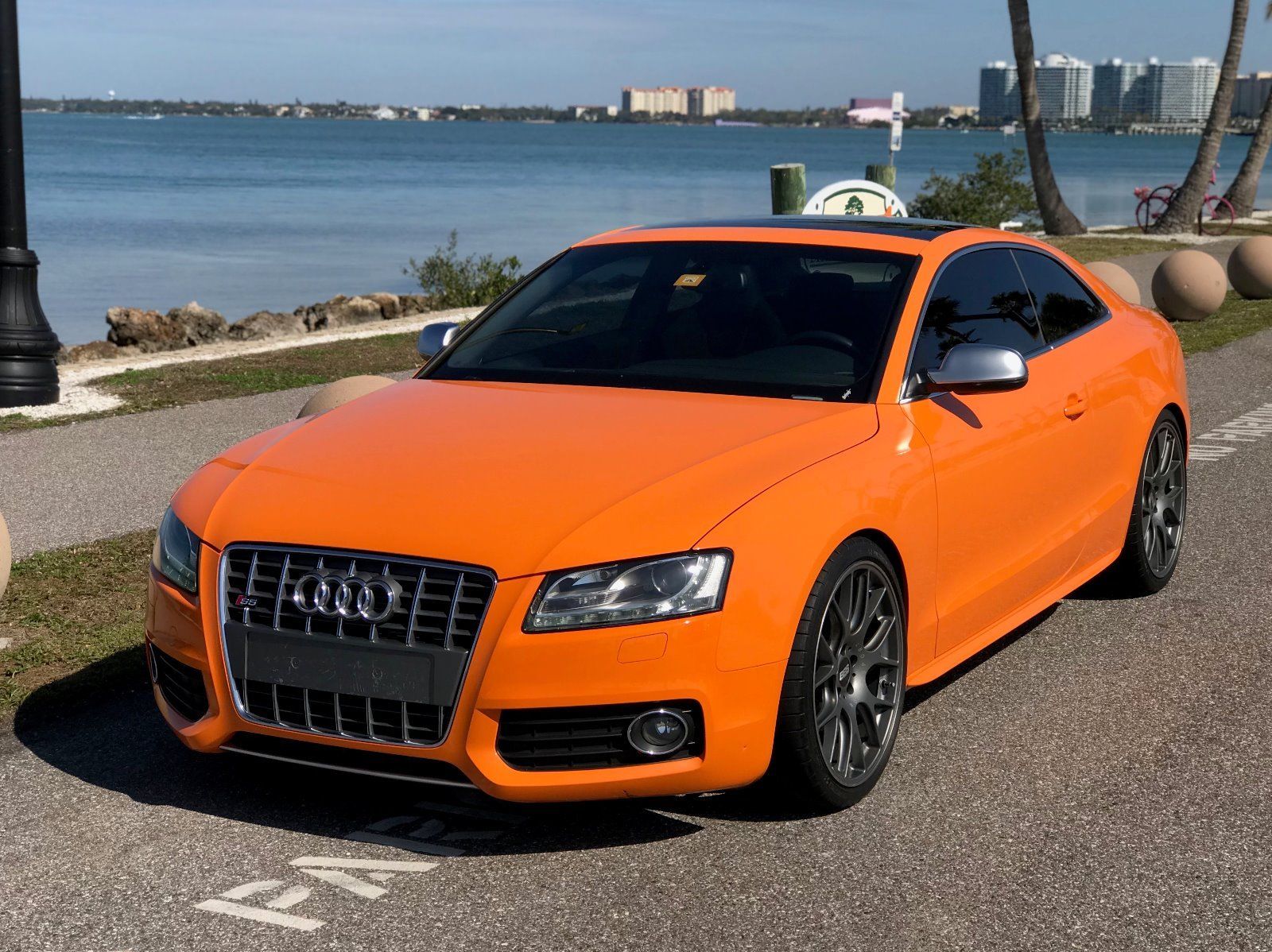 I'll be the first admit that I've never really liked the S5. It felt as though Audi could have done better and didn't. It's always looked fat, flat and uninspired to me, and that's not helped by the engine selections or the color pallet. When it first emerged it immediately seemed to me that it was a direct copy of the E92 BMW, but with much less exciting engines. Don't get me wrong – the E92 isn't my favorite BMW design, either. But it somehow managed to have more presence than the A5/S5 duo in pretty much any iteration – especially so when it came to the vibrant M3. It was almost primed to take on the E46 M3, but when the 414 horsepower V8-laden E9x emerged, the S5 was immediately second fiddle. It's sole trump card over the M3 was that they came standard with all-wheel drive. That's about it.
So what's one doing here? Well, occasionally in the sea of gray, dark gray, light gray, black, dark black, silver, light silver or white S5s, a really pretty one emerges for sale. Case in point: this Audi Exclusive Glut Orange example. Suddenly the S5 makes a lot more sense – why didn't they sell them ALL in this color?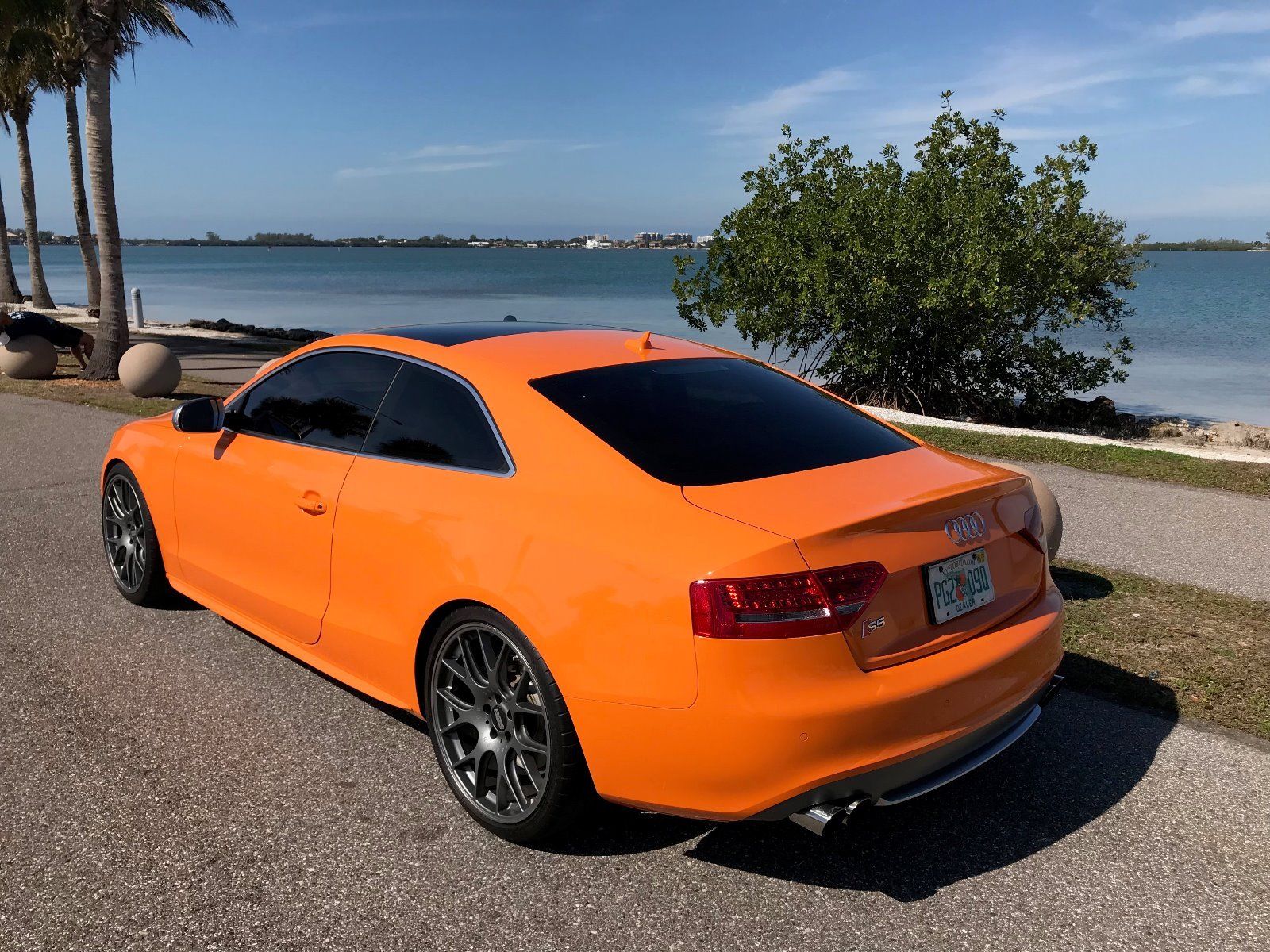 Year: 2011
Model: S5
Engine: 4.2 liter V8
Transmission: 6-speed manual
Mileage: 59,700 mi
Price: $28,995 Buy It Now
2011 Audi S5
Audi Exclusive Paint OEM (Code 3F3F)
Powertrain: 4.2l V8, 6-speed Manual Transmission

Features & Options:
2011 Audi S5 quattro MT6 Coupe
Audi Exclusive Glutorange Paint
Audi Navigation Package – Includes Parktronic sensors + Camera
Sports Rear Differential Package
Bang & Olufson Premium Sound Package – Incl. iPod connection/SD Card/Internal Hard Disk
Carbon Atlas Interior Inlays

Modifications:
*APR Engine Tune for 2011 S5 4.2
*AWE Track Exhaust + Downpipes
*BMC High Performance Air Filter
*Upgraded Sachs Performance Clutch
*H&R Street Performance Coilover Suspension (H&R Part #29092-1)
*H&R Front (30mm) & Rear (24mm) Swaybars (H&R Part #70059, #71059 respectively)
*JHM Short Shifter
*BBS CH-R 20×9″ Satin Titanium Wheels (ET25)
*265/30/20 Michelin Pilot Super Sport Tires
*Full LED Interior & Exterior
*Hoen Xenonmatch Fog lights
*Upgraded Subwoofer 10inch

Car is exceptionally clean inside/out (NO ACCIDENTS), no mechanical issues, normal wear and tear and has all its regular maintenance done.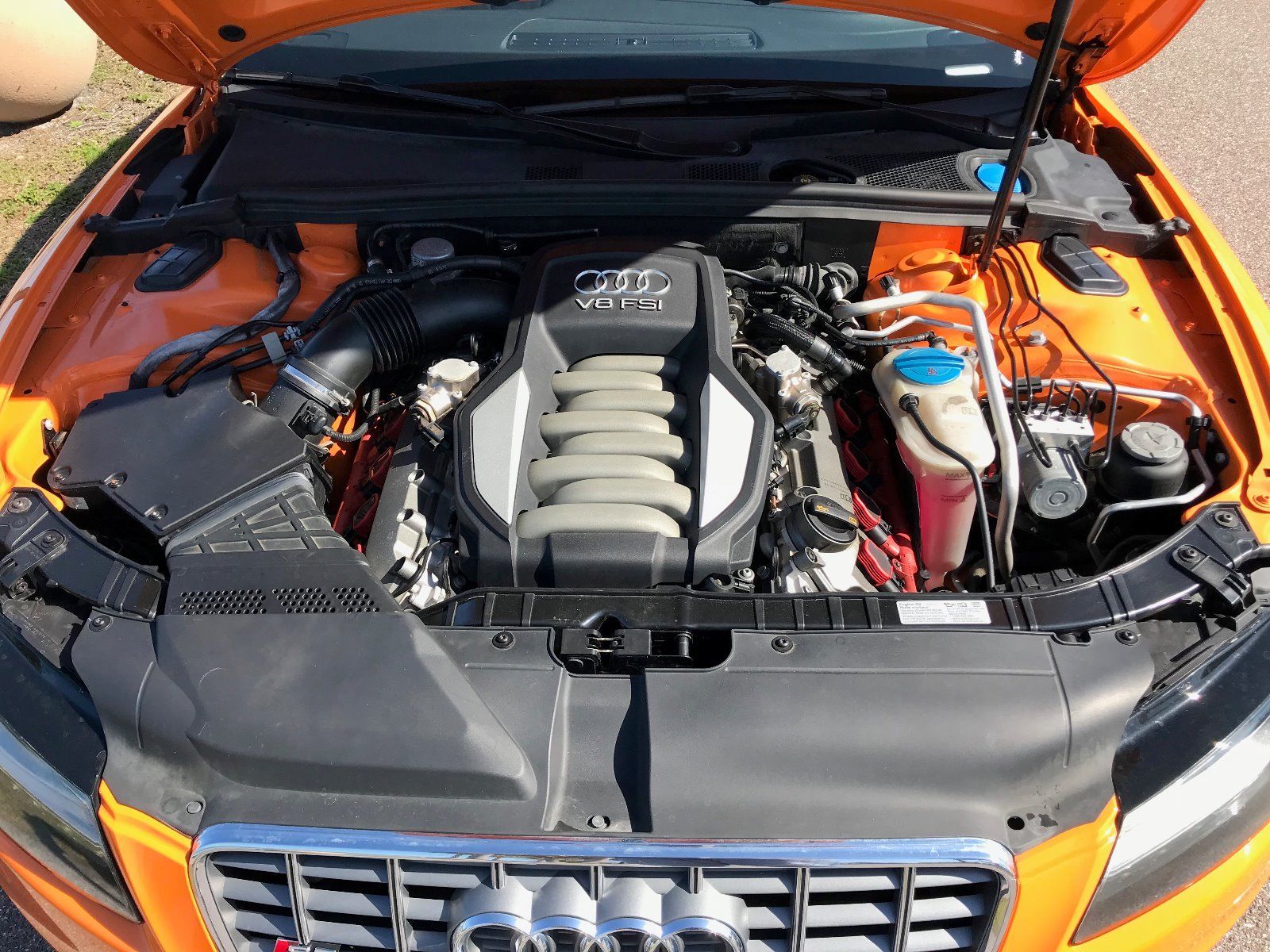 When they're not drab gray, the S5's lines stand out and it's here where the Audi design trumps the E9x. Long and low, the integration of the rear lights is superior to the large-bottom BMW. But one thing really stands out on the E92 – the rocker covers, which kink up after the door opening. You've probably not really noticed it, but my wife pointed it out to me and said it bothers her. And you know what? She's right (not for the first, or the last, time I assure you). The Audi's straight lines here work well and the glow of the Glut really hides the otherwise sedate exterior. It's not all roses; I still don't like HATE the headlights on these models. When the revised B8.5 was launched in 2013, it immediately drew into sharper focus just how much I detested the originals. The newer car is just much better looking from the front.
Inside is somewhat claustrophobic on these models and not helped by the all-dark tones. BMW did a better job here, overall, with brighter trim and color options for the seats. In the engine department, this car was the last of the holdovers of the 4.2 V8 formula Audi started using in 1992. It makes great noises, but the jury is still out on the long-term improvements to the rear-mounted chain guides. They're claimed to be better, but as we're just starting to enter into the mileage range where they'd start to fail it's hard to say definitively that you won't have a problem. The car has some upgrades which will make it sound a bit meaner and turn a bit better – something that will help you to avoid potholes given the massive (and expensive) BBS wheel upgrade. The revised rear differential – shared with the RS4 – won't hurt in the turns, either.
Realistically, this car doesn't compare particularly well for most to a M3. More appropriate would be to compare this car to the 335is; on paper, the two are virtually indistinguishable unless it's inclement weather. It's priced pretty aggressively, though it's a nice example. But this seller has also had the car for sale before; for $48,000 four years ago. The problem is that at even at only $29,000 it's really well into E90/93 M3 territory, but if you want a fixed roof and equal condition/miles, you'll still be paying a premium for the coupe. In that regard, if you want lusty V8 noises, a shouty outside and 2-door impracticality looks this might be a better option.
-Carter