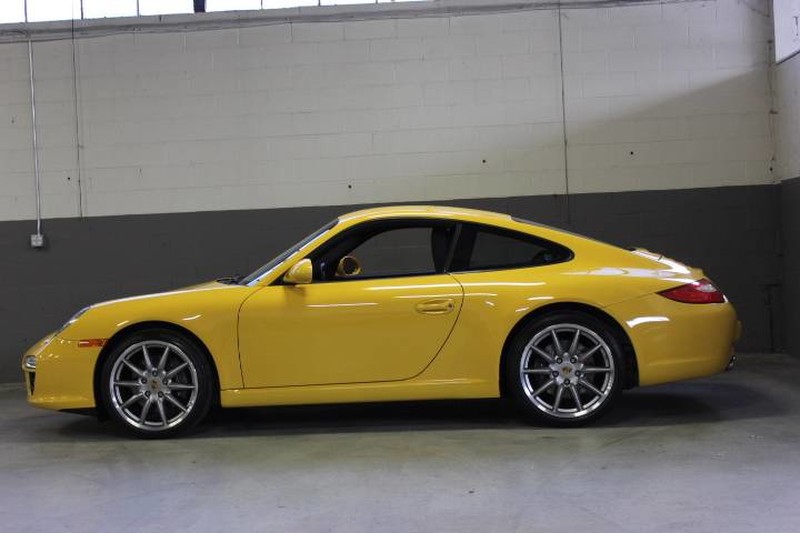 Let's stay with the 997 for a bit. I've been looking at these a lot lately in the search for better value among the 911 line. Thankfully we don't have to travel too far back in time before that value begins to show up. Its predecessor, the 996, still comes in with better value, but many simply cannot get past the looks. There's also the potential for IMS issues and even if those are relatively rare, buyers on the second-hand market are not looking for that sort of headache. While those issues still remain with the early 997, once we reach 2009 we can consider it a thing of the past. I certainly wouldn't entirely eliminate those earlier models from my shopping list, but it might be worth seeing how much more that peace of mind might cost you.
Unlike the previous Cream White 997 I featured, I have no question about whether this 997 comes in a color I like. Of course I do! Here we have a Speed Yellow 2011 Porsche 911 Carrera Coupe, located in New York, with 19,488 miles on it. Within a sea of similarly colored cars, this bright yellow 997 easily stands apart from the rest. I doubt you'd miss it.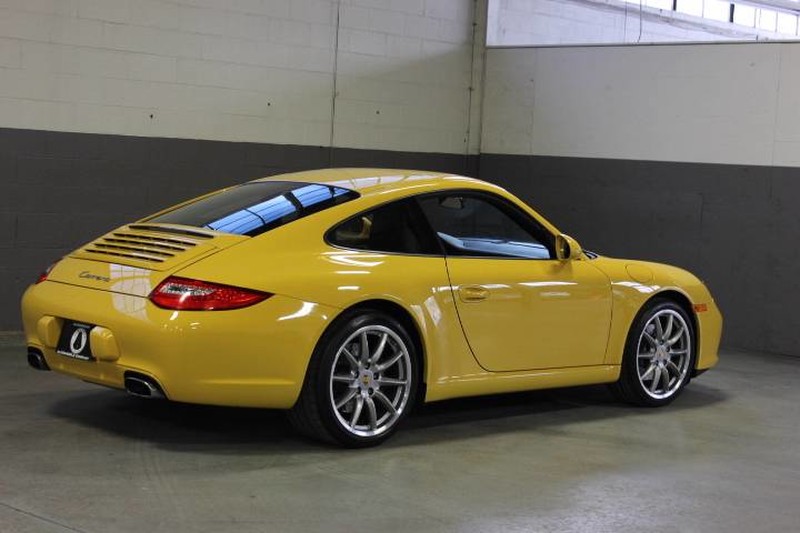 Year: 2011
Model: 911 Carrera
Engine: 3.6 liter flat-6
Transmission: 6-speed manual
Mileage: 19,488 mi
Price: Reserve Auction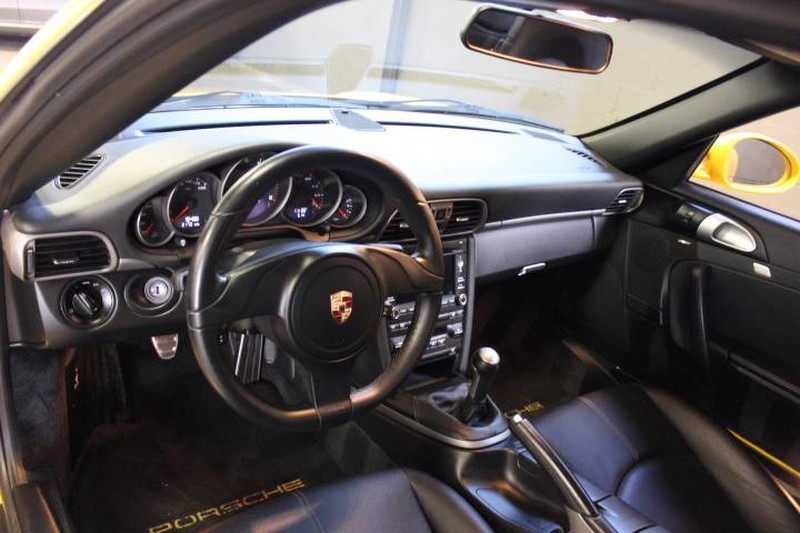 2011 Porsche 911 Carrera
HERE IS A VERY SPECIAL 2011 PORSCHE 911 CARRERA COUPE. FINISHED WITH A SPEED YELLOW EXTERIOR AND BLACK LEATHER INTERIOR. DRIVEN JUST 19,488 CAREFUL MILES SINCE NEW. OPTIONS INCLUDE A 6-SPEED MANUAL TRANSMISSION, POWER SUNROOF, BOSE SURROUND SOUND SYSTEM, 19 INCH CARRERA SPORT WHEELS AND MUCH MORE.

THIS LOW MILEAGE 911 CARRERA COUPE JUST UNDERWENT A COMPLETE OIL AND FLUID SERVICE WITHIN THE LAST 20 MILES AND IT DRIVES EVEN BETTER THAN IT LOOKS. THE 6 CYLINDER ENGINE IS STRONG AND POWERFUL AND THE 6-SPEED MANUAL TRANSMISSION SHIFTS EFFORTLESSLY THROUGH ALL OF THE GEARS. THE STEERING IS TIGHT AND PRECISE AND THE BRAKES FEEL JUST GREAT. ALL OF THE ELECTRONICS WORK PERFECTLY AND THE AIR CONDITIONING IS ICE COLD. THIS REALLY IS A FANTASTIC 911 TO DRIVE.

THE INTERIOR IS STUNNING. THE BLACK LEATHER SEATS ARE IN REMARKABLE CONDITION (SEE PICTURES) SHOWING VIRTUALLY NO WEAR AT ALL TO ANY OF THE SEATS. THE DASHBOARD IS LIKE NEW AND EVEN THE CARPETS DON'T LOOK OR FEEL LIKE THEY HAVE STEPPED ON THANKS TO THE PORSCHE FLOOR MATS THAT HAVE BEEN PROTECTING THEM.

THE EXTERIOR IS WHAT REALLY SETS THIS PARTICULAR 911 CARRERA APART FROM THE REST. THE RARE SPEED YELLOW PAINT IS IN FANTASTIC CONDITION (SEE PICTURES) WITH NO MAJOR SCRATCHES OR DINGS ANYWHERE AT ALL. THE PAINT IS STILL BRIGHT AND SHINY JUST LIKE IT WAS IN 2011 WHEN THIS 911 WAS ON THE SHOWROOM FLOOR AT THE PORSCHE DEALERSHIP. ADD THE OPTIONAL 19 INCH CARRERA SPORT WHEELS MOUNTED ON BRAND NEW TIRES AND THIS 911 REALLY DOES LOOK SPECIAL.

THE 2011 PORSCHE 911 CARRERA REALLY IS THE ULTIMATE EXOTIC CAR. IT HAS CLASSIC LOOKS, GREAT PERFORMANCE AND ALL OF PORSCHE'S LEGENDARY SAFETY, LUXURY AND RELIABILITY. I HAVE OWNED A LOT OF 911'S, BUT THIS ONE HAPPENS TO LOOK AND DRIVE AS NICE AS ANY. THE ONLY REAL "APOLOGIES" TO THIS PORSCHE ARE A FEW TYPICAL NICKS AND WHEEL EDGE MARKS (SEE PICTURES) THAT ARE TO BE EXPECTED ON ANY USED CAR. PLEASE FEEL FREE TO CALL ME (MATT 516-658-4048) WITH ANY ADDITIONAL QUESTIONS YOU MAY HAVE. THE PICTURES DON'T DO THIS 911 CARRERA JUSTICE, IT REALLY IS THAT NICE!!! I AM LISTING THIS PORSCHE WITH A VERY FAIR RESERVE SO PLEASE ONLY BID IF YOU INTEND TO BUY!!! DON'T MISS THIS ONE!!! GOOD LUCK!!!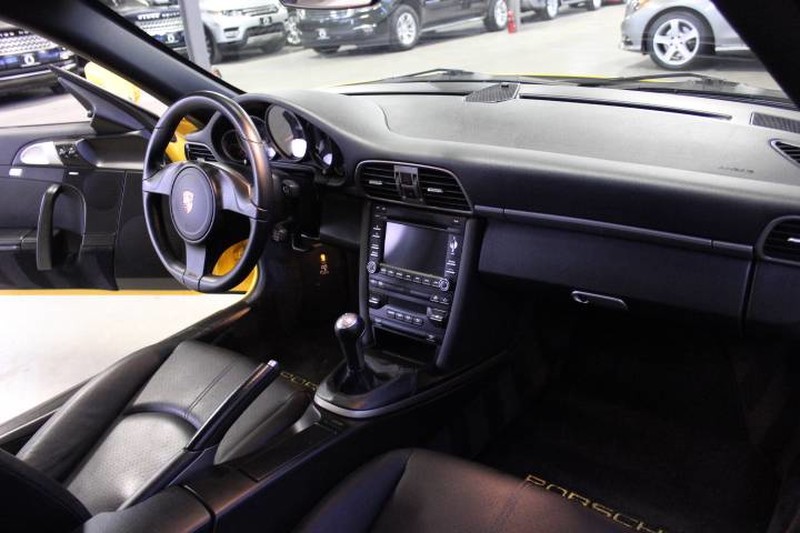 Other than the color, I wouldn't say there is anything particularly special about this 997. It looks well cared for and the mileage is very reasonable. Both the exterior and interior look in very good condition and show minimal wear. So while there aren't any special options and this is just the base Carrera, the overall package looks promising. And then there is that bright exterior. As I alluded to above, when you're looking at modern 911s there are a lot to choose from and a lot of them blend together into a mass of silver, black, and white with the occasional red one to draw your attention just a little bit. Within that mass Speed Yellow is tough to pass by. Obviously, there is a reason colors like this are less common: not everyone wants to drive a bright yellow car. But this is a 911, not a minivan; blending in isn't necessary and, frankly, you have kind of given up on blending in by buying a 911 in the first place. Be bold!
If you've got the extra money I would say that finding a Carrera S is probably the way to go. But if you really don't need the extra performance the base Carrera is no slouch in its own right. You'll save a few bucks at purchase as well. Bidding on this one currently sits at $35,100 and there's still a good bit of time left in the auction. I'll assume that the mileage and bright color will be enough to bring that bidding well into the $40Ks. How high and whether it can meet reserve, we'll have to see.
-Rob