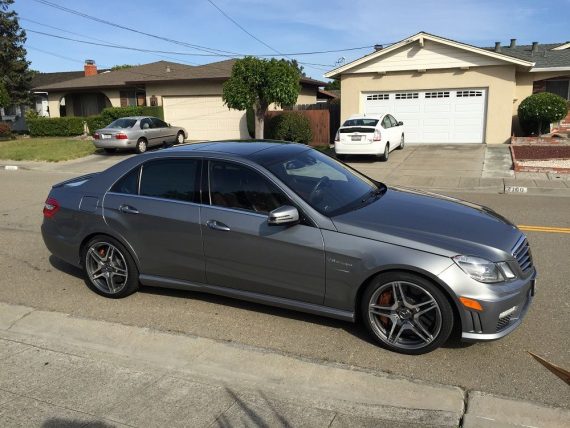 I don't feature a lot of newer AMG cars. It usually takes a really special example of what is already a special car for me to take a second look. What we have today is one of those cars. This 2012 E63 AMG for sale in California takes an already extremely fast W212 and adds a little extra power with some special options. So let's take a look at what this Affalterbach rocket has to offer.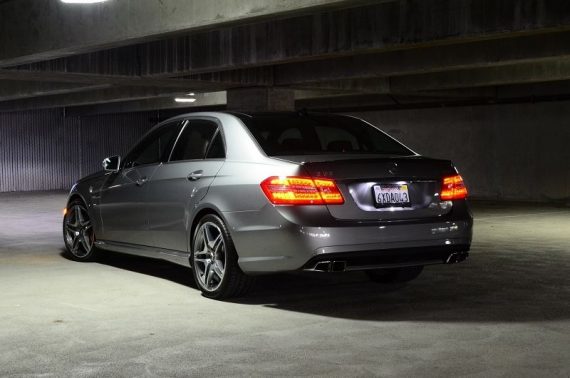 Year: 2012
Model: E63 AMG
Engine: 5.5 liter twin-turbocharged V8
Transmission: 7-speed automatic
Mileage: 48,000 mi
Price: $60,000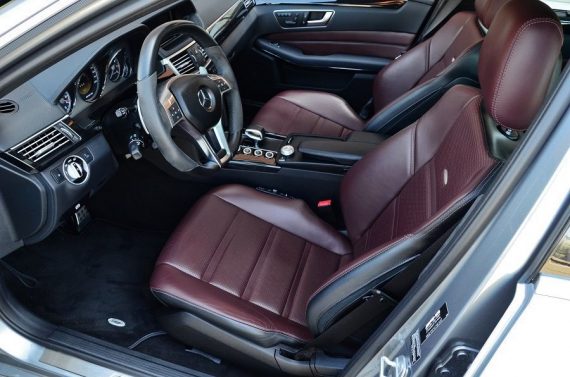 I am selling my highly optioned, fully loaded 2-owner '12 E63 for sale. 48k miles on the clock. Extended Mercedes/MB USA factory warranty through 2019. Prepaid dealer service (2 more 10k mile full services left). Tire and wheel replacement package thru 2019. Adult owned. Showroom, immaculate condition – mint interior, pristine car! Never raced, modded, launched or abused in any way. Freeway miles only. Not driven in town. Exclusively dealer serviced, purchased from original owner through Stevens Creek Mercedes in April 2015.

Fully loaded (Most loaded 2012 E63 you will see on this board):
-Palladium Silver
-Clear Bra
-Designo Mystic Red premium Nappa leather (Oxblood color – this interior is spectacular)
-P-30 performance package 550hp, limited slip, delimited top speed governor
-Carbon ceramic race brakes w/metallic orange 6-piston calipers. Good brake life left
-Premium twin spoke 19″ alloys (tire & wheel replacement package thru '19)
-Factory Pirelli tires – approx 8k miles left on tires
-Night vision
-Distronic and Lane assist
-Factory carbon rear spoiler and engine cover
-Piano black lacquer console
-Entertainment package – USB, Bluetooth, Navi, hands free voice command etc.

Recent dealer services for known issues: sunroof bolts torqued (no cracking sounds over transitions anymore), front shock tower tops replaced, O2 sensors replaced.

Price: $60k firm. No trades. You deserve this car. Finest, cleanest, most highly optioned '12 E63 you will ever find. Period. Factory warranty protection for extra peace of mind. Warranty alone was $5,800 plus other packages like tire & wheel protection, pre-paid service etc. Original sticker was $124,685.00

This car hauls major *** and looks really good doing it.

Willing to have car completely gone thru at your mechanic or a local MB dealer.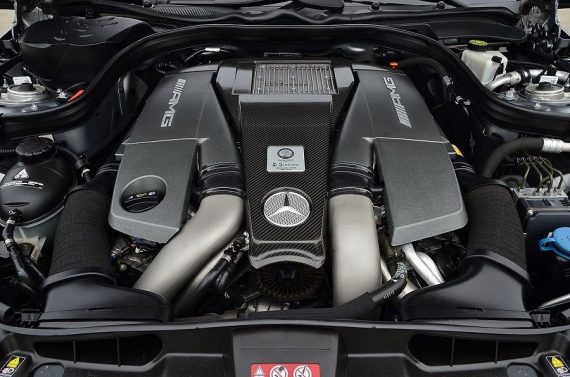 We'll get the basic facts out of the way first. The P30 Performance Package pumped the power up to 550 horsepower and 590 ft-lb of torque that can get you to 60 mph is just 3.8 seconds. But we already knew this thing is really fast. It's the options I came for. Start with the Carbon Ceramic brakes that cost $12,625. That is literally more than I paid for my entire E55 AMG when I bought it. Add in the 19-inch wheels and Night View for almost $1,800 each, throw in the LSD for another $2,000, tack on the panoramic sunroof for $1,100 and we still have many thousands of dollars to go.  The P30 Package was $7,300, the Driver Assistant Package ran you $2,950 and the best option of this car, the Designo Mystic Red Leather was $3,100. The Mystic Red Leather isn't as red as you think but more of a mulberry which I think looks excellent. Now getting back to the adding machine, the little paper slip says this car has a total of $36,085 worth of options. That means you could of purchased this car for a grand total of $124,685 or a lightly optioned E63 and a new CLA250, also with very few options.
So what does this car cost now? $60,000. Yes, this car is 50% off after only four years and 48,000 miles. It's not like this thing is trashed, actually it's on the complete opposite end of that being nearly perfect. Yes, I know the old "if you can't afford it new, you can't afford it used" saying but chance are if you can afford a $60,000 car you can probably swing the maintenance and repairs on this car outside of any brake work which then I suggest you finding a nice cardboard box to live in because you sold your house to pay for nearly 16-inch two piece rotors or God forbid the six piston calipers.
I realize car people face this kind of dilemma every time they look at cars. Does one pick a brand new for car $xx,xxx or a few year old car that has extreme value for around the same price but unknown reliability and longevity. But cars are getting better everyday and so are the resources to care for them. This might be an option if you want a nearly perfect package for not a ton of money.
– Andrew