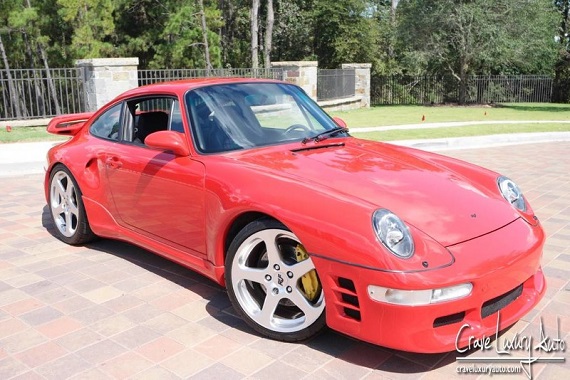 We're all pretty familiar with Ruf's long history of producing automobiles derived from a Porsche chassis. Their ethos falls similarly in line with Porsche itself, though with everything turned up a notch (or in some cases many notches). Whether they are Ruf-modified Porsches or possess an actual Ruf VIN, these cars combine the best of high performance and refinement. One of the cars we see most frequently is the BTR, which used the 3.2 Carrera as the basis for producing a variant of the 911 Turbo. The successor to that model, generally called the BTR2, was produced for the 993 and is the car we see here. They could use most any configuration of the 993, whether the rear-drive Carrera 2 or the all-wheel drive Carrera 4 (though I've even come across one based off of a Turbo S) as their base and from there received the typical Ruf treatment that provided a single turbocharger, modified suspension and braking, and a redesigned interior with integrated roll cage. Since either the Carrera 2 or Carrera 4 could provide a base, Ruf was providing either an alternative to the 993 Turbo in its all-wheel drive configuration or a toned down version of the GT2 with rear drive. The example we see here began life as a Carrera 4S prior to being shipped off to Pfaffenhausen for its conversion and features a fairly interesting interior showing off what seems to be a cross between houndstooth and tartan inserts. I'm not sure what we'd call that, but it's quite eye catching!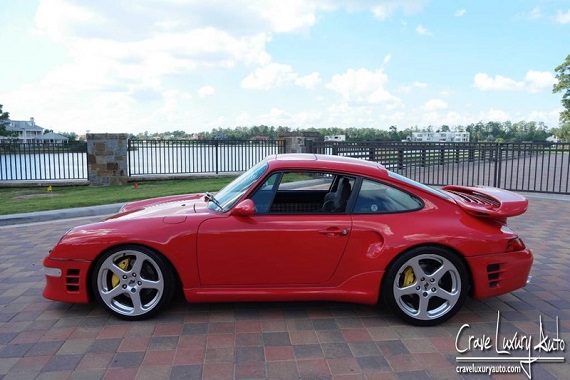 Year: 1996
Model: 911 Carrera 4S
Engine: 3.6 liter turbocharged flat-6
Transmission: 6-speed manual
Mileage: 31,128 mi
Price: Reserve Auction ($169,750 Buy It Now)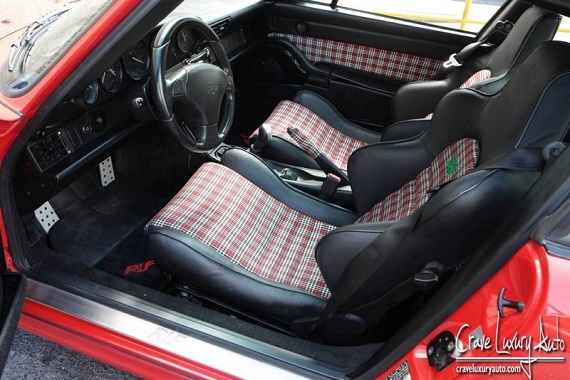 996 Porsche 911 Carrera
Welcome to Crave Luxury Auto, one of the nation's premier marketers of high-line and luxury automobile dealers. The winner of this auction will have the opportunity to own this beautiful 1996 Ruf BTR conversion. The paint is in excellent condition and it is apparent that this car was garaged and meticulously-maintained. The interior is virtually flawless and is equipped with all the right options with only 31,128 miles. You can't go wrong with this fabulous vehicle!

1996 Ruf BTR with integrated roll cage

This car started life as a 1996 Porsche C4S and was converted in Pfaffenhausen. It includes the BTR package (single turbo, 440bhp), Ruf brakes, Ruf suspension (Bilsteins with Ruf custom valving) and the famous integrated roll cage. The cost of such a conversion was over 70k.

The turbo S inlets are extremely rare factory turbo S inlets, not a fiberglass aftermarket piece.
This vehicle has all of the R Turbo aesthetics with factory serial numbered bumpers installed in Pfaffenhausen, Ruf mirrors, 19 inch wheels and a turbo S tail. An 18″ polished aluminum set of wheels is available as a swap or for purchase. This car comes from a dedicated Ruf collector.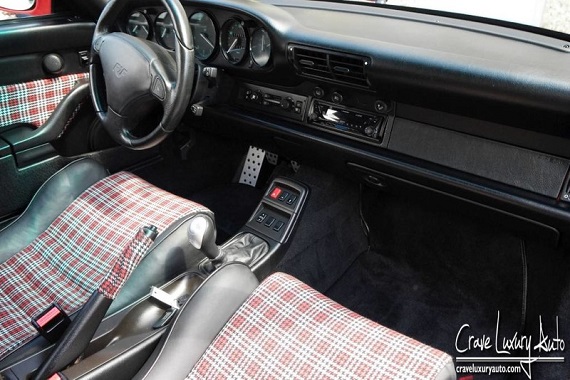 As the last of the air-cooled 911s any special 993 is going to attract significant notice and I doubt this BTR conversion will be any different. Strictly in terms of value a converted BTR – rather than a Ruf VIN BTR – falls in similar territory to the 993 Turbo though may not quite reach the same sort of price, especially the very high prices we see for low mileage or Turbos with Exclusive options. As for the real deal with a Ruf VIN of which there are said to be 18, I haven't seen one, but we can rest assured they would be highly prized. On sheer performance and wow factor that kind of makes one like this pretty attractive as you get a healthy dose of performance and tuner cachet, without the astronomical price. Even as a conversion this one has a lot of neat options to help it stand out, from the very nice seat inserts to the Turbo S rear intakes and tail to the integrated roll cage. And we can trust that the performance will be, like most any Ruf car, phenomenal. Of course, documentation will be key and we aren't offered anything here to validate this as a Ruf conversion or the options that were added. Whether that documentation exists will go a long way toward determining the final selling price. With bidding sitting currently at $99,100 we're still well under the BIN price. If everything does indeed check out, then I don't imagine this one will be around for long.
-Rob