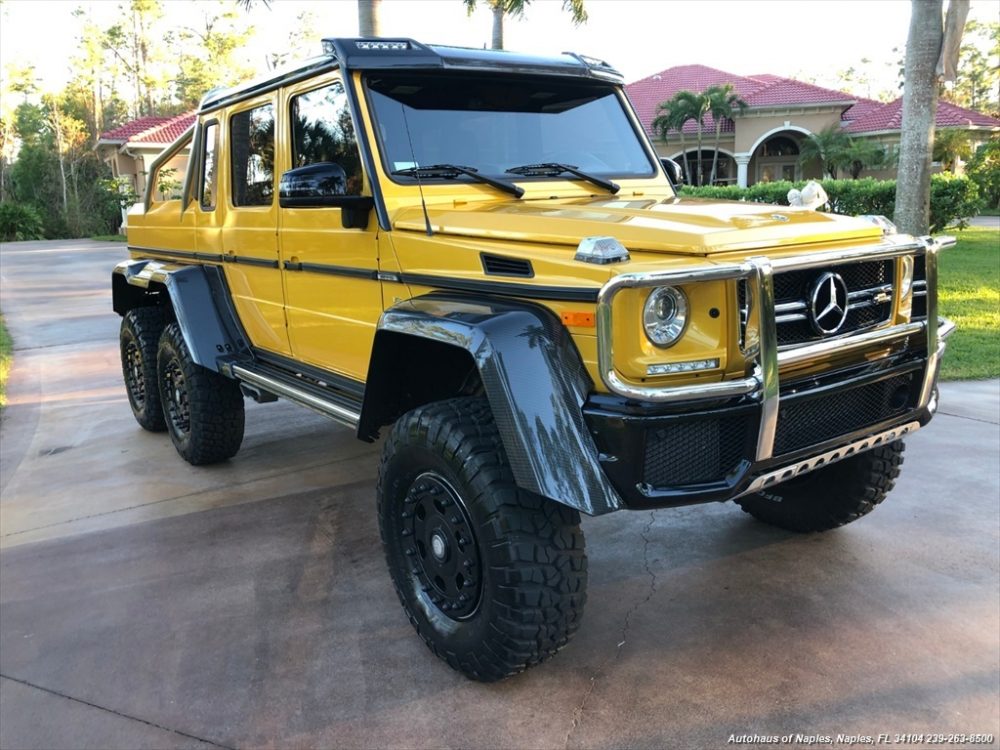 A few weeks ago I came across a 2014 Mercedes-Benz G63 AMG 6×6 that was extremely rare for a few reasons. First, Mercedes only produced around 100 examples for the entire world and second, it was in the United States despite never being offered for sale here. The nearly $1,700,000 price tag shocked me a little as well, but I guess that is the price you have to pay the biggest and baddest SUV on the planet. Today, I happen to run across another G63 AMG 6×6 up for sale in Florida. I thought lightning might have stuck twice having two very rare vehicles for sale in the same time, but then I noticed that this was a model year 2016. This is an important piece of information seeing as Mercedes only produced the 6×6 from 2013 until early 2015. The next step was to run the VIN to see what the data card says and compare it to the 2014. This gave me some answers as this 2016 is missing the P66, P67 and P68 options that would indicate that this is a factory 6×6. Still, I go back to the photos and see a perfect, factory-looking 6×6 that can fool anyone. I was awfully confused until one little thing tipped me off to explain everything.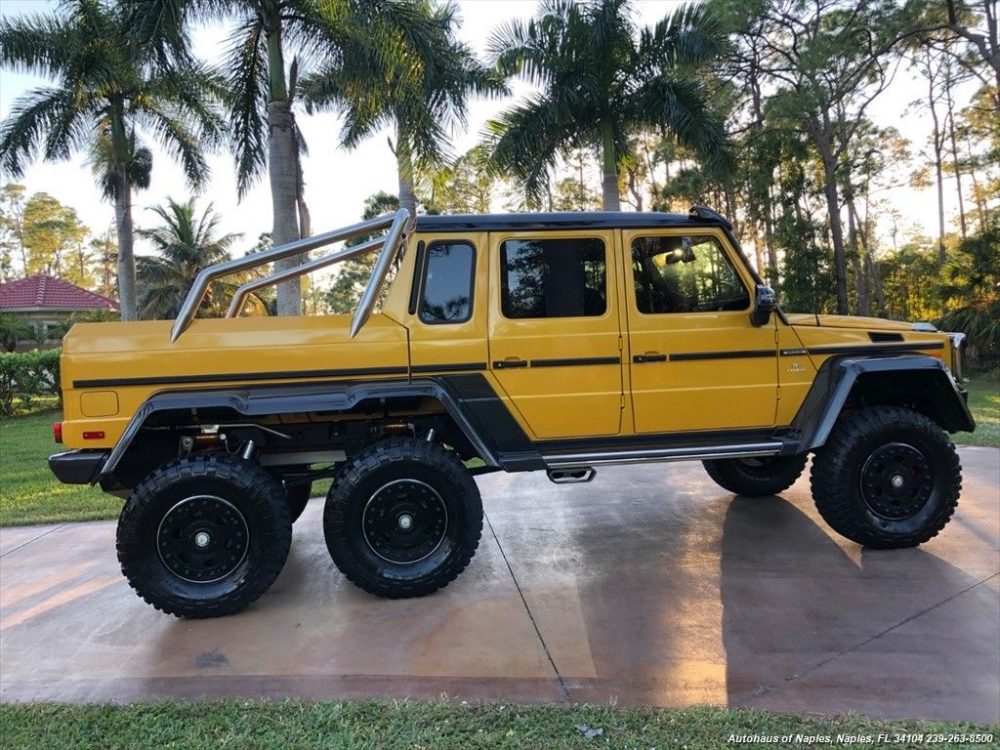 Year: 2016
Model: G63 AMG 6×6
VIN: WDCYC7DF0GX254739
Engine: 5.5 liter twin-turbocharged V8
Transmission: 7-speed automatic
Mileage: 10,723 mi
Price: $1,300,000 Buy It Now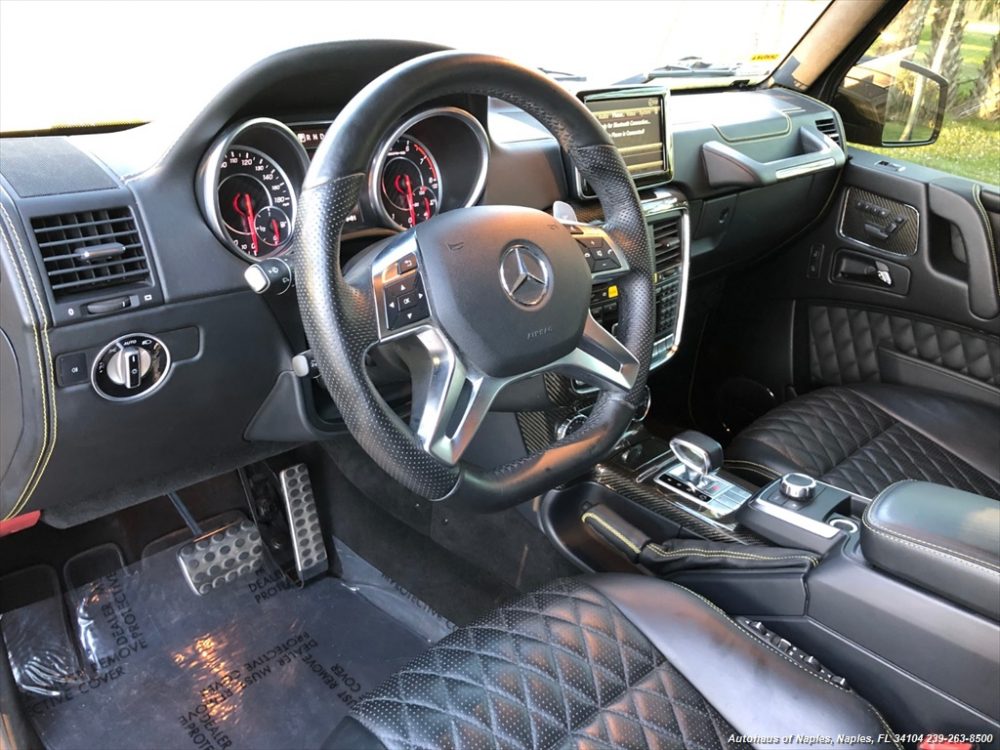 Offered for sale is this insanely amazing 2016 Mercedes-Benz G63 AMG 6×6! Finished in AMG Solar Beam Yellow with a stunning Designo Black Nappa Leather interior with diamond stitching and yellow stitching with a bed liner made of teak wood!

Only 10,723 miles with distronic plus, a backup camera & a Florida title!

Equipped with a hand crafted 5.5 Liter AMG Twin Turbo V8 engine producing 563 horsepower & 561 foot lbs of torque.

The exhaust system is by Akrapovic & is a $17,000.00 exhaust system.

This monster truck has 3 portal axles & 3 differential locks! It is capable of going through any terrain.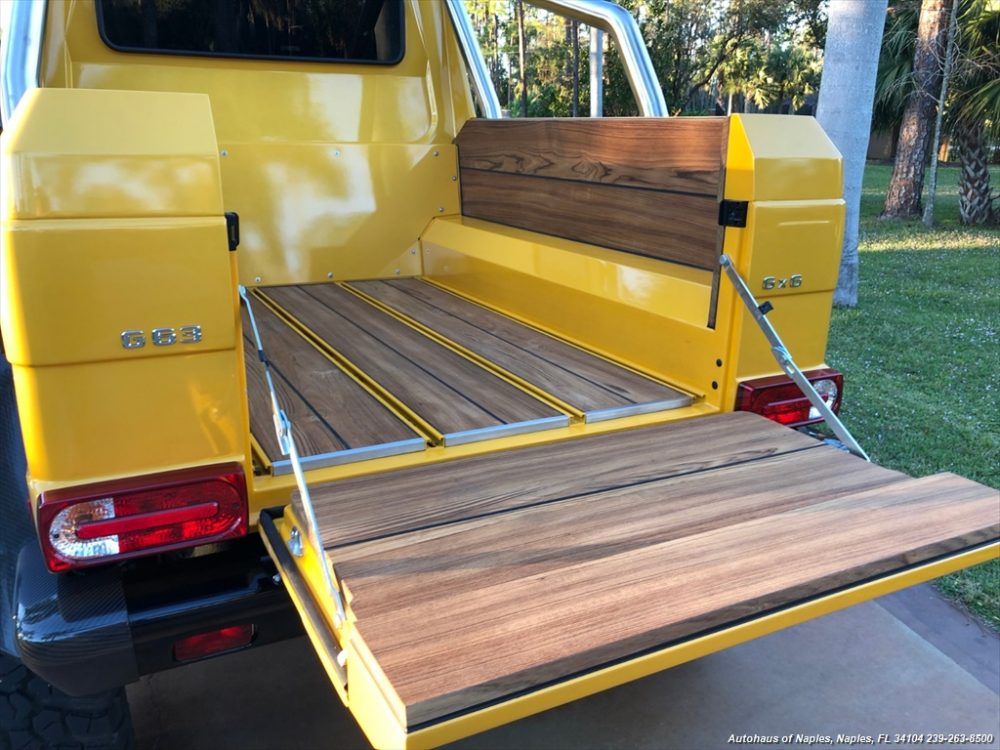 As I was combing through the photos, this shot of the front shock broke open the case for me. That logo with the letter G inside a silhouette of G is from a company that I actually looked at a year ago. G Wagon Car Technology GmbH is located in Austria, not far from the G-Wagen factory, that does advanced modifications of Gs. I looked at their creations, a G300 CDI 6×6, back in April and a military-spec G300 CDI 6×6 over a year ago. My bet is that this regular G63 was shipped to Austria for the conversion and then shipped back to the US. Another thing that makes me think this? G Wagon Car Technology is a dealer of Akrapovic exhausts, the same exhaust that is on the G63. How convenient. Of course, the seller mentions none of this and would lead you to believe that this is a factory G63 AMG 6×6. Caveat emptor, even when talking about something this expensive.
How expensive? $1,300,000. For those keeping score at home, that is $300,000 less than the factory example last week. I suppose in the grand scheme of things, if you are spending over $1,000,000 on vehicle, let alone a G-Wagen, you have other things to busy your mind. Still, you are going to fool 99.9% of the population into thinking this is a factory G63 6×6, so I guess it isn't a big deal. I wish I had to make these kind of tough choices.
– Andrew