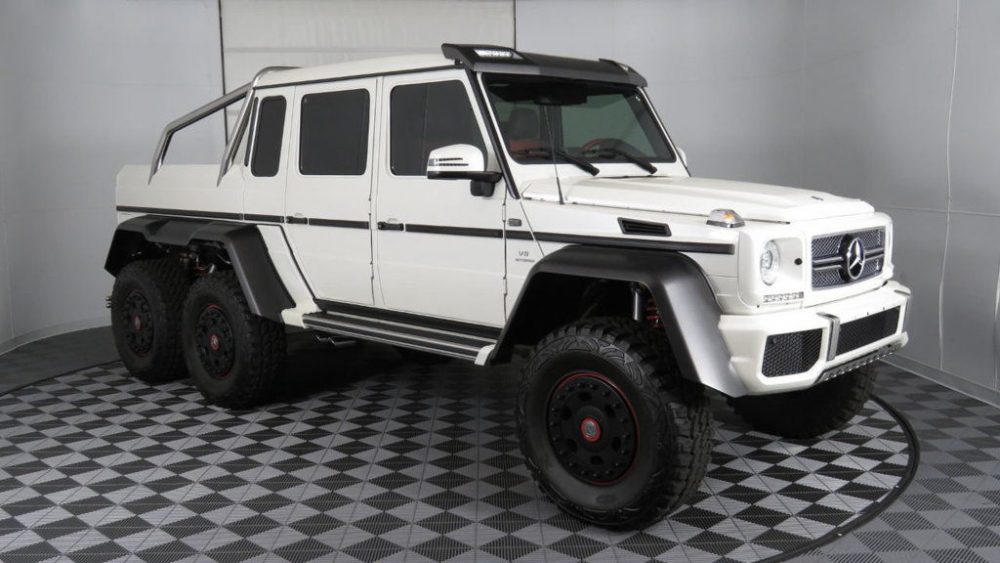 If you can remember from a few weeks ago I took a deep dive into a 1999 Mercedes-Benz G500 that was transformed by a couple of guys in a garage in Western Ukraine into a pretty damn good recreation of a 6×6. I am still trying to figure out how they pulled it off so well because it isn't like you can go grab a spare 6×6 body from the parts counter at your local Mercedes-Benz dealer and Mercedes isn't giving out technical sheets for a vehicle they built less than 100 of. Nonetheless, the price was actually pretty fair seeing how much work was put into and of course, how much a real 6×6 will run you. Luck would have it that I found a real 2014 G63 AMG 6×6 up for sale in Arizona with just a few thousand miles on the odometer. The price? Are you sitting down?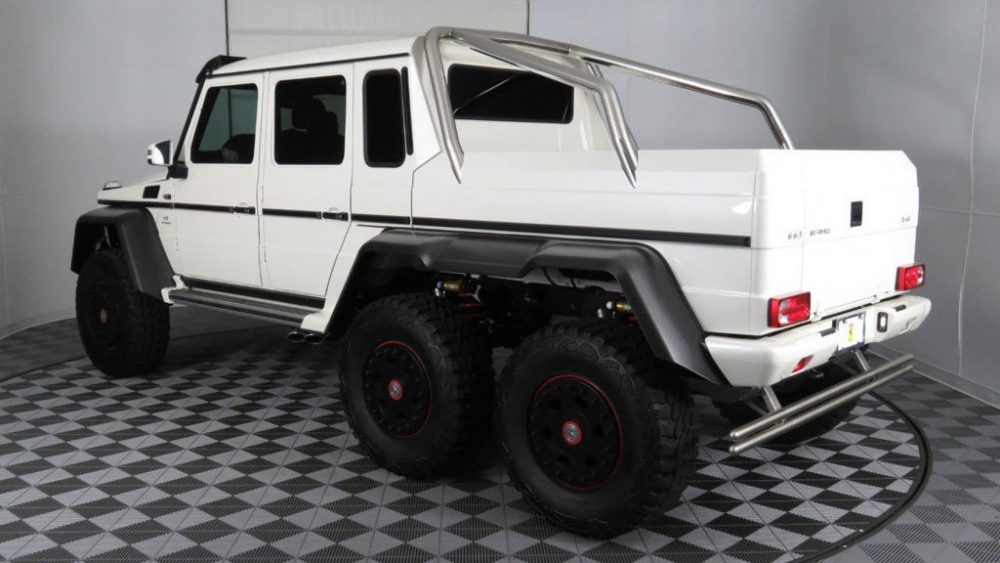 Year: 2014
Model: G63 AMG 6×6
VIN: WDCYC7CF7EX211515
Engine: 5.5 liter twin-turbocharged V8
Transmission: 7-speed automatic
Mileage: 3,797
Price: $1,695,000 Buy It Now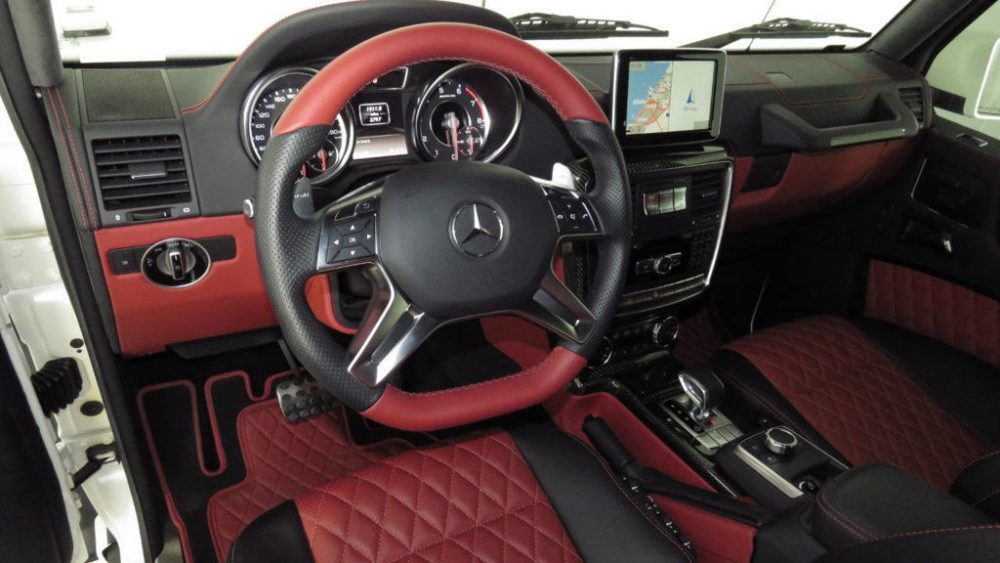 2014 MB
G63 AMG 6×6

Diamond White
over
Black and Red Designo Interior

1 Owner Only 3,797 Miles

Every Option

Bought New at the Dubai Auto Show
invoiced at 1,949,800 (AED) Copy

All Documentation From
Dubai Customs Certificate of Export
Conversion and US Customs paperwork
Department of Homeland Entry Summary
EPA Certification
U.S. DOT Declaration Paperwork

All Documnets on hand everything done the right way!
Do not miss the Oppurntunity to Own this Rare Perfect Example of the G63 AMG 6×6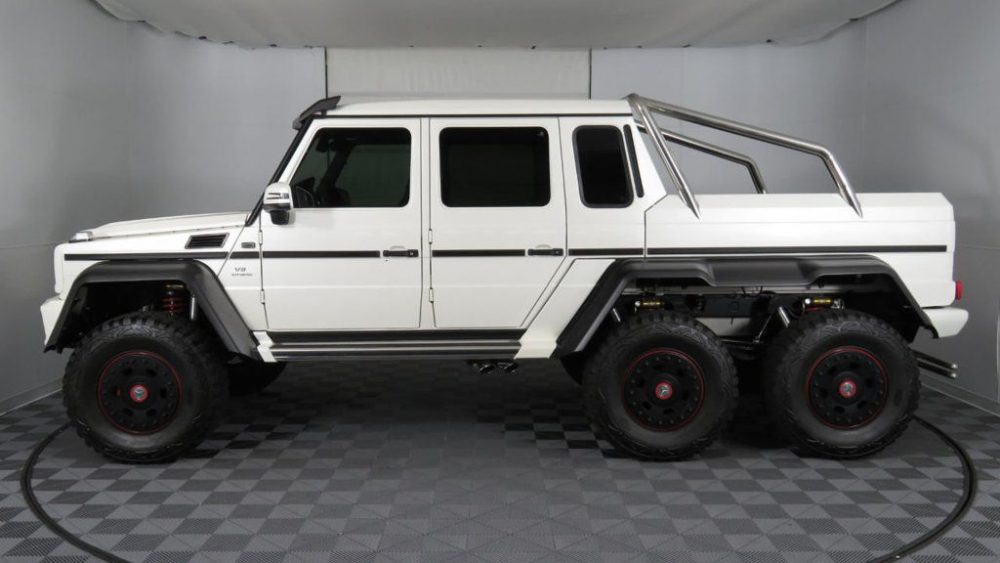 Not much of a surprise that this 6×6 was built for the Middle East and comes to the US from Dubai. Since these were never officially sold in the United States, a good amount of work is required to make these things legal for American roads and it looks like all the heavy lifting is already done. It is also no surprise that with just 3,800 miles, it looks pretty much perfect as well. Either this truck was jumping sand dunes in Dubai, or jumping curbs at the mall because it couldn't fit in a regular parking space. The red diamond stitched leather inside is just as crazy and in your face as everything on the outside of this, but you pretty much expect this from something as wild as the 6×6 is. Unlike the homemade 6×6 from earlier this month, this G does have the twin-turbocharged 5.5 liter V8 that will get this monster to 60 mph in 7.8 seconds. Not bad for nearly 9,000 pounds.
The asking price for this ultimate W463 is a whopping $1,695,000. That is Bugatti Veyron Grand Sport money. Granted, the Veyron will probably cost you more in the long run and you can't climb a mountain in one either. It seems Mercedes limiting production to just under 100 did wonders for the values of these as the MSRP was a little over $500,000 when new in 2014. I'm sure this thing being able to turn the heads of nearly every living thing when driving past didn't hurt either. My take? This is a "money is no object" vehicle. This is for those who absolutely no budget when it comes to toys and probably doesn't even know what the word budget means. That 1999 6×6 in Ukraine seems like a real steal now at just $250,000.
– Andrew