Anyone who has made their way over to the Porsche configurator knows there are a seemingly endless number of possible model permutations to choose from. I don't know what the actual number is and don't feel like counting (are we at 22 now?), but the one we see here, the Carrera GTS Cabriolet, seems one of the less frequently selected configurations. I don't know how many there are, but I can't recall seeing one very often. I'm also a little surprised it isn't a Carrera 4 GTS, I guess because I expect Cabriolet drivers to be more likely to opt for an all-wheel drive 911. But I'm glad it's only rear drive. To make it perfect I'd prefer the manual, but I'm not going to quibble much over the presence of PDK. It is after all a Cabriolet.
I have featured the Carrera GTS a few times and like them quite a bit. As the highest performance of the standard 911's the GTS makes for a compelling package for those who don't mind allowing Porsche to configure all of the sporting options for them. With PDK they can rip through 60 mph in almost 3.0 seconds. Should you find yourself on a lonely road, 150 mph comes up in under 20 seconds. I don't know that you'd want the top down at that point, or at least not without wearing a hat.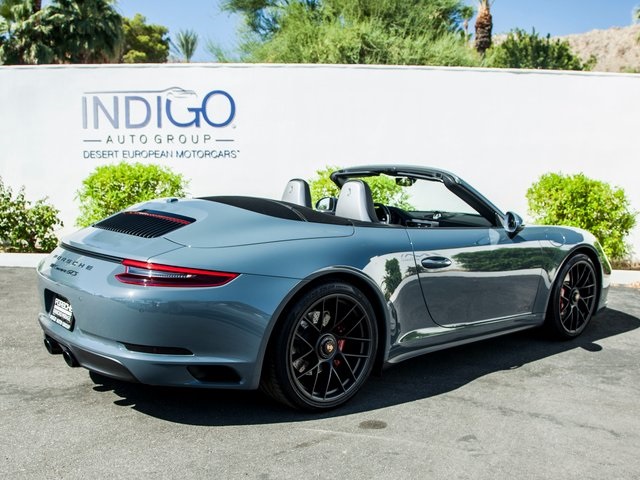 Year: 2017
Model: 911 Carrera GTS Cabriolet
Engine: 3.0 liter twin-turbocharged flat-6
Transmission: 7-speed automatic
Mileage: 3,982 mi
Price: Reserve Auction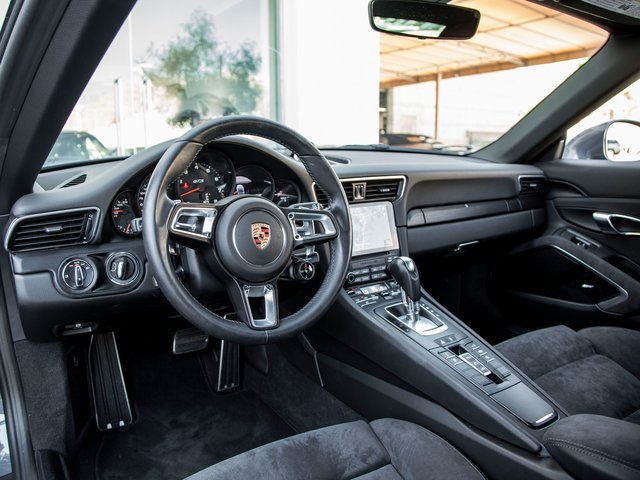 Porsche of Rancho Mirage proudly offers this beautiful 2017 Porsche 911 Carrera GTS Cabriolet in Graphite Blue Metallic over a Black interior with 3,956 miles. The 911 Carrera GTS is powered by a 3.0L twin turbocharged horiztonally opposed six cylinder engine producing 450 hp and 405 lb-ft of torque through a Rear Wheel Drive and a 7-Speed Porsche Doppelkupplung (PDK) Automatic Transmission.

Porsche of Rancho Mirage is a member of the indiGO Auto Group. Our dealership features a beautiful Porsche Corporate Identity showroom, fully staffed factory certified service center, parts department, finance department, detail department, and Porsche accessories boutique. Allow us to also help arrange transportation of your new car directly to your home anywhere in the world. Trade-in proposals are always welcome. If you like this vehicle and have questions, simply call, email, or drop by our location at 71387 Highway 111, Rancho Mirage, CA 92270. We invite you to Activate Your Ownership with us today!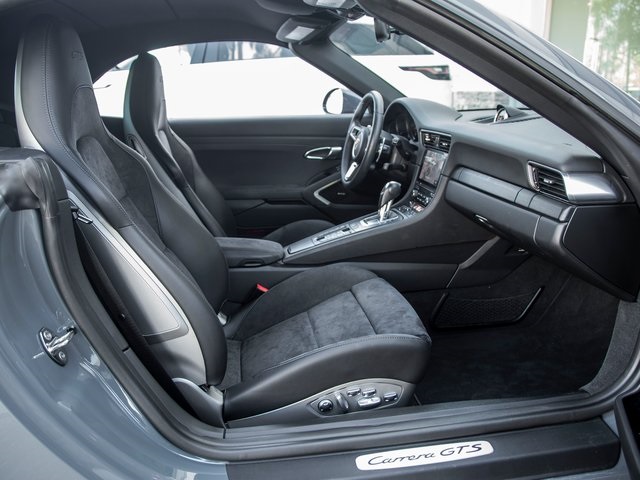 911 Cabriolets have not always been the best looking cars. They still aren't as good looking as a Coupe, but on the 991 the design really seems to have come together well. This particular GTS, painted in fantastic Graphite Blue Metallic, looks phenomenal. I can't stop looking at all of the angles. The GTS comes somewhat blacked out and that works well with the Graphite Blue paint. It's all shifted toward the darker end of the spectrum, but in this case I think that's ok.
The interior continues the theme of darkness. I'd have loved it had they gone with the painted interior trim in Graphite Blue. That'd have really brought everything together though without going over the top. It's still pretty inviting, but could be better.
Like my other Carrera GTS features this one doesn't have many miles and still looks pretty new. Judging by where the seller has set the starting bid I suspect this one won't go anywhere too soon. It's under MSRP, but I think it's still going to have to drop some more. Nonetheless, this is a really nice looking example and for open-top motoring the performance will be quite invigorating.
-Rob