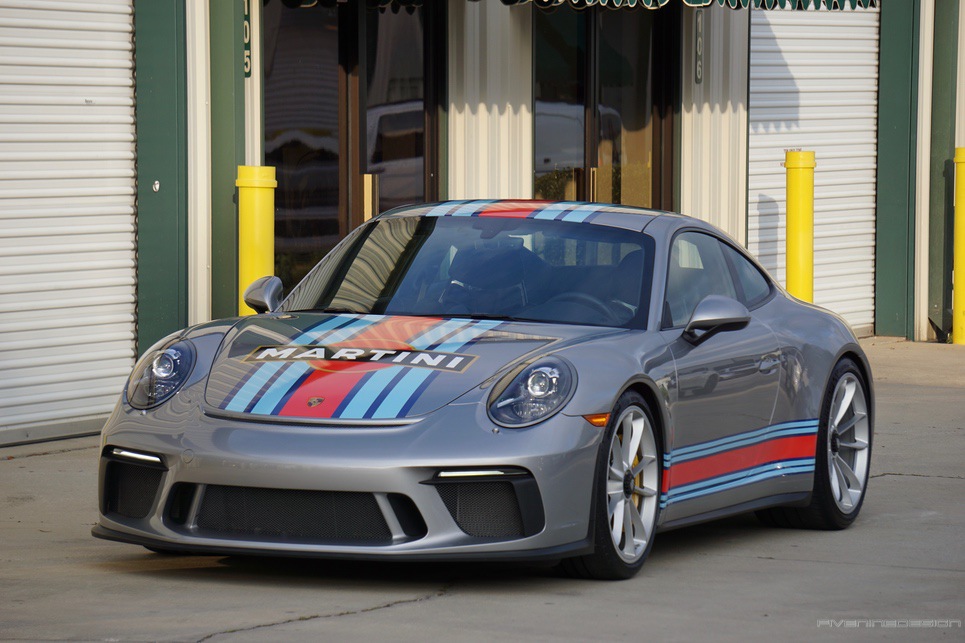 Update 3/15/19: This GT3 Touring is following the market down; the new asking price is $172,990 today, down a bit over $22,000 from January when it was $195,159.
The 2018 Porsche 911 GT3 Touring. Otherwise known as the car that crushed every 911R speculators hopes and dreams. This was no mistake either. 911 boss August Achleitner came out and said that the GT3 Touring Package was created partially in response of secondary market 911R prices going insane the second they were announced. Of course there are some differences between the R and the Touring because Porsche didn't want to anger all 991R owners to complete madness. The R has a magnesium roof along with carbon fiber fenders and hood to save weight while the Touring has the normal metal. The Touring also has a 9,000 rpm redline, slightly up from 8,600 in the R. The rest? Pretty much the same. Production numbers weren't limited on the Touring and the number still isn't final since they are just wrapping up final production on the GT and Speedster 991 chassis before going full swing in 992 production. What I would like to know is what has happened to the 911R market now that these cars are out in the wild and what about the market the GT3 Touring themselves? Well, lets just say people have entirely too much money.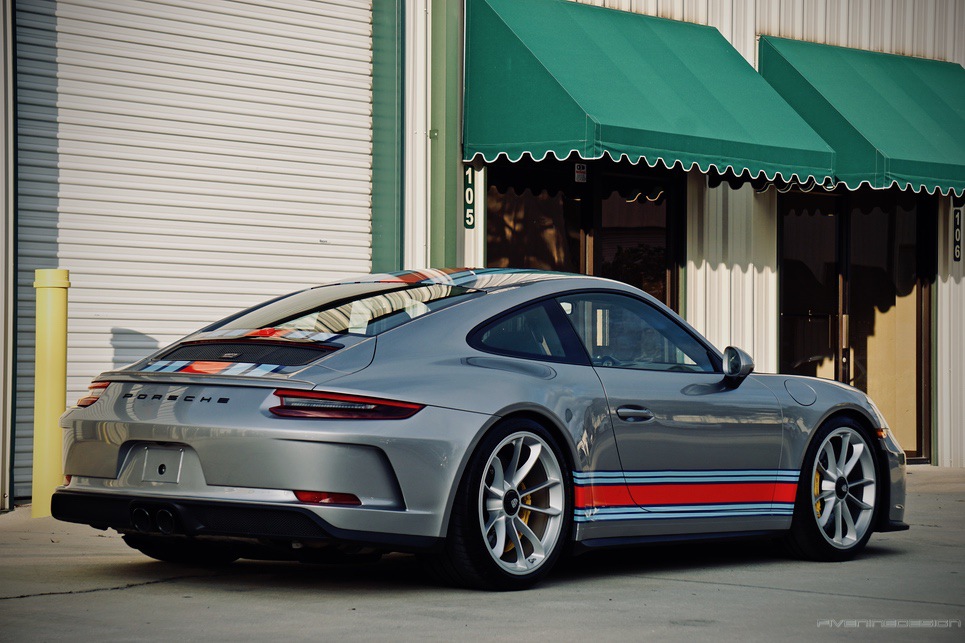 Year: 2018
Model: 911 GT3 Touring
VIN: WP0AC2A93JS175465
Engine: 4.0 liter flat-6
Transmission: 6-speed manual
Mileage: 4,900 mi
Price: $172,990 Buy It Now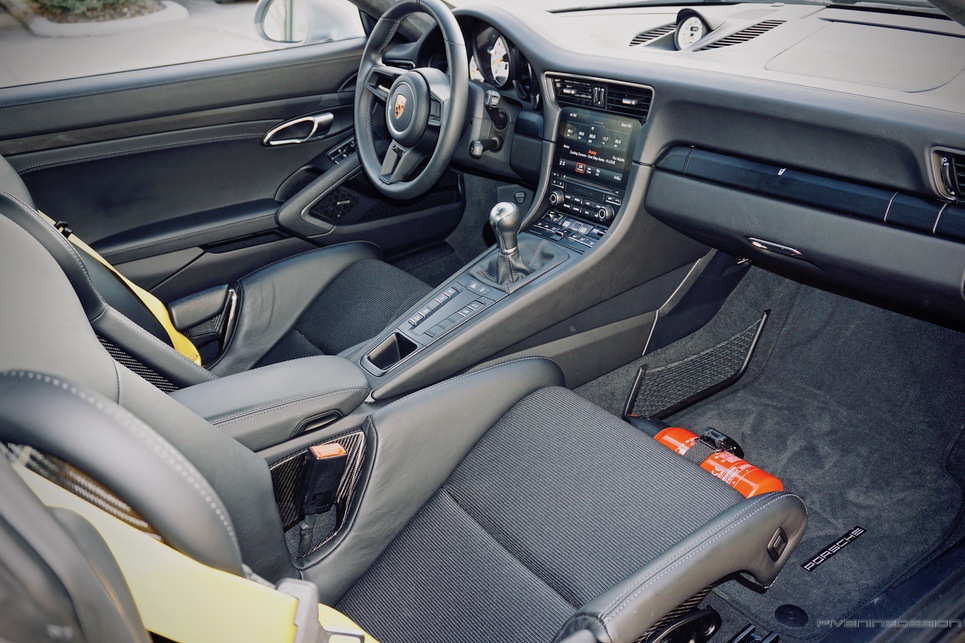 Thank you for taking a look at another unique piece of fiveninedesign inventory. Here at fiveninedesign, we strive to offer some of the most unique and rare vehicles on the market globally. In layman's terms, if we are selling it, it is special. Special is a great word to use when describing this 2018 Porsche GT3 Touring Edition. The purist form of Porsche goodness. Stripped of the paddle shifters, replaced by a butter smooth clutch, this GT3 truly stands for everything holy in a 911. With 4700 mature miles put on the car, it is just now at the point in it's life where it is thriving for excitement, and someone to use this GT car as Porsche intended. These cars are unicorns. They are rarely made available to the public, and rarely exchange hands at any type of reasonable price point. Don't miss your opportunity to own one, which was specced to near perfection.

Finished in GT Silver Metallic, this quintessential 911 looks breathtaking from any angle, and in any light. The OEM GT3 wheels were ordered in Satin Aluminum to complete the classic all silver look, and the massive PCCB brakes poke through the spokes as do the infamous Yellow PCCB Calipers. Dealer installed MARTINI Porsche stripes were added, which are always removable, but surely add a special flare to an already special vehicle. If James Bond could drive a 911, we have to imagine it would be this. All of the paint on the vehicle is Original, as this is an accident, incident, and damage free vehicle. The occasional rock chip does exist, as this car does have a few thousand miles on it, but nothing stands out of the ordinary, and it is apparent the car was enthusiast owned and maintained.

The interior of this car is finished in Black Leather/Cloth Package. The best and most unique option, which was a Touring only option, this is the only way you would want to spec one of these cars. The lightweight carbon fiber Bucket seats are so amazing to sit in, look at, feel, maybe even smell. They are the epitome of a PERFECT seat. The full leather interior is absolutely stunning, and the brushed satin black trim which is also Touring specific is such a cool accent piece. To accentuate the PCCB, the seatbelts were ordered in Yellow. Such a subtle touch that again shows the attention to detail used when ordering this vehicle. The gauges are finished in white, as is the Sport Chrono gauge, for that classic Porsche feel. Mounted to the front of the passenger Bucket seat is the signature Porsche Fire Extinguisher, which we hope never gets used, but adds a great visual touch and peace of mind to the equation.

Factory Options:

GT Silver Metallic

Leather/Cloth Interior Package in Black

Touring package- Exterior Package in Black

Extended Range Fuel Tank, 23.7 Gal

Wheels Painted in Satin Aluminum

Porsche Ceramic Composite Brake (PCCB)

GT Sport Manual Transmission

Fire Extinguisher

Luggage Net in Passenger Footwell

Porsche Dynamic Light System (PDLS)

Light Design Package

Floor Mats

BOSE Surround Sound System

Sport Chrono Clock Dial in White

Full Bucket Seats

Auto-Dimming Mirrors with Integrated Rain Sensor

Voice Control

Chrono Package with Preparation for Lap Trigger

Instrument Dials in White

Seat Belts in Racing Yellow

Headlight Cleaning System Covers in Exterior Color

Door Sill Gaurds in Stainless Steel, Illuminated

Fuel Cap with Aluminum Look Finish

Factory MSRP:$172,990.00

Overall, this car is in great condition. Just recently serviced at Loeber Porsche, and up to date on all of its "shots", this gorgeous specimen needs nothing but a new home. The occasional rock chip graces it, but nothing that is really visible on a camera or without getting right up on it. The wheels are in great condition, and the tires still have some tread left, but show some wear. There is one chip in the windshield which has been filled, however is still visible to an extent. We like factory glass, so that can be addressed by the next owner, however we personally wouldn't. Please contact us for more information as well as any additional pictures or video you may desire.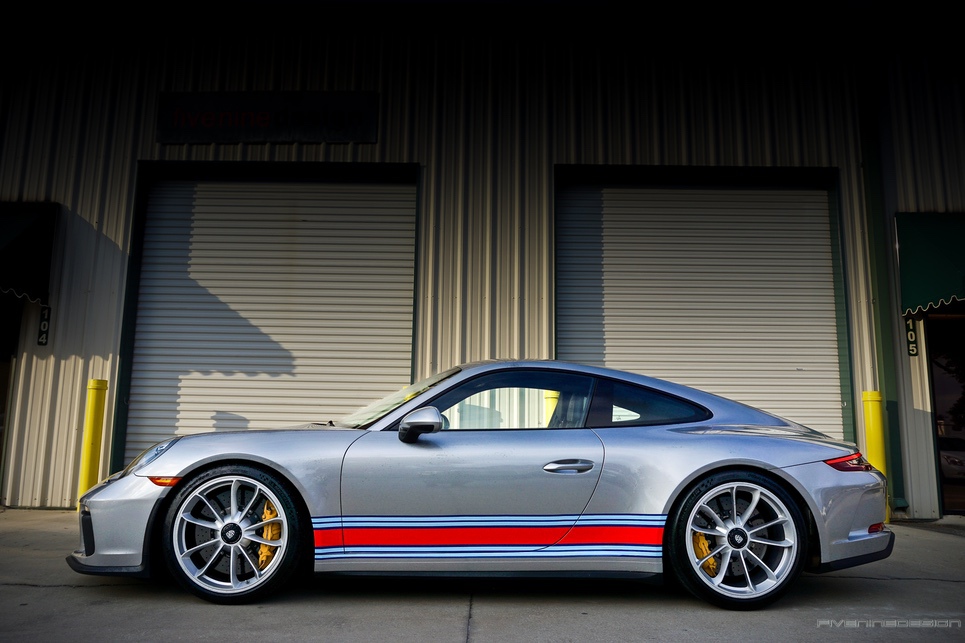 The spec on this one is pretty nice and the Martini livery is love it or leave it. Luckily, they are just vinyls that can be removed without much fuss. Having over 4,900 miles is a little surprising seeing as people who bought these usually have these stashed away and it's not like these are likely to be an only car for someone. It is interesting to note that the seller does say it has a windshield chip, the tires need replacing soon the front bumper has some rock chips. I hope you weren't expecting a brand new car. One big plus with this car is the sport bucket seats if you in to that kind of thing as the regular sport seats seem like a letdown compared to these.
Now what we are all here for, the price. Factory MSRP was $173,000 and this car now is being listing for $195,000. So much for taming those secondary market prices. Looking around at the other handful of GT3 Tourings and even standard GT3s with the manual transmissions for sale, you'll fine similar prices all over factory sticker with some even being well over $200,000. But what about the 911R? The ones that are for sale are somewhere in the $350,000 range with some even being higher. Still, this is much better than the $600,000 that some were asking when they were first released and I can't imagine them getting back up to those levels any time soon. I think it is safe to say that the GT3 Touring did bite into the 911R without a doubt, but the 911R is still going to be the 911R at the end of the day. However, if I am buying a car that I actually want to use from time to time, give the GT3 Touring and I'll save the hundreds of thousands of dollars.
– Andrew