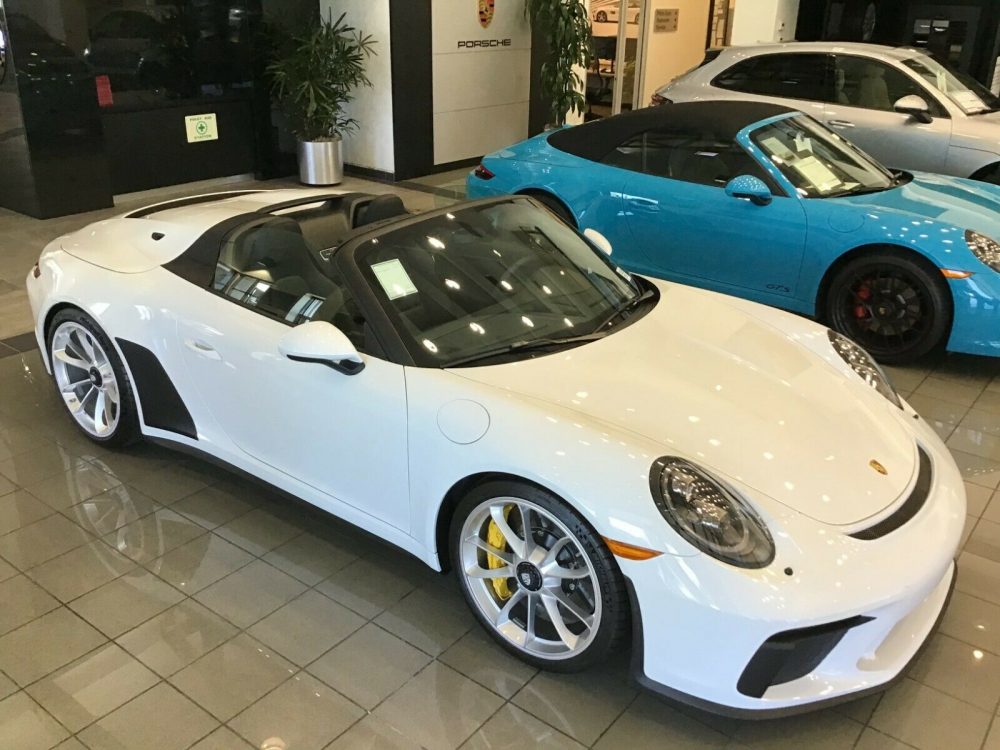 Well, that didn't last long.
Porsche released the 991 Speedster late last year and it didn't disappoint. It was a GT3 Touring with a raked windshield, a tiny manually-operated soft top, and a slightly tweaked interior. They produced 1,948 of them and naturally people wanted them badly. That meant paying over sticker in a lot of cases and even more outrageous prices. How much over sticker? Sometimes over $100,000. As luck would have it, turns out demand wasn't so great after all. I say that because now we are in May and there are still brand new 2019 Speedster sitting in dealer showrooms with delivery mileage on them. I wonder if the same people who paid $400,000 for these cars are the ones who paid $700,000 to get a 911R?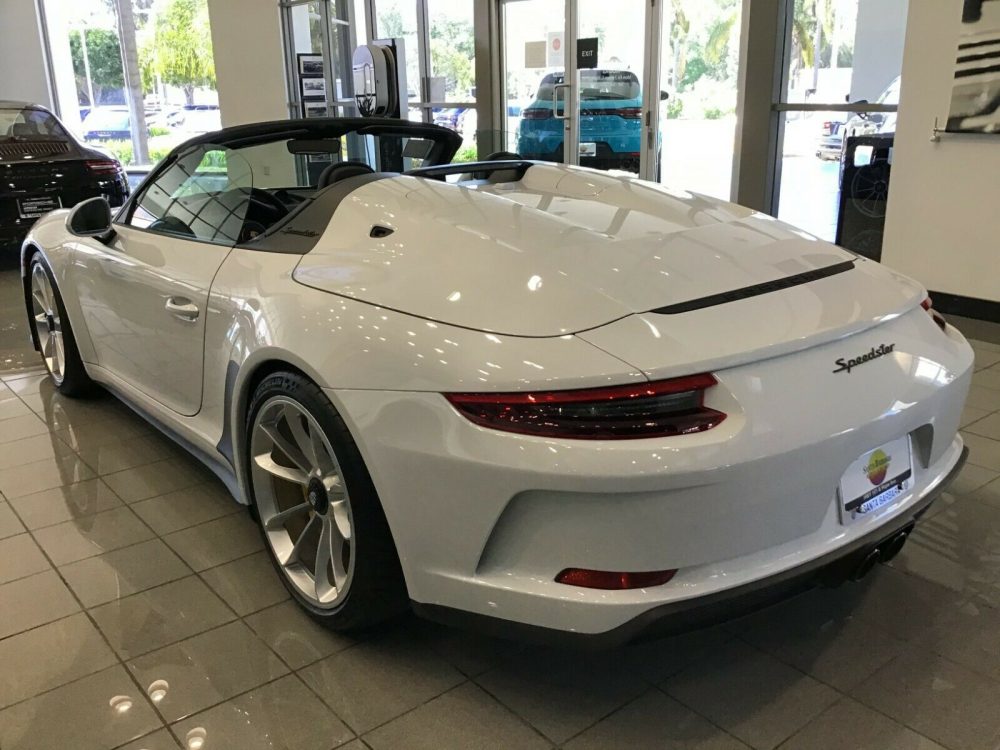 Year: 2019
Model: 911 Speedster
VIN: WP0CF2A95KS172696
Engine: 4.0 liter flat-6
Transmission: 6-speed manual
Mileage: 29 mi
Location: Santa Barbara, California
Price: $302,500 Buy It Now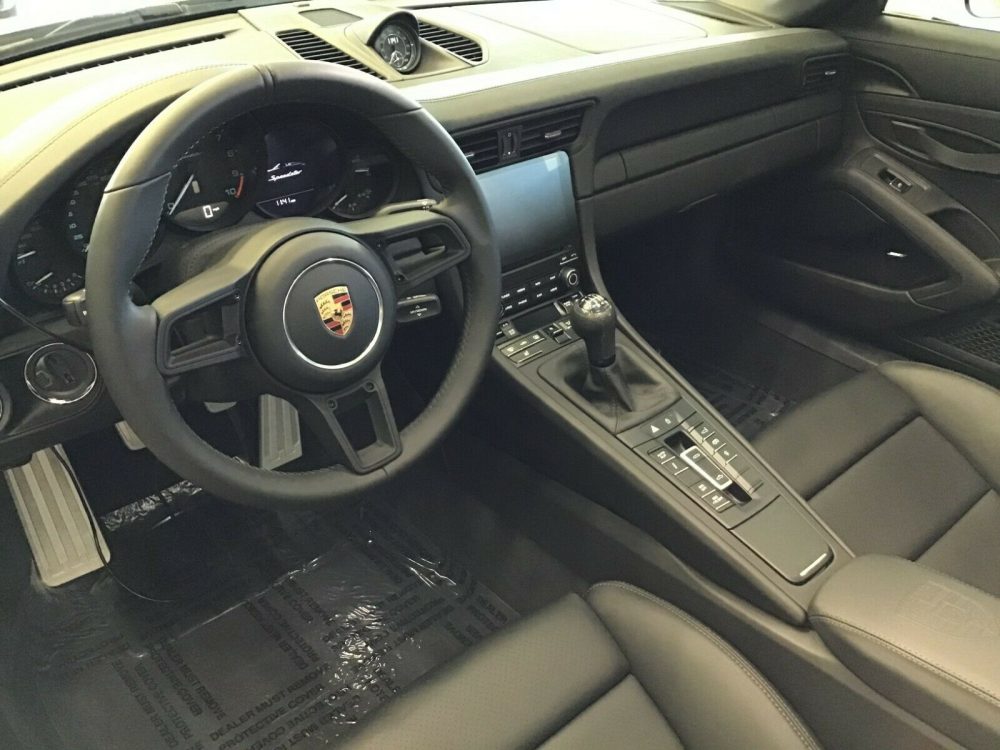 This 2019 Porsche 911 Speedster is new and has never been registered. This Speedster is number 1898 of 1948 and has been properly configured for the enthusiast buyer. See below for the complete list of options and please feel free to reach out to us direct at rverbrugge@sbautogroup.com for assistance. You may also contact us at 805.682.2000 if you prefer.

Option Description Centre Text Importer Text Price
991890 911 Speedster 274,500.00 USD
2Y Carrara White Metallic 720.00 USD
AZ Leather Interior in Black 3,480.00 USD
1V Speedster Top in Black 0.00 USD
082 Extended Range Fuel Tank, 23.7 gal 140.00 USD
27053 Speedster Limitation Number XXXX/1948 XXXX/1948 0.00 USD
342 Seat Heating 700.00 USD
346 Wheels Painted in Silver 0.00 USD
474 Front Axle Lift System 2,590.00 USD
567 Windshield with Grey Top Tint 0.00 USD
573 2-Zone Automatic Climate Control incl. Air Conditioning 0.00 USD
581 Luggage Net in Passenger Footwell 0.00 USD
583 Smoking Package 0.00 USD
630 Light Design Package 510.00 USD
9VL BOSE® Surround Sound System 1,600.00 USD
CFX Floor Mats w/Deviated Carpet, Leather Edging, and Stitching Black mats, trim and stitching Blackmats, trim and stitching 460.00 USD
CTK Air Vent Surrounds and Slats in Leather 1,720.00 USD
CZW Dashboard Trim Package in Leather 1,770.00 USD
DFS Vehicle Keys Painted and One Key Pouch in Leather 540.00 USD
EFA Pedals and Footrest in Aluminum 630.00 USD
EKC Interior Trim in Leather in Interior Color 0.00 USD
P07 Adaptive Sport Seats Plus (18-way) 0.00 USD
P13 Auto-Dimming Mirrors with Integrated Rain Sensor 700.00 USD
QH1 Voice Control 0.00 USD
QR5 Chrono Package 310.00 USD
XEY LED Headlights in Black with PDLS 2,900.00 USD
XMP Sun Visors in Leather 580.00 USD
XNS Steering Column Casing in Leather 470.00 USD
XPT Center Console Lid with Porsche Crest 340.00 USD
XWK Sport Seats Plus Backrest Shells in Leather 1,870.00 USD
XXD Door-Sill Guards in Carbon Fiber, Illuminated 530.00 USD
XZM Center Console Tunnel Sides in Leather 1,020.00 USD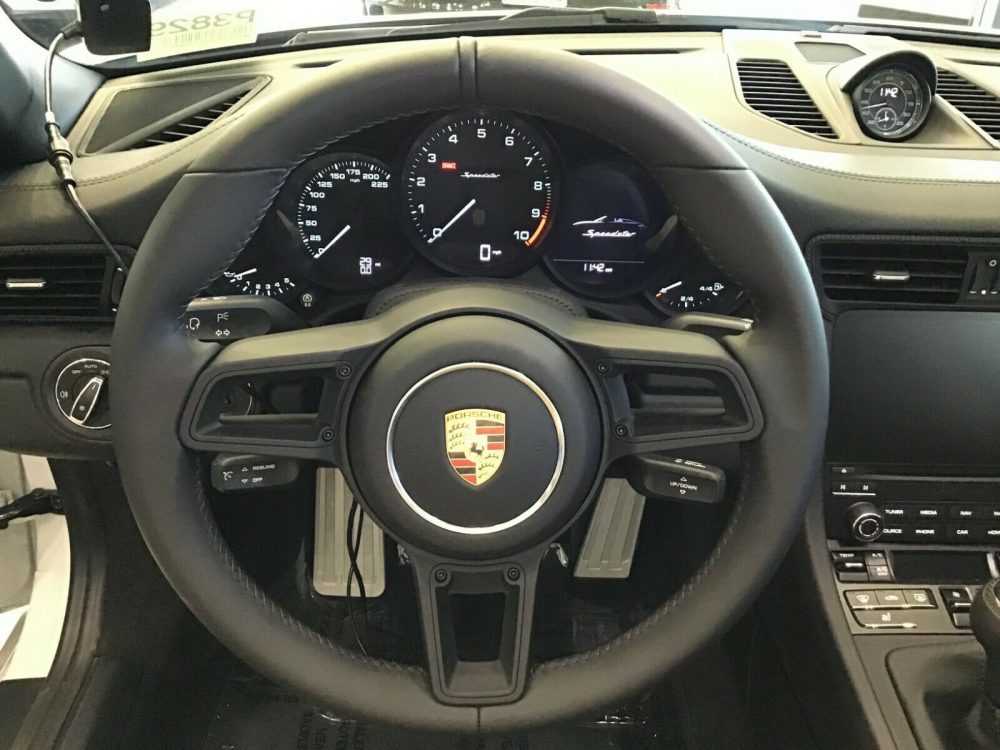 As far as specs go, this one is fairly standard. I love Carrara White on almost every 911, and this one is no different. Inside they went with the comfort seats as opposed to the sport buckets and added a couple leather-wrapped pieces. Other than that, no crazy CXX options or fancy trim. Just a very clean, simple Speedster.
The price? Turns out patience is a virtue. Porsche Santa Barbara is offering this one right at sticker of $302,000. Crazy to think that $302,000 is deal for a car, but you have to wonder about prices for these in a few years. Are they going to stay at MSRP like the 911R, or dip a little and hold like prior generation Speedsters? Given the demand, I think a lot of people who overpaid for these will be a little angry in near future. Or maybe not – they are spending hundreds of thousands on toys after all.
– Andrew