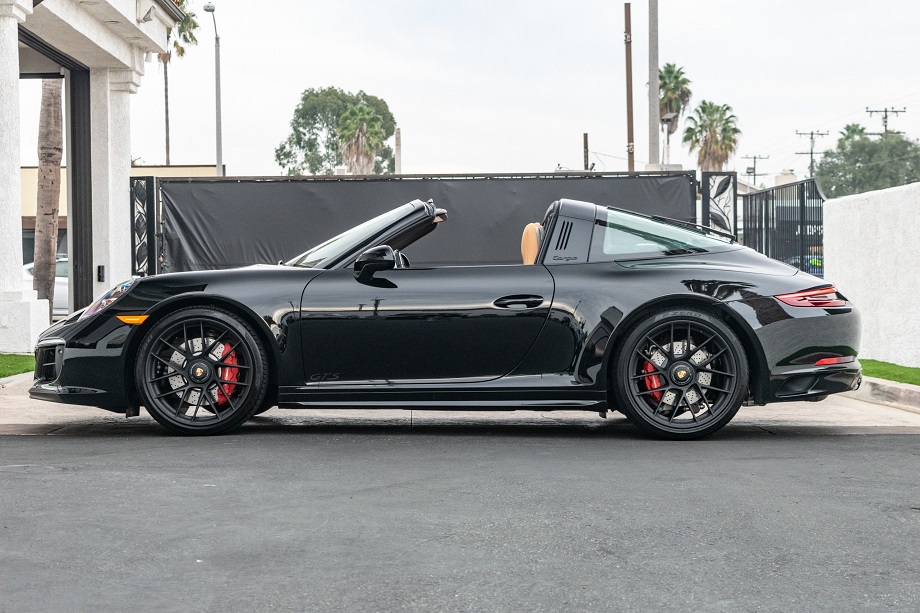 There is very little that will attract my attention more than a black car looking its best. It may only look its best for the 15 minutes immediately after being detailed, but it's a divine 15 minutes. I particularly like open-top black cars, which is why I own one. Sadly, it never looks its best since it always is parked outside. Meaning I end up looking longingly at the occasional exceptional examples I see. Some people will tell you black cars are boring and too common. They are wrong.
This one, a Black 2019 Porsche 911 Targa 4 GTS with Espresso/Cognac natural leather interior and 557 miles on it, looks so devilishly good. I don't typically feature many nearly new 911s other than the various rare GT and special edition models, but I saw this one and couldn't take my eyes off of it. It's been built pretty well too with a bunch of worthwhile options and it has a manual transmission. During the summer I walked past a black Targa 4 GTS parked in the neighborhood and it was stunning. This one rekindles that memory.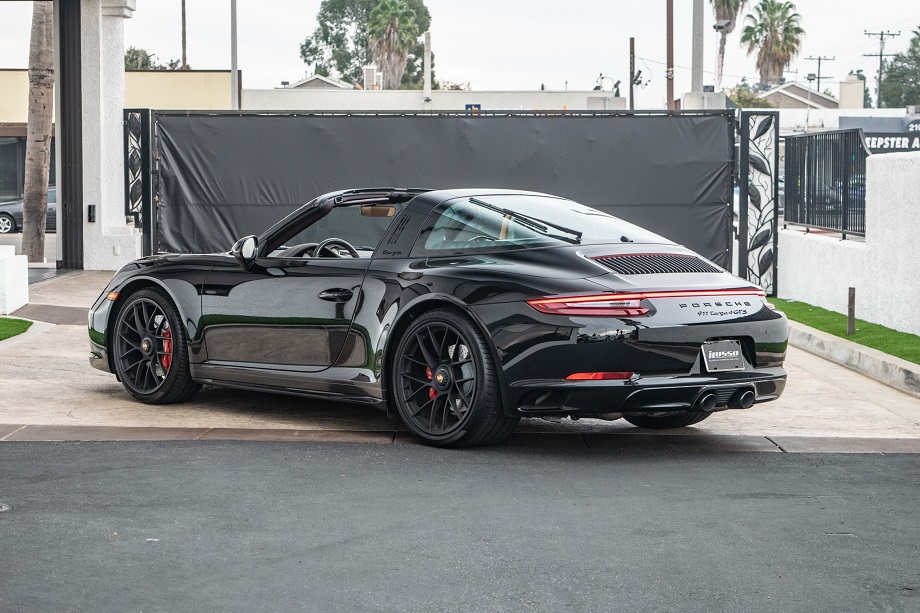 Year: 2019
Model: 911 Targa 4 GTS
VIN: WP0BB2A92KS125102
Engine: 3.0 liter twin-turbocharged flat-6
Transmission: 7-speed manual
Mileage: 557 mi
Price: $179,991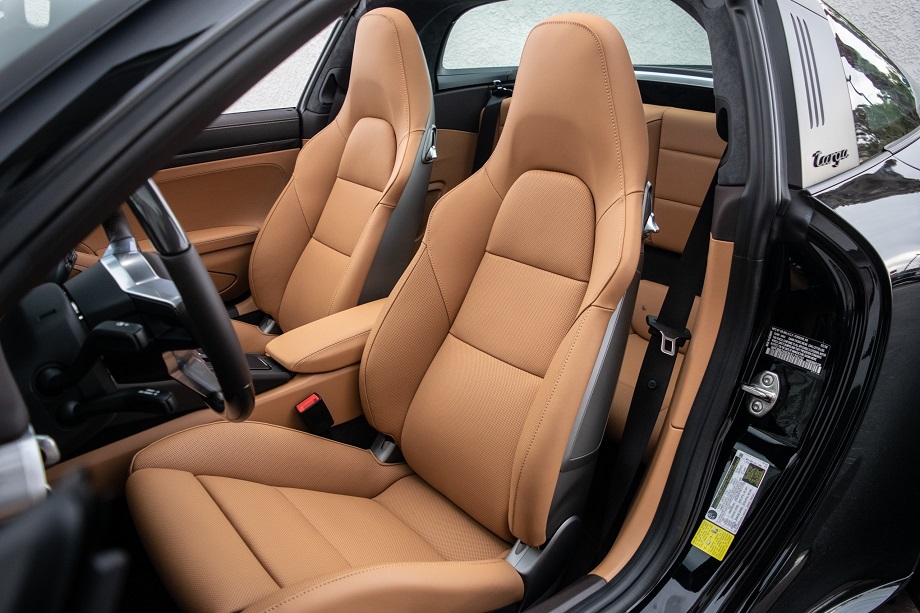 iLusso is proud to present this beautiful, loaded 2019 Porsche 911 Targa 4 GTS. This low mileage, local one owner 911 is absolutely stunning in Black with Espresso/Cognac interior and the carbon fiber interior as well. Factory options include: CABRIOLET ROOF IN BLACK, NATURAL LEATHER INTERIOR IN ESPRESSO/COGNAC, REAR WIPER, LANE CHANGE ASSIST, FRONT AXLE LIFT SYSTEM, LUGGAGE NET IN PASSENGER FOOTWELL, SMOKING PACKAGE, POWER STEERING PLUS, DELETION OF ALCANTARA, PREPARATION FOR TWO-TONE LEATHER, PREPARATION FOR NATURAL LEATHER INTERIOR, BOSE
SURROUND SOUND, LOWER REAR FASCIA PAINTED, CARBON FIBER INTERIOR TRIM, ADAPTIVE SPORT SEATS PLUS (18-WAY) WITH MEMORY, VOICE CONTROL, SIDE SKIRTS PAINTED IN EXTERIOR COLOR, LED HEADLIGHTS IN BLACK W/PORSCHE DYNAMIC LIGHT SYSTEM PLUS, INSTRUMENT DIALS IN WHITE, SPORT CHRONO STOPWATCH DIAL IN WHITE, HEATED MULTI-FUNTION SPORT STEERING WHEEL IN CARBON FIBER, FUEL CAP WITH ALUMINUM LOOK FINISH, PREMIUM PACKAGE PLUS (INCLUDES LIGHT DESIGN PACKAGE, SEAT HEATING, AUTO DIM MIRRORS, SEAT VENTILATION).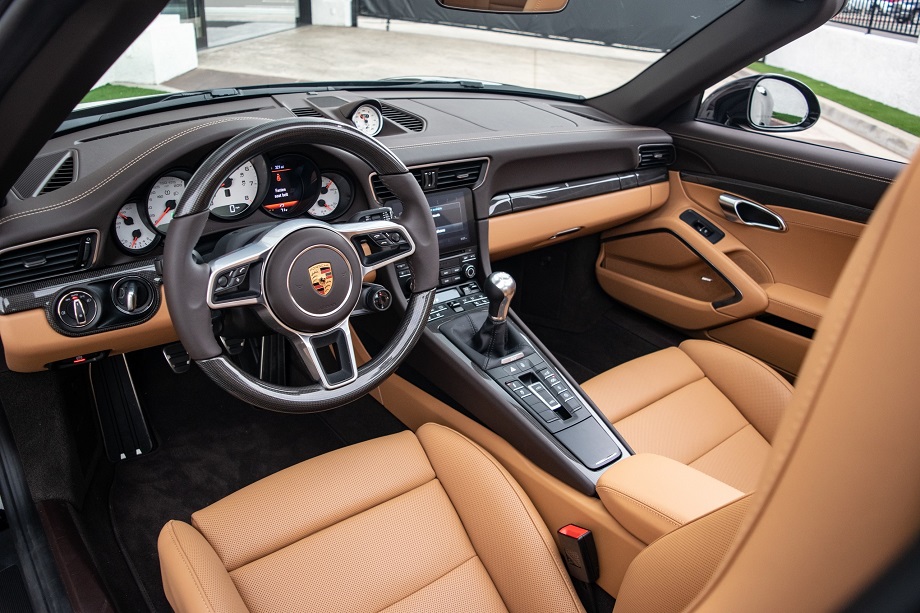 Let me get one thing out-of-the-way immediately: the asking price here is the full MSRP when this Targa was new. I don't think you should pay full price because this is not a new Porsche. It doesn't have a lot of miles, but why would you pay full price for something you could order precisely as you'd want it and with no previous ownership? To get it immediately is the only reason. Still, as I mentioned in a recent post, this isn't a GT3/GT3 RS/GT2 RS so it isn't going to appreciate in value. I wouldn't expect a giant discount either, but I think you can do better.
The car itself: I love it. It has taken me A LONG time to warm to the 991 design (just in time for the 992!), but the Targa really sold me. For me these easily are the best looking of the current generation. I really wish you could get a rear-drive model, but Porsche doesn't want us to have everything. I like the options on this one as they provide some nice sporty touches with some nice classy touches. You get a good combination of luxury and sport, which is just what the 911 is best at doing. It isn't perfect for my tastes. I'd have gone with the Black/Bordeaux Red leather interior, but I do like the lighter espresso/cognac combination of this one. It contrasts very well with that dark exterior and I prefer either over a black interior.
So if you really don't want to wait to order one or for that perfect one to come in stock this looks like a nice example. Keep it clean and for those fleeting moments your eyes will sink into its depths and you'll turn the head of anyone nearby.
-Rob