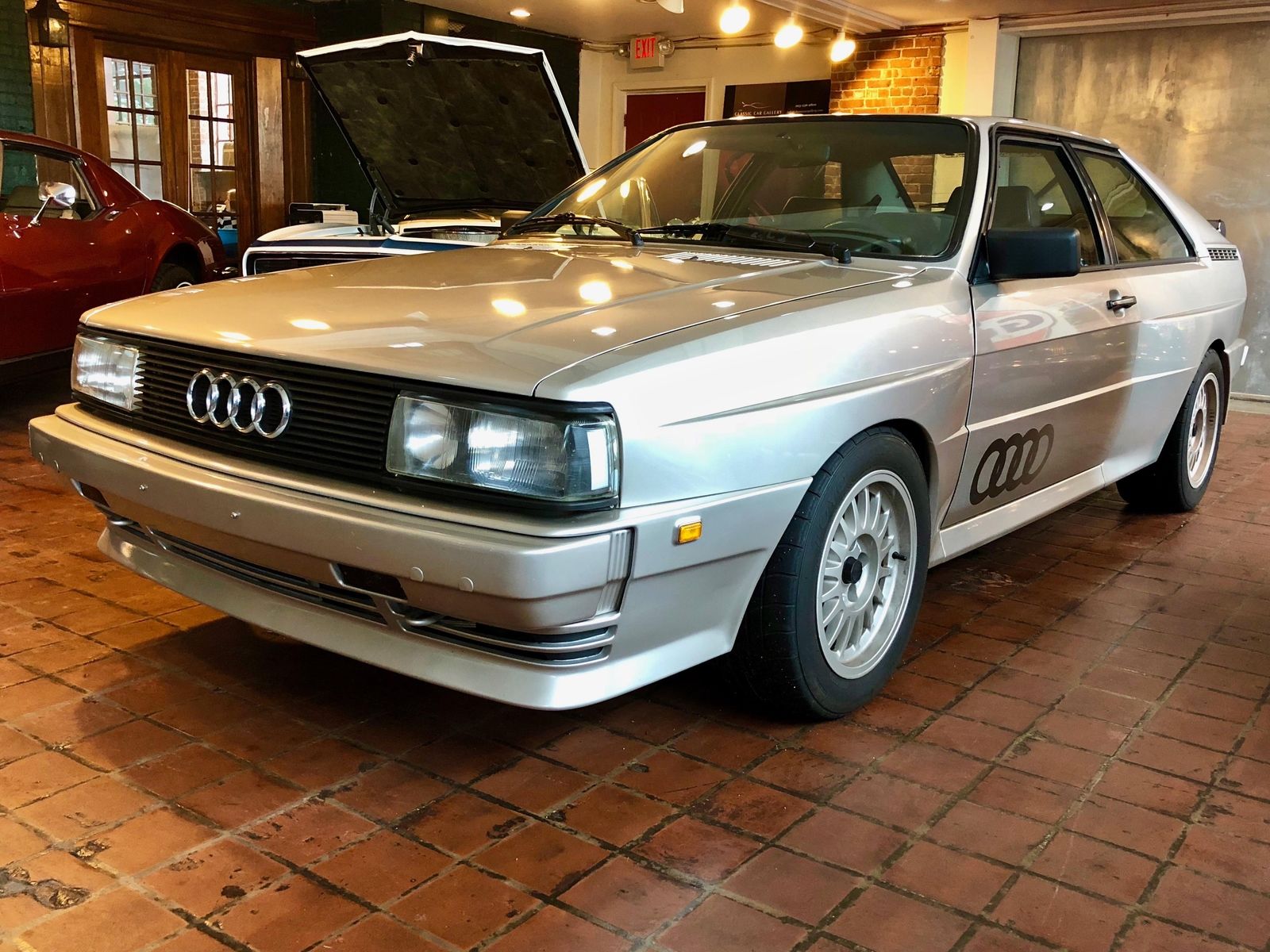 Update 1/20/19: Now listed on Bring a Trailer on a no reserve auction!
Update 11/22/18: Back to my dream Audi garage! After disappearing off of eBay in the midst of hot bidding, this sweet 20V-converted Quattro is back, now listed on Audizine for $62,500. Included is a link to new photos which show the car off well.
Audi's landmark Quattro has finally moved beyond cult status and into the greater automotive consciousness as a desirable model. That creates many problems, though. The first of these problems is that there just aren't many Quattros out there. Audi only imported 664 examples of the original, meaning you're statistically a little better than twice as likely to see an E28 M5 cruising around than you are a Quattro.
But in actuality, you aren't. The chance is probably more akin to three or four times as likely, if not more. That's because of the second problem – though the Quattro existed as a cult car since new, the fact is that for a long time they were pretty cheap. Pretty cheap cars generally don't make collector cars, or at the very least receive collector treatment. You can see that in the M5; cheap for a long time, plenty have high miles and are basket cases though from the start they were touted as collectable. But the Quattro? This was a car intended to live in harsh conditions. Oh, and they didn't apply any undercoating, or even fender liners. Problem three creeps into every seam on the car.
And then there's an unpleasant truth: in its original U.S. form, the Quattro wasn't a stellar performer. Toting around 2,900-odd pounds of early 80s tech, the lag-prone engine developed only 160 horsepower. The result was a car that could be caught off-guard by most economy hatches: 0-60 in 7.9 seconds, the quarter mile in 16.1 at 85. Forget the typical Camry or Accord joke; this is the kind of performance you get today from a Hyundai Accent.
Of course, the Quattro wasn't about straight-line speed, and cars from the 80s all fall short compared to modern technology. This car, then, is more a time-warp to another dimension. A personal expression of devotion to rock-flinging rally monsters and television stars that liked to do things a bit differently. And those that have survived have been loved by their owners. Often, they've been upgraded, too, with later parts that solve the performance gap to their original European form. The result? Wow: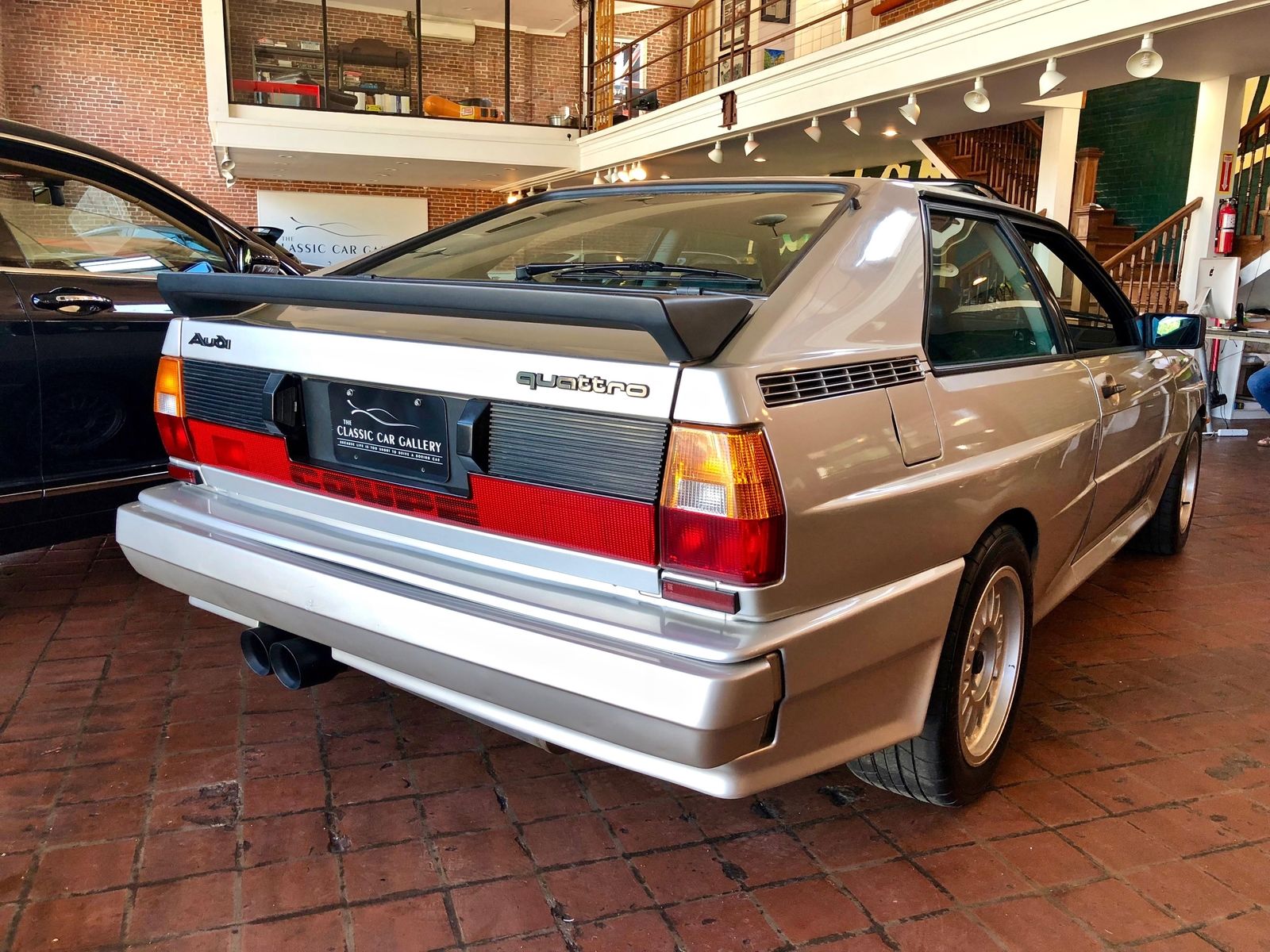 Year: 1985
Model: Quattro
Engine: 2.2 liter turbocharged inline-5
Transmission: 5-speed manual
Mileage: 208,440 mi
Price: Reserve Auction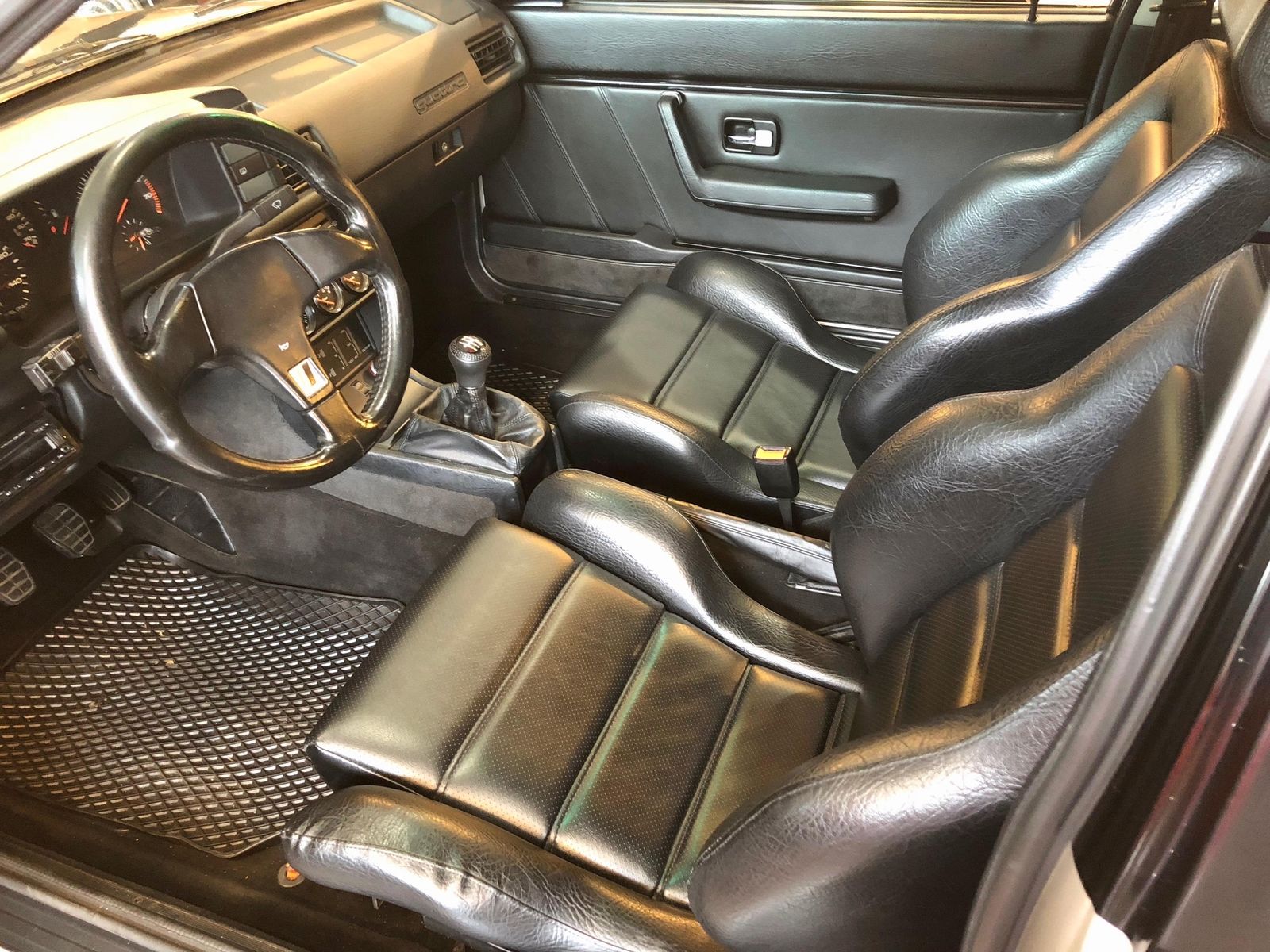 BECAUSE LIFE IS TOO SHORT TO DRIVE A BORING CAR!! The Classic Car Gallery 2316 Fairfield Ave Bridgeport, CT 06605 203-446-3477 1985 Audi Ur Quattro "RESTORED UPDATED and enhanced. Possibly the finest on the market today. Vin WAUDC0851FA901256 The 1980's were the halcyon days of Group B rallying throughout Europe. Lancia, Renault and Ford all built rally cars that exploited the new, almost unlimited "Group B" rules. The manufactures pushed technological and mechanical to the limits of the day and produced some of the most powerful and sophisticated cars ever seen. At the top of the heap came Audi, with the limited production UR Quattro, they came to completely dominated the rally world. The UR Quattro was the all wheel drive, turbocharged rally car that turned the rally world on its head!! With 500 horsepower and employing legendary drivers with names like Michelle Mouton, Walter Rohrl and Ari Vatanen, Audi took on the world!! Utter dominance of the class was to follow, it was so complete, the cars so powerful (and dangerous), that it led to the end Group B class! Fortunately for us mere mortals, Audi was required to produce a limited number of street versions of these exotic cars to Homologate them for race use. Only a limited number of these were imported into the U.S., and in there day, cost more than a Porsche 911!! These were very rare cars!!

The car on offer here is a 1985 Audi Ur Quattro. The car has undergone extensive modifications and reengineering to the engine, suspension, brakes and interior. It offers a level of performance, refinement and handling unimaginable in its day. Built to a very high standard, the car maintains all comforts and reliability needed for daily street use while offering stunning performance. The car has the following modifications to the systems listed below;

Engine:

Block; 1994 AAN 2.2 litre 20 valve inline 5 (out of a UrS4)
K24 turbocharger
Honed
New rings,
New bearings,
New valve guides,
New Cam chain, belts, water pump and tensioners
ARP head studs,
RS2 exhaust manifold,
7A cams and oil pan,
3B water manifold and intake (which has more flow than a RS2 manifold),
HKS foam filter
Setrab oil cooler
New cam sensor
New rpm and
New timing probes,
Firewall mounted coil kit,
New alternator
New OEM starter,
034 Motorsport phenolic intake spacer (to clear the valve cover)
034 Motorsport medium density engine, transmission, and rear diff mounts
Audi 200 flywheel
034 Motorsports Spec clutch
034 Motorsports short shift kit.
AAN fuel rail, with an integrated fuel pressure regulator,
new fuel pump
034 Motorsport full stage 1+ Custom tuned ECU with upgraded software
injectors, and a wastegate spring raising boost pressure to a peak of 20 PSi
3' Mandrel bent custom exhaust

Electrical System:

New OEM wiring harness.
Stock factory AAN harness integrated into the OE electrical platform, with relays added and all connections heat shrink for safety and reliabIlity
OE copper connectors where applicable. The electrical layout mimics a factory
UrS4 layout (with relays, breakers, etc. behind the glove box)

Cooling System:

Ron Davis radiator with an auxiliary radiator delete,
Apikol intercooler

Suspension:

Bilstein shocks,
H&R springs
034 motorsport sway bar bushings and delrin control arm bushings
034 aluminum subframe mounts,
Brakes:
OEM Audi 4000 vacuum booster
Audi V8 master cylinder
Porsche Boxster front calipers
UrS4 rear calipers (with upgraded pads in both).

The car has most of its original paint with some paintwork on the hood and both front fenders. Its original color, Zermatt Silver Metallic, is in good condition with good depth and color. The engine bay retains a factory look, and the stance of the car on the stock wheels hints at performance the upgrades with a slightly lower ride height. The interior retains its stock gauges throughout with the addition of an Audi Coolant temperature gauge and VDO gauges for boost pressure, oil pressure, and voltage integrated into the dash; they look factory correct. The seats are "Trophy Recaro" out of a 1988 VW Jetta. They are a good match and look correct. A modern Alpine Stereo head unit is installed with auxiliary input. The quality of this car cannot be overstated, it has been reengineered with input from experts in the vintage Audi world. It has been driven approx. 3000 miles on the build and is fully sorted; the car is a joy to drive. The car comes with extensive paperwork on the build and a comprehensive history. All books and manuals are also included. With roughly double the horsepower and torque of the original cars, all wheel drive and box flares, this car offers wonderful performance and style. Please feel free to call 203-446-3477 or email if we can answer any of your questions.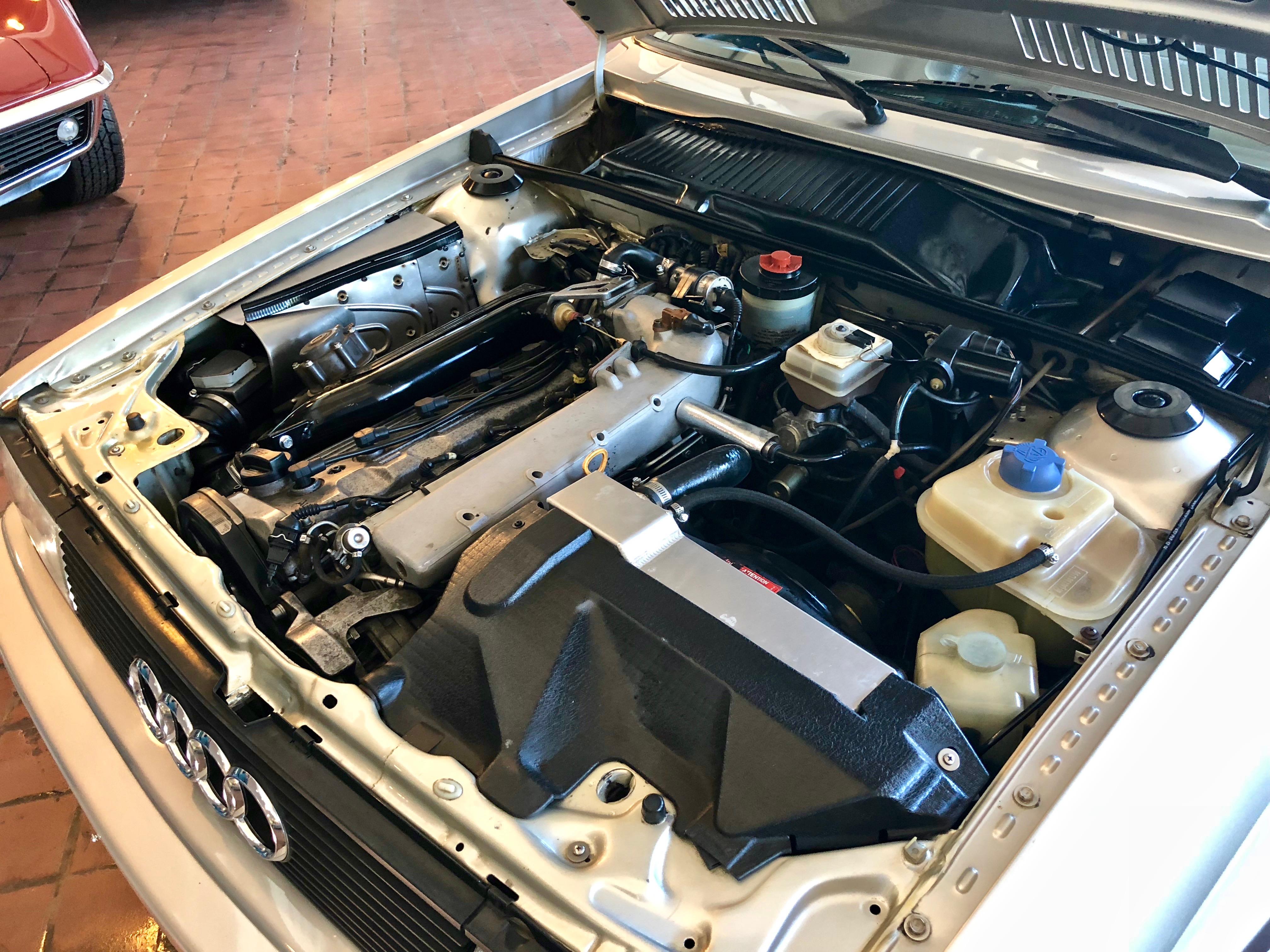 Few stones have been unturned on this '85. Already rare – only 74 were brought in – in its revised form with updated dash and sloped grill, this car has been further updated with H1/H4 lights (undoubtedly to the ire of the quad-sloped contingent). Sitting lower on upgraded suspension, this car smartly hides its Porsche BIRA brake upgrade well behind the original 8″ Ronals. Step inside and you're met with Recaro Trophy seats borrowed from a Jetta somewhat unfortunately, as it appears you've then lost the flip-forward function necessary to get easily into the back. It also oddly looks like they kept the original leatherette on the outside, while swapping to perforated leather in the middles – neither of which match the original Kodiak leather in the back or on the door panels. But look great? Yeah, they've done that. The Nardi Audi Sport wheel looks right at home and matches the black leather interior well, and the car features a triple VDO gauge readout from the lower revised dash front-wheel drive example in place of the normal radio slot, while an updated radio has moved the left cubby.
But the big news is under the hood, where the 2.1 10V turbo has been replaced by the EFI 20V turbo AAN from a S4. Purity be damned, this is the configuration you want to drive. It hasn't been hobbled together, either – it appears well executed and fully upgraded to match the additional power.
Pricing? It depends on who's in the room. A few years ago you'd be lucky to see mid-teens on such a car. Today? With a few days to go, bidding is past $35,000 already. Recently another '85 – an original 10V – sold for nearly $50,000 and it's not alone. This one should probably equal that amount, with the balance between original value degradation being made up by higher desirability in this configuration. It's out of the range of most of its original fan base, but it is certainly nice to see appreciation for the model that has long sat undervalued.
Thanks to our reader Sammy for the spot!
-Carter