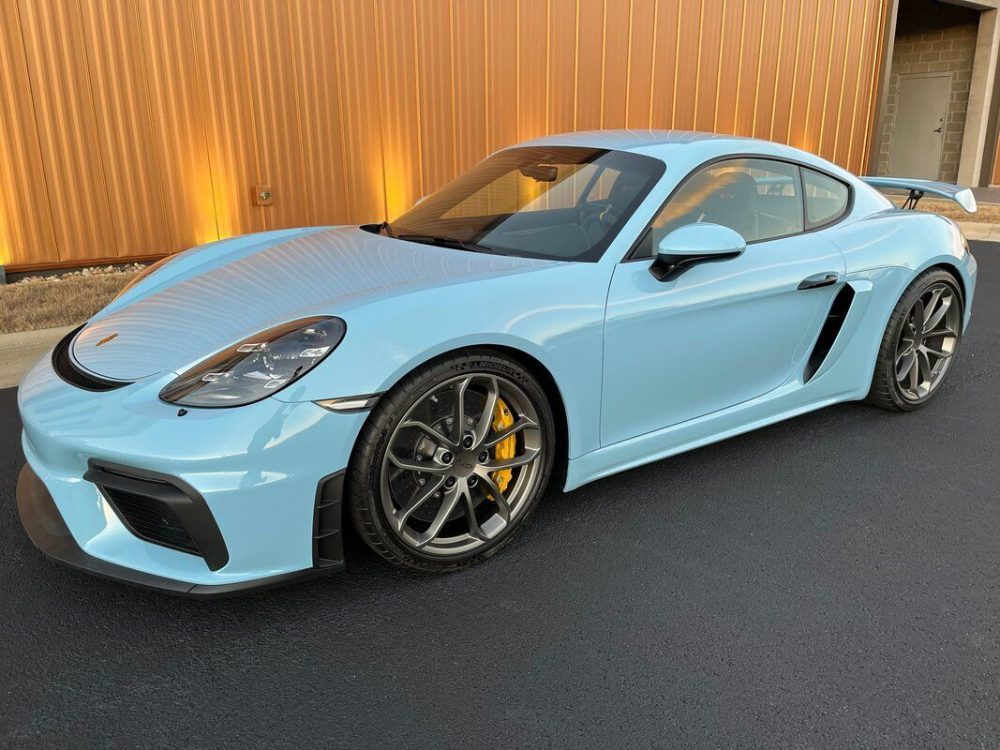 I don't want to start celebrating yet, but it looks like the prices Porsche 718 Cayman GT4 are starting to soften just a bit. Don't get excited yet as they still are bringing right around sticker price plus tax, so it is an improvement over the previous $15,000 over instantly. I think we'll see some more slow drops as mileage racks up and of course, GT4 RS examples start getting out, but it shows that these might not be a car that sells for over sticker price forever. They simply are making too many of these for them to be truly limited and now that it isn't king of the Cayman hill, they'll be softening.
Today, we have a wonderful paint-to-sample 2022 in Gulf Blue and a whole bunch of other options that someone paid a lot of money for.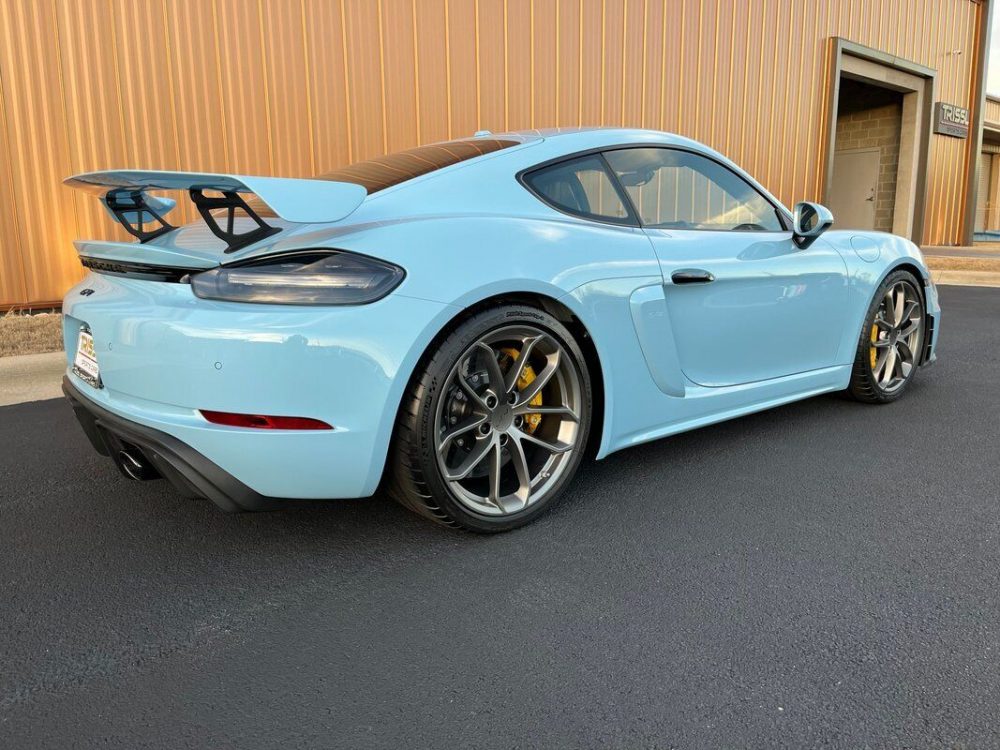 Year: 2023
Model: 718 Cayman GT4
VIN: WP0AC2A82NS275330
Engine: 4.0 liter flat-6
Transmission: 7-speed Doppelkupplung automatic
Mileage: 37 mi
Location: Florence, Alabama
Price: Reserve Auction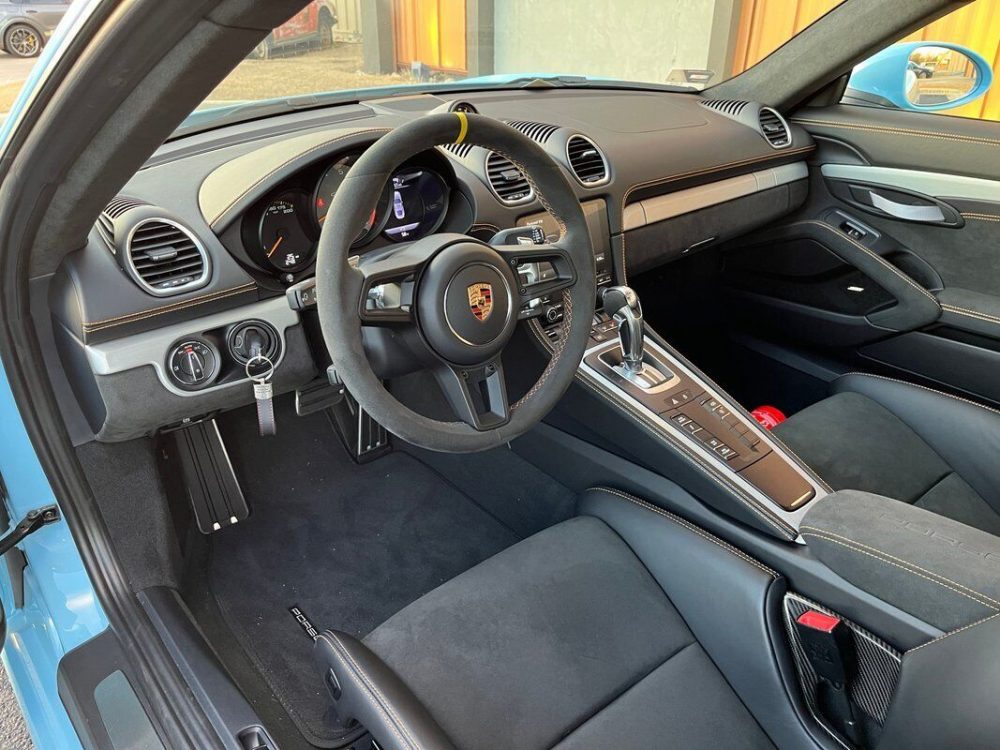 Mint Condition, Delivery Mile, PTS Gulf Blue on Black Leather w/Orange Stitching PDK 718 GT4 w/PCCB's

Features:
—–
– Extremely Rare Paint to Sample (PTS) Gulf Blue
– Porsche Ceramic Composite Brakes (PCCB's)
– Exclusive CXX Optioned Build
– Extremely Low/Delivery Miles
– 7-Speed PDK Transmission w/Sport Chrono Options
– Normally Aspirated 4.0L Flat-6
– 414hp/309lb-ft
– Mint/Like New Condition
– Clean CarFAX
– Clean DME
– Needs Nothing

Options:
—–
– Paint to Sample (PTS) Gulf Blue
– Porsche Ceramic Composite Brakes (PCCB)
– 7-Speed Porsche Doppelkupplung (PDK) Transmission
– Full Bucket Seats
– Extended Deviated Stitching Interior Package
– Leather/Race-Tex Interior in Black w/ Silver Stitching
– LED Headlights
– Porsche Dynamic Lighting System Plus (PDLS+)
– Porsche Light Design Package
– Sport Chrono Package
– BOSE® Surround Sound System
– Apple CarPlay®
– Siri®
– Smartphone Compartment
– Color Selection for Stitching in Deviated Color
– Preparation for Paint to Sample
– Steering Wheel Rim with Deviated Stitching
– Seats With Deviated Stitching
– Gear Lever Boot with Deviated Stitching
– Dashboard with Deviated Stitching
– Upper Door Panel with Deviated Stitching
– Center Console Lid with Deviated Stitching
– Paint to Sample Color Selection
– Dashboard with Deviated Stitching
– Center Console with Deviated Stitching
– Door Center Panel with Deviated Stitching
– Door Armrest with Deviated Stitching
– Door Grab Handle with Deviated Stitching
– "PORSCHE" Logo in Satin Black
– Fire Extinguisher
– Luggage net in passenger footwell
– Smoking Package
– Power Folding Exterior Mirrors
– Steering Wheel with 12 O'Clock Marker in Yellow
– Door Trim Package in Leather/Race-Tex
– Door Handles in High Gloss Black
– Storage Compartment Lid in Race-Tex with "PORSCHE' Logo
– Sun Visors in Race-Tex
– Door-Sill Guards in Stainless Steel, Illuminated
– Exclusive Design Fuel Cap
– Included First Year / 10,000 Mile Maintenance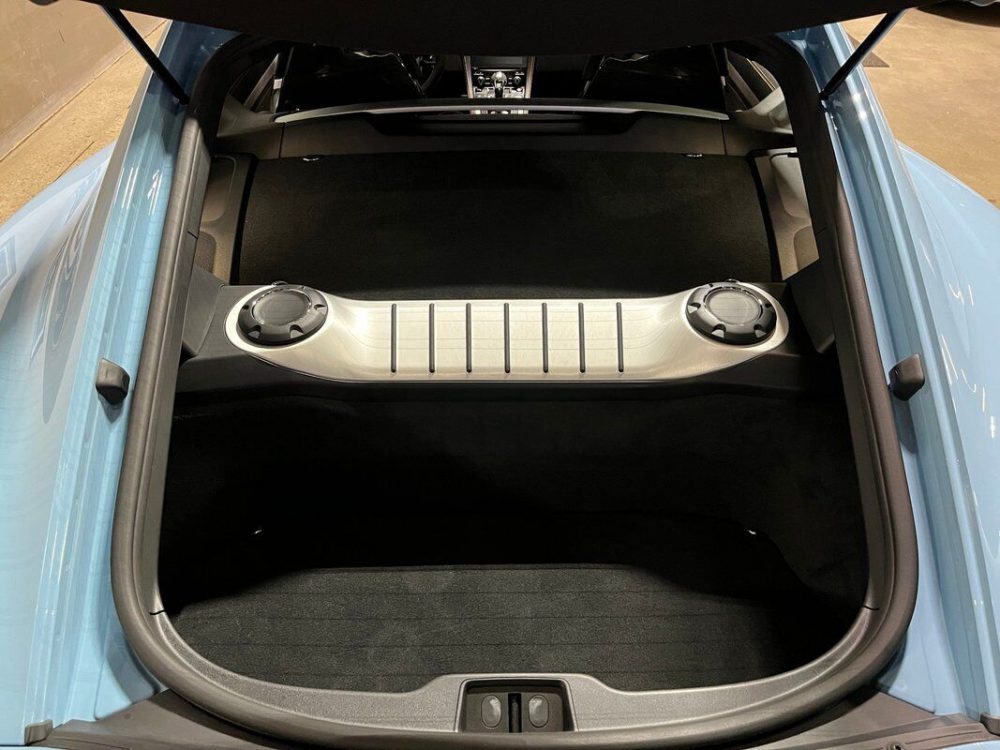 Interesting to note here that this is an optional PDK car rather than the 6-speed you usually see with these. The options don't stop there either. You have the typical big-ticket items like the carbon-ceramic brakes and full-bucket seats, but also things like LED headlights with PDLS+, the Sport Chrono package, Bose audio, and a whole bunch of deviated stitching in … orange. I totally get matching Gulf with orange, but to me, that orange is too close to the yellow on the calipers. Also, you have the steering wheel marker in yellow as well. That doesn't make any sense. Change all the yellow to black and I think we have a much more pleasing aesthetic.
I'm sure all these options weren't cheap and the asking price isn't either. Trissel's inventory always has really high-quality pieces and they usually get them from selective buyers. Personally, I don't think it is worth paying a premium for someone else's custom build unless you are totally in love with it. I think if you call around someone will let you build a new GT4 if you check enough option boxes and maybe finance with them too.
– Andrew