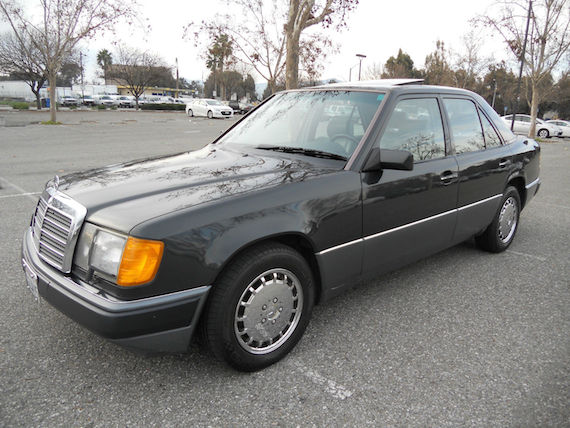 Thirty years have passed since the introduction of the W124 Mercedes-Benz E-class range. This is a car that had big shoes to fill, as the W123 range was beloved the world over for its quality, durability and rock solid diesel engines. Arriving in the middle of the 1980s, this new mid-sized Mercedes designed by Bruno Sacco brought the company's traditional styling hallmarks into a new era. This car would spawn coupe, cabriolet and estate variants as well as introduce four-wheel drive as an option and a few high performance V8 variants. The W124 would carry on into the mid-1990s, succeeded by the W210 E-class with its radical four-headlamp front profile.
Since we're in the middle of winter in many parts of the US, we'll start off by looking at this 1991 300E 4Matic for sale in California offered at no reserve.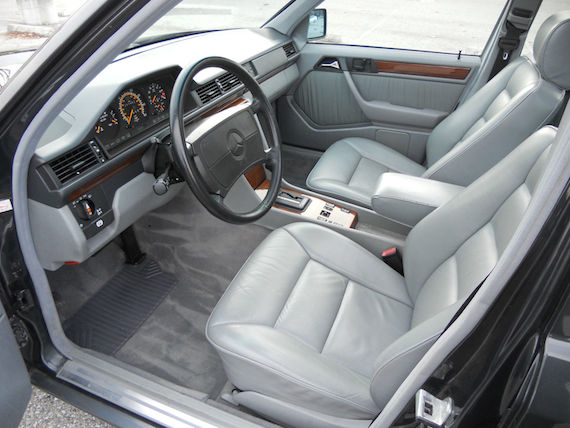 Year: 1991
Model: 300E 4Matic
Engine: 3.0 liter inline-6
Transmission: 4-speed automatic
Mileage: 71,400 mi
Price: No reserve auction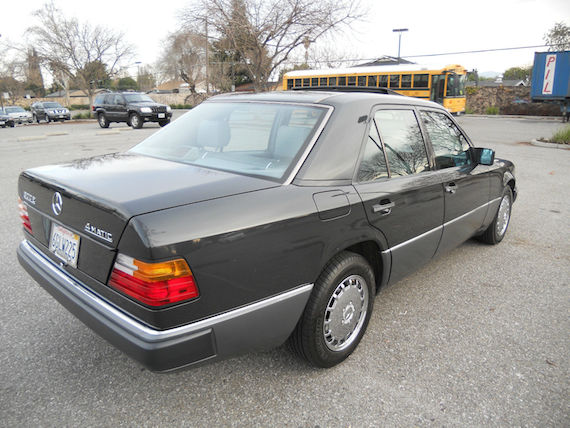 DESCRIPTION

For sale is a 1991 Mercedes Benz 300E 4MATIC with 89,200 miles with a clean and clear title and Carfax. Excellent example of this year and model. It is in great shape for a 24 year old car, showing little wear and tear. Please contact me with any questions prior to bidding. Serious bidders only please!

DETAILS

ENGINE

3.0 liter 6 cylinder engine runs very well. Runs smoothly and idles smooth. I have driven this Mercedes up to 80MPH on the freeway and drives very smoothly on the road. No fluid leaks. Clean coolant and all fluids are up to level and are fresh and clean. I would not hesitate to drive this car long distances.

TRANSMISSION

4 speed automatic transmission, no grinding or slipping. It shifts very well with no issues.

INTERIOR

All original factory light gray leather interior in excellent condition, no rips or tears, carpets clean and not soiled. The dash has no cracks on it. Headliner in excellent condition. The wood inlay is extra glossy with no cracks in lacquer.

PAINT AND BODY

Body is in excellent shape with the dark gray paint in beautiful condition, very glossy. No dents or dings. Does have some scratches on the rear drivers side quarter panel, but above average condition of paint and body for age of the Mercedes.

WHEELS AND TIRES

Michelin tires are 205/60/15 in size. About 90% tread left on front tires and about only 80% left in rear. Clean factory chrome style wheels still in great shape. Couple of them are showing some peeling of chrome.

ELECTRICAL AND ACCESSORIES

All gauges and odometer are working correctly. Power mirrors work correctly. Factory cassette radio has the Code mode on and I do not have the code for it. Will have to get from dealer. It has power sunroof and power windows that work great. A/C blows nice and cold. Both power seats work correctly including the power head rests. Cruise control works correctly. The ABS light is on. Not sure if it is a relay or a speed sensor that needs replacing. No other lights are on.

EXHAUST

Original factory exhaust system that is in great shape. No rust or leaks.

SUSPENSION AND BRAKES

Brakes are 80% upfront and 90% in rear with good rotors all around. Suspension is tight and rides great. No weird noises from suspension. Solid feel. Drives smoothly on roads and has a very comfortable ride.

It has a clean title. California registration expires January 08, 2015. California registration fee is approximately $120. Out of state buyers fees do not apply. Please bid with intent to buy. Being sold auction style with No Reserve! Highest bidder wins this beauty! No buy now price. If winning bidder is from California it will come with a smog certificate!!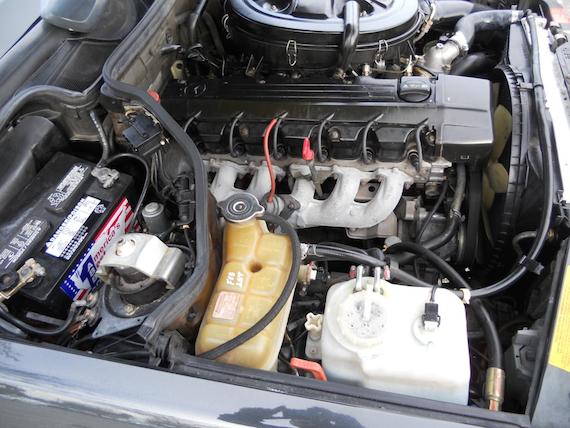 Given this 300E is a 4Matic, it would be nice if the seller would have provided a little bit more color on what has been done with regards the four-wheel drive bits, as these can be pricy to set right if faulty. The 4Matic didn't have a lot of takers in the US, as the all-wheel drive craze had not yet gone into full swing at the beginning of the nineties. Fewer still exist, especially in good condition such as this. If the 4Matic system is sound, this car could be a good bet at the right price, given the low mileage.
If you don't need four-wheel drive but want more power, this E420 sedan with the 4.2 liter V8 under the hood should fit the bill.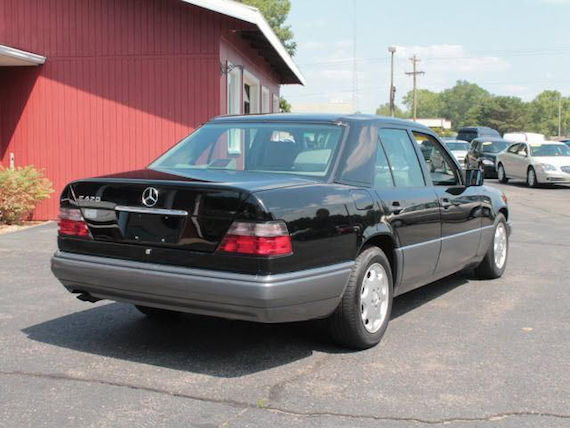 Year: 1994
Model: E420
Engine: 4.2 liter V8
Transmission: 4-speed automatic
Mileage: 82,605 mi
Price: $6,499
4.2L V8 SFI DOHC 32V Gasoline and **LEATHER**. Black Beauty! A **WALT SICARD CERTIFIED! Be the talk of the town when you roll down the street in this good-looking 1994 Mercedes-Benz E-Class. They say silence is golden. You'll know what they meant when you drive this car at highway speeds. Road noise is a thing of the past. It is nicely equipped with features such as 4.2L V8 SFI DOHC 32V Gasoline and **LEATHER**. ***Our dealership has been providing great customer service in South Haven, MI, near the shores of beautiful Lake Michigan, and Walt Sicard has built a local reputation for high standards in the auto business for thirty years and founded Walt Sicard Car Company in 1995. Known for high quality vehicles and for honesty and integrity in our business practices, we are the recipient of the NIADA Michigan State Quality Dealer Award. We stand behind our vehicles with warranties and a commitment to our customers whether it is before the sale, during the sale, or after the sale. We want to make sure our customers are taken care of and completely satisfied. Each car has a detailed vehicle history in its file to give you the best possible information. We recently have expanded with our new Tire and Service Center. Not only are we running each vehicle we have on our lot through our 88 point inspection but we are now servicing everybody. Come take a look! Please call before you come in to make sure the vehicle is still available. If you are interested in more pictures, just call or email and we will get them right over to you. Established in 1995, we have been in business for over 16 years and are a trusted brand. You will find your experience shopping with us informative and enjoyable. Our cars have to be good, they have my name on them! Visit Walt Sicard Car Company online at waltsicard.com to see more pictures of this vehicle or call us at 866-984-1473 today to schedule your test drive. Established in 1995, we have been in business for over 18 years and are a trusted brand. You will find your experience shopping with us informative and enjoyable. Our cars have to be good, they have my name on them! Our hours are Monday and Wednesday (8:30am-7:00pm) Tuesday, Thursday and Friday (8:30am-6pm) and Saturday (8:30am-2:00pm)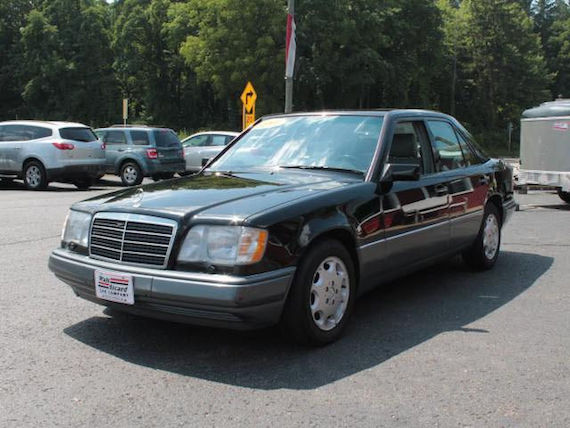 My father drove a 1992 400E for some time and I was always fond of the 4.2 liter V8's smooth and effortless power delivery. Dropping this eight cylinder into the aging W124 gave this car a shot in the arm it needed to compete against the rising competition from the Japanese until its replacement came along in 1996. Unlike the high performance 500E/E500 assembled by Porsche, the E420 is a rather affordable proposition, not costing much more than its six cylinder counterpart. We saw a 1994 E420 sell for $5,845 in December 2012 and another 1994 E420 sell for $4,249 one year ago. This car has similar mileage to those two examples, so the asking price here represents a bit of an uptick in value. Still a rather good bargain for an eight cylinder W124 in good shape, though.
Up next we have a 1995 E320 Coupe for sale in Florida. While we come across a lot of the Cabriolets for sale, the Coupe is a rarity these days. With under 70,000 miles, this is one that should grab the attention of collectors.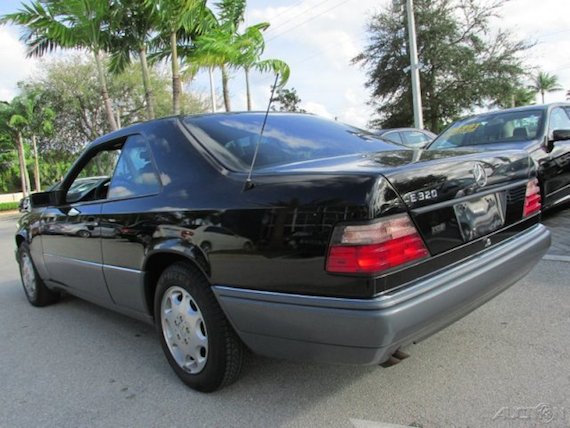 Year: 1995
Model: E320 Coupe
Engine: 3.2 liter inline-6
Transmission: 4-speed automatic
Mileage: 67,454 mi
Price: Reserve auction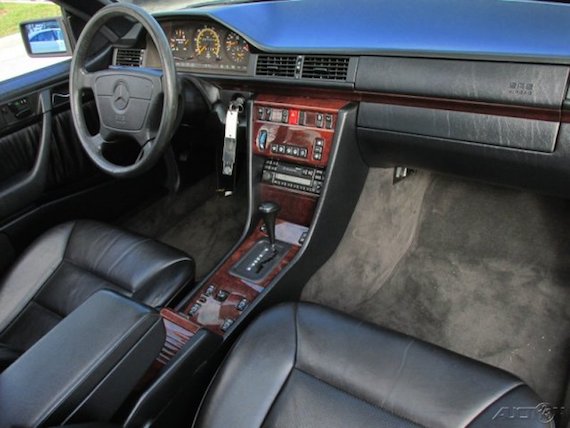 1995 Mercedes-Benz E-Class E320 3.2L I6 24V Automatic Coupe * POWER HEATED LEATHER FRONT SEATS *15 INCH ALLOY WHEELS * POWER SUNROOF * ONLY 67K MILES * PHONE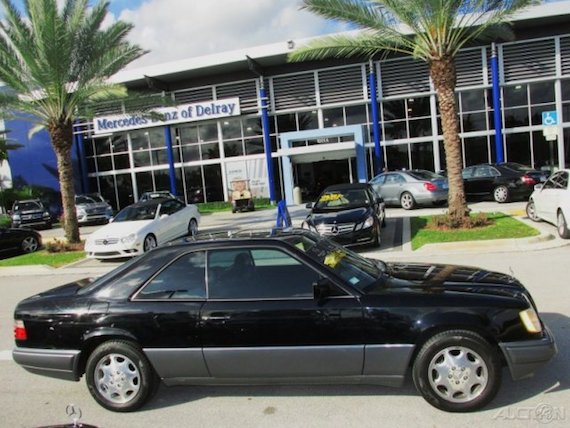 Last but not least, we've saved the best for last with this low mileage 1995 E320 Cabriolet for sale in California looking resplendent in Smoke Silver Metallic.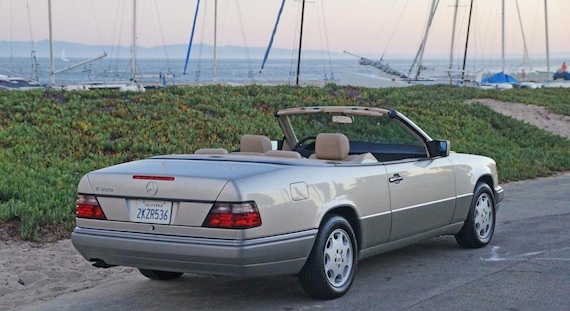 Year: 1995
Model: E320 Cabriolet
Engine: 3.2 liter inline-6
Transmission: 4-speed automatic
Mileage: 42,334 mi
Price: $22,000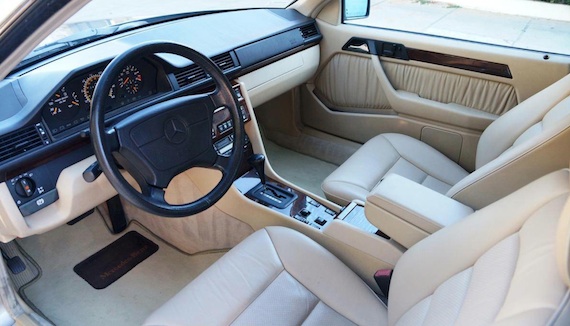 Offered for sale is an absolutely gorgeous, exceptionally clean, 42k original mile 1995 Mercedes E320 Cabriolet finished in ceaselessly tasteful Smoke Silver Metallic over a Parchment leather interior. With a sticker price of $79,595, the car was sold new by James Motor Company, the Mercedes dealership in Lexington, KY, the car would spend a majority of its life in nearby Missouri, always used as a second car and weekend driver, always garaged and always professionally maintained. The car was sold to its most recent owner in Houston, Texas in 2009, who continued the car's sparing use, accruing less than 4,000 miles in five years of ownership.

The completely original factory Smoke Silver paint is in fantastic condition throughout, marred only by a handful of extremely minor imperfections (a soft door ding, a handful of paint chips, etc.), all of which are consistent with a well cared for, low mileage example and none of which are significant enough to appear in any of the pictures. The body is straight with factory consistent panel fits and gaps and absolutely no indication of any accidents, further backed up by a clean Carfax report that also validates the low original mileage. The soft top is in excellent original condition and the flawless original wheels are wrapped in Michelin tires with plenty of remaining tread. The car's parchment interior is absolutely impeccable, the leather seats, carpets, interior panels, wood inlays and dash all showing virtually no wear whatsoever. Everything works, including the ice cold air conditioning system, 10-way power and heated seats, seat belt assist, power top, roll-over-protection bars, original sound system and 6 Disc CD player.

The car is also in fantastic mechanical condition, starting effortlessly and pulling strongly and smoothly through each of the gears. The time tested, bullet proof 3.2L Inline 6 Cylinder engine puts out plenty of torquey power and the car is a joy to drive, whether tooling through town or cruising down the highway. The car is absolutely a turn-key a modern classic that will undoubtedly provide many happy years and miles for its next owner, whether continuing as a sparingly used garage queen or as a tasteful and reliable daily driver. The car comes with its original window sticker, its original books and manuals, both original keys, tool kit, spare tire and a rare removable windscreen.

With Mercedes' trademark solid construction, gutty yet elegant era-specific styling and still relatively simple mechanical and electrical systems, the E320 Cabriolet is considered by many in the collector car world to be the last standard production Mercedes that will ever be considered a classic. Offered in hardly-broken-in original condition, this beautiful original example is quite possibly the finest on the market today.

Price: $22,000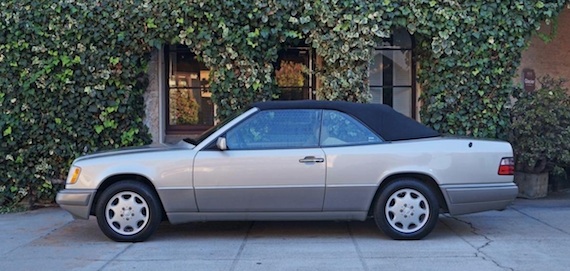 The W124 Cabriolet was one of the priciest W124s, along with the 500E/E500 pair. The asking price of $22,000 is rather reasonable considering the low mileage and how clean this E320 appears. Before the 300CE/E320 Cabriolet came along, Mercedes had not made a four-seat cabriolet since the W111 S-class of the early 1970s. Considering how values have shot up on those cars, I would tend to think the E320 Cabriolet will follow suit several years down the line.
Of all of these four W124s, my favorite has to be the late model coupe. You don't see many of these two-door hardtops around these days, as few were made to begin with. It's not the most exciting looking Mercedes, but it's beautiful in its own conservative way. And with the pillarless design and sunroof, you get a lot of open air pleasure to boot. The W124 had a diversity of variants almost unrivaled in Mercedes-Benz history. This was a car that meant many things to many people across the globe. Whichever one you choose, you won't be disappointed. Happy 30th birthday, W124!
-Paul