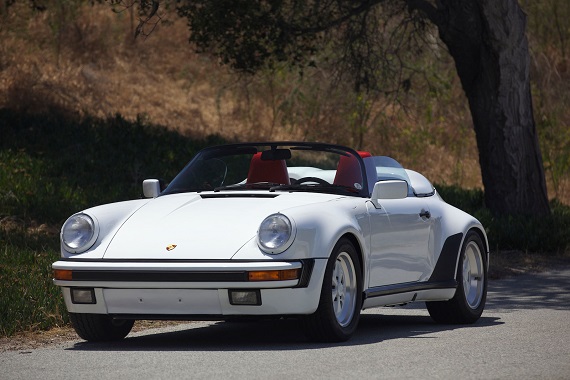 I tend to go back and forth about whether I prefer the look of the 3.2 Carrera Speedster or that of the 964-based Carrera 2 Speedster, but there is something about the particular car featured here that really catches my eye in ways that others have not. Either Speedster is, of course, intended to harken back to the original 356 Speedster and to a degree the narrow-bodied Carrera 2 seems to come closer to the mark in that regard. There were a small number of narrow-bodied 3.2 Carrera Speedsters made, but they are so few that I can't recall coming across one. Getting to the car here, as the market for the 3.2 Carrera has intensified I've been curious about the effect that would have on the rare variants of these models. The Speedster has always been very expensive so we may wonder how much more value they may show in the near term, but if this seller can even approach this asking price, then it would appear that the Speedster market has increased quite a bit as well. Here we have a gorgeous Grand Prix White 1989 Porsche 911 Speedster with red leather interior, located in Monterey, showing 22,300 miles.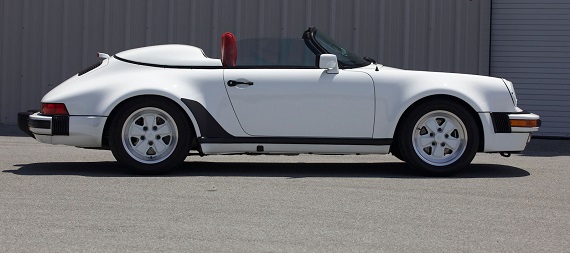 Year: 1989
Model: 911 Speedster
Engine: 3.2 liter flat-6
Transmission: 5-speed manual
Mileage: 22,300 mi
Price: Reserve Auction (Buy It Now $225,000)
Sometimes less is more. As Porsche's original 356 Speedster, built between 1954 and 1957, was a less-expensive model and more a pure driver's car, so was the 1989 version. Built for USA only in Turbo body style which is one of the prettiest open top cars ever made by Porsche. In this club competition style body they were a appropriate addition with the wide racing tires and the short wraparound removable windscreen. Of course only the single layer light emergency folding top was offered.

The new Speedster had a long and difficult gestation, which began in 1983 with a stillborn prototype developed by Porsche's senior engineer, Helmuth Bott. The idea was revived by Porsche President Peter W. Schutz in 1986, who contributed to the design of a second concept Speedster on a 911SC platform. As an American, Schutz understood the potential appeal of such a car for the American club racing market, and in 1987, Porsche debuted a pre-production version at the Frankfurt Motor Show.

Just as with the 356 Speedster, the 911 Speedster rapidly became collectible with only 830 ever offered in the USA. Only a handful now trade hands in a given year, and many of those are either modified or so low in mileage they can't be enjoyed. Ideally, one's new Speedster would have been carefully used, gently broken in, and well appointed, which is what one finds in this scintillating example. Rare optional air conditioning and a Blaupunkt stereo allow for gran turismo style touring. Of course all books, tools, spare, jack, etc. accompany sale of this car

217 bhp, 3,164 cc all-aluminum air-cooled SOHC flat six, DME Motronic 2 electronic fuel injection, five-speed manual transaxle, independent front suspension with McPherson struts, lower A-arms, torsion bars, and anti-roll bar, independent rear suspension with semi-trailing arms, transverse torsion bars and anti-roll bar, and four-wheel ventilated disc brakes with four-piston aluminum calipers. Wheelbase: 89.5 in.
The spirited, spiritual successor to the 356 Speedster
Optioned for the enthusiast, in extremely desirable and rare colors of white exterior and matching Fuchs wheels and gorgeous red leather interior
Low mileage and no modifications other than a period style amplifier which is easily removed.
Condition of this car is now ready for any Concours showing throughout the world.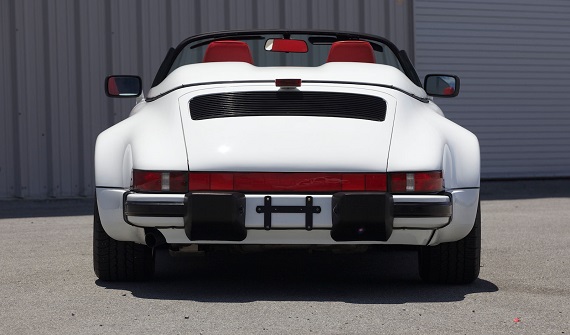 There are some obvious peculiarities that need to be addressed here: the car is missing the "Speedster" script on the rear, the ad is a copy and paste that says little about this particular car, and the seller has zero feedback. All of this means the car won't sell through this auction, but I'm generally skeptical about most cars of this sort selling on eBay anyway. I chose to feature it because the color combination is stunning and so many Speedsters we come across are Guards Red over a black or tan interior. Sometimes, different is just better. All in all, the 911 Speedster is a car I both love and hate. The Speedster itself is a car of significant history that it is difficult to fail to appreciate for its special character, but prices have almost always meant that most spend their lives in a garage rather than as the weekend racer to which they pay homage.
-Rob