Warning!
This post is in our archives. Links in this post may have been updated to point to similar cars available to bid on eBay.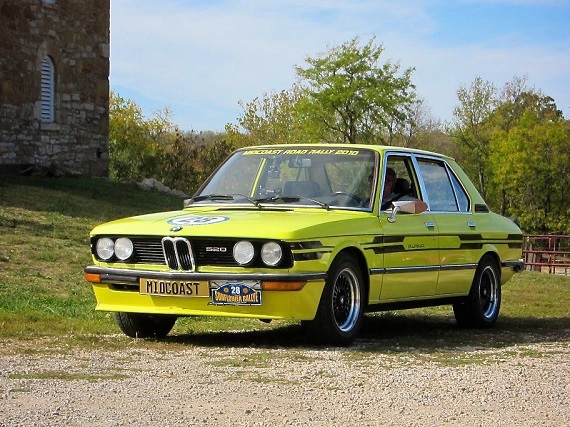 We've had the pleasure of looking at some pretty cool European and Japanese market Alpinas lately, and another two popped up that were worth considering. One is a B9 3.5; we've seen a few of these from the same seller, and this one looks as exceptional as the seller's previous offerings. Interestingly, where the seller previously had listed the cars on reserve, this time they give us an entry price. The second example is a bit more of a mystery; an Alpina liveried E12, it looks more like an assemblage of parts than an actual original Alpina car. Let's start there:
Year: 1976
Model: 520i
Engine: 2.0 liter inline-4
Transmission: 4-speed manual
Mileage: 130,000 mi
Price: No Reserve Auction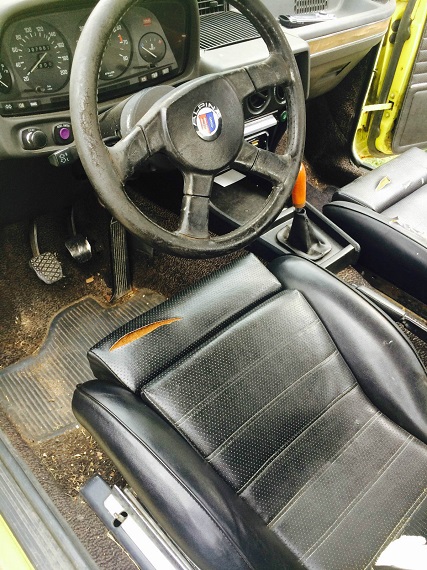 This 1976 BMW 520i was imported through California, lived in Salt Lake City for several years after California, then I purchased it when I lived in Des Moines 6 years ago and brought it to Austin 2 years ago. These "Bavarian Bastards" were set up and ready to go to be Alpina specials from 1973 – 1976. This car had all the trim components added (seats, steering wheel, vinyl decals, body trim) but I don't think it ever received the A4/A4S/A5 Alpina tuning kit – which among other things would have added dual Weber carbs to the engine. This one is outfitted with a single Weber.

It came from the factory with an M10 4-cylinder and a 4-speed manual, a set-up never offered in the USA. It is also an original Golf Yellow car with very few options as is typical of Euro market examples. (NOTE: No air conditioning). The Alpina front air dam and stripes are aggressive but almost blend in considering the loud aesthetic dictated by the factory color. Great looking Enkei wheels. Black turbine alloys are nicely matched and the dainty non-USA bumpers give improved proportions. H&R springs and Bilstein dampeners give it a gentle rake, and the engine is fed by a Weber 32/36 carb. It needs some cosmetics but is a solid runner. It was the perfect charity rally car for me – I could drive long distances for hours on end and the car wouldn't hesitate a bit. The seats fit like a glove and really made long drives pretty easy. I've driven this car from Utah to Iowa, Iowa to northern Wisconsin, Iowa to Kansas, and Iowa to Texas. No issues except had to replace the alternator on the Kansas trip.

I've entered it into many charity rallies over the past 6 years. It has an aftermarket fuel cell in the trunk and a nice aftermarket stereo. There are typical issues of a 40-year old car, and it's going to take a little love to bring it up to mint (or drive it as it is) but it's solid. Perfect candidate for a, in my opinion, pretty easy restoration (restore while you drive). I just have too many projects and a new family. Going to miss this one but really want to get it into someone's hands that is going to love this car as much as I have.

This car is in Austin, Texas. You'll need to plan on getting it picked up as soon as possible, my storage is coming to an end. If you need some time I may be able to be flexible, but you'll need to message me before the end of the auction. Otherwise, I'm assuming the buyer will be able to make arrangements to pick up the car pretty quickly.

Check out BMWISM dot com and /all_bmw_alpina_cars.htm

Reselling do to a nonpayment/no show buyer. Very reasonable reserve price, but please don't ask what it is. Some questions I've answered thus far:

1.Is it a true Alpina? I think I've described to the best of my ability what is Alpina about this car and what isn't. Do your research. This is a pretty amazing BMW, likely the only one like it in the United States. But I'm not sure of it's exact pedigree.
2.The engine bay shows "cracks." This is not the body. It has a dampener/firewall material installed. My belief is it is factory installed. This material is cracking a bit and looks more dramatic in the photos than it really is. This has nothing to do with the metal underneath.
3.Is there rust? Yes there is some surface rust. I think it is contained to surface areas at this point. The BMW is a solid runner and will continue to drive while you figure out what you want to do. The car looks nearly exactly as it did 6 years ago when I bought it, so I don't think it has gotten much worse. As they say, it's a 10-footer (looks great from 10 feet).
4.Is there any official stamping/tagging on the car and/or in the engine bay from Alpina? No.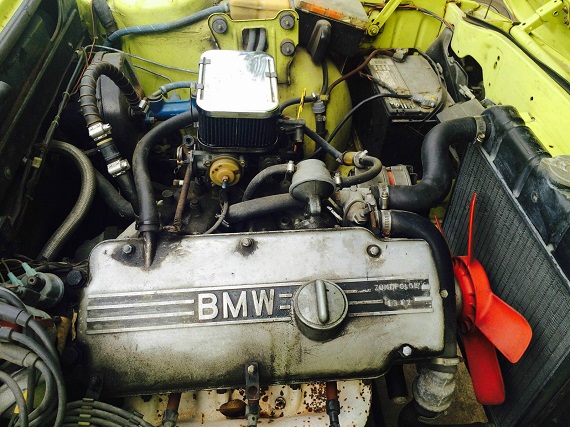 Is it really an Alpina? Not likely. It looks more like a previous owner outfit the car with a few correct details, but it's missing some important ones. The Golf Yellow is pretty fetching and the stripes and deep chin spoiler help to set it apart from your run of the mill E12. Not that you often see E12s these days anyway, but it's quite unique. Even more unique is the drivetrain; the M10 520i/4-speed never made it to these shores, and coupled with the bigger body likely makes this car pretty anemic. Alpina did modify E12s starting around 1978, with the early B2 3.0s and later B7 and B7 turbo. But this isn't one of those cars from what I can tell, so you're buying a slightly rusty, fairly slow and unusual colored E12 with some neatish Alpina details. It should remain pretty cheap, but it's also a bit of a project.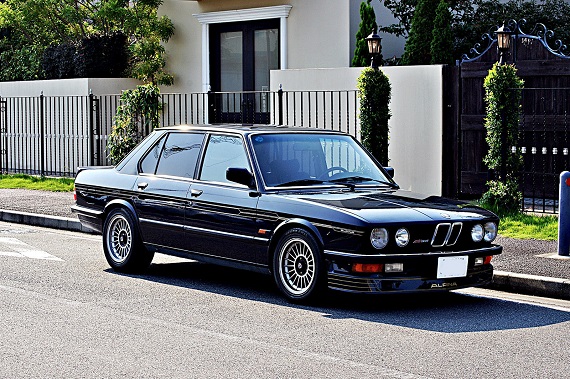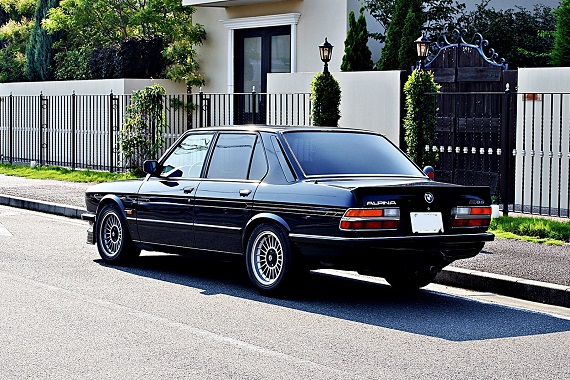 Year: 1983
Model: B9 3.5
Engine: 3.5 liter inline-6
Transmission: 5-speed manual
Mileage: 83,125 mi
Price: $31,900 Buy It Now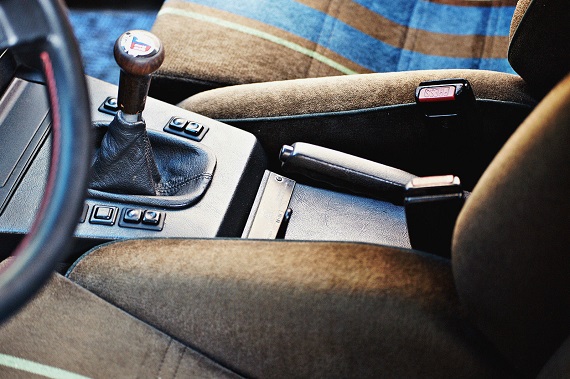 ◾Make: BMW
◾Model: Alpina B9 3.5 E28 #166
◾Type:
◾Year: 1983
◾Body Type: Standard Car
◾Doors: 4
◾Seats: 4
◾Steering Position: LHD
◾Owners: unknown
◾VIN Number: WBADA7103D8465849
◾Body Stamp Number: WBADA7103D8465849
◾82,642 miles, 133,000 km

exterior, electric

◾Exterior Color: Blue

Original D blue exterior All original Alpina equipment are there
Alpina line is later version (You can put original ver)
all original dry panels. very streight. no dent or damage. no rust at all.
F Strut towner bar
All working order less SR

interior, suspension

◾Interior Color: Black

All original Alpina interior less Alpina original Steering wheel
even Dash has no cracks very clean interior. The car kept inside gurage all the time. past 6 years 100km each 2years driving records.
Original Alpina wheels suspenssion etc… handring so smooth and tight

engine, equipments

◾Engine Size: 3430 cc
◾Cylinders: 6
◾Power: 241 Bhp (180 kW)

245ps Runs so smooth and strong. Very good mainteined car. No leaks No strange sounds at all.
Air cleaner box updated (not original) = you can buy this parts anywhere.
High range RPM runs so good. you can enjoy !!!
All Original Alpina equipment less steering wheel

E28 B9 is so rare and no chance to get good one

no more.

transmission, special features

◾Mission: Manual (5)

5 speed transmission Shift smooth. clutch hold ight. This is the last chance to have nice B9 Alpina E28 model Price is reasonable so Please make sure you have enough money to buy the car.

1983 BMW Alpina B9 3.5

history records
Newly imported to japan. Well mainteined car but last 6 years 100km each 2 years so only 300km for 6 years

maintenance records
many records
This car never lost registlation since the car importd to japan. Even this 6 years only 300km but the car even now still has current tag (registlation)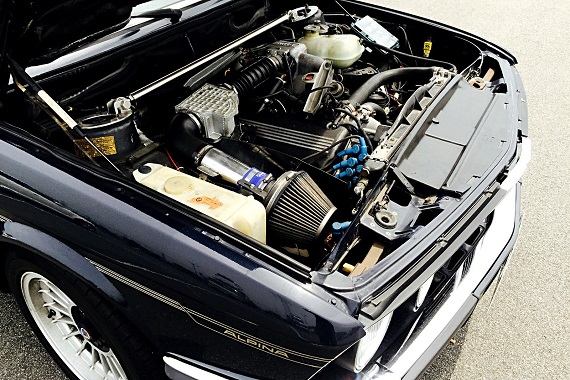 The last B9 3.5 I wrote up was number 21; the silver with blue stripes 1982 from the same seller. In nearly equal condition and with similar mileage to this car, it sold for a reported $27,000 – so it's not much of a surprise to see this seller try to list this one for a few dollars more at $32,000 though it's likely a bit of a reach. The dark blue is quite pretty and these B9s are fairly rare; at only around 500 made, you're much more likely to find a M5 than one of these. Pricing is about on par with what an equal condition E28 M5 would bring these days, but the B9 isn't quite as quick or menacing looking. It's still a classic in the making, though, and if the documentation is in order (#166 doesn't appear in the Alpina Archive, for what it's worth, while the last two from this seller were) it's a neat bit of BMW and Alpina history that will give you more thrills than a 535is and more exclusivity than nearly all the M cars.
-Carter