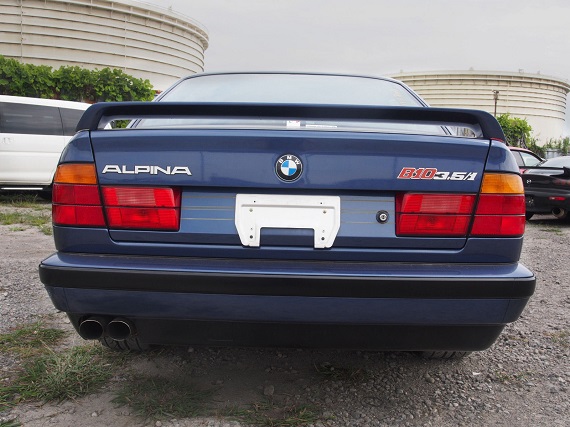 I've recently had the pleasure of writing up a few very cool Alpinas thanks to a new seller who seems to be flooding the market. Today, unlike the Japanese seller on eBay, there are two B10s that are already located in the Americas – Canada, to be specific, where it's a bit easier to get these European market cars imported. So here we have two iterations of Alpina's vision of the 5-series; in the E34, it's a 1991 3.5/1 that was very similar in many regards to the B11 3.5/1 I featured Tuesday. On the newer end of the spectrum is the 1998 B10 V8; a huge jump in power to accompany the newer chassis. Which is your flavor? Let's break down what you'd get with each: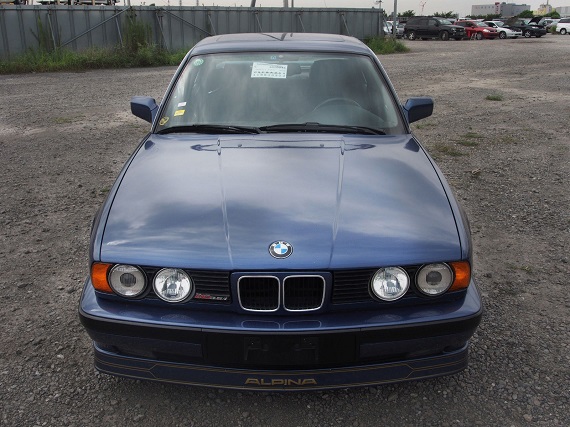 Year: 1991
Model: B10 3.5/1
Engine: 3.5 liter inline-6
Transmission: 4-speed automatic
Mileage: 46,750 mi
Price: No Reserve Auction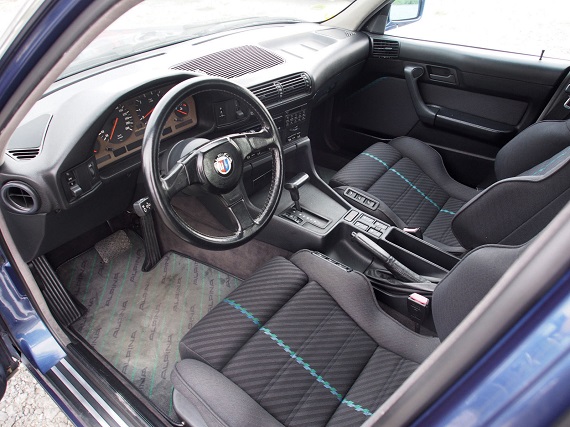 NO RESERVE!!! ONLY 46,750 MILES = 74,800 KILOMETERS

For those that will know what this is, you will know that this is a very special car. Limited production of only 572 made in the world for the 4 years of production. This is number 513. This is a hand built car like an M5 but much more exclusive. Includes various paperwork for the vehicle. This Gorgeous Alpina has a clean history with no accidents and was babied and well taken care of. Finished in stunning Alpina Blue on Grey Interior with only 74,800 easy Kilometers.

Yes it is real!! Some people might tell you this could be a knockoff. I assure you it is not. It is documented and properly marked by the factory.

Essentially they take a BMW 535 just starting down the assembly line and take it to a separate plant to be built. There they put in a Modified Alpina version of the BMW 3.5L Straight Six motor that produces 254HP, it has Mahle Pistons, a modified cylinder head, new cams and a revised motronic system. They install a custom Alpina Exhaust System, custom Bilstein Suspension, custom Recaro Sport Interior, custom MOMO steering wheel and shift knob, custom body kit, custom brakes, custom lighting and custom wheels. This car is a dream to drive and there are few cars that can compare to it's purity and balance.
If you are into EUROPEAN CARS, this is the one. You will fall in love. The car has ZERO rust, the exterior is a 9/10, the interior is a 9.5/10 and the engine bay is a super clean 9.5/10. This is a perfect example of a gorgeous Alpina B10 3.5 with low mileage and well maintained. The paint is in amazing condition with no hidden defects or bubbles or fade marks.

E34 B10 3.5
Based on M30 – 3430 cc engine with lightweight Mahle pistons and an increased CR of 10.0:1, modified cylinder head & camshaft, tubular steel exhaust gave 256 BHP @ 5700 rpm (non-cat) & 243 LBS.FT Torque @ 4000 rpm. Has LSD and Alpina wheels 8.5" at the front & 9.5" at the back. Shorter springs & Bilstein dampers & Dunlop Direzza ZR Tires (235/45 & 265/40). Of which the tires are new and have lots of tread.

EQUIPMENT
All-steel monocoque body, all-round rigidity safety cell, controlled deformation zones, double halogen headlamps, high-pressure lamp wash system, green heat-protection glass, heated driver's door lock and door mirror, heated screen washer nozzles, on-board computer, courtesy lamps, rear armrest, electrically sliding sunroof, service interval indicator. Factory options: BMW Sports Seats. Dealer fit options: Interior mats, Blaupunkt Toronto SQR48, Ultrasonic alarm. Alpina Specification: 260bhp engine, special Alpina differential 3.73 limited slip final drive, Alpina developed Bilstein shock absorbers, Alpina suspension springs, Alpina light alloy wheels, body coloured Alpina front spoiler, Deko set, Alpina badges and B3.5 badges, dash board plaque, Alpina Momo steering wheel.

EXTERIOR
Jaw droopingly beautiful at any angle finished in Alpina Blue (CODE #FE 86-5489), with the optional Alpina outline Deko set in Gold this exceptional example offers a purposeful sporting stance without attracting unnecessary attention. An amazing deep gloss finish has a smooth enthusiast owned sheen with no noticeable flaws. The Alpina front spoiler along with the original BMW front screen has some minor stone chips. All the glass is number plate etched and the supplying dealer number plates are fitted front and rear. A very clean engine bay proudly displays the manufacturer's information plates and stickers. A car for the connoisseur.

INTERIOR
The driver-orientated ergonomically designed interior showcases exemplary craftsmanship. The cloth upholstery sports seats trimmed in Natural Cloth are flawless and a testament to the fastidious ownership and very low mileage this example has enjoyed. The immaculate driver inclined dashboard proudly displays the Alpina Dash Board Plaque reminding the driver of engineering excellence. Additional Alpina symbols remain in place including the green Alpina tyre pressure sticker on the door shut, the Alpina doorsills and Alpina revolution gauge logo. Tiny cuts to the driver door card can be seen where the seatbelt buckle has been caught between the door and card. Dealer fit accessories including the Blaupunkt stereo at a cost of £793. A complete unused toolkit is correctly housed inside the trunk lid. This Alpina B10 offered an advanced on-board computer integrated into the center console and dash cluster. The computer could be set to calculate average gas mileage, average speed, fuel range, estimated time of arrival, and distance remaining to destination. The computer could also display basic information such as outside temperature, date, and time. BMW on-board computers of this generation also allowed a numerical pass code to be set and required to start the vehicle.

ENGINE & TRANSMISSION
The seemingly endless reserves of power across the entire rev range give a clue how special this authentic conversion is. The in-line six-cylinder 3430cc produces 256 bhp at 5700rpm with a maximum torque of 243 LB.FT. Torque. This engine is a modified and higher spec of the famous M30 Engine, which was Ward's Top Engine of The 20th Cenutry. Many Alpina enhancements including the light Mahle cast pistons, modified cylinder head, a Sharp high performance camshaft and a re-mapped Bosch Motronic engine management system elevate this power plant into a high performance category with uncompromising quality. The wonderfully smooth Electronic/hydraulic (EH) automatic transmission with sport, economy and manual modes together with near perfect 50/50 weight distribution firmly uphold BMW's renown for sheer driving pleasure.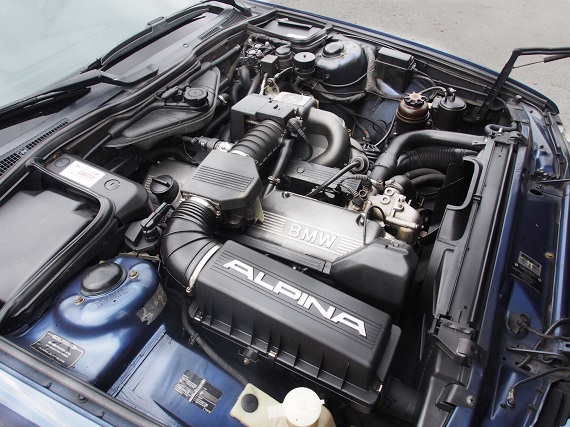 The description actually gives you a good breakdown of the car itself and some of the special items that are included. This car is presented in the more traditional Alpina blue with cloth interior as compared to the B11 from the other day. Mileage is low and condition looks to be quite good. As with many newer Alpinas, this car is an automatic; the same 4-speed unit found in the B11 but it's notable that this was still a time when the automatic was optional. As with the other Alpinas, the B10 3.5/1 received suspension and aerodynamic tweaks along with a unique interior. The B10 3.5/1 was built only for a short time before being replaced by the B10 BiTurbo, 4.0 and later 4.6. As such, it's a bit low man on the totem pole in terms of Alpina desirability. The opening bid is just below $18,000 but this car has been up on eBay for a few weeks here and there; I think the price is still a little high. While rare and pretty, I think most people looking towards the inline-6 motored cars would prefer a nice M5 at that pricepoint.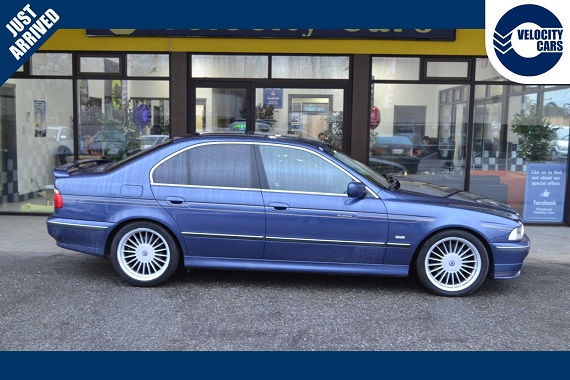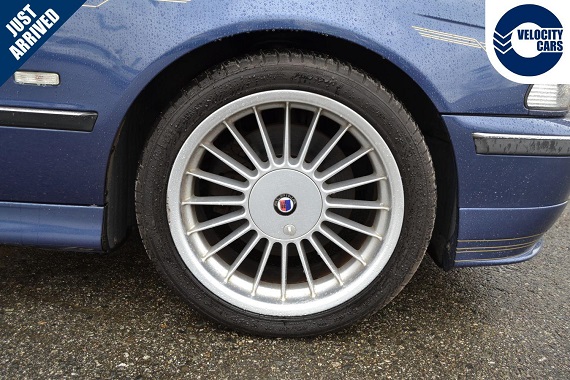 Year: 1998
Model: B10 V8
Engine: 4.6 liter V8
Transmission: 5-speed automatic
Mileage: 91,440 km (56,818 mi)
Price: $18,890
Options

AM/FM Radio
CD Player
Power Windows
Power Doors
Power Steering
Sun Roof
Climate Control
Electric Seats
Clock
Memory Seats
Power Brakes
Traction Control

Notes

!!!1 YEAR POWERTRAIN WARRANTY INCLUDED IN PURCHASE PRICE!!!

Stock #: 384
Status: On Lot

1998 BMW E39 Alpina B10

THE FOLLOWING IS INCLUDED WITH THE PURCHASE OF ANY VEHICLE:

– NO ACCIDENTS
– A rigorous BC government mechanical and safety inspection
– A certified accurate odometer reading
– A lien free guarantee
– A professionally detailed vehicle; front to back, top to bottom, inside and out

WE PROVIDE:

– Easy Finance
– Trade-in Facility
– Mechanical Warranties
– Parts Sales
– Leasing Options
– Personal Customer Orders
– Shipment Anywhere in Canada

Feel free to call us toll free at 1-855-781-8128

Visit us at:
3888 Marine Way, Burnaby, BC V5J3H4
9:00am to 6:00pm Monday to Saturday
10:00am to 5:00pm Sunday

BC Licensed Dealer # 40027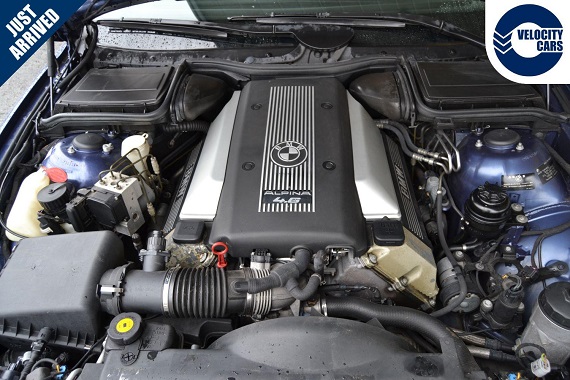 As with the later E34 based B10 4.6, Alpina put its own motor into the newly launched E39 in 1997. That's right, Alpina once again had its own block cast by BMW since the 4.4 equipped in the E39 540i couldn't easily be bored out due to the Nikasil treatment. Unsurprisingly, that gave Alpina the opportunity to up the power, and with 340 horsepower with even more torque on tap mated to the new ZF-made 5-speed automatic with wheel controls, the E39 was decidedly more sporting than the B10 3.5/1 had been. Acceleration was good enough to keep up with the M5 give or take a few clicks of the clock and the B10 V8 received the normal host of Alpina upgrades, including bespoke seats, wood, steering wheel, wheels, body kit, exhaust – and of course, those stripes. This example has slightly more miles than the '91, but at only 57,000 it's hardly used up. Condition, as with the other car, seems to be very good. The asking price is about on par with the opening price of the '91, making this car seem in many ways like a better deal; it certainly has more performance and the interior feels slightly more upscale thanks to Alpina's wood additions. The B10 V8 is less rare than the 3.5/1, with about double the number produced at 1061 (versus 572 for the 3.5/1). Also interesting is that the color changed between models; the E34 is officially listed as "Alpina Blue" while the E39 changed to "Alpina Blue II".
Which would I choose? I love the E34, but given the same price and the bigger motor in the E39, I think it would get my vote. There are some details that look so much better on the earlier cars; for example, the badges alone get my vote compared to the refreshed look for the E39. But the sleeper performance is king in this comparison, and for that reason alone the E39 gets my vote.
Thanks to our reader Nicholas for sending the B10 V8 in!
-Carter