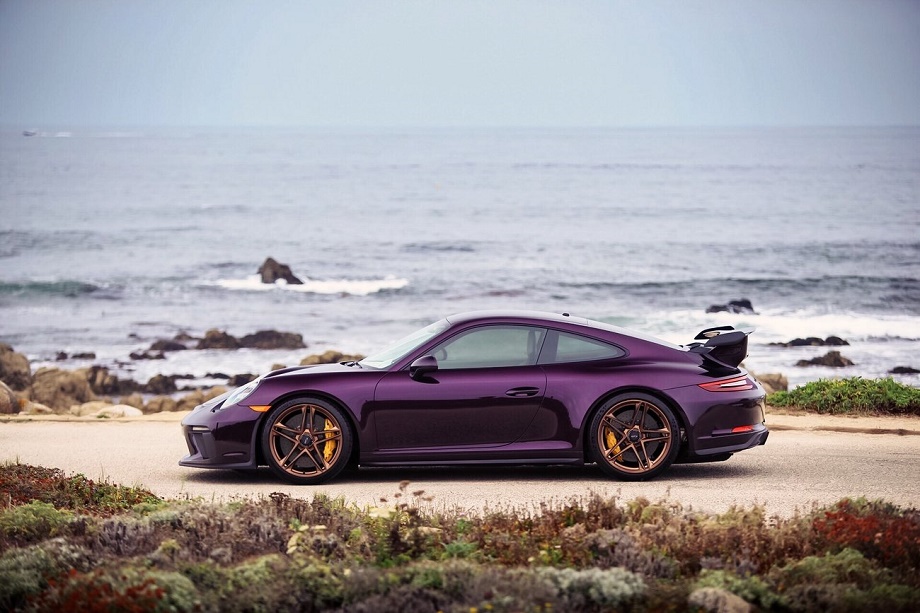 This is easily the most interesting new GT3 I have seen. I won't say that it's the best, but it definitely is the most interesting. It also is one of the most beautiful. Let's start with the color: paint-to-sample Amethyst Metallic. I firmly believe it is one of Porsche's most underrated colors. Released in the early '90s it isn't one we come across too often, even among the many PTS 911s we see these days. On the 964 it was a really good-looking color. On the 991.2 GT3 it's simply stunning. I've seen a few different pictures of this car (I believe in previous posts from GRP) and it easily is one of the most striking available. Porsche has made some stunning greens, blues, and yellows over the years, but what makes Amethyst special is the way it is completely different from all of those. It's unique and very pretty at the same time.
But this isn't just a PTS GT3, as nice as that PTS exterior is. The interior too received significant extras.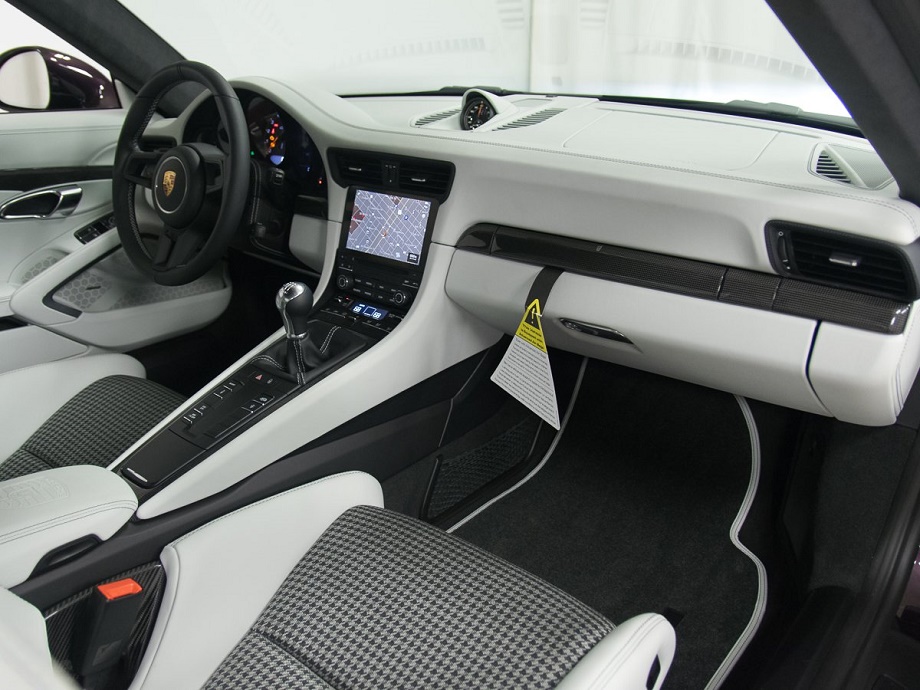 Year: 2018
Model: 911 GT3
VIN: WP0AC2A94JS175619
Engine: 4.0 liter flat-6
Transmission: 6-speed manual
Mileage: 1,300 mi
Price: $248,000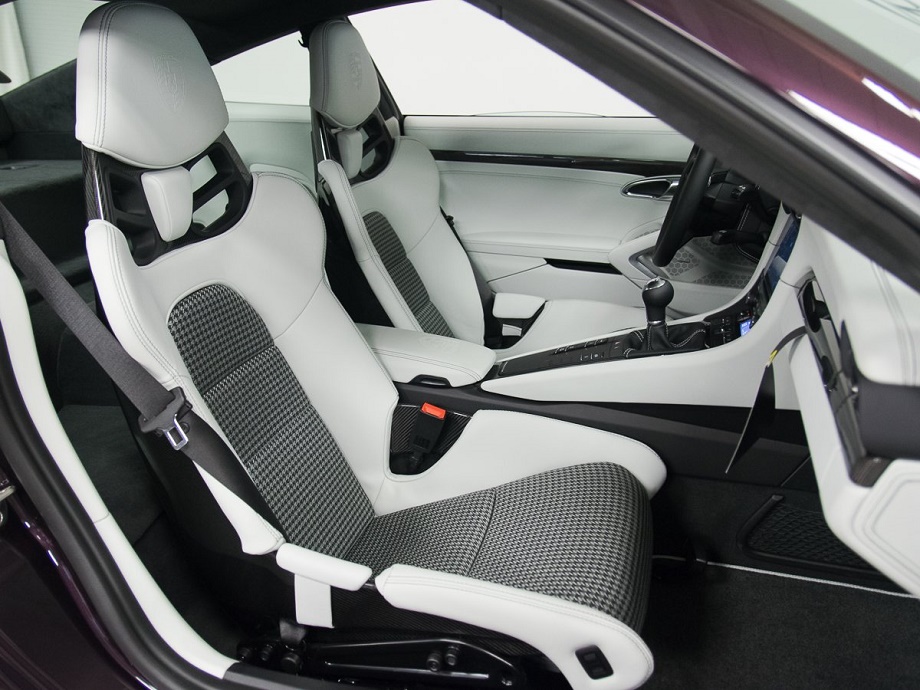 GRP is proud…and yet sad…to have my personal GT3 available for sale now. The time has unfortunately come for me to focus on our upcoming Jaguar Land Rover dealership that we are building, and therefore some toys will need to go.

This car was spec'd with no expense spared, I wanted the ultimate in customization but also a color combo that was eye catching and refreshing. I have no doubt that we hit the nail on the head. I went to PECLA and built this car with my wife, and I had the vision of Pebble stone grey leather with black stitching, and anywhere that I felt there should be black leather we did pebble stone grey custom stitching. You can see, it turned out amazingly well.

– Pebble Stone Grey leather, in combination with black leather in areas of higher wear (steering wheel etc)
– Anywhere there is Pebble Stone grey leather, black stitching and vice versa
– Floor mats with pebble stone grey leather edging and black stitching, but carpet centers. Carbon centers wear out, are slippery and look dirty all the time so I didn't go that way.
– PTS Amethyst Metallic
– Pepita seat inserts from Porsche
– Leather key pouch in Pebble stone grey with black stitching
– Painted key
– Black carpeting throughout
– Custom PTS air vent slats in Amethyst

This car will come with the following already done for the price listed above.

– GRP center bypass exhaust, stock exhaust comes too.
– Entire car has been covered by Xpel since before it even turned a wheel
– OE wheels/tires ONLY. HRE can be negotiated on the side.
– Window tint to 30% with ceramic tint, really helps keep the heat our of the car
– Custom seat bolster covers, we got the leather out of Europe from the same supplier as Porsche and did Pebble stone seat covers to match. These weren't cheap, but they did help a ton to keep it perfect.

Many people will wonder, is there glare? No, I have no glare issues.

Is there any issues with the lighter leather staying clean? No, in fact it's been extremely easy to keep it clean. I have loved it.

Lastly, if this doesn't sell, Oh well! I love it, its definitely my favorite car that I own, but due to restrictions I cannot sell any of my others at this time.

If you are interested, call me, text me or email us. My cell is 614-284-6884 email is gr@grahamrahalperformance.com

Thanks guys, here's your chance to own the greatest GT3 ever built hands down.
The build sheet on this GT3 is insane. It's not often you have to scroll down to view an entire options list but that's the case here.
So back to the interior. I've never seen an interior that reminded me of a Storm Trooper, but that was my first thought with this one. Is that a good thing? I don't know. The light Pebble Grey is a very interesting choice and wouldn't necessarily be my first choice. It offers significant contrast with the exterior. As always the pepita seat inserts look great. I think this is an instance when whether you really like everything here doesn't entirely matter (unless you're the one planning to buy it, in which case it totally matters). I don't know that I really like the interior, but I absolutely can appreciate the execution. It looks well thought out and overall remains quite tasteful. For me though the exterior is what wins the day.
To top off all of this specialness, the asking price here seems extremely fair. Granted it is a very high asking price. You can easily find another GT3 for 50K fewer of your dollars. The high asking price here stems from all of these options and actually is basically its MSRP. It also comes with a few custom bits from GRP.
There are a ton of reasons this GT3 stands out and is unique, but none more so than the fact that in a sea of ads with significant markups attached this one is totally unique and sits pretty much at list price. I could spend a lot of time just looking at it.
-Rob