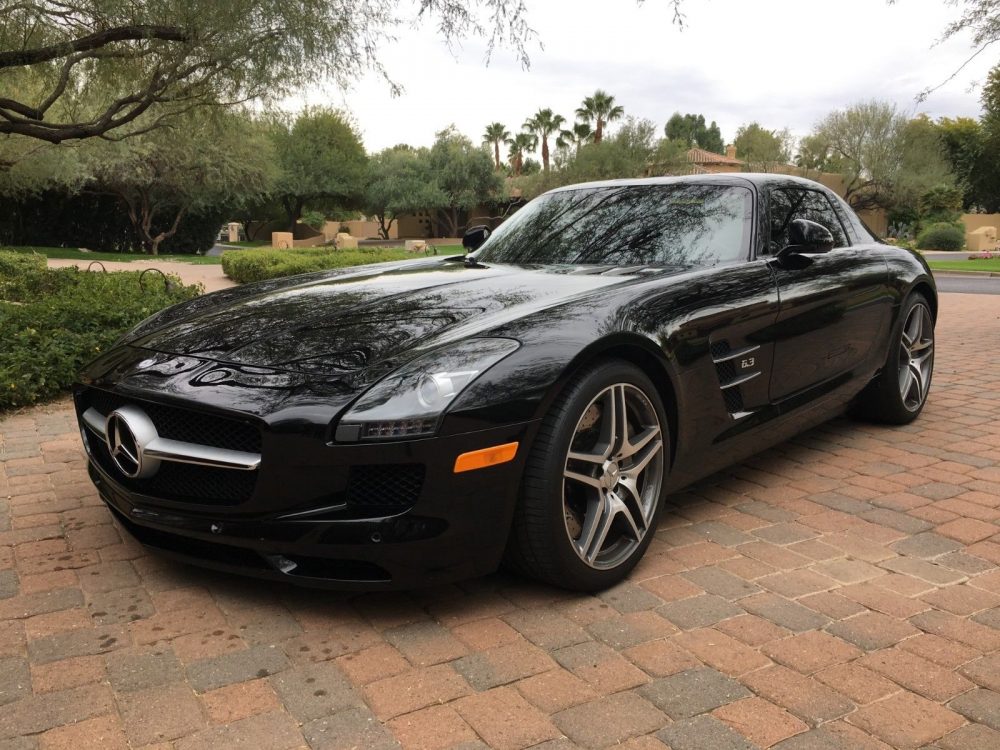 The Mercedes-Benz SLS AMG had the nearly impossible task of being the spiritual successor of the legendary 300SL Gullwing. I say 'nearly impossible' because if one car could measure up to the 300SL nearly 50 years later, the SLS AMG somehow managed. Jeremy Clarkson raved about SLS AMG calling it "the greatest car in the world" at the time and that "this is the thinking man's supercar". I agree completely. The team at AMG managed to make a beautifully contoured car with Gullwing doors and somehow engineered it to get to 60 mph in the mid-three second range and top out at 200 mph. All of this is possible in a car so comfortable and easy to live with that you could use it as a daily driver. It was the ultimate grand tourer with doors to die for. Granted, if you were the kind of person to buy a SLS you almost certainly had other vehicles in your fleet and that seems to be the case with today's car. This 2011 painted in the sleek Obsidain Black checks in with just 4,500 miles and looks every bit the part. The even better news, once you swing open those doors, the car only looks better.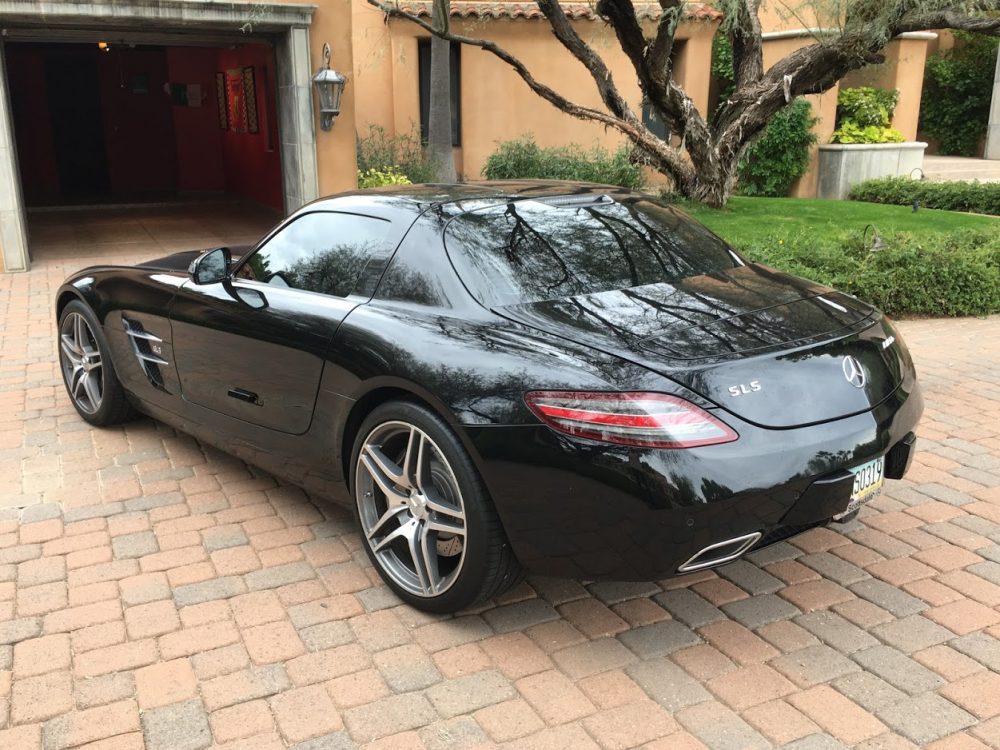 Year: 2011
Model: SLS AMG
VIN: WDDRJ7HA9BA004741
Engine: 6.2 liter V8
Transmission: 7-speed dual-clutch automatic
Mileage: 4,554 mi
Price: POA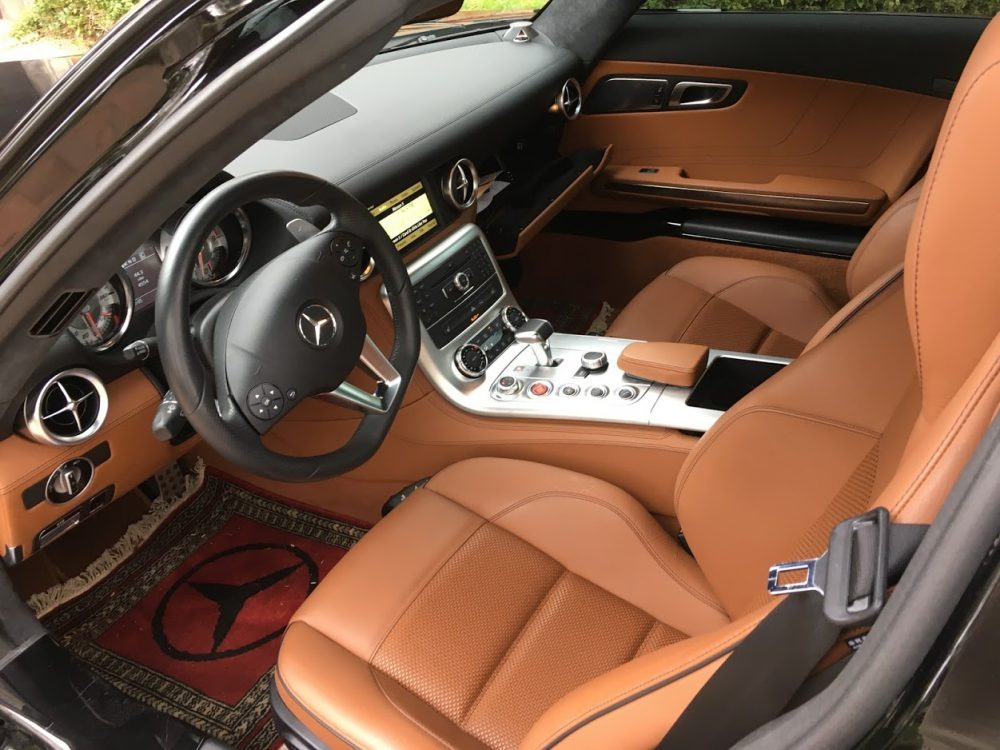 2011 Mercedes Benz SLS AMG- One owner purchased new at Mercedes Benz of Scottsdale March 16th 2011 with 2 miles. Now showing 4554 miles. Service intervals were completed in 2011, 2012, 2104, 2016, 2017, and last in January 2018 as evidenced by the Carfax. Delivered in Obsidian Black with Designo light Brown interior this SLS has not been dolled up for sale. I photographed it exactly as it was used last. It shows excellent. It appears there most options were included, but if you want to see exactly what this SLS came with I do have a comprehensive build sheet. I am happy to email the build sheet as well as the car fax if you message or call me at the number below. I am sure anyone looking at this has an idea of what it is. I wont bore you with cut and paste descriptions. I will detail what I see about this car below.

Condition in details:

Body: Excellent paint. Very little signs of use as you would expect from a 4554 mile car. There is a small bit of rash on nose. Specifically on the lower, ground facing faring. There is a pic in the gallery. I found 4 very small rock chips. None bigger then the tip of a sharpie marker. There is a discoloration on the passenger door jam. Looks like a mini oil slick. Might rub out. A pic is included. Its in the door jam. this can not be seen on the outside of the car.

Motor and Transmission: I did not detail this car. The engine has a bit of dirt on it. It runs perfectly. Starts and drives perfectly. The light is now on for a service B. There has only been 346 miles driven since the Service A completed in January. I have been reading on the forums that the car utilizes time and miles to show the service intervals. The tires are DOT date coded the end of 2010. they are original, and in perfect condition. Little to no wear, and no dry signs of dry rot.

Interior: Excellent. I find no flaws, and I do not use those words lightly.

Here is a link to a google album with several pictures as well as a couple of videos. if you can not open the link I am happy to email the invite.

https://photos.google.com/album/AF1QipMwPthM9CY-Fr40uc6rfzqlC1ZFSoKakNquFyhK

I have priced this SLS towards the low end of these. Less then many with 20,000 plus miles. The car is really for sale. I am not trying to see the value I want to find a new owner. Please call me to ask any questions, make an appointment to see it, and of coarse make an offer.

Please call me to discuss this beautiful Mercedes, or arrange an inspection. My auction almost always end early due to a sale. I am happy to discuss a purchase price with any one who calls. This is a private party purchase which your tax will very state to state Arizona does not have sales tax on private party purchases. You can reach me at 602-908-9267.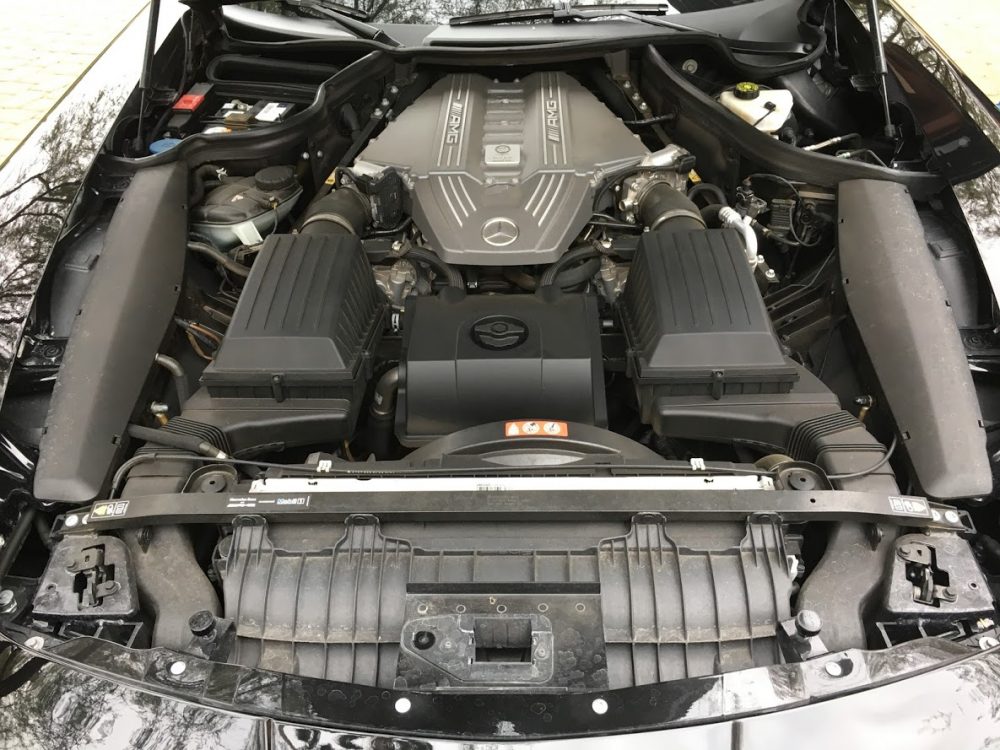 Open those Gullwing doors and you are greeted with the fine light brown leather that compliments this Obsidian Black so well. As you might expect from a SLS with 4,500 miles, it looks nearly perfect. The Alcantara headliner is also a touch that often goes overlooked on these and just another little thing that Mercedes got right with this car. The seller included a link to an extensive photo album – click here!
While the exterior is striking and the interior a wonderful place to be, this car is all about the engine. The 6.2 liter V8 that most think is borrowed from the 63 series AMG cars from the same era, is actually quite different. Called the M159, this engine has over 120 different parts compared to the M156 and is only used in the SLS. It puts out 563 horsepower and 479 lb⋅ft of torque to produce a sound that surprises everyone. Seriously, listen to this exhaust note. That is not some kind of aftermarket exhaust or muffler delete, this is how the M159 sounds. Mercedes knew that had to nail it with this car and they certainly did in my opinion.
I tell this to anyone who will listen that is in the market for a sports car over $100,000: "Go look at the SLS AMG". Our Editor Carter instructed in one at a Supercar event and found the experience mind-boggling, giggling after every run. Our friend Doug DeMuro reviewed it last year and thought the same thing that most people do. That is it just another Mercedes sports car and would drive as such. Then he started driving it and was totally blown away to the point where at the end of the drive he says to the salesman "I think I want one". It is that good. Values are remaining steady and they certainly look to be staying that way so if you looking for something unique that delivers on nearly every front, don't sleep on the SLS.
– Andrew