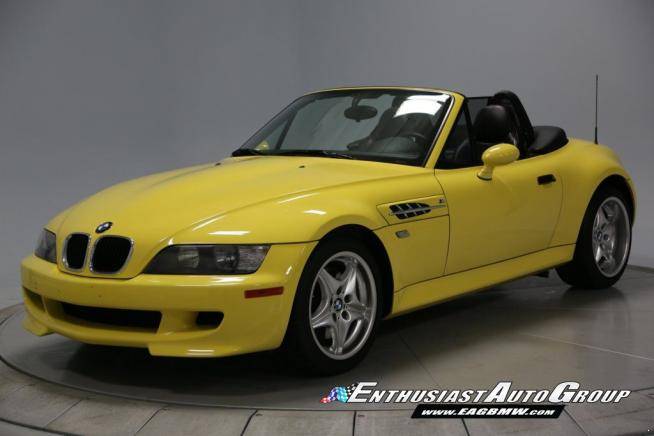 The Z3 was, from its inception, an unappreciated car in my opinion. It was initially criticized for not having enough power from the 1.9 inline-4 cylinder – even James Bond barely drove his for 30 seconds when he got it, then promptly gave it away to an unfit American in a symbolic British taunting of the Germans. They still haven't gotten over the fact that the Axis powers do roadsters better than they did. When the Z3 did gain power, first with the addition of the M52 and then finally on US shores with a full-fledged M motor, criticism shifted to the "dated" rear suspension and BMW's grab at the E30 parts bin. Subsequently, both the E30 and E36 have been lauded by enthusiasts as great handling cars, but the Z3 remains a bit of an outsider for most. As a result, for not a huge outlay you can seat yourself in a powerful, rear drive roadster capable of crossing the deserts of the Middle East (when properly equipped and supported by the BBC's budget). Most of these roadsters were outfitted in typically sedate German tones, but a few were specified in brighter shades, like today's ultra-low mileage Dakar Yellow 1999: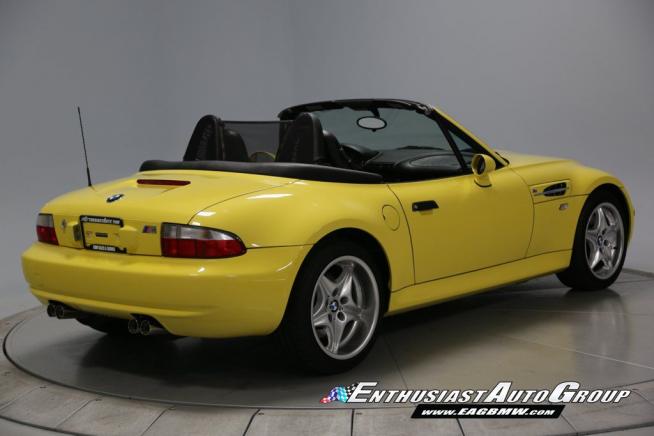 Year: 1999
Model: M Roadster
Engine: 3.2 liter inline-6
Transmission: 5-speed manual
Mileage: 3,402 mi
Price: $26,990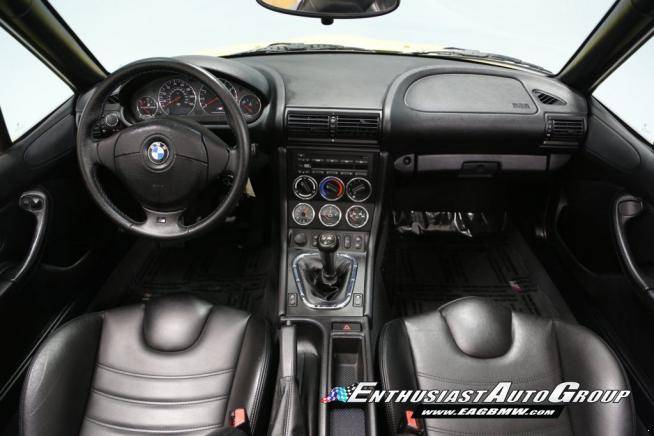 Dakar Yellow and Black Leather Interior, Black Soft Top, 1-Collector Owned & Pampered, S52 M Roadster! This car is All Original in Every Way! Factory Options Include Power Seats, Power Convertible Top, Heated Seats, Cruise Control, Harman Kardon Audio, CD43 In-Dash CD Player, and Power Everything! Like New All-Original Paint with No Imperfections! The interior is also very nice without flaw! This Dakar Yellow / Black Leather color combination is very rare! Meticulously maintained with oil changes every year, brake fluid every 2 years and coolant flushes every 5 years. This car is truly a time capsule! Enthusiast Auto will be completing our Comprehensive Pre-Purchase Inspection and performing the Work Order ensuring the integrity of collectible Roadster. Complete Car with All Keys, Books, + Manuals, Black Leather Tonneau Cover and BMW Full Car Cover. Clean Vehicle History Report with No Issues – No Complaints! This car will impress the pickiest of collectors! Always stored in a climate controlled garage under a BMW car cover. Please Call or email to obtain a Pre-Purchase Inspection Report, Build Sheet, Condition Related Details, Vehicle History and 50+ Detailed Photos; 513.554.1BMW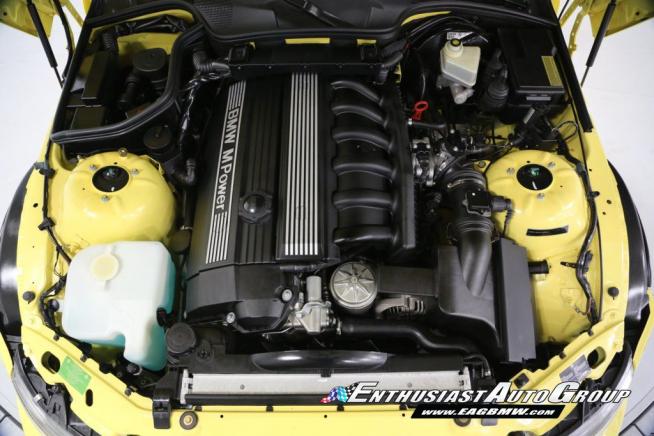 While I know the yellow isn't to everyone's liking, it's certainly unique and not something you see every day. To me, certain colors define the car, and Dakar seems to suit this shape well; it is stylish, eye catching, and yet has an understated aggressiveness that accentuates the car. If you're going to get one of these cars, why not be shouty about it? Not understated at all are the original alloys, combining a hyper silver look with that outrageous offset. They're a perfect reminder that at heart, this is a German muscle car. Like the American muscle cars, there is a devoted following to these Ms, and they even have a website that neatly tracks production numbers; if you're curious, this is one of 95 1999s in this spec and certainly the one in best condition.
Most earlier M Roadsters are priced in the mid-teens considering the mileage and the non-S54 power plant. This car is an obvious exception; although I think the dealer is asking very high, this is a effectively a brand new M Roadster and likely the lowest mileage example anywhere. The S52 cars aren't as desirable right now, but the reality is that with the top down you can get 95 plus percent of the same smiles out of this car. While I don't think the Z3 design has aged nearly as well as the Audi TT has, this car is a much better performance value. Pick one of these up, drive for a few years on the weekends and through the summer and fall, and more likely than not you'll be able to break even or perhaps turn a profit if your timing is right. If you ever wanted an investment-grade M, this might be the right one to buy. My bet is that the odd colored cars like this one will be the ones setting the market in just a few years.
-Carter