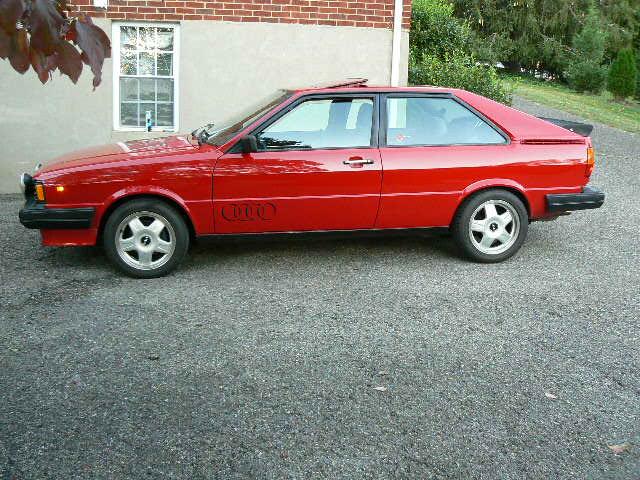 My affinity for the Audi Coupe GT goes without saying, and it's been a bit since I've written one up – but a few nice examples floated past my computer screen thanks to the quattroworld B2 forum and I thought they were worth looking at. Below are three distinctly different versions of the same car – one of the early design 84 Coupe GTs with some great modifications, a stock but automatic 86 model and a last-of-the-run 87.5 "Special Build". Which is the one to grab as these cars continue to appreciate but are still quite affordable?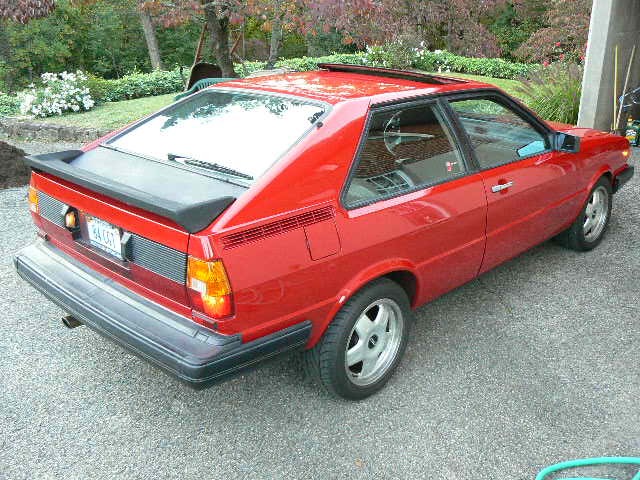 Year: 1984
Model: Coupe GT
Engine: 2.2 liter inline-5
Transmission: 5-speed manual
Mileage: 215,000 mi
Price: $4,500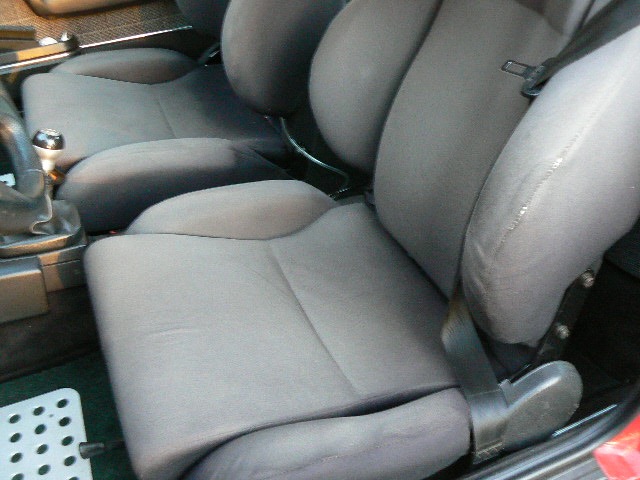 1984 Audi CGT all records since 1985 and have original dealership information. California car until 2010 then in Virginia since then, one owner for about 25 years. Red with grey checkered cloth interior, front seats are Corbeau. Have well over 20k in receipts and upgrades that include 4×108 wheel conversion with 15" wheels, rear discs, 2B Koni coilovers, 2B camber plates, Blau Sport Head and camshaft, Addco rear swaybar. Since my ownership in 2010 I have replaced rear wheel bearings, complete Sachs clutch and clutch cable, flywheel resurfaced, radiator and exhaust system, front discs and rotors, shifter bushings, driveshaft output seal. All sensors related to starting and running have been replaced as needed. Coolant reservoir is oe German. There is a remote door locking system, alarm and upgraded stereo. Interior is exceptionally clean with no cracks in the dash (it was rebuilt by Just Dashes). Car runs flawlessly and I use it regularly. Odometer reads 215k and it was repaired by Hollywood speedometer, repair receipts reflect this mileage as accurate. Odometer currently works. Everything in the interior works perfectly as do the windows. There is a scratch on the hood after something fell on it when garaged. There is a typical small area of rust under the right rear window that has been partly repaired but this will need to be completed. There are several high dollar extras that will go with the car, mint period correct flat H4H1's, new master cylinder and brake pressure regulator, numerous trim pieces, other items. This car can be driven anywhere. It starts, accelerates and cruises perfectly. Lifters are quiet. It will be hard to find one like this one. I'm sure there are numerous repairs undertaken that have slipped my recall. I may be contacted at 540-525-1995. Car is in Roanoke (central) VA. It is covered and garaged. The pictures do not do the car justice.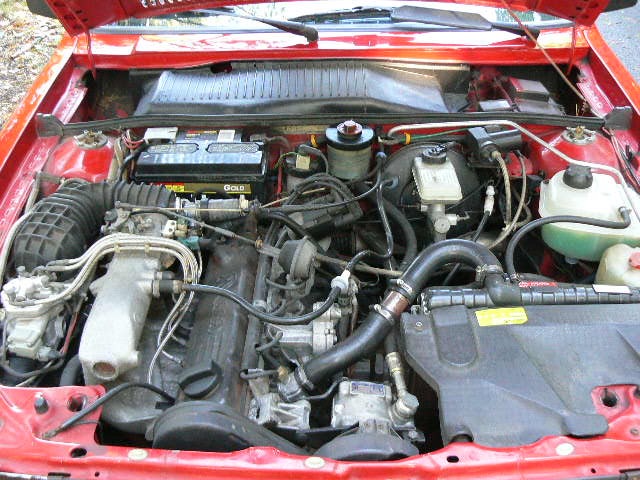 The early Coupes shared the more square styling with the legendary Quattro. The only real detraction from the design in my mind are the large bumpers which aren't nearly as well integrated as they became the following year in 1985 with the smooth bumper cars. Performance is the same, though, from the 2.2 inline-5 code KX. Though 110 horsepower doesn't sound like much, it's more than adequate to make this 2,500 lb Coupe entertaining. This example features some desirable and expensive suspension and engine upgrades that help to justify the asking price. I especially love the 15″ Ronal 5 spoke wheels from the later 90 Sport and Cabriolet models. They're not light, but boy do they work with the design. When you start to add up the items that come with this car – including a set of lights that market somewhere in the $1,000 range these days, you start to see the value of this driver.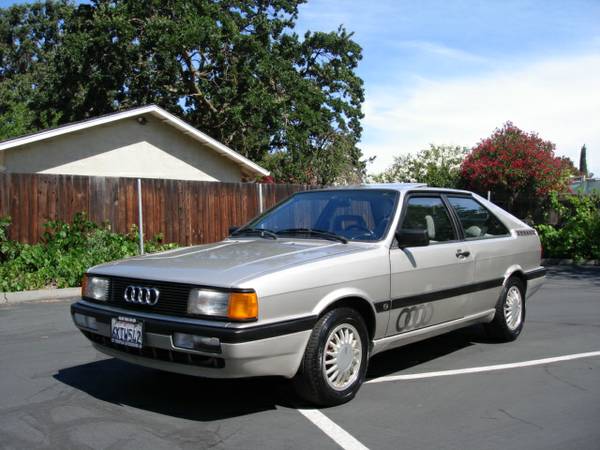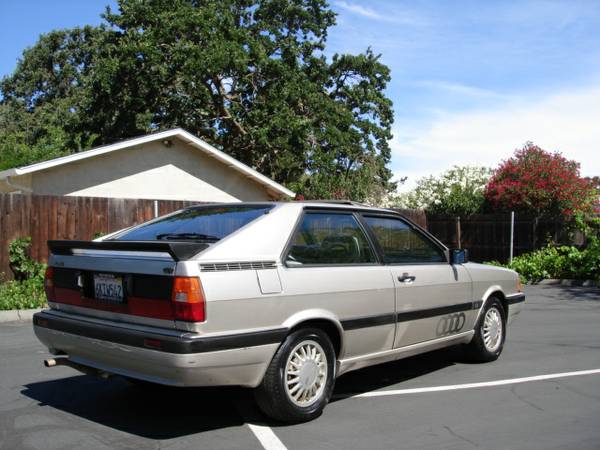 Year: 1986
Model: Coupe GT
Engine: 2.2 liter inline-5
Transmission: 3-speed automatic
Mileage: "75,000" TMU
Price: $4,000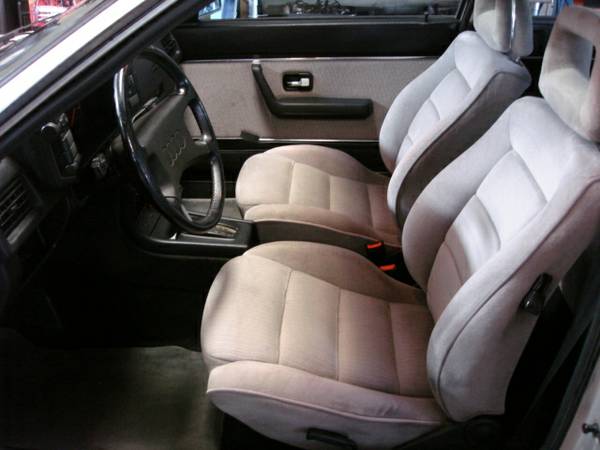 Zermatt Silver Metallic With Light Color Cloth Interior

75,xxx Miles * Odometer Is Broken Prior To Vehicle Storage Since 2010, True Miles Unknown *

California Rust Free All Stock Not Abused Coupe Gt.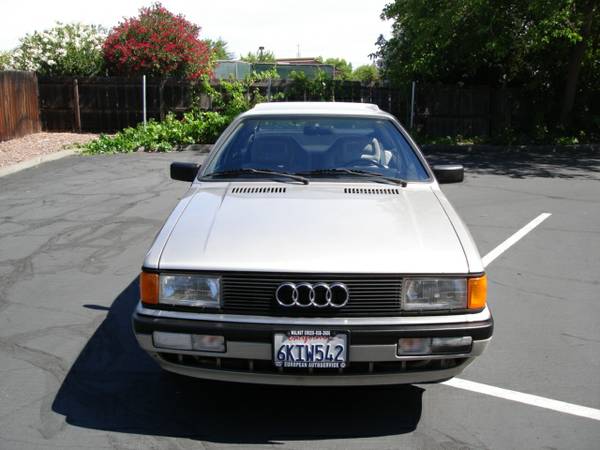 Moving on to the later updated B2 chassis, this 1986 Coupe GT is presented in more rare to find Zermatt Silver. Condition overall is pretty good, but there are some seriously notable and difficult to fix dents on the driver's side. Ironically, I also had a 1986 Coupe GT automatic and it also had a broken odometer at 75,000. There are some condition issues outside of the dents – the "GT" badge is on the wrong side of the car for a U.S. spec model, the lower grills are missing (and no longer available) and the door rings have been added. With no real description, total mileage unknown and those condition issues, it's hard to imagine ponying up $4,000 for this example, which is likely worth somewhere around half that without better documentation.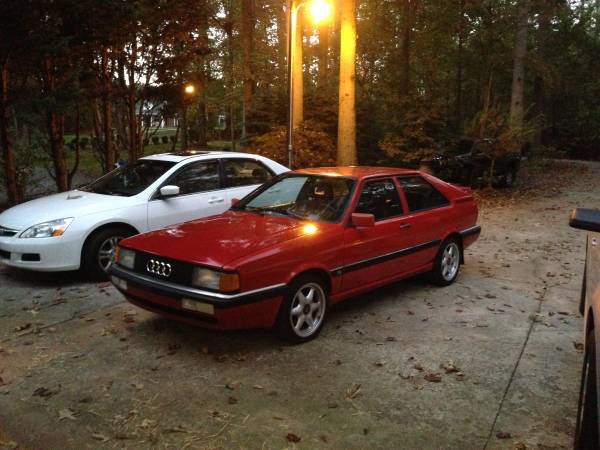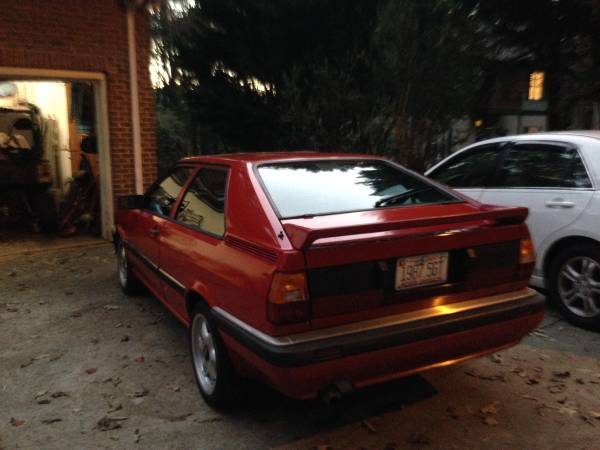 Year: 1987.5
Model: Coupe GT "Special Build"
Engine: 2.3 liter inline-5
Transmission: 5-speed manual
Mileage: Not Listed
Price: $3,500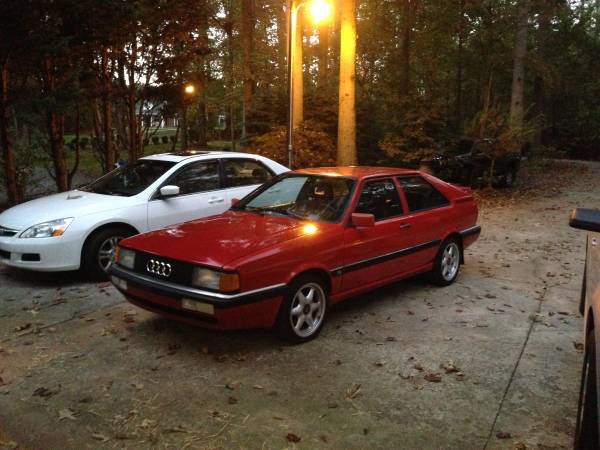 Very rare car! 1987 1/2 Audi Coupe GT original rally car. New leather front seats. Extra set of rims and tires. Car cover. Text for details.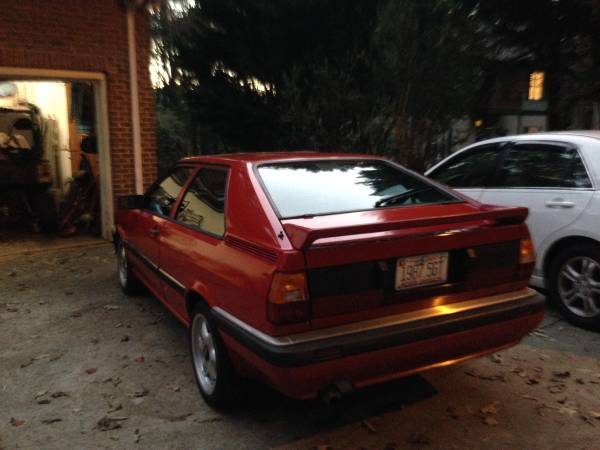 While the 87.5 Coupe GT is indeed a very rare car in the grand scheme, it's certainly not an original rally car. Audi did run 2wd rally cars in the late 1970s prior to the launch of the Quattro lineup, and after the fall of Group B ran Coupe Quattro (non turbo) cars in Group A – but outside of that, the late B2s Coupes were never raced. The seller would have been more correct to say "original Group 5 race car", which still would have been inaccurate, but less so. Regardless, condition looks good from the almost no information provided and the color-matched B pillar, window surrounds, mirrors and spoiler confirm this is a later "Special Build" model with the upgraded 130 horsepower "NG" code motor and rear discs, along with a lightly revised dashboard and B3 fabric interiors. We don't get a shot of that interior, but odds are it's the light grey Savoy velour. The item that really draws the eye, though, are the very late B4 Votex/Ronal 16″ sport wheels, which I've always loved. Couple the rarity with what appears to be good condition and the asking price is probably justified even if there are minor faults.
Which is the winner? From a driving perspective and rarity, the 84 Coupe GT is probably the winner as similar condition examples are nearly gone from the map. That said, personally I'd probably pick the 87.5 model as my love for the later cars outweighs the infrequency with which you see the pre-85s. Which would you choose?
-Carter