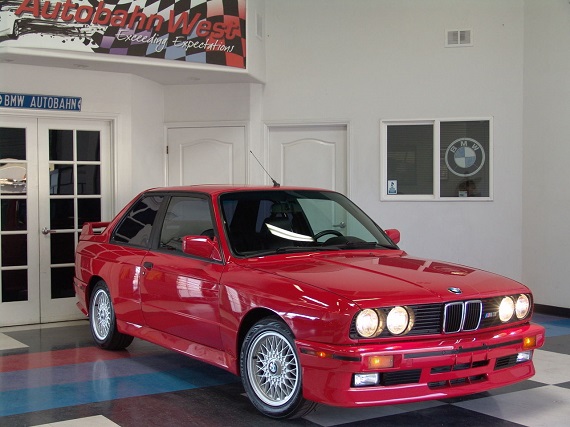 This one has been brewing in my head for some time, and required only two things; the right two cars. I think, in this case thanks to the help of our reader Martin, I might just have the right two candidates. While BMW enthusiasts love to tout the virtue of the boxflared M3, they often overlook the importance of the Quattro. The chunky, Giugiaro-designed Audi made it to the market with its bulging quarters a full 5 years ahead of the M3, yet the DTM star is arguably much better known than the all-wheel drive Rally champion. Both were certainly important to the development of their respective corporate brands; both have illustrious careers as race cars and both are considered by connoisseurs to be the best design of those that followed. Quietly, while the market-star M3 has soaked up the headlines, good condition Quattros have also been appreciating, and with far fewer of them produced than M3s they're a more rare sight today. They're also, generally, much older and fewer were taken care of in the way that the M3s were pampered. Add little factory support and an even worse balance of the number imported to North America – only around 10% of the total of North American bound M3s – and it's a hard match up. Yet, today we have two overall great condition cars to consider. Who wins the boxing match? Let's start with the odds-on favorite M3: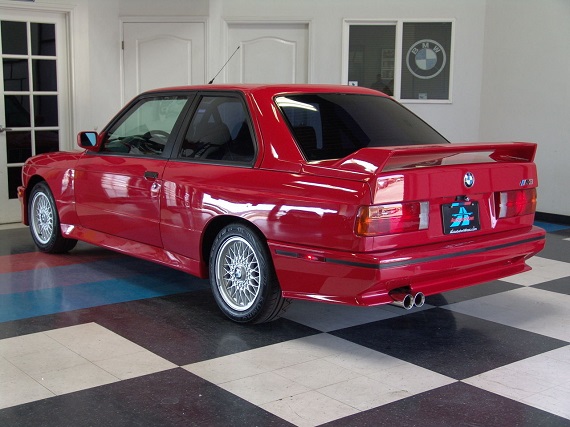 Year: 1990
Model: M3
Engine: 2.3 liter inline-4
Transmission: 5-speed manual
Mileage: 151,000 mi (TMU)
Price: No Reserve Auction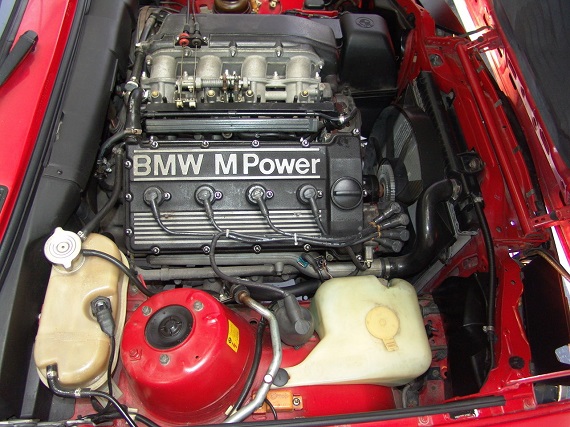 ORIGINAL 1990 E30 M3!!!

GREAT INVESTMENT OPPORTUNITY!!

AS MOST BMW ENTHUSIASTS KNOW, THE E30 M3 IS AN ABSOLUTE LEGEND AND THE VALUES HAVE BEEN SKYROCKETING OVER THE PAST YEAR. THE E30 M3 IS TRULY A RARE BREED AND PRISTINE EXAMPLES ARE SELLING ANYWHERE FROM $75K-$125K. THIS IS YOUR CHANCE TO OWN ONE OF THESE RAREST OF M3'S AT A FRACTION OF ITS POTENTIAL VALUE. THIS IS TRULY AN INVESTMENT WHICH WILL LIKELY CONTINUE TO APPRECIATE IN VALUE.

THIS STUNNING E30 M3 WAS OWNED AND MAINTAINED BY A RETIRED GENERAL MANGER OF A BMW FRANCHISE DEALER HERE IN CALIFORNIA. IT WAS STORED IN CLIMATE CONTROLLED ENVIRONMENT FOR OVER 11 YEARS. THE CAR RUNS PERFECTLY AND IT PASSED CALIFORNIA SMOG TESTING WITH FLYING COLORS IN MAY 2015. THIS PARTICULAR CAR HAS NO ACCIDENTS BUT, SHOWS AN ODOMETER DISCREPANCY DUE TO AN ENTRY ERROR MADE BY CARFAX IN 1994 AND AN ODOMETER REPLACEMENT MADE IN 2013. MOST BMW ENTHUSIASTS KNOW THAT ODOMETER ISSUES WERE A COMMON PROBLEM ON THESE CARS. ACTUAL MILEAGE IS BELIEVED TO BE APPROXIMATELY 151,000 BASED ON HISTORICALS. REGARDLESS OF THE ODOMETER ISSUE, ANY ORIGINAL E30 M3 IS A GREAT INVESTMENT.

IN ADDITION TO BEING AN ORIGINAL E30 M3, THIS CAR HAS PERIOD-CORRECT UPGRADES OF BILSTEIN HIGH PERFORMANCE STRUTS, RD PERFORMANCE SPRINGS, RD PERFORMANCE SWAYBARS, AND A VINTAGE AUTOPOWER BOLT-IN ROLLBAR. A TRUE THROW-BACK TO THE 1990'S!

PLEASE FEEL FREE TO CONTACT ME WITH ANY SPECIFIC QUESTIONS ABOUT DETAILS AND CONDITION. DON'T MISS THIS RARE OPPORTUNITY TO OWN ONE THE MOST SOUGHT-AFTER BMWS IN HISTORY.

On Jun-15-15 at 18:10:07 PDT, seller added the following information:

TO CLARIFY THE MILEAGE DISCREPANCY ISSUE, THE CARFAX RECORD CANNOT BE CHALLENGED DUE TO LACK OF HISTORICAL INFORMATION. THE TRUE MILEAGE IS UNKNOWN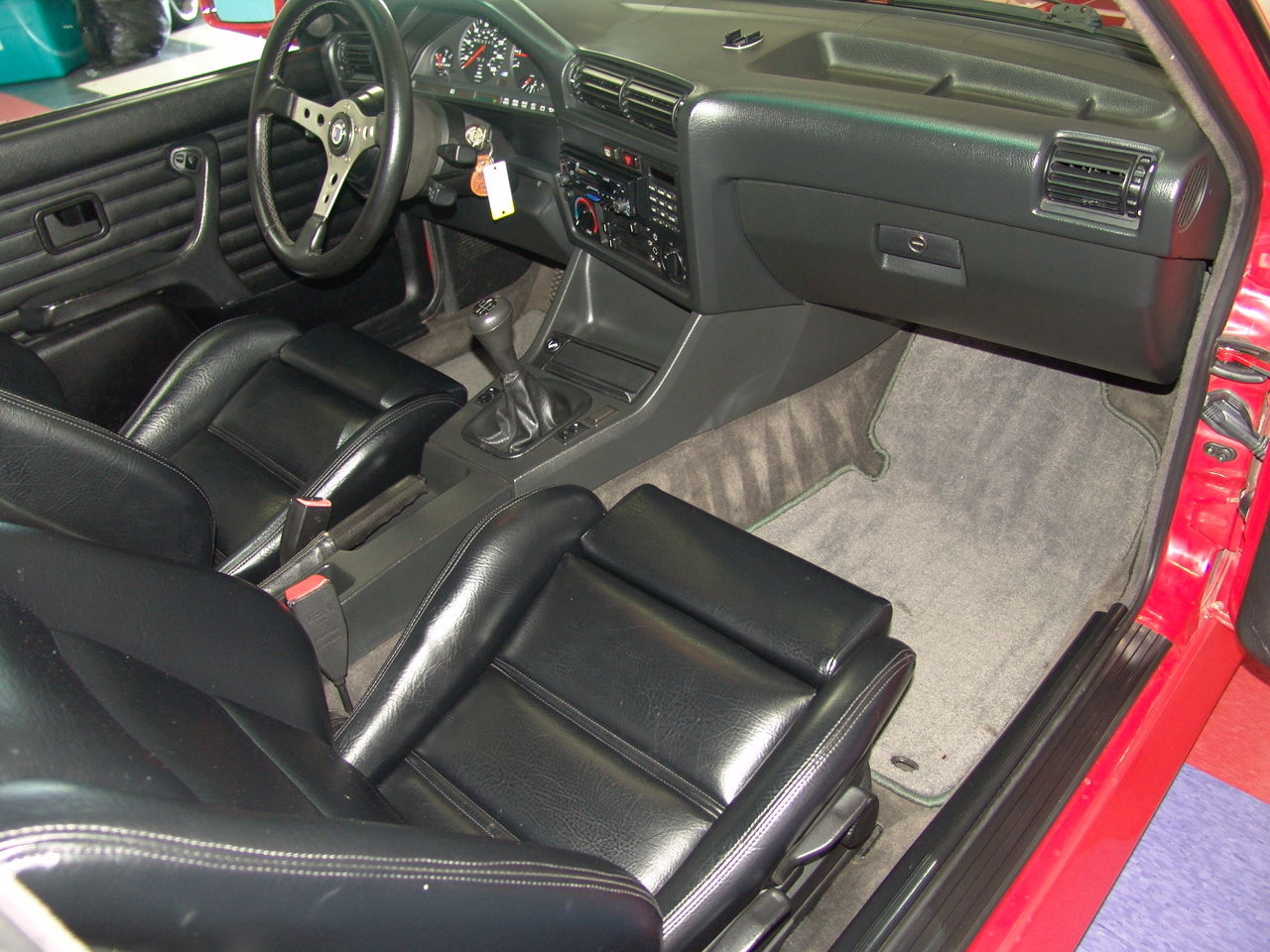 At first glance, this car is certainly impressive. Well photographed, it shines like new and evokes images of Roberto Ravaglia bouncing off rumble strips on his way to the 1987 World Touring Car championship. Immediately, the BMW fanbase is checking their stock options, considering cashing out and jumping on the bandwagon of this Brilliant Red ride. But scratch beneath the surface and some flaws start rising up; first off is the odometer issue, with an undisclosed total number of miles on what is then revealed to be an un-rebuilt S14. The car also doesn't sport the original steering wheel though it's shown in another photo, but a check of the VIN reveals that the original interior wasn't black, but rather Natur Bison Leather (0295). This is confirmed in the questions section, where the seller reveals that the interior swap was done by a prior owner, and the front seats aren't leather, but leatherette. Then there are the non-original additions; the "period correct" Racing Dynamics sway bars, springs, Bilstein HDs, and a bolt in cage. Those items would tend to indicate that this car had seen some harder driving; refer back to the mileage and unopened S14 at this point. Again, it's not the end of the world; the seller claims the compression is good and honing marks are still in the cylinders. However, it seems it hasn't led the pampered life indicated by the beginning of the advertisement. Further, some exterior shots show that the rear spoiler's paint has failed. The car is clean and presents well, but as with many that come to the market, it's not quite all that it seems to be – and when considering an investment car, these items can really change the ending bid. However, bidding has been active and with a few days to go the no reserve auction sits at $32,000. Honestly, I'm not sure that much more than that amount is justified by this particular example, but the market is a bit of a frenzy now and we'll see where it ends up. Now, what would that amount get you if you truly respected your elders?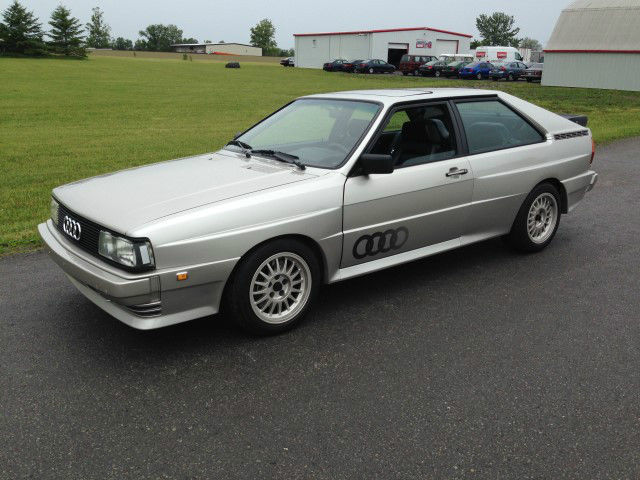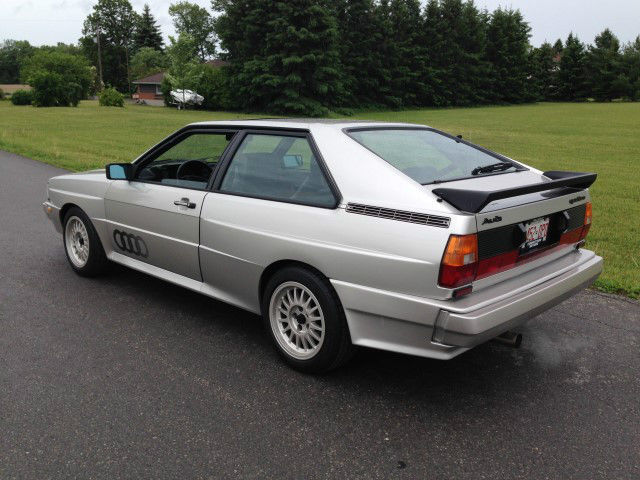 Year: 1985
Model: Quattro
Engine: 2.2 liter turbocharged inline-5
Transmission: 5-speed manual
Mileage: 200,000 km (124,274 mi)
Price: $34,995 CAN ($28,604 US)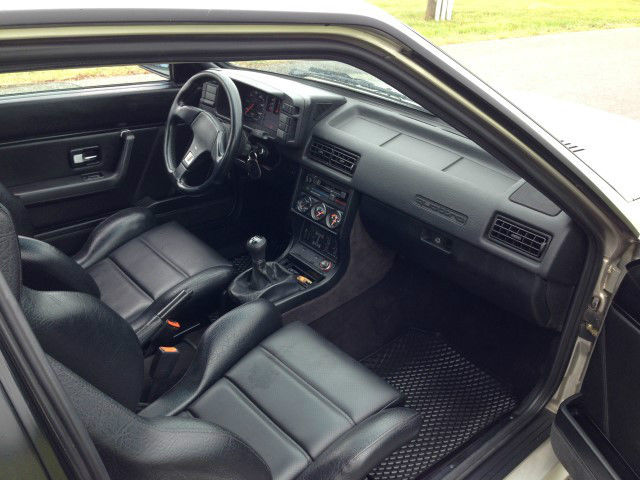 This is the one you have been looking for !! Its Silver over Black Leather Interior, This is a original California car, that still wears a lot of its original paint. Its a late dash car with a great original interior, that has been upgraded with Recaro seats and a Euro steering wheel. It has Euro headlights, power windows, power door locks, cruise control, Alpine CD player, with Ipod Interface, Factory Ronal alloy wheels with new tires and Porsche big brake conversion. This Car has a full 20V Turbo engine conversion, That has been completely rebuilt, and is running O34 Tuning. And so many more upgrades!!! Fully serviced and Competition Motors Certified. Stock# U1251.

VEHICLE OPTIONS:
Power mirrors
Power steering
Power trunk
Tilt wheel
Power windows
Rear window defroster
Tinted glass
CD player
Bucket seats
Leather seats
Alloy wheels
Bluetooth
Spoiler
Sunroof/Moonroof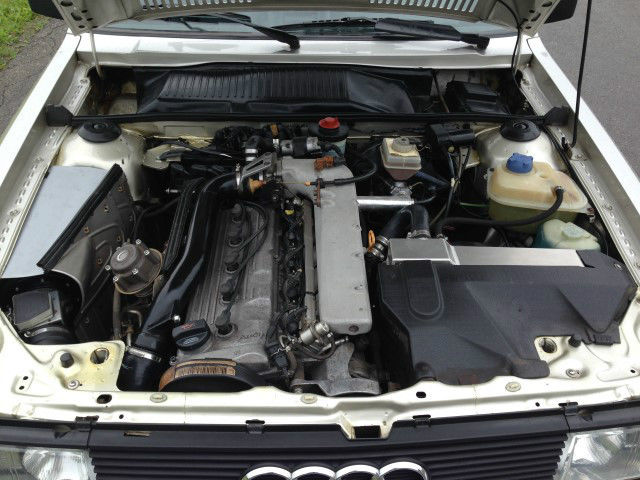 This Quattro is a great reminder of what you can get if you're willing to look past the badge. Claimed to be an original California car, it's therefore one of the 73 sold by Audi in 1985, the second to last year that the car was sold on these shores. As with all of the '85s, there were many updates to the car – they wore 15×8″ Ronal R8 wheels as '84s had, but the front end was updated to the aerodynamic "sloped" grill that the 4000 and Coupe GT also sported. Inside the dash was also upgraded alongside the Type 85 siblings, along with a host of small changes. Power for the U.S. cars was unchanged, but this car sports an upgraded 2.2 20V turbo motor. Running 034 electrics, it should be producing more than the original 220-odd horsepower these were rated from the factory at. Additionally, there are other upgrades – the stellar looking and actually period correct Recaro seats along with the Audi Sport Nardi steering wheel are fantastic touches, and the European headlights really dress up the looks even if the original sloped 4-quad light setup is highly sought by some enthusiasts. To help slow the car down, Porsche brakes have been cleverly fit behind the original wheels, making this a stealthy upgraded package. It's a fantastic looking thing, and at an asking price of $28,600 U.S. it's not unreasonably priced considering the condition, mileage and modifications.
Who's the winner? Like the plot to Rocky 2, I think it has to be the underdog Quattro. Sure, around a race track in the dry, the M3 might be a bit quicker. Might. But in every other real-world condition, the Audi would be a better driver. On top of that, I think it looks better, and while parts can be harder to source it's certainly a more rare and uniquely individual expression of classic German motoring. The M3 might win the investment war, but even there some enthusiasts are starting to mumble that the rocket ride of value increase is losing steam. The Quattro, on the other hand, is still on its way up as more and more people appreciate these technologically advanced turbocharged wonders. This round, without a doubt, goes to the original boxflared beast from Ingolstadt.
Thanks again to Martin for spotting this super Quattro!
-Carter