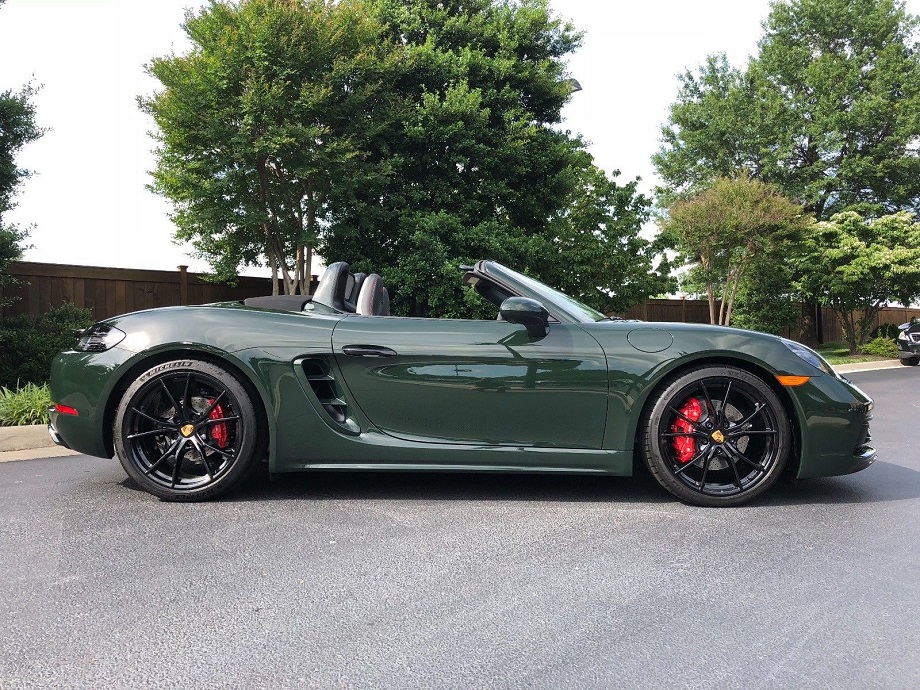 I don't think I have featured one of the new 718 Cayman/Boxsters yet. They're still fairly new so that's probably not too surprising, but I see them all the time. And I have posted a couple of the new turbocharged 911s so I can't put all of this down to newness. Maybe those I've seen haven't seemed special enough? I think this one might be special enough.
This is a paint-to-sample Brewster Green 2018 Porsche 718 Boxster GTS. It has the 7-speed PDK transmission and Carmine Red stitching in the interior. While the car itself is excellent, mostly this is about the color. To my knowledge, with one exception Brewster Green has never been a production color available from Porsche, but has been available as a paint-to-sample option for a while. The one production exception was the extremely limited edition 2013 911 Club Coupe. So when we're talking about rare Porsche colors Brewster Green is very rare. It's one of a handful of non-metallic greens Porsche has produced. It's similar in appearance to the more well known Irish Green and British Racing Green, though not quite the same as either one. Brewster is a darker and deeper shade of green. In shade you might think it black, but in the sun its green shines forth and is unmistakable.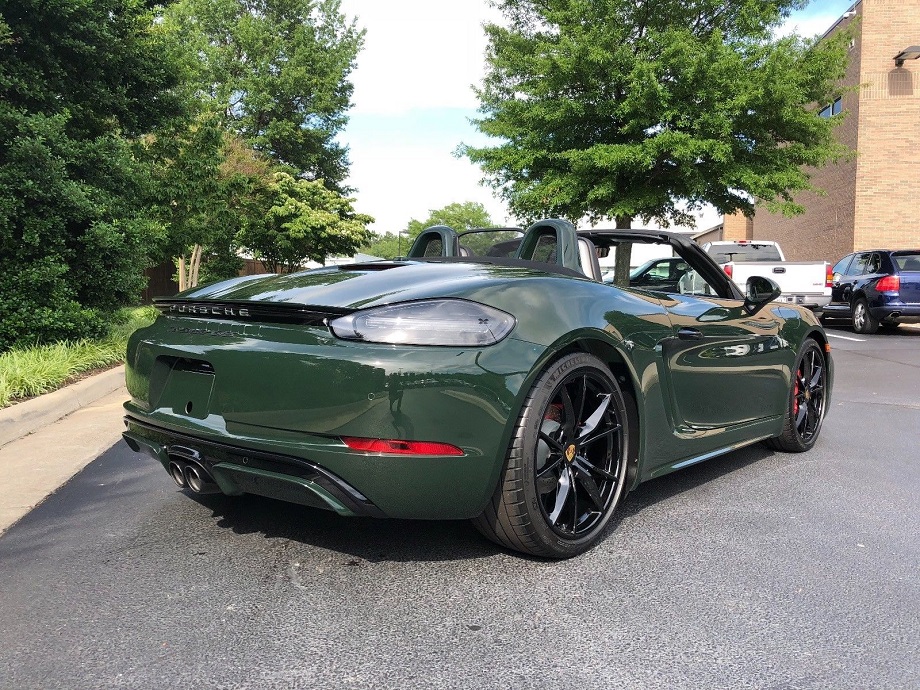 Year: 2018
Model: 718 Boxster GTS
Engine: 2.5 liter turbocharged flat-4
Transmission: 7-speed automatic
Mileage: 20 mi
Price: Reserve Auction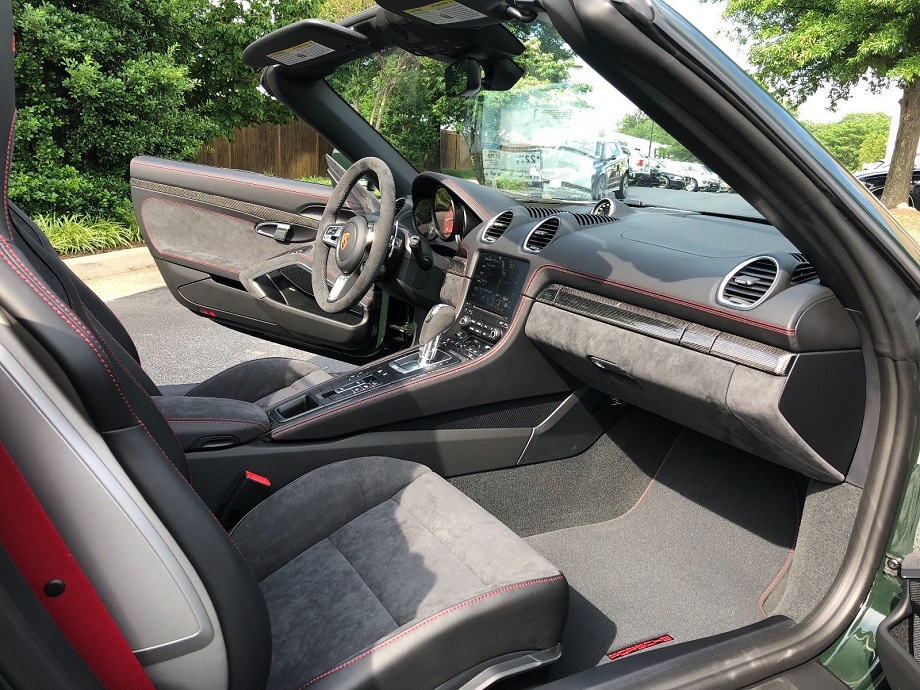 2018 Porsche Boxster 718 GTS-PTS-BREWSTER GREEN

Offering a stunning 2018 Porsche Boxster GTS in Paint to sample Brewster Green!

Vehicle Specs:
Exterior in custom color-non metalllic
Roadster top in Black
Leather/Alcantara interior in Black with Carmine Red stitching
Tachometer in Carmine Red
PASM sport suspension
GTS interior package
PDK
Heated seats
Heated steering wheel
Safety bars in exterior color
LED headlights-PDLS
Navigation
Bose
Air intakes painted
Porsche Connect
Sport design package in high gloss Black
Wheels painted in high gloss Black
Door handles in High gloss black
MSRP: $110,570

Please contact Justin Price directly with any questions
CELL: (804)837-7613
Email: JPRICE@EUROCLASSICS.COM

We offer shipping to all 50 states!

Who are we? Richmond Virginia's Exclusive Porsche Dealer. We believe our cars should be as unique as the people who drive them, so we strive to keep a diverse inventory of new and pre-owned vehicles and we even (from time to time) will offer a car built using vintage Porsche paints and leathers. The Porsche brand is not only a crest on our showroom wall…. It is the heart and soul of Euroclassics.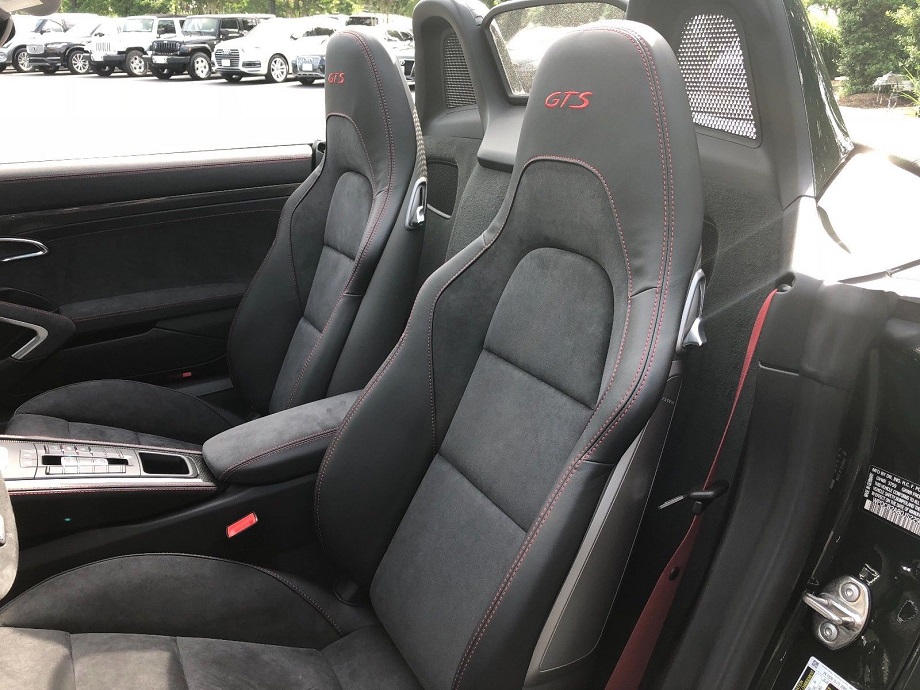 I never really thought we'd see a 4-cylinder Porsche again, but here we are with the new 718 Cayman and Boxster utilizing just such an engine, though now in turbocharged form. That reduction in cylinders hasn't brought with it a reduction in power though as the GTS we see here packs 365 hp derived from its smaller engine. Much of the rest has followed the general evolution of these cars that has made them some of the most enjoyable machines on the road. The interior is awash in alcantara and as I noted above this one sports the 7-speed PDK transmission. Like other recent GTS models the 718 Boxster comes with an assortment of popular sporting upgrades and you get them at a discount compared with adding them all separately to a Boxster S. For those who desire a highly-optioned 718 the GTS basically does the selecting for you.
This Boxster mostly has upgraded the looks and overall does a nice job. For whatever reason red seems to be a popular stitching contrast for those who select a green exterior. I've never preferred that combination myself, but clearly there are plenty who do. I like the look of the stitching here on its own, just not on a green car. I think I'd have gone with yellow or perhaps even tried the custom route and asked for Brewster Green stitching. It is an attractive car nonetheless and I guess the stitching does match the brakes. I am typically not a fan of black wheels, but these give a sinister appearance to this Boxster that I actually do like.
Bidding on the auction sits quite low at $35,100, but this is a case where I think if you really have interest you forego the auction and make a phone call. The price won't be cheap. A $110K MSRP is a lot of money for a Boxster. You are getting the current top dog in the lineup and a very rare color though and I think for some those factors along with having it immediately will make this one quite worthwhile.
-Rob