As I mentioned recently I like the monochromatic look on Benzs. This one fits that description, but is also quite special.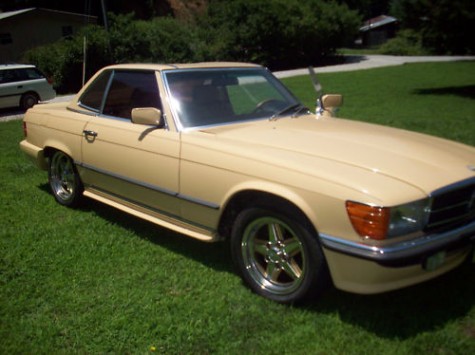 First and foremost it has traveled only 9,000 miles. Secondly, not nearly as important as the low mileage, is the AMG package on the car. The AMG package sets of the look of the car off nicely with bumpers, skirts, trunk lid spoiler, wheels, and requisite AMG steering wheel. The seller doesn't provide a whole lot of information about the car, they do state that they believe it to be the only 1984 500SL with the AMG package, I'm not sure I believe that, but would hear the seller out if they have some sort of citation.
Though you might not expect a whole lot of service history with such a low mile car it would be nice to know where it has been all its life. It is stated that it has lived in a heated garage and only seen rain once.  The seller describes the vehicle as having larger brakes and special gold paint, that actually looks peach in the photos. It would be nice to take a peak at the data card. The car comes with both the soft and hard top. It also sports Euro headlights.
The 5 liter V8 in the R107 isn't seen as much in the states as other engines since it wasn't officially offered here in the SL during the mid 80s. The rarest is the fixed roof 450SLC 5.0 and 500SLC. The 560SL was the top line model for the U.S. market. There were 5 times as many 560SL models produced as 500SL models worldwide. Of important note for those not familiar with the SL models of this era is that the 5.0 in euro trim was putting out greater horsepower than the larger 5.6 liter. The 5.6 being hampered by emissions restrictions was strangled in stock form.
The ask price on this ride is $29,500. When you have a real low mile gem you are allowed to ask whatever you want. I doubt anyone will take this one at that high a price, particularly with the thin description. The R107 was produced in such large numbers there won't be as big of a premium placed on them by collectors even with the low mileage. There can't be more than a handful out there with under 10,000 miles.
~Evan