What's originality worth these days?  In the collector car world, there are few topics that are more polarizing than this one.  Some feel that pristine rotisserie restorations are the only cars that should command top dollar, others feel as though an original car, even with its flaws, should command the top dollar.  As far as I'm concerned, an original car with minor flaws, is worth more than a pristine restored car all day long.  Whatever your reasons are on either side of the argument, I'm a firm believer that a car is only original once, and that clean examples should be preserved in their original state.
This one owner 1969 Porsche 912 for sale in San Diego, CA, is a prime example of a car that should be left the way it is.  With only 38,000 original miles, this car is a rare gem the likes of which you may never see again.  Overlooked by Porsche collectors for years, the 912 was considered the entry level car in the Porsche lineup, as it was lower in price, and had the less desirable 4-cylinder plant.  In recent years, the 912 is starting to gain popularity with collectors making cars like this a great entry in to collector Porsches.
One Owner 1969 Porsche 912 on thesamba.com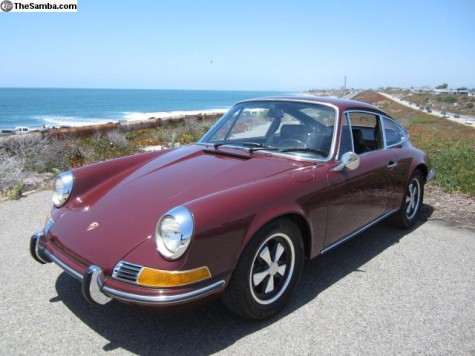 1969 Porsche 912
VIN #129022149
ENGINE #4095191
Burgundy Red Color #6808
38,000 ORIGINAL MILES! Make no mistake this mileage is correct
Matching numbers throughout
1 Owner – Air Force Pilot
No rust ever car
Original invoice from dealer included
Owners Manual/Maintenance book/Full Tool Kit/Original Spare/Tire Jack/Original keys including glove box
Fuchs 15×6″ alloy wheels
$12k Major service just completed, perfect mechanical condition
**NOTE the license plate and frame are not from this car and not included with the sale
The 1969 912 is the last year of the early 912 and the only year 912 with a long wheel base body. Many people consider this year 912 to be the most collectible and valuable. The long wheel base cars handle higher speeds better than their earlier counterparts. Fuel efficiency of the 4 cylinder engine is in the 30 mile per gallon on the highway, almost double the 18 MPG of the same year 911 so you can drive this car on long road trips while using little fuel.
This particular car was originally purchased by Joseph W. on May 7th 1969 at Autohaus of Fairborn Ohio. It was originally optioned with a 5 speed transmission, chrome wheels, bumper guards, rear tow hook, antenna & loudspeaker. Total price for the car was $5852 and a $100 trade in allowance was given for Josephs 1960 Volkswagen Beetle. This transaction was recoded on the original dealer sales invoice which is included with the car, a very rare document to find with this old of a car. Another important document is the original maintenance booklet. This document lists the original selling dealer, the first buyer, and the Vin/Engine numbers. All cars were given a tool kit however a large majority of cars today are missing this item. This car has it original 100% complete tool kit. The car even has its original Porsche key fob, door/ignition key & glove box key. Joseph was an Air Force Pilot who was stationed outside of the USA for long periods of time, the car always remained in the US and was seldom driven which is why the car has such low miles today. Today the car has an amazingly low original 38,000 miles on it.
At some point the battery died in the car and it was put in storage. It sat unused in an enclosed garage for many years and was finally put up for sale. We acquired the car in a non running state and did all the service work needed to properly bring the car back on the road again. A comprehensive $12,000 service was completed and now the car runs like new. Everything from tires, to full brake job, to all new shift bushings to complete engine reseal & tune up was performed. It starts right up, idles perfectly, shifts smoothly, and drives down the road as smooth as can be. The body of this car has never driven in snow or rain, it has no rust issues and never has had any rust repair – this is a rare an important trait to have on a high quality vintage Porsche.
If you are looking for a no nonsense, matching number, high quality, no rust, no issues 912 then this is the car for you.
This is the perfect condition for a car in my opinion.  It strikes the perfect balance between usability, and condition.  With older paint, and interior, it's not so pristine that I'd be afraid to drive it, yet it's nice enough that I wouldn't be afraid to enter it in show.
The pricing on cars like these is tough, as opinions vary on what a #1 car is vs. a #2 and so on.  This car is priced right slightly above as a #2 car, which I feel is reasonable considering the originality, documentation, and the fact that it's seen less than 900 miles/year throughout its life.  That being said, I'd be more of a buyer at $34,000-$35,000.
Whatever your position on the value of originality, we can all agree that low mileage original examples like this are few and far between.
-Brian