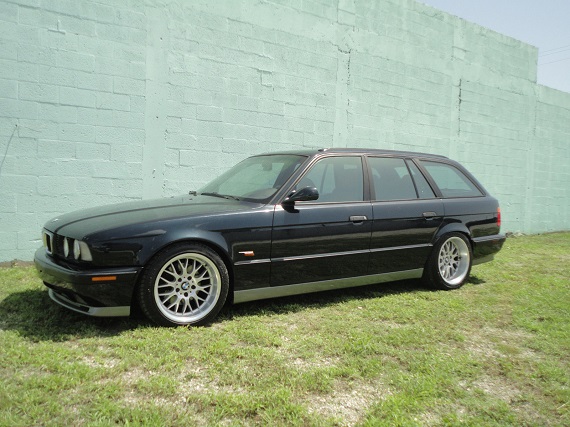 We're all fans of fast wagons here at GCFSB; Andrew's owned a S4 Avant 6-speed and I'm on my third sporty 5 door. There's something wonderful about these versatile vehicles; they're the automotive equivalent of having your cake and eating it too. You can literally throw everything including the kitchen sink at them, go blasting down back roads with lurid 4-wheel drifts, or simply tote the family along in smart style. It's not that having a wagon makes you smug, in my mind, it's that those who have opted for that route simply are a higher evolution of thought. It's the difference between the Australopithecus SUV market and the Homo Sapiens; sure, "Sport Utilities" may be the rage now, but the reality is many are just heavily disguised wagons or are doomed to extinction in the near future. But for right now, it seems the other way around in the U.S.; though some are on the horizon, fast wagons are currently hard to come by and that makes us look towards the past for some evolutionary inspiration. Since we love looking at older cars anyway, that's not a bad thing – so let's consider these two utility vehicles that are actually sporty: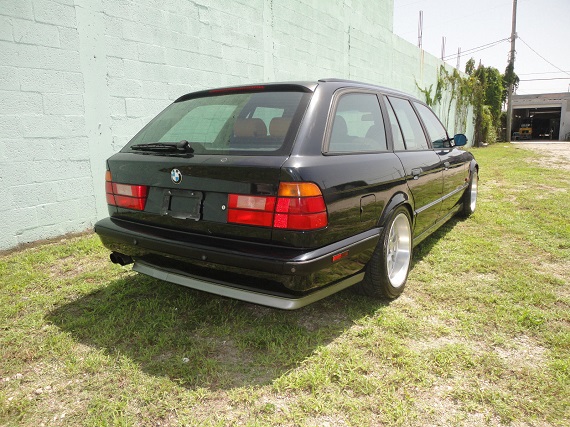 Year: 1995
Model: "M5" Touring
Engine: 3.6 liter inline-6
Transmission: 5-speed manual
Mileage: TMU
Price: $16,000 Buy It Now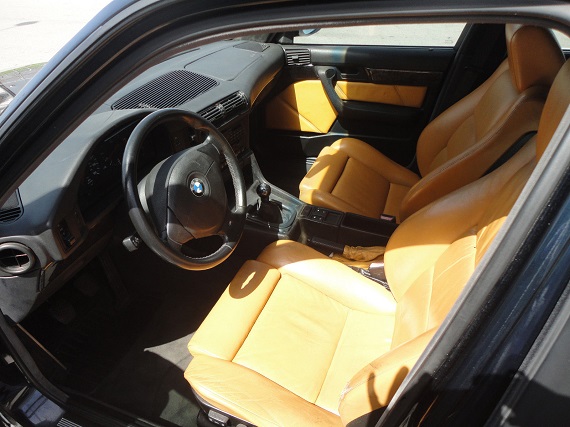 This auction is for my BMW M5 Touring Clone. Lots of hard work and money was put into this car to transform it into an M5 touring clone. M5 engine, transmission, body kit, Interior trim is M5 specs including center console, front seats, idle pedal, Alcantara Suede headliner, door sills, and M steering wheel. The car is Titled as a 1996 Euro 525it Touring import. It has a transplant 1991 E34 M5 spec engine(3.6L S38 engine). Original cluster showed 60555 miles and replacement M5 cluster shows 67571 miles. Actual miles is UNKNOWN. Remeber THIS IS NOT AN ORIGINAL M5 TOURING BUT A CLONE. It has a lowered Suspension and handles great (not a luxury ride but performance ride). Overall this is a very nice example and well done clone that needs only the following fixes: -A/C currently not connected -Airbags light is on. Extra parts include: -used rear deck glass should someone want to replace the original engraved window. -The original non M5 front seats I am open to offers should you want to buy it now but please do not ask me my reserve as I intend to sell to the highest bidder. I am a private collector and I'm just trying to free up some capital and garage space. Thank you for your interest. Please feel free to ask me any questions. Inspections are welcomed and encouraged. SOLD AS IS. NO WARRANTY.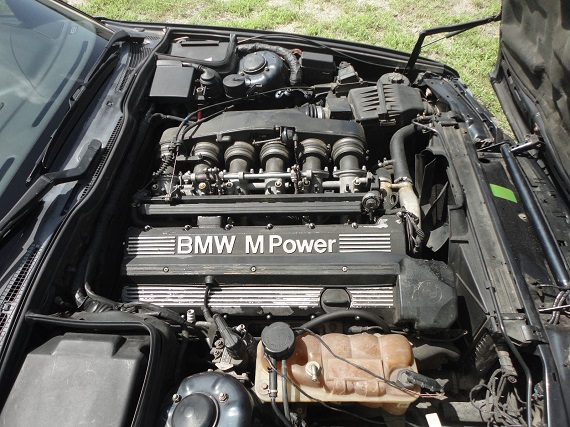 At first look, wow. This is great – the E34 M5 is a great looking car to begin with, and the Touring was well proportioned. It's also quite rare, and virtually non-existent in the U.S.. But look closer and the smile fades a bit; there are plenty of details that leave you lacking. There's body damage and paint damage in a few spots, the rear window etching is….well, odd, and then inside the seats have some heavy wear. With total miles unknown, the S38 could be a problem, and has me wondering; I love the concept, but it seems like it might have been smarter to make a M/540i Touring. It would be just as fast, you could fit the 6-speed transmission, and arguably it would be cheaper to run. There's a lot of work completed here, but the list of things that need to be fixed – or are potential future problems – have me wondering where my $16,000 would go otherwise.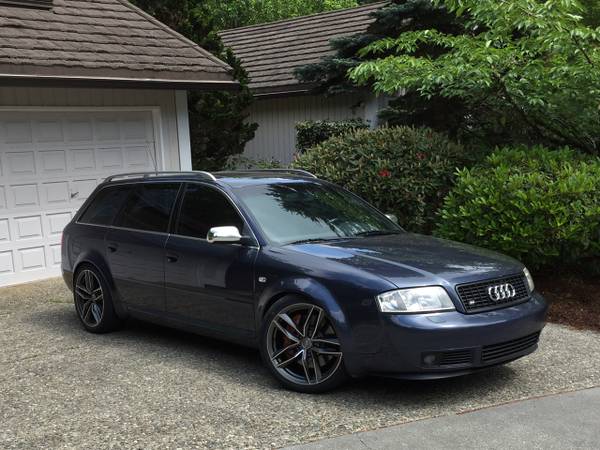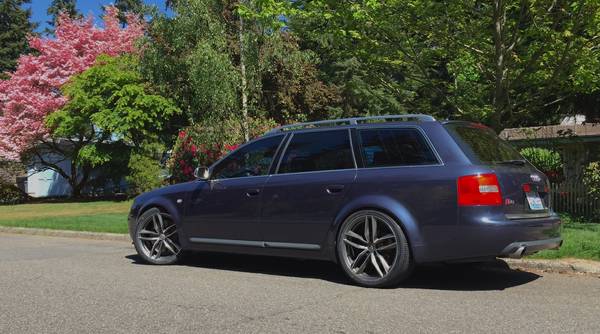 Year: 2003
Model: S6 Avant
Engine: 4.2 liter V8
Transmission: 6-speed manual
Mileage: 146,000 mi
Price: $16,500 Buy It Now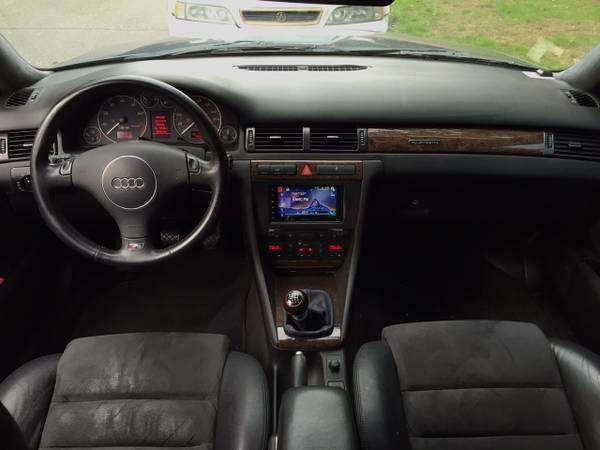 I'm selling my Audi S6 Avant wagon. This is unlike most S6 and other Avant models out there, in that this has received the very rare (and expensive) 6-speed manual transmission swap to the 4.2l V8. The car is incredibly fun to drive, and is very comfortable. It drives and sounds just like an RS4! Here is a short list of some of the added features:

Performance upgrades:
6-speed transmission
JHM Stage 4 Clutch
LW flywheel
JHM 4:1 center diff
Porsche 911 brake calipers (BBK)
Coilover suspension (adjustable)
19″ C7 RS6 Avant OEM wheels
Walbro 255 pump
Milltek catback exhaust system
Custom ECU tune (brand new ECU)

Interior/Aesthetics:
Full alcantara/leather interior
Heated seats/Dual climate control
Solar power sunroof
Video screens in rear
Front Cupra lip
RS6 rear wing (not pictured)
RS6 side skirts/door blades (not pictured)
RS6 tail lights
RS6 rear fog lights/plate mount
Tinted windows
Apple CarPlay by Pioneer
Upgraded audio system
JL subwoofer and amp

There are several scratches on the front and rear bumpers, from general use over 146k miles The amp should be replaced, as it tends to cut out from time to time. Lastly, the brake pad light comes on due to the upgraded brake system. It is of no issue, but some find it distracting. Other than that, I've had no issues.

These cars don't come up often, I know of only one other 6-speed Avant for sale in the nation. $16.5k but may consider trades + cash. Please text me for the quickest response. Will trade straight across for a Subaru WRX STI, Mitsubishi Evo or Evolution, BMW M3, or a Fiat Abarth.

Thanks!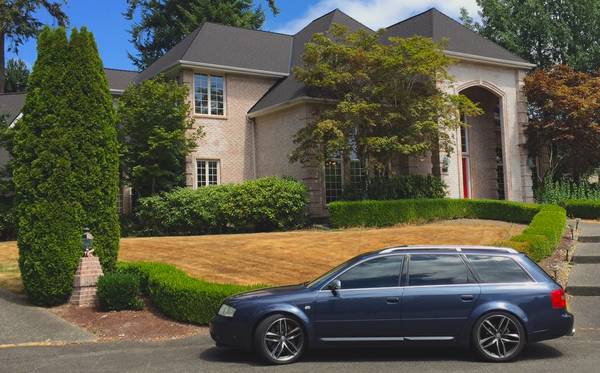 Found it! A Nemo Blue with Alcantara 2003 S6 Avant with a 6-speed conversion? Sign me up – this car is gorgeous. With RS6 details, the blue coloring and a host of heavy-duty upgrades, this car is close to the RS6 awesomeness we never got here. But, unlike the mega-motored RS6, the belt-driven 4.2 V8 has a reputation for being more reliable as the miles add up. Gone is the weak transmission, and with upgraded brakes and suspension, along with an incredible Milltek exhaust, this car shouldn't leave you wanting for much. The RS6 wheels are a bit dark and I think would look better lighter, but otherwise this is a pretty awesome package. Pricing is high for a C5 Avant, but I think if a PPI checked out it's likely worth it. You can't get more car for less money, in my opinion, and this is in my mind a much better value than the BMW.
Thanks to our reader John for the BMW spot!
-Carter