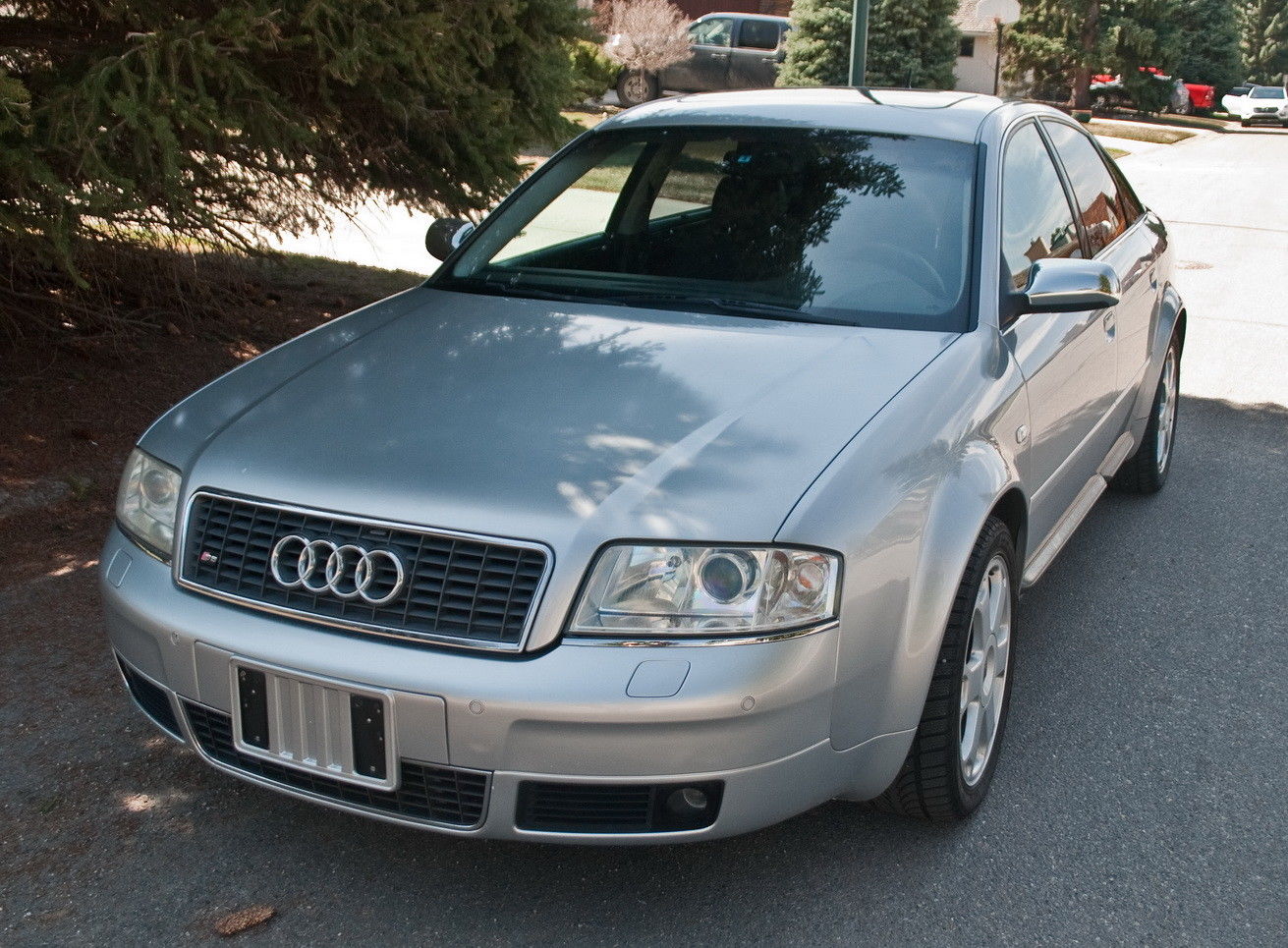 Audi's interesting sales plan of S-cars in the early 2000s was, for U.S. fans, both good and disappointing at the same time. Mega models like the RS4 continued to be withheld from this side of the Atlantic just as the S2, RS2 and S6 Plus had been. The new generation of V8 powered S cars had yet to arrive, too; movies teased us of the slithering, nitrous oxide-boosted battering ram S8, and though the C5 chassis now sported the V8 in 2000, we had yet to see the S6.
But there were bright points. The B5 S4 was available as a sedan or Avant here, for the first time, in 2001 the flagship S8 arrived and after a wait until 2002, the S6 arrived in Avant form. And, only in Avant form, and only in automatic. You could complain about that for sure, but then the introduction at long last of an RS model – the twin-turbocharged RS6 – assuaged the loss of the regular S6 sedan for nearly everyone.
Once in a while, though, a S6 sedan pops up on this side of the Atlantic: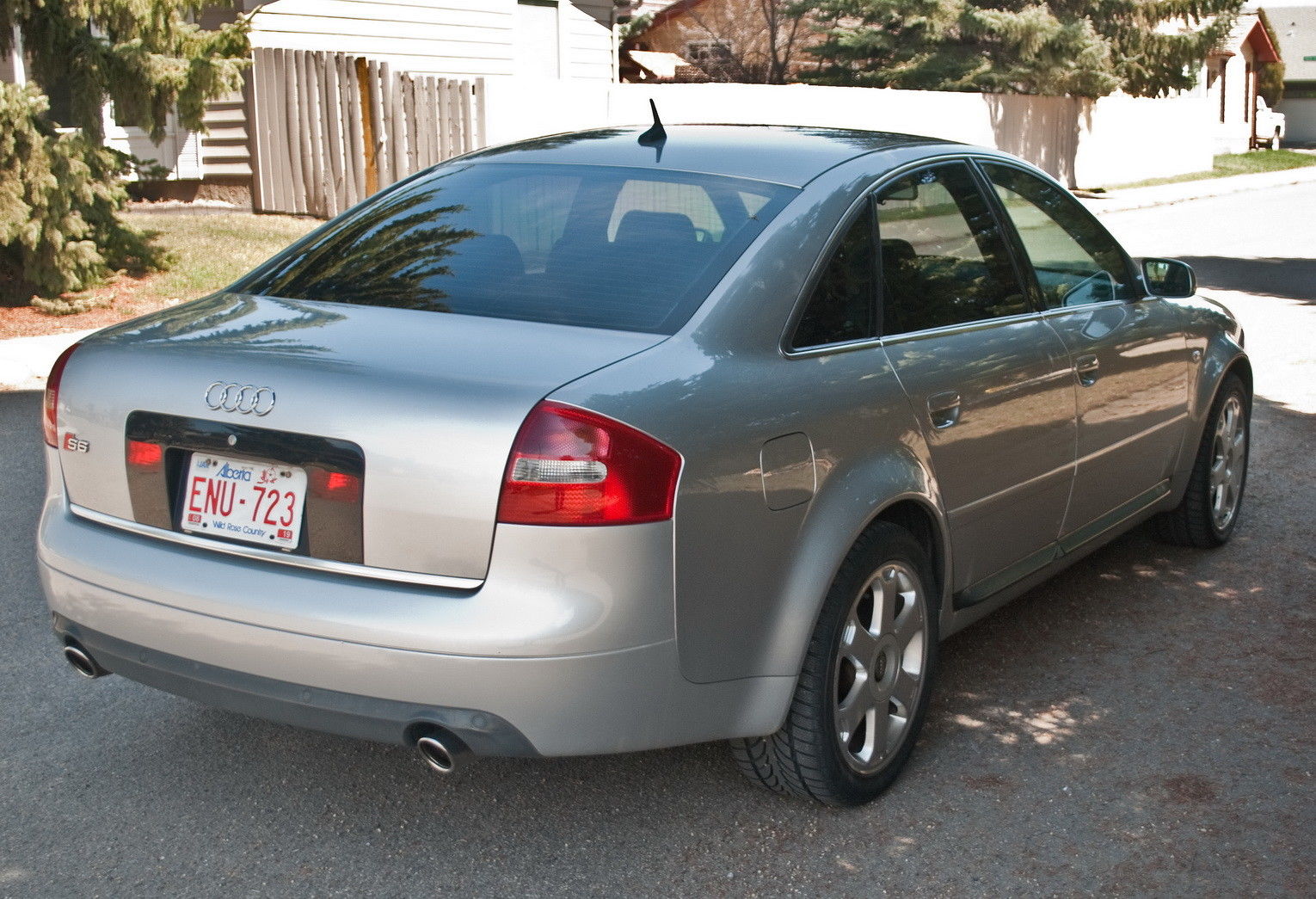 Year: 2002
Model: S6
Engine: 4.2 liter V8
Transmission: 5-speed automatic
Mileage: 60,100 mi
Price: C. 12,500 Buy It Now ($9,712 today)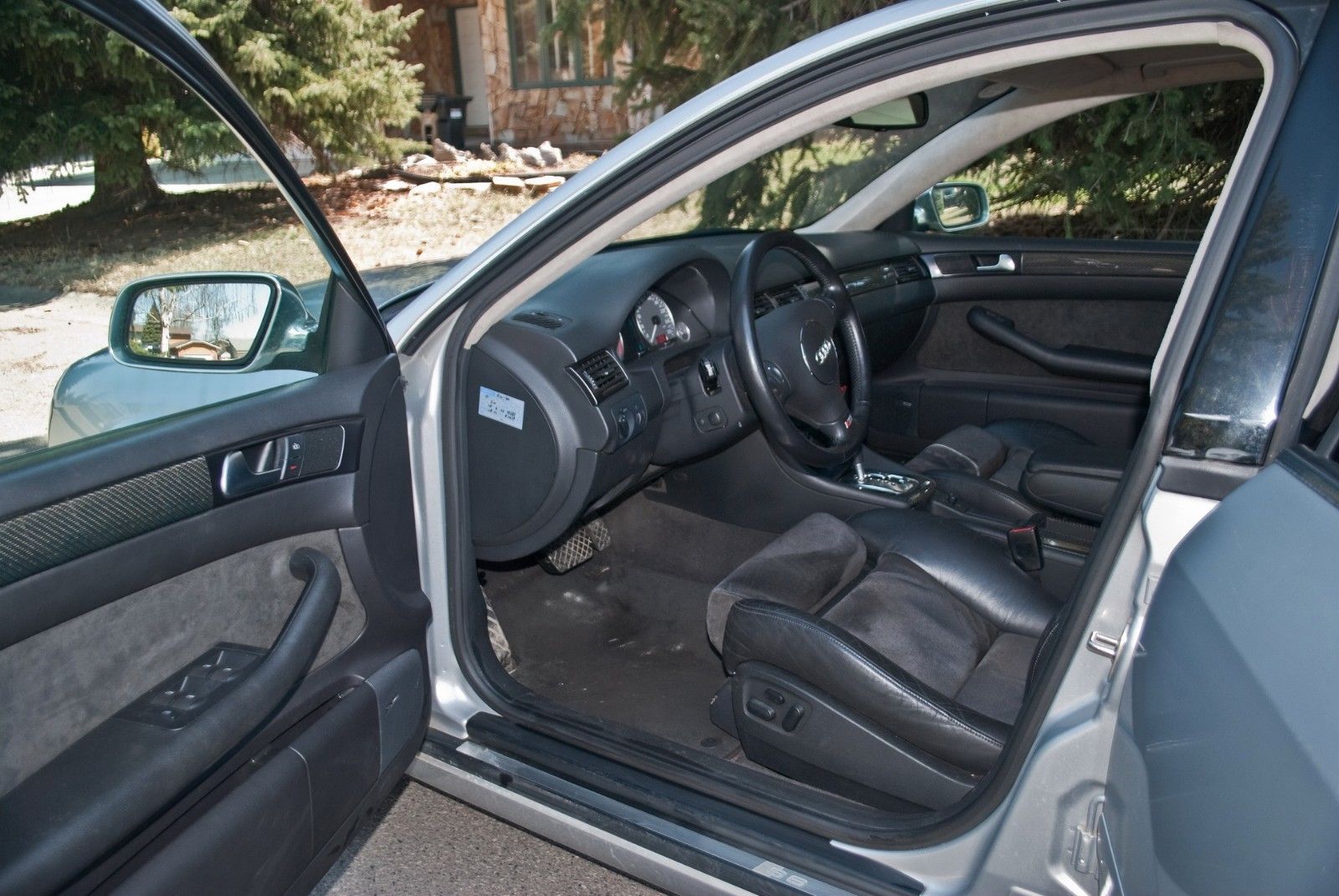 Audi S6 of this generation is one of the best balanced models of this era. It has Audi's full-time AWD that makes it unstoppable in any paved road conditions. This generation of S6 is propelled by a naturally-aspirated 340HP 4.2 engine via a 5-speed Tiptronic automatic. The thrust of this engine is totally addictive. I really have to watch my speed all the time to stay out of trouble. It also happens to be one of the most reliable and trouble-free engines of that generation. Only available in USA and Canada as a station wagon, here's a chance for a sedan lover to own and enjoy the same.

The equipment list is very long, suffice it to say the car is LOADED. The highlights are:

*Stability control and parking sensors.

*Self-dimming interior and exterior mirrors.

*The interior looks and feels very upscale with its Alcantara-wrapped sports Recaros. Both front and rear seats are heated. The headliner is light-grey Alcantara too.

*The sunroof contains solar battery cells that power the cabin vent fan, allowing cooling of the interior when the car is parked with engine off.

*Premium BOSE sound system with stock sub and 6 CD changer in the trunk. Japanese market Audi Navigation plus / TV head unit.

*Manual roll-up sun screens for rear side windows, powered screen on the rear window.

*Full-size spare tire on a stock S6 alloy rim.

The car is only seeing its first winter, has no rust or stone-chipping, and is accident-free. It has passed the Out Of Province inspection with flying colors. The indicated mileage as of today is ~96,300 km or approximately 60,100 miles.

I did the following preventative maintenance: fresh engine oil and filter, ATF and all diff fluids, engine air and cabin filters, new VW/Audi Pentosin coolant in place of the "tropical" one. Suspension, brakes and steering components all thoroughly checked and as a result 2 CV boots and 2 front control arms were replaced.

The timing belt looks perfectly healthy, with no rips or cracks. The recommended replacement interval is 120,000 km/75,000 miles so there is still plenty of mileage left.

The car comes with two keys, a key template, complete set of user guides in Japanese language and some records from a very detailed and rigorous Japanese State technical inspection (shaken). New Nokian winter tires installed + a set of summer tires comes with the car. Also with the car provided are an extra set of aftermarket LED rear lights, North American CD-cassette head unit and a trunk spoiler.

The vehicle is registered and insured in Calgary, AB, Canada and is fully road-legal. The Audi is my wife's favorite "voiture du jour". So mileage is creeping up a bit.

If you fly in to pick up the car I can meet you at the Calgary airport. I can also store the vehicle for a reasonable duration of time while you arrange pickup – free of charge. However, the buyer is responsible for shipping arrangements and costs, I will only help with delivering the vehicle to a loading/pick-up area within Calgary city limits.

This Audi is advertised on other resources. Thus I reserve the right to end the auction at anytime without any negative consequence to the seller.

It is a private sale for which there are no sales taxes in the province of Alberta.

The winner is required to pay a 500.00CAD irrevocable deposit within 24 hours after the sale. This can be made via Paypal. The balance of the payment must be paid via money order, US or Canadian bank cashier cheque or in cash.

For any questions I prefer to be contacted by email, which I check regularly.

Please bid responsibly.

Thank you for your attention and please enjoy excellent as-of-today (and some 2 months-old) photos of this beautiful Audi!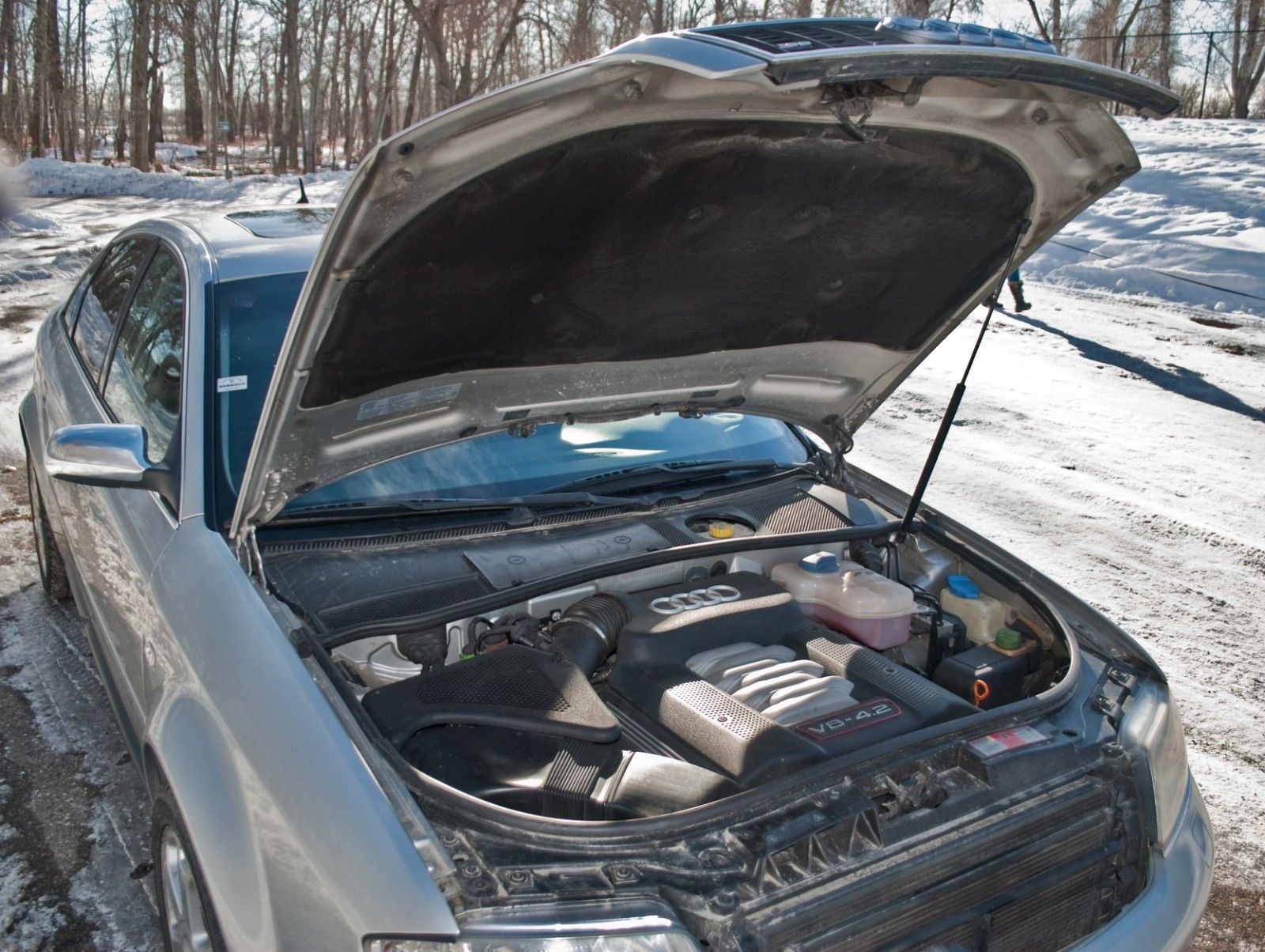 This isn't the first C5 S6 sedan I've looked at – last March, I took a peek at a 2001 model which had a few more miles for a slightly higher price. The condition and presentation of today's 2002 is certainly superior. However, the photos of this car and the angles taken unfortunately highlight the slightly strange nature of the sedan. It doesn't look as menacing as the RS6 or, frankly, even the U.S. spec A6 4.2 to me. From some angles, my mind is immediately drawn to the oddly-proportioned Subaru Legacy 'Sport Utility Sedan'. However, the pricing is such that it's not an unreasonable-to-consider option. You'd have to get a variance for the United States, but that should be possible as this car shares nearly everything with the U.S.-spec Avant. $10,000 will get you into a needy, higher mileage Avant which is admittedly more desirable, and you're not far from the asking price of the worst condition RS6s. But do you really want a needy RS6?
Unfortunately, the question that follows is 'do you really want a S6 sedan'? It would certainly draw attention at a show. It's a great highway car. The condition is great and the price isn't outrageous – and boy, those Recaros look sweet! But the nagging thought in the back of your mind – and likely a question posed by nearly every Audi enthusiast you'll encounter – is why you didn't just choose a potentially faster, manual 2.7T for similar or less money.
-Carter