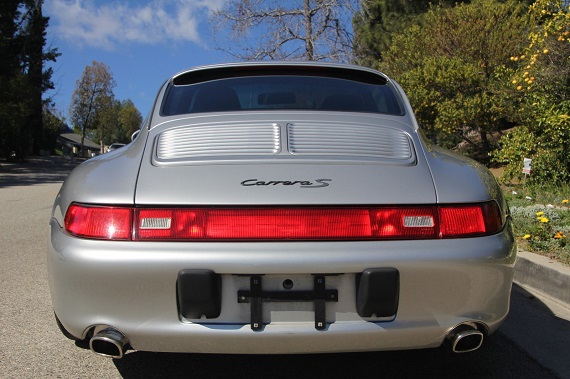 The rebirth of the S provided some renewed invigoration to the 911 lineup, ironically just as the days of the 911's air-cooled engine were coming to a close. It had been nearly 20 years since an S badged 911 had rolled out of the factory and Porsche chose during the initial re-entry into the market to offer it only as a Carrera 4. These cars were quickly dubbed the "Turbo-look" as they shared the wider rear body and braking of the Turbo, but retained the standard 993's naturally aspirated 3.6 liter flat-6. A year later a Carrera 2S would hit showrooms, providing customers an abundance of choice when choosing their 911. At that point you could get just about whatever configuration you wanted. Here we will look at an example of each of the S models, which share some significant similarities outside of that basic model designation, though with one significant difference between them. Similar color, similar mileage and they appear to be in similar condition. We'll start with the Carrera S: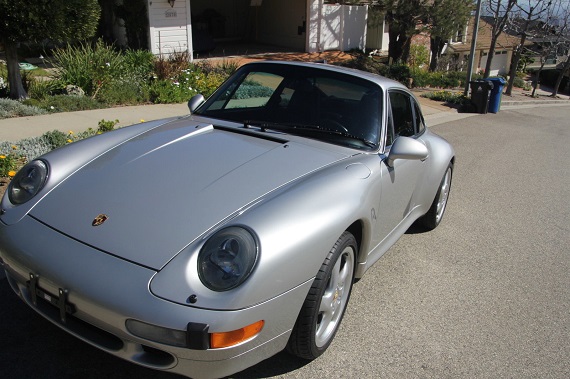 Year: 1997
Model: 911 Carrera S
Engine: 3.6 liter flat-6
Transmission: 4-speed automatic
Mileage: 39,700
Price: $71,500 Buy It Now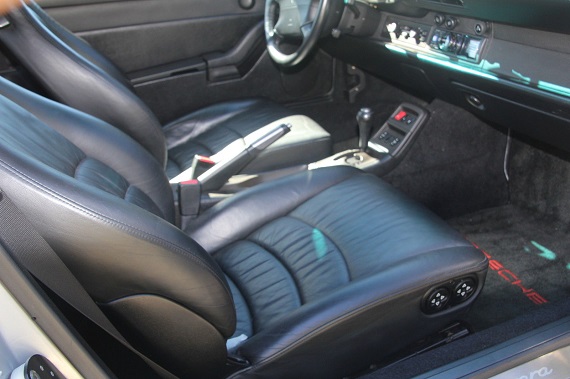 THIS CLIFORNIA CAR IS IN PRISTINE CONDITION ABSOLUTELY NO SCRATCH TOTAL SHOW ROOM CONDITION WITH VERY LOW MILES. COLLECTOR CAR TO BE CHERISH WITH THE WIDE BODY SERIES AND TWIN GRILL. THIS CAR IS EQUIPPED WITH RARE TIPNOTRONIC TRANSMISSION THAT LET'S YOU CRUISE IN AUTO R SHIFT MANUALLY WITH SMALL FLICK OF THE WRIST. GREAT FOR HEAVY TRAFFIC AREAS WHILE ENJOYING THE LOOKS AND FEEL OF THE AIR COOLED WIDE BODY LEGEND. VENTED DISC BRAKES WITHABS STABILIZER BARS FRONT AND REAR 4 WHEEL INDEPENDENT SUSPENSION. 18″ TECHNOLOGY WHEELS, FULL POWER COMFORT SEATS. NON VISIBLE FRONT BUMPER MIRRORS AND HEADLIGHT GUARDS. THIS CAR HAS PASSED A 100 POINT PPI INSPECTION AND FRESH OIL SERVICE WITH BRAND NEW TIRES.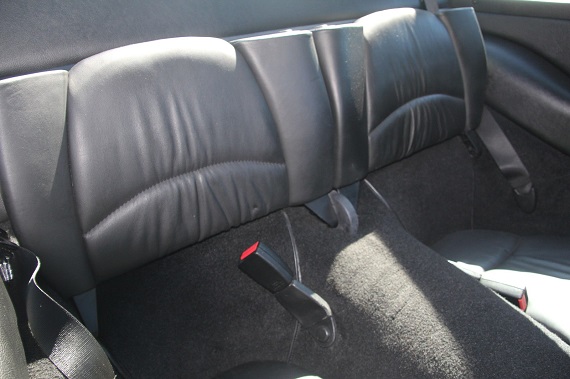 I have always particularly enjoyed the wider 911 body on the 993 so either S model fits that criteria nicely for me. Those rear curves fit the profile so well and highlight the rounded nature of the 993 better than on previous 911 models. I do like the wider classic design, but in many cases a narrow-bodied 911SC or 3.2 Carrera can be just as stunning to look at. The glaring issue here is that it's a Tiptronic S rather than manual so this car will be looking for a particular buyer who either needs or strongly prefers the automatic. Otherwise, the condition looks very good and mileage is quite low. The asking price is too high for an automatic, but if that can be brought down a bit then I'm sure this can make for a good option. We'll now move on to a very similar appearing Carrera 4S: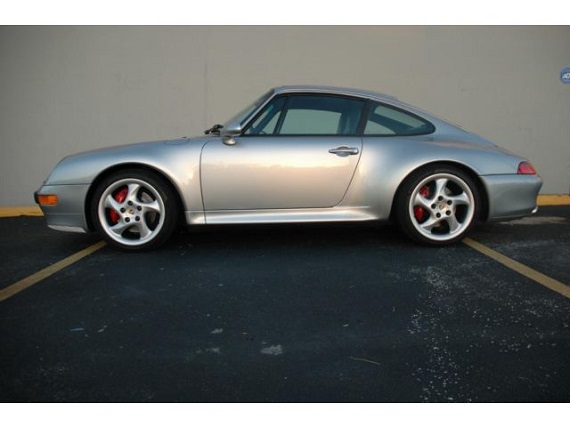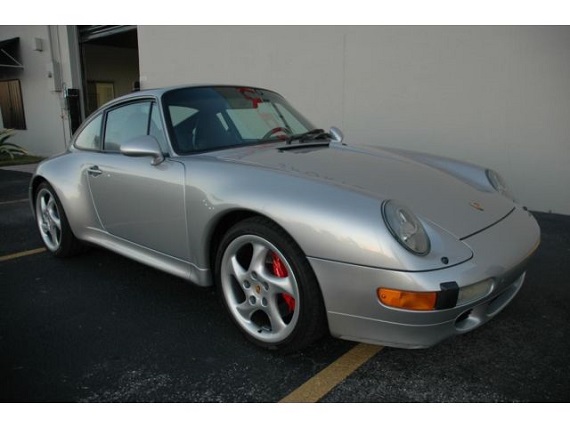 Year: 1997
Model: 911 Carrera 4S
Engine: 3.6 liter flat-6
Transmission: 6-speed manual
Mileage: 45,100
Price: Reserve Auction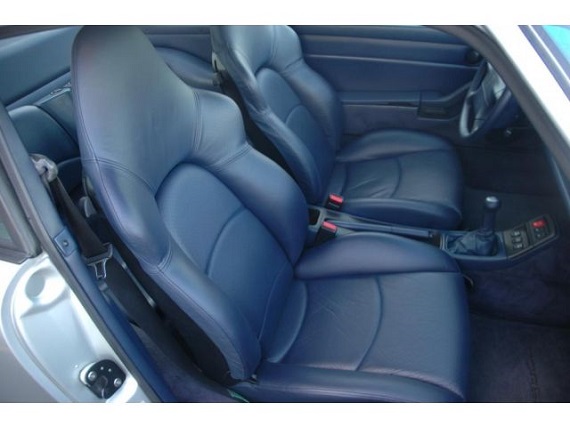 1997 Porsche 911/993 Carrera 4S Coupe. Arctic Silver Metallic on Midnight Blue Leather Racing Style Sport Seats. Certificate Of Authenticity and White Options Sticker Under The Hood. MSRP $79027. Motor Sound Package. Xenon Headlights. Metal Door Sill Model Insignia. Exterior is in Very Good Condition. No Door Dings .No Scratches. Paint Has Very Good Luster. Interior Upholstery Including Seats, Carpeting, Door Panels, Dash, and Headliner. All Very Clean. No Tears. Wheels Show No Curb Rash and Have Enamel Porsche Crest. Car Runs Fantastic. Well Maintained 993.All Books, Manuals and Spare Key. All Stock Car.For More Details Call Tony @305-776-8111. Vehicle Sold As Is. Inspections Are Welcomed. Buyer is Responsible for All Shipping Cost.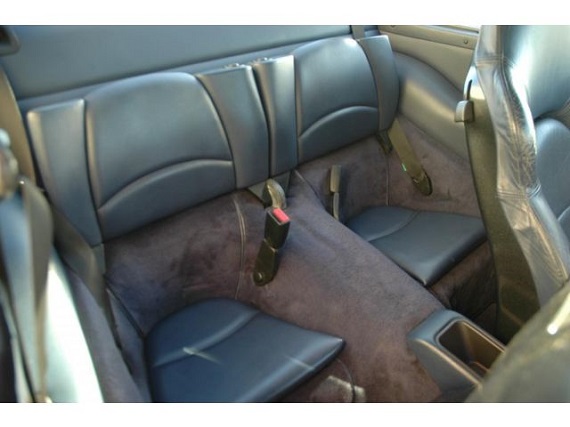 The mix of Artic Silver with a blue interior certainly gives this 993 an icy appearance and I'll admit I do prefer the variation provided by that blue interior versus the black of the Carrera S above. Silver is rarely an exciting exterior color so a more interesting interior is a must. This C4S also comes with a proper 6-speed manual, which I'm sure for most of us would easily make this car the better of the two seen here. Bidding remains somewhat low at $63,100 and I would imagine the reserve will sit somewhere north of $80K. That's not intended to suggest that's where it should sell, but rather where I expect the reserve to lie. Still we're a little off of where I'd expect a lower mileage C4S to sell.
At the end of the day, the C2S is my preferred variant as I'm much less a fan of all-wheel drive, even if the C4S has the better braking system from the Turbo. And there are those lines. Either model is a wonderful machine to look at and as these were the only modern 911 to wear an S badge above their air-cooled engine, they tend to remain in high demand.
-Rob