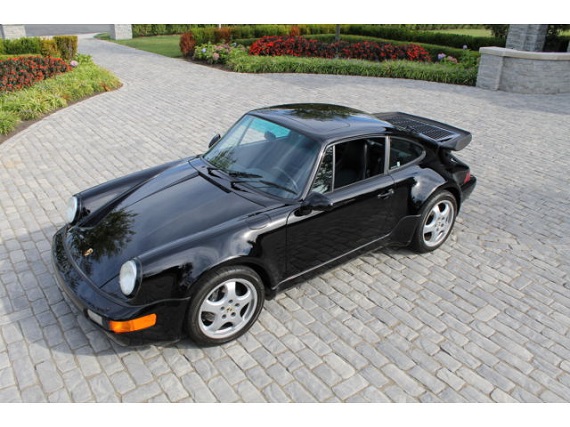 The 930 remains my favorite of the 911 Turbos, but that doesn't mean I do not appreciate the greatness of its successor based off of the 964. And unlike the 930, which spent most of its life utilizing a 4-speed manual, the 964 came straight out of the box with the 5-speed transmission only available in the final year of 930 production. However, because initially the 964 carried over the 3.3 liter turbocharged engine from the 930, which was later replaced with a turbocharged 3.6 liter engine, there are a couple different options to choose from when on the market for a 964 Turbo. Though as we shall see here they fall within dramatically different cost scales. Here we will look at the two most common variants: the standard 3.3 liter 964 Turbo produced from 1990-1992 and the 911 Turbo 3.6 produced from 1993-1994. Each of these also came in a small-production Turbo S form, which remain some of the most sought after 911s on the market.
We'll start with this 1991 Porsche 911 Turbo, located in Brooklyn, with just 28,140 miles on it: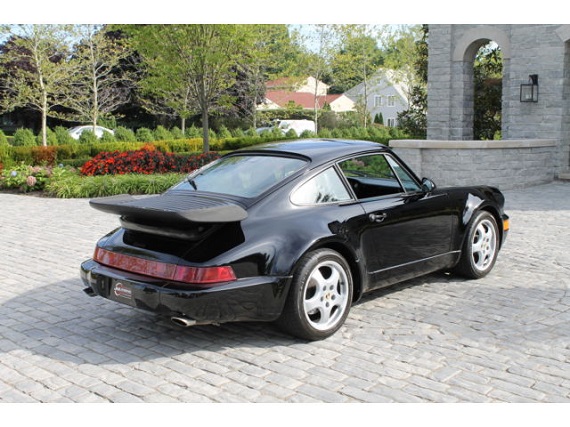 Year: 1991
Model: 911 Turbo
Engine: 3.3 liter turbocharged flat-6
Transmission: 5-speed manual
Mileage: 28,140 mi
Price: $108,000 Buy It Now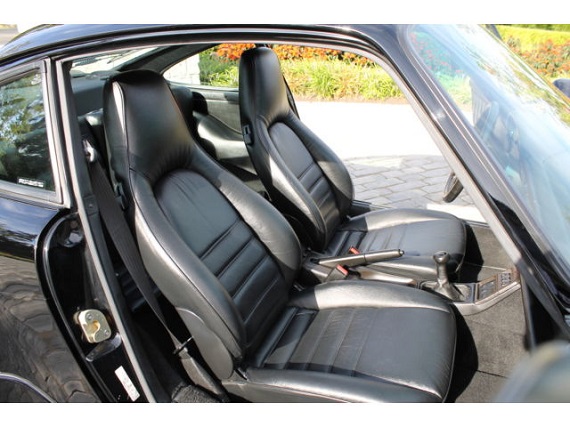 1991 Porsche 911 Turbo

Black/Black

28k Miles

Clean CarFax

Certificate of Authenticity

Florida & Texas car

EXTREMELY RARE!

VIN# WP0AA2967MS480231

Please contact Steven Sasson

(212) 804-8070

or Steven@LegendLeasing.com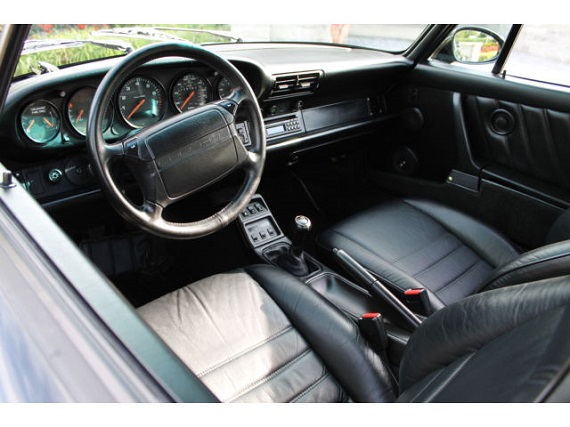 The love we feel around here for triple-black did not end with the 930 and this black on black version of the 964 looks almost as sinister as its turbocharged predecessor. In most ways these early 964 turbos were refined and improved versions of the 930, though encased in an entirely new body design. It is those alterations to its shape that keep me returning to the classic, but these are still well-proportioned, aggressive and beautiful machines that pack a tremendous punch. At nearly $110K this one is priced pretty high, but like most 911s prices continue to ascend. As we turn to this 1994 Porsche 911 Turbo 3.6 all of those attributes are simply enhanced.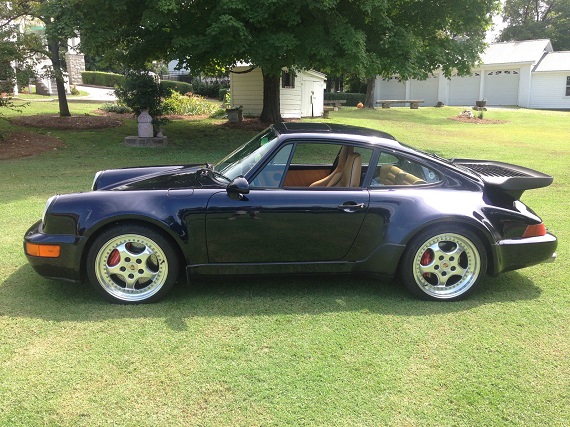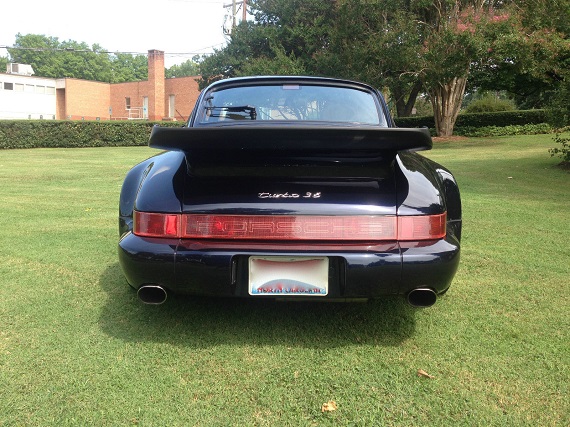 Year: 1994
Model: 911 Turbo
Engine: 3.6 liter turbocharged flat-6
Transmission: 5-speed manual
Mileage: 44,650 mi
Price: $259,900 Buy It Now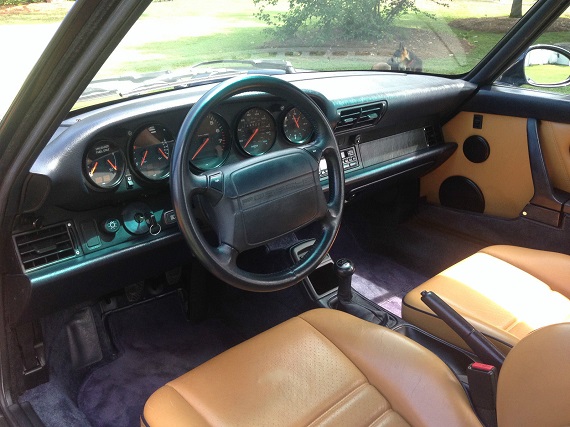 1994 Porsche 911 3.6 Turbo 964 Midnight Blue Metallic, all leather Beige seating with Marine Blue leather piping on front seats and Marine Blue Upholstery Carpets.
44,650 miles
Excellent Condition
Accident Free Completely Original Paint only a couple small rock chips in the hood which are only visible upon close inspection.
Original Speedline factory 3 piece wheels with Porsche Crests etched "Speedline for Porsche"
Only minor modifications including B&B Exhaust and Tial Waste gate
Original Exhaust and Waste gate are included if you wish to return to 100% original.
Car retains even original Porsche stereo and 6 disc CD changer.

Original books
Window sticker
All original factory stickers in place
Original Customer Delivery Program Document signed by selling dealer
Original key card with key numbers for replacement keys
Original PDI Hang Tag

Just Serviced to include: – Oil & Filter Change
– Gear Box Oil Change
– Change/Flush Hydraulic Brake and Clutch fluid
replaced with ATS type 200 Fluid
– New trunk hood struts
– Detailed

I have tried to be accurate and complete in my descriptions but all prospective purchasers agree that this description is solely for convenience, and should not be considered a complete description of any or all faults, and may not be relied upon, taken as fact or otherwise considered a representation or warranty. The car is sold as-is. A pre-purchase inspection is encouraged and I would be glad to assist if you organize and pay for the PPI.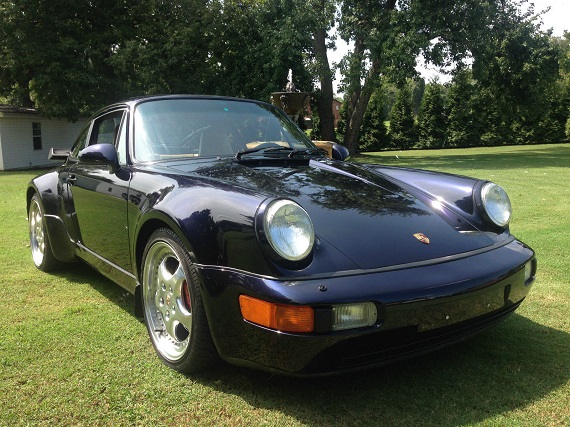 As a contrast to the rawness and edginess of the black 964 this one comes in a beautiful contrast that is an absolute pleasure to look at. The Midnight Blue exterior still provides for an aggressive external appearance, but the Tan interior allows for a more expansive feel to the cabin and it works very well as an overall package. While not quite as low mileage as the 3.3 Turbo, this Turbo 3.6 is still fairly low considering its age. The big difference, of course, is the price. While much of this difference comes down to the long-term potential of each model (and I think this car too is priced quite a bit higher than where I'd expect it to sell), at a difference of more than twice the price it's tough to rationalize the Turbo 3.6 over the standard Turbo purely from the perspective of performance. Both of these are sure to please their next owners and each should also benefit long term from steady appreciation, as a relative value though it is tough to beat the 3.3 liter.
-Rob