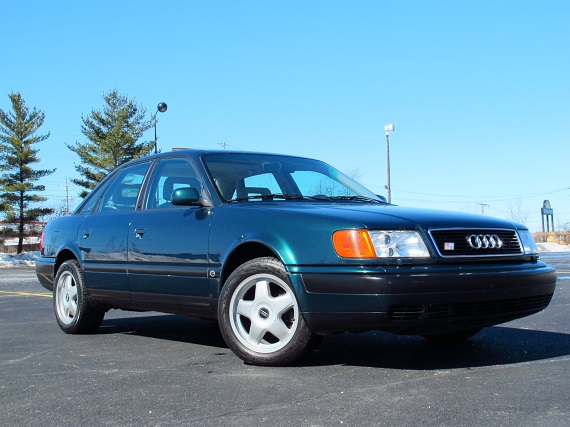 They say lightning doesn't strike twice, but we know that to be a fallacy. It's just extremely unlikely for it to strike twice in the same spot – an improbability along the lines of finding two extraordinarily clean, original and unmolested Audi S4s from the same seller. Heck, let's increase the probability slightly and remove the "same seller" part – it's still quite unlikely to find two clean S4s for sale within a few weeks of each other. That's not because the S4 is unloved – quite the opposite indeed, the S4 has remained one of the absolute Audi essentials for a large number of the four ringed fans. First, there was the aerodynamic C4 chassis; quiet, refined, luxurious and not at all ostentatious, it's a good looking sedan that was arguably far ahead of its time compared to the competition from Germany in 1992. The S4 took that basic platform a step farther with subtle but certain fender flares covering one of the best looking wheels ever fit to an Audi, the Fuchs made 16″ x 8″ with meaty 225 section tires. The headlights were upgraded to projector-beam units with integrated fog lights, a change that would carry over to the A6 later. Inside the S4 also received a smart sport interior; the seats were a step up from the older sport seats and featured heavy bolsters and plenty of electric adjustability. But the true genius of the C4 lay at its heart where few saw; a stout all-wheel drive system featuring a Torsen center differential and electronically locking rear differential, the C4 was the next in a long line of over-built Audis. The engine also wasn't entirely new, but it was understressed from the factory and subsequent years of boosted bliss later, the AAN engine is capable of not only stratospheric power levels but improbable longevity as well. There are many that argue that this was the best all-around Audi ever made and for good reason. Despite that, as we've seen, it remains likely the best performance value of any German marque – if you can find a good one: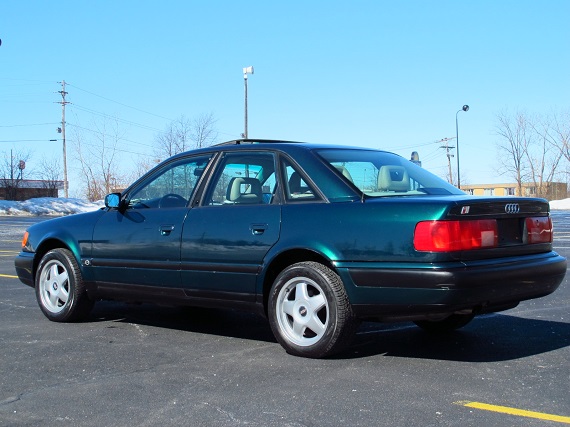 Year: 1994
Model: S4
Engine: 2.2 liter turbocharged inline-5
Transmission: 5-speed manual
Mileage: 164,900 mi
Price: $6,500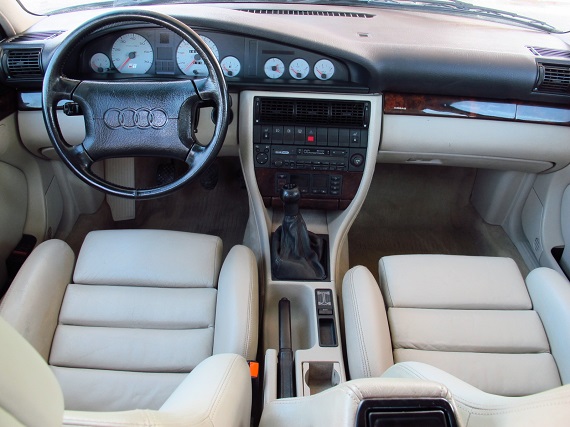 This is my 1994 Audi S4 (UrS4) Turbo Quattro AWD sedan. This is the iconic "halo" performance car that Audi produced in limited numbers in the mid 90's. These cars were very expensive (nearly $50,000) when they were new and for that reason not many were produced. There were about 500 of them sold per year.

This particular car has had one female private owner since new, and has never been modified or altered. The car is totally stock and would make an excellent platform for upgrades since these cars are commonly modified to 450 hp or more.

This car is very clean and well-kept for the age. Commonly these cars have been driven hard and show obvious wear. This car is the exception to that- it is clean, stock and original.

The paint and body are clean and in very good condition. The body is totally solid and clean throughout with a few very tiny stone nicks and tiny bubbles in the paint- I'd say this car is NEARLY rust-free- exceptional for the midwest.

The interior is in excellent shape- far above average in my opinion. The leather seats are clean and in very nice shape- most seats on these cars are looking very tired by this age. The carpets and interior plastics are in great condition.

This car runs and drives perfectly with zero mechanical issues. The car drives great, the turbo boosts strongly and the engine, transmission, suspension, AWD, brakes etc are all working properly with no problems. There are no warning lights illuminated. This car is totally reliable and dependable- I took it on a 700-mile drive last week and it drove perfectly. The timing belt and tensioner were replaced 15,000 miles ago.

I just brought the car to our local Audi dealer for the radio code, and the service manager and service writer walked all around the car and were amazed. The manager said this car looks better than 3 and 4-year-old old cars that come in for service.

This car has the following equipment and options:

-2.2L Inline-5 turbocharged engine (227 hp)
-5-speed manual transmission
-Quattro AWD with locking rear differential
-leather seats heated front and rear
-power moonroof
-ABS brakes
-power locks and windows
-cruise control
-automatic climate control
-Fuchs aluminum wheels with nearly new tires (wheels have just been powder coated and refinished)

I have the original books and manuals as well as the original purchase invoice when the car was bought new at the Audi dealer.

Everything on the car works with the exception of the central locks. This is a great car in outstanding condition for its age. This car is kept in my heated warehouse in Willoughby. Email me or call/text me at 440-339-4341. No trades please.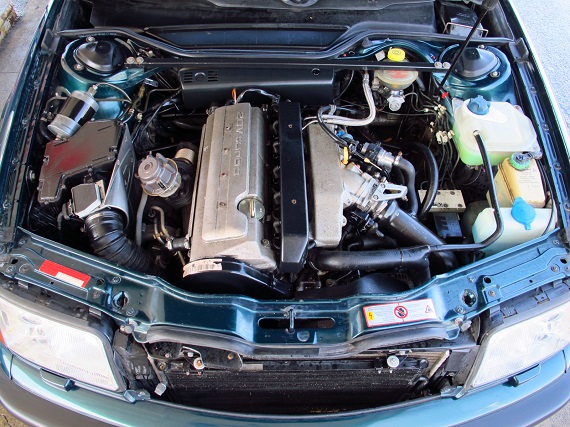 Getting back to my original point regarding the likelihood of seeing two good condition S4s from the same seller, this is indeed the same individual who brought us the ultra-clean Brilliant Black S4 from late February. Today's car is presented in the more common to see color of Emerald Green Mica. It's a color often plagued by failure of the clearcoat, resulting in a hazy white and checked exterior on nearly every example. However, none of that appears here, and overall the car looks excellent from the outside. The expensive-to-replace front bumper is in fine shape and the all-important and original Fuchs wheels are there. As they often suffer from oxidation on the machined lips, it's no surprise that they've been refinished here and look great – I miss the machined lip, but I'd rather have the original wheels looking overall pretty spectacular as they do here. However, again it's inside where this car really shines, with a simply incredible looking interior again belying the nearly 165,000 miles that the car has covered. Ecru Audi interiors don't come much cleaner than this from the 1990s. Under the hood we find the venerable 20 valve turbo with a reasonably fresh timing belt service. To top off this car's highlights, though, the originality of this example exceeds even the seller's last example, which had been lowered and had some non-original details. As a blank canvas and perfect starting point for classic Audi ownership, this car has massive appeal. Despite that, the price tag is once again very budget-friendly at $6,500. Last time around, the seller's S4 sold within a few hours of being listed – a testament to how sought clean examples of these cars are. If you're in the S4 market, or even just want to understand a bit of what everyone who's owned one raves about, I'd suggest this is a perfect and not often-seen opportunity to sample a car that helped to make Audi's performance wing what it is today.
You can contact the seller directly at camera411@gmail.com.
-Carter