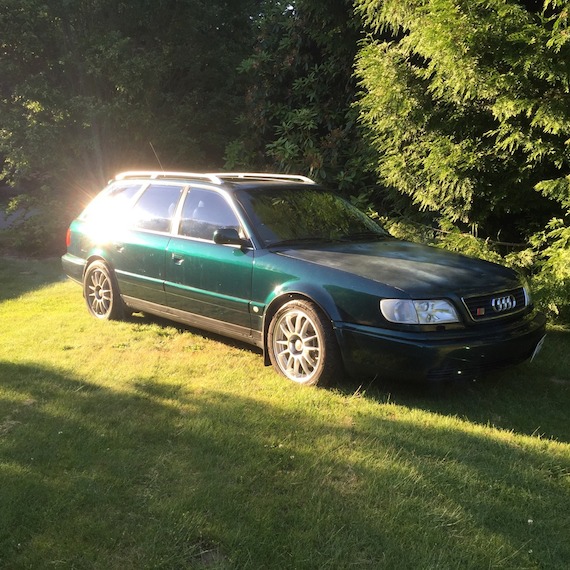 In yesterday's S4 post, I covered many of the special items that made the '92 model unique for the U.S. market; in fact, I said that in many ways it was the most highly sought of the C4 models. Well, that probably was a bit of overstatement in at least one regard, because while it may be true for sedans for many the Avant model from 1995 was much more special. 1994 to 1995 saw some major changes for the C4; the most obvious being the model designation change from S4 (1991-1994) to S6 (1995-1997). European models had some additional drivetrain options that weren't available in the U.S., and indeed the Avant had previously been available in S4 form, but the 2.2 liter turbocharged inline-5 carried over largely unchanged into 1995. The big news was the addition of the Avant to the U.S. lineup; at the time, as expensive as an Audi got here. There was also the obvious external refresh; smooth body-colored bumpers and wider side trims eliminated the rubberized black moldings. The hood and lights were lightly re-sculpted too, along with the change (rolling, for some models) from the Fuchs-made 5-spoke alloys to the Speedline-made 6-spoke Avus wheels which would be the signature S-wheel for the next decade. Gone were two staples of the Audi lineup from the 1980s – Procon 10, the seatbelt pre-tensioning safety system Audi highly marketed in the late 1990s disappeared with little fanfare, but also, perhaps more strikingly, S cars would no longer be branded with "quattro" badges – a change that would carry on nearly until today's models, where models like the RS7 re-introduced it in the grill. Inside minor changes were introduced; a revised dashboard, shift knob, along with the introduction of the most notable change (once again, rolling) to a 3-spoke sport steering wheel. It was a tremendous amount of minor changes that in sum resulted in a slightly different feel for the S6; slightly more polished and grown up, carrying the new design language for Audi that would remain for the next decade. Audi wasn't done, though, because in "1995.5" Audi once again changed several items on the then-still-new S6. This included a major change moving forward – the elimination of driver control of the rear differential, a hallmark of Audis since the introduction of the original Quattro. Audi opted for an "electronic differential lock", which in reality was a system which utilized the ABS system to detect wheelspin and apply the brakes. This major change resulted in some minor interior tweaks, such as moving the cigarette lighter, and there were additional revisions to the radio. The transmission's traditional weak first gear was also addressed, as well as adding infrared locking and some other minor trim changes. All of these changes – some of them running changes – give the limited production S6s, and especially the Avants, a bit of a bespoke feel. With numbers produced only in the hundreds, these are special and coveted cars that are very capable – and highly sought:
Year: 1995.5
Model: S6 Avant
Engine: 2.2 liter turbocharged inline-5
Transmission: 5-speed manual
Mileage: 273,000 mi
Price: $6,000
* Please PM rather than responding here, I wont check often *

1995.5 UrS6 Avant, Emerald green/ Ecru interior, 273K miles
This was purchased from a motorgeek guy. It has been and WA and OR all of its life and has not had any accidents, the vehicle history report reflects that.
I just purchased this car and brought it up to snuff maintenance wise and have been using it as a commuter. But I can't afford to have multiple project cars. Doing everything I can to finish my coupe project.

Performance upgrades:

MRC Stage 2 chip (22psi spike)
GSP Front mount Intercooler
Samco Silicone Hoses
Porsche Big Brake kit (Boxter S calipers and A8 rotors) –
H&R Springs and Bilstein Sport Shocks
High Strength Rear Sway Bar with heim joints
Marsh Boost Gauge (hides in the glove box)
17×8 OZ Supperleggerra Wheels

Recent maintenance
New EFI Express LS2 Coil pack upgrade
New rear brakes, rotors and pads
Front rotors turned.
Brand new tires

Condition:
The interior does show some signs of wear, seat bolsters are worn and the door panels have some of the material separating, and generally just needs to be cleaned.
The exterior is pretty straight but there are some small door dings that don't really stand out too much.
Runs and drives well, no check engine light. Engine does burn some oil, don't know the history as far as head work or rebuilds. It has a slight misfire at idle, but it's random. I have done fuel filter, new plugs, coil packs, coolant temp sender, tried a different ecu, and swapped MAF's and still no change. I purchased a set of stock injectors but have not sent them out to get them cleaned but I think that's the issue. No misfires under boost.
The main issue with the exterior is the clear coat. the sides of the car look great for its age but the clearcoat has failed on the roof and hood and I don't think there is anything that can be done to bring it back.

I am not flexible on the price, I am losing money on this car no matter what but this is an accident-free clean history URS6 Avant that is completely rust free and that's hard to come by. I would be asking more if the clear coat wasn't shot on the roof and hood.
If you want to talk price, I'll keep the OZ's and we can go from there.
This car is a great example of how, generally, the C4 chassis shrugs off miles. With nearly 300,000 miles covered, most cars would be long dead – but this Avant still generally looks quite fresh and surprisingly clean. The Ecru leather shows the typical wear associated with the color, but it's certainly not below average and is in keeping with the mileage. The same can be said for the exterior; generally, the car looks good but suffers from the typical clearcoat failure. The seller is correct that there's no easy fix for this; however, if the sides are as clean as they appear and you wanted it fixed, a easier solution than a whole repaint might be to just redo the affected areas. Alternately, vinyl wraps have come really a long way and would offer you the opportunity to change the car's exterior color if Emerald Metallic wasn't your favorite. As with the last S4, this Avant has some desirable upgrades; H&R/Bilstein suspension pared with Porsche brakes again, and I like the OZ Superleggera wheels as a tasteful upgrade. Is this car perfect? No, but it's not depicted as so, and the honest presentation is coupled with a very appropriate and compelling price. Simply put, I don't think you can get more S6 Avant for your money than this car offers; it might not be a pristine one to add to the collection hoping that it will appreciate, but it's certainly one that you can enjoy driving and remain on an affordable budget. That's the appeal of these older Audis, and this one sure has a lot going for it.
-Carter