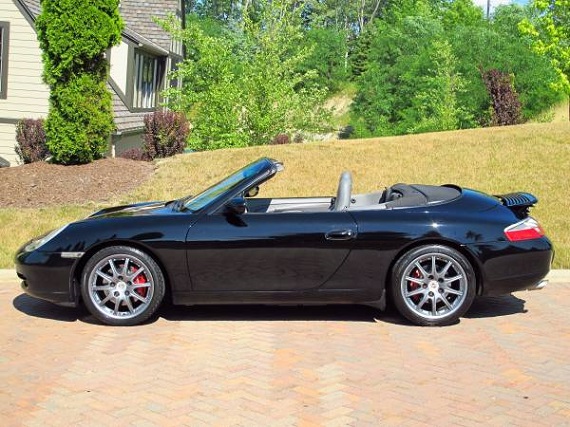 I don't think I've ever featured this 911 model, which given that it's a basic model seems surprising. I've featured the Coupe, but never the Cabriolet. I digress. The 996 finds its way to our pages predominantly because of its excellent performance value relative not only to all other 911s, but to most other performance cars in general. Our focus usually falls upon the 996TT, which significantly ups the performance ante while still maintaining those reasonable prices. But we've long been at a point where we really can't consider those to be inexpensive; they're just phenomenal performance bargains. When we step away from the Turbo suddenly the prices themselves begin to step into that inexpensive territory. The usual 996 caveats apply; there is a reason they're much less expensive. Regardless, as a way to experience and appreciate Porsche's iconic sports car a 996 can make a lot of sense. The example here has a few more miles on it than most we see, but the condition looks good and the price is quite attractive itself. Here we have a Black 2000 Porsche 911 Carrera Cabriolet, located a little outside Cleveland, with 149,500 miles on it. That it includes a factory hardtop is a nice plus, especially for those who may plan to use this in a colder climate.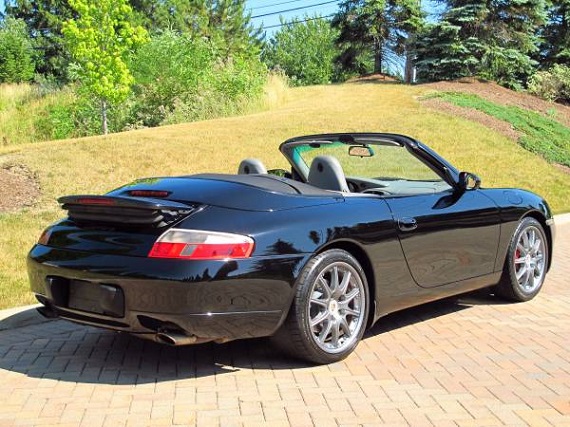 Year: 2000
Model: 911 Carrera Cabriolet
Engine: 3.4 liter flat-6
Transmission: 6-speed manual
Mileage: 149,500 mi
Price: $13,500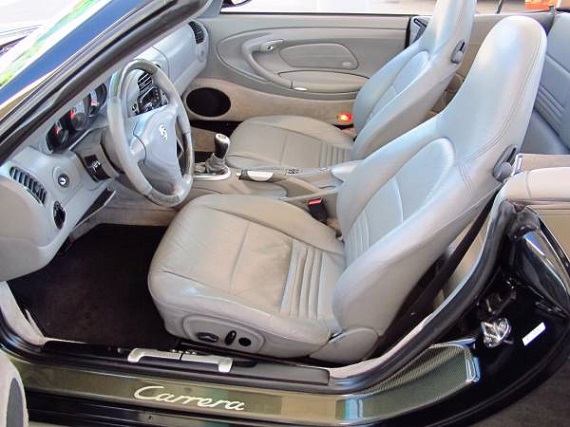 This is my 2000 Porsche 911 convertible 6-speed with factory hardtop.

This Porsche is very presentable and outstandingly mechanically solid, reliable and dependable.

It runs and drives perfectly and it is a quick, responsive and fun 911.

This car has a clean and clear title, with no known accidents. The CARFAX report shows 22 services plus NO ACCIDENTS nor damage.

Mechanically the car is excellent- the engine, transmission, clutch, brakes, suspension, etc are all good with no problems. There are no warning lights on, and no fluid leaks. The air conditioning works perfectly. All of the gauges work. The cruise control works, the power windows work, etc. In fact every single feature and function of the car is working properly.

There are no IMS isssues (though anybody asking about IMS issues on a 150K car gets a dunce cap) and no reliability worries or problems. This is a turn-key Porsche you can drive anywhere.

The convertible top is fully automatic and it works perfectly with no problems. The convertible top itself is in good shape with no rips or tears, just normal and expected minor wear. The plastic rear window is a little foggy but it isn't cracked. The factory hardtop mounts perfectly and does not leak. All of the plastic pieces that cover the hardtop mounting hardware are included.

The tires aren't new but they have good tread remaining.

The paint and body are very, very nice for the age. The paint appears to be all original and there have been no known accidents or paint work. There are minor chips, nicks, stone chips, marks, and other typical wear to be expected for the age and mileage. The front bumper has a "clear bra" on it. This isn't a Pebble Beach show quality exterior, rather a well-kept 16-year old exterior. There are no major dings or dents- there are two very minor dings in the hood from the previous owner's trickle charger.

The body has zero rust and hasn't been exposed to salt or snow.

The interior is the premium interior with carbon fiber trim. The interior is in good shape overall and it is clean and nicely kept- still very presentable.

The leather seats have no rips or wear marks and they are in good condition for the age. Overall this interior is clean and looks very nice.

I would say this car is in above average condition for the age. This is a really clean, beautiful Porsche.

The upgraded Porsche wheels have been refinished in a slightly darker shade.

This car was just traded in on a new $120,000 TESLA electric car. I take comfort in knowing that a person buying a $120,000 car can afford to take care of the car they are trading in…

Perfectionists, tire kickers and those with unrealistic expectations at this price point should look elsewhere.

This is an clean, solid, reliable, quick and FUN Porsche for a very reasonable price.

This car is kept inside my garage in Willoughby, OH.

Clean and clear title, no accidents.

Email me or call/text me at 440-339-4341.

UPDATE: I just had professional correction detail and multi-step paint polish performed. The paint looks beautiful with zero swirl marks. It looks amazing- much better than in the photos.
It's quite rare that I come across any 911 for under $15K so we must take notice when that's the case. Naturally, it's the mileage along with the model that's dictating that price, but that's part of what attracts buyers to the 996 in the first place. A 3.2 Carrera or even a 911SC would have to be in rougher shape to sell this low; I'm not sure what $15K will get you in a 964 or 993. As with any higher-mileage 911 you'll want to make sure a PPI is performed to confirm the apparent condition and understand any items needing attention. That said, inside and out this 911 looks to have been well cared for and even the engine bay looks nice and clean. The 996 interior never has been the most popular and Grey isn't the best way to showcase it, but perhaps with the top down and some beautiful scenery those kinds of problems can sail away with the breeze. For rear-engine, rear-drive, shift-it-yourself performance it's tough to find much at this price. This 911 may be one of the better possibilities out there.
-Rob