Warning!
This post is in our archives. Links in this post may have been updated to point to similar cars available to bid on eBay.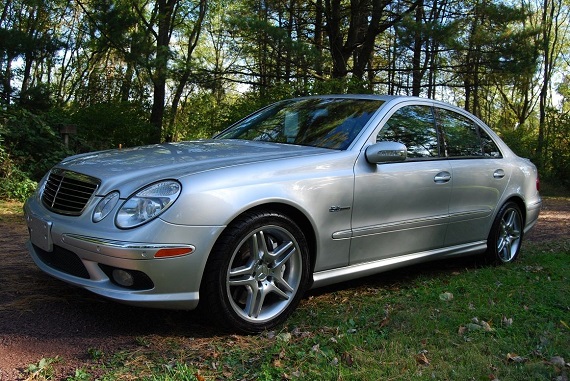 The W124 500E/E500 was a tough act to follow, but Mercedes-Benz stepped up to the plate well with the new AMG collaboration W210 E55 AMG. The M113 power plant generated an impressive 350 horsepower and 391 lb.ft of torque – more than had graced that legendary W124. In its own way, the E55 AMG became a legend, too – subtle looks offering a velvet wrapper on one hefty hammer. So when it came to replacing it again in the new W211, AMG was forced to turn the dial up a few more notches. It was forced because the market had moved on, and the W210's power output was no longer competitive in the early 2000s. So forced it was, as in forced induction. The M113 now featured an IHI supercharger, and power increased dramatically. This was no small step for man, this was a giant leap for Mercedes kind. The W211 E55's power output leaped to 469 hp and it now 520 lb.ft of torque. Of course, it needed those numbers because the competition from Audi in the 450 horsepower twin-turbocharged RS6 and the outgoing benchmark BMW M5's 400 horsepower S62 V8. Going nuclear on the power level meant AMG needed to upgrade the rest of the hardware, as well. Airmatic adjustable suspension with sport tuning gave the hefty E55 poise in the bends, while 14.2″, 8 piston calipers hidden behind huge split 5-spoke AMG wheels with 245 and 265 section tires kept grip and speed in check. The results were palpable: in a 2003 Car and Driver comparison against its nearest rivals, the new E55 AMG simply outpaced everything in a straight line. 0-60 was dispatched in just 4.3 seconds. 100 came only 5 and a half seconds later. The quarter mile was done in 12.5 seconds. Forget sedans, those were numbers that challenged the Corvette Z06 at the same time, and close to a decade and a half later are still very impressive: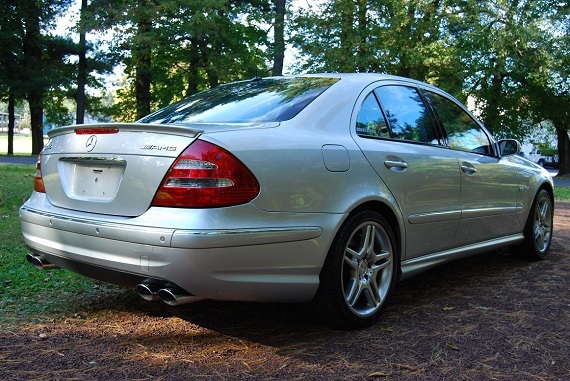 Year: 2003
Model: E55 AMG
Engine: 5.4 liter supercharged V8
Transmission: 5-speed automatic
Mileage: 89,988 mi
Price: $14,900 Buy It Now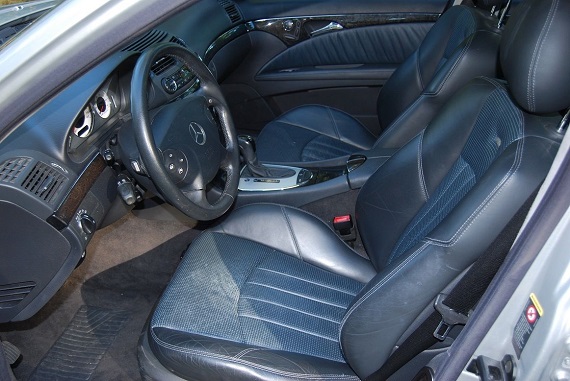 THIS IS A VERY SPECIAL 2003 MERCEDES E55 AMG SEDAN. ONLY 89K ORIGINAL MILES AND IN SPECTACULAR CONDITION!!! UNDER MERCEDES-BENZ CPO COVERAGE UNTIL A FEW WEEKS AGO, THIS CAR WAS BABIED WITH MAINTENANCE AND REPAIRS FOR ITS ENTIRE LIFE, SO EVERYTHING WAS DONE AT THE BENZ DEALER. NOTHING NEEDED EXCEPT A NEW OWNER, IT'S PRICED RIGHT AND IS READY TO GO. Please read on to find out more. — Here she is in all her glory —
Please let me stop you now if you are looking for an inexpensive, needy, or average E55 like most of them for sale. This is not that car. I am hired by clients to buy over forty AMG and 600-series Mercedes each year, and I can tell you there is ONE thing I look for: a car with an excellent documented service/maintenance history. This is that car. On top of that, this E55 has had only three owners since new, and has all original body panels with only the rear bumper and trunklid being professionally refinished (and verified) in its 13 years on the road. It looks GREAT inside and out. Please understand, with these cars, you get what you pay for. I paid top-dollar to get this car, because it was better than every other E55 I looked at for its combination of price, cosmetics, and mechanicals.
Here's the deal:
— This is a 2003 E55 AMG sedan in 744 iridium silver metallic over charcoal/blue two-tone leather interior, with matching black carpets and dark grey alcantara headliner. It has root burlwood interior trim. It is a three owner car, dealer serviced, has only 89,xxx miles (less than 7K miles per year), and looks like a million bucks. This car was LOVED, and it shows. There is nary a ding, dent, scuff, or scratch anywhere…it's unreal. —
— Exterior 9.75 out of 10 – Fantastic overall condition paint, body, glass, and trim. No dings. No dents. No scuffs. No scratches. This E55 looks amazing, with a deep shine to the silver paint that's like looking into an endless mirror. This car has been paint metered and every body panel is original and wears its original paint except for the trunklid. This car looks great even under fluorescent light in a garage. Imagine getting a 13 year old car with no swirl marks or spiderwebs in the paint….amazing! — The lower side-body moldings are in great shape. The chrome, rubber, glass, and trim is all excellent and original. No oxidation, fade, wear, rust, etc. as you'd expect on a thirteen year old 89K mile car. Look at the body panels…..they are laser straight. —
— This E55 is nicely optioned, with an original MSRP of more than $80K! Options include multi-contour heated front seats, four-place HVAC controls, parktronic, moonroof, and more. Even a painted decklid spoiler. Wow! —
— It currently wears its OEM 18" alloy wheels, all true and in excellent condition with some curb marks. The tires are about worn out, so at the BIN I will replace them with a staggered set of Nokian zLine tires, brand new with 100% tread remaining. It goes arrow-straight down the road at high speed with no shimmy, pull, or anything else. —
— Interior 9.5 out of 10 – The interior overall including all seating and door leather, seat padding, dash, console, wood, and carpets are in great original condition. No dash cracks, carpet rips, etc. Everything looks and feels great. This is not the typical worn E55 – this car was garaged every day of its life and it shows. No refinishing either, this is the ORIGINAL UNTOUCHED interior, without even any type of detailing, just a wash and a vacuum off the truck from PA. —
— The door panels and wood trim are also in great shape, like the rest of the car. —
— Now to the recent inspection results and service. This E55 had some seepage from the rear main seal, sway bar links were worn, and the front stabilizer bar and mounts were worn, and it needed tie-rod ends. Everything was done, and done within the last week and 20 miles. Awesome! –
— The service history is great, extensive and documented all at the MB dealer. Airmatic struts, supercharger belt tensioner, TCU, parking sensors, pilot bushings, fuel pump, oil changes, A&B service, filters, and more were all done. That's THOUSANDS OF DOLLARS of work at the MB dealer. This means there is nothing for the next owner to do, it's all been done already. HVAC system is fast to respond, and operates perfectly. Seat heaters both working properly. —
— Mechanical 10 out of 10 – Engine starts, idles, runs, and revs to redline in every gear smooth and strong. Transmission is smooth yet very aggressive, and downshifts eagerly to catapult you into the next county. No abrupt engagement, just silky smooth shifts. She runs at high speed with no vibrations or noises. There are no leaks….NONE. —
— This E55 has passed two separate inspections with flying colors. A pre-purchase overall inspection with paint meter and test drive, and two full mechanical inspections by high-end shops. After his final and thorough inspection for any problems, after all the work listed above was done, she's ready to roll. —
— Engine is VERY VERY strong and VERY eager to run, transmission smooth and ready to drop down two gears at your command to rocket you past slower traffic. Brakes are solid and pedal feel is firm. Suspension is tight like new, no worn tie rod ends, ball joints, struts, or anything else. Steering nicely weighted with no play in the box. ZERO leaks or noises. This car drives and handles like new. Look at the condition of the engine bay! –
— This E55 comes with books, two remote keys, floor mats, carfax, and EVERY SINGLE MB service record since new, all the way back to day one! No expense spared maintenance and repairs. —
— This E55 does not have any signs of wear, no rubber rot, no leaks, no airmatic problems, no lukewarm A/C….NOTHING. Everything is in fantastic shape, and at only 89K miles, it's not even close to broken in yet! With these cars, it's always best to buy the nicest one you can afford, because in the long run a better condition higher maintained car will ALWAYS be less expensive to own. —
— At asking price I will include the following: the new Nokian zLine tires mentioned above, alignment, floor mats, a full $200 detailing including engine bay, carpet shampoo, leather conditioning, orbital polishing, etc. I'll also supply Toughguard protectant for the paint, which you have to see to believe. It will bead water, seal, and UV protect the paint for FIVE YEARS, GUARANTEED….no future waxings necessary. I know it sounds like a B.S. late-night TV claim, but it's not; dealers charge $695 and up for this stuff, and it really works. I will also include touch-up paint. That's close to $1500 in value! — — Nits: A few marks to the wheels, a small thin crack/scuff line to the rear plastic bumper cover, and a few tiny stone chips on the nose. THAT'S IT! I know it sounds ridiculous to have a mechanically and cosmetically near-flawless car with 89K miles on it, but there it is. The car is as perfect as you will ever see for a 2003 E55, and you'll likely never see another one like it! —

— I have great feedback, and have recently sold dozens of high-end cars that the new owners are thrilled with. They and others have offered to act as references to verify that I am honest in my descriptions of the cars I sell, and you are welcome to contact them. —

THIS IS A ONCE-IN-A-LIFETIME CAR, AND IT'S AN UNBELIEVABLE DEAL!!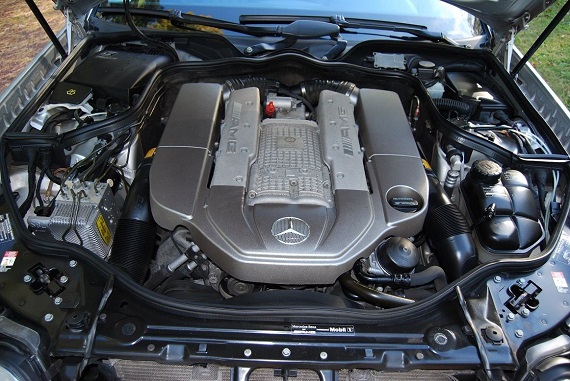 Visually, the W211 was a nice followup to the W210, too. The E55 was always the best looking of the bunch, and a softening of corners, smoothing of lines and accentuating of curves in just the right spots created a great looking package. The brute force you knew was at the beckon call of your right foot was matched by butch good looks; the wheels, stance and subtle nature that had made the E500 a desirable package were retained here.
The seller of this car is a well known fixture in both Mercedes-Benz and Audi crowds, but while some dealers have gained a reputation for misrepresenting their products, the opposite is true here. The seller consistently produces top notch, no excuses cars, and that's not an exception here. The Iridium Silver gleams, and the neat two-tone black/blue interior looks overall to be in excellent condition. Mileage is below average, and the seller has also taken great care to not only depict the condition of the car but to correct any outstanding flaws. It's not a new car, and there is some minor wear present, but it's certainly within reason and the overall presentation is top notch. As Andrew has noted in previous posts about these 2000s Mercedes-Benz products, you get what you pay for in these cars. You'll be able to find a cheap example, no doubt. But if you're serious about the very serious performance on tap from these E55s, buying a top-tier example like this will offer you the sports car-embarrassing performance without the worrying question marks of getting a poorly maintained, higher mileage one.
-Carter