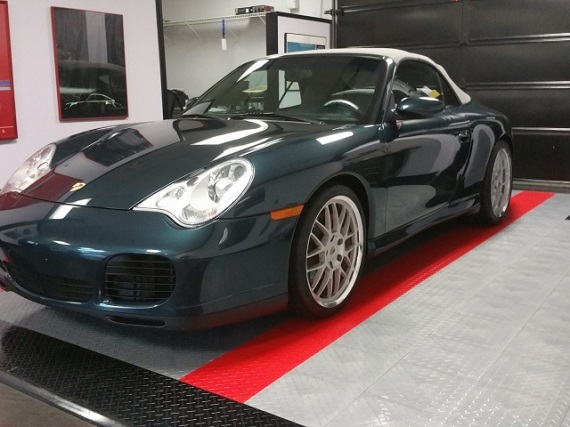 This will be a rare feature for us, but like with most 911s I'm always curious to see colors and color combinations that I don't come across often. With the 996, because of their generally lower appreciation among 911 fans, coming across those diamonds in the rough proves more rewarding since it provides an opportunity for an interesting 911 – something that will stand apart from the crowd (and there are a lot of 996s out there) – while still paying relatively reasonable prices. The one we have here, a Dark Teal Metallic 2004 Porsche 911 Carrera 4S Cabriolet with just 22,700 miles on it, would rank as the top-of-the-line non-Turbo 911 of its day yet now commands an asking price just under $40K. Even if not the prettiest 911s around that's still fantastic bang for the buck. Following the trend that began with the M491 package in the mid-80s, the 4S basically is a 996TT in body and suspension, but with the standard naturally-aspirated 3.6 liter flat-six. So you don't get quite as much power as the Turbo, but the appearance, stopping power and cornering are all on par and with 320 horses on tap the straight-line performance is still plenty attention grabbing.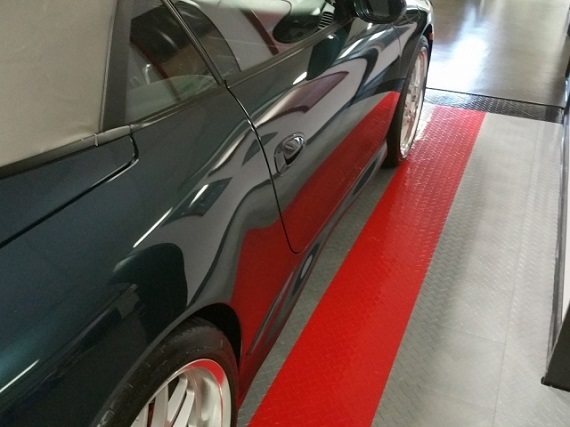 Year: 2004
Model: 911 Carrera 4S Cabriolet
Engine: 3.6 liter flat-6
Transmission: 6-speed manual
Mileage: 22,700 mi
Price: $39,900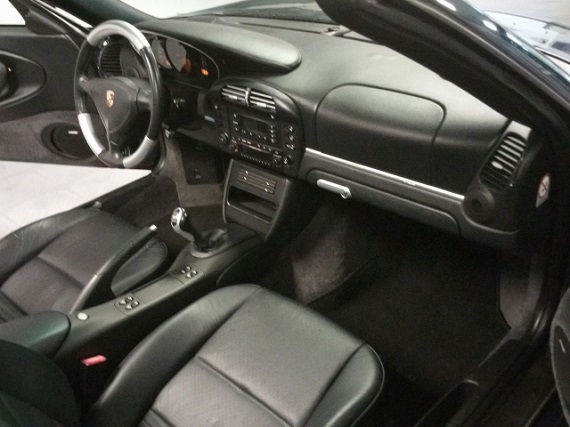 2004 Porsche Carrera 4S cabriolet. Incredible condition, inside/outside/and compartments. Special order Dark Teal Metallic with graphite full leather interior (in super condition) and gray soft top. 6 speed manual transmission. 22,700 MILES! And of course the iconic 19″ Champion wheels with good Michelins.

This car earned a raw score of 98 points in a recent local car show–on a 100 point scale. I have cut, buffed, and trimmed this car out to a superb shine.

This is a Southern car since new, with clean Carfax and Autocheck histories. I have put it thru our best local indy Porsche Geek shop for a presale inspection, and got a big thumbs up–no RMS, IMS, or top issues. I also did a fresh oil change (just to confirm the IMS), as well as an alignment, brake fluid flush, new belt, and hood strut replacement. In addition to the obvious good stuff, it has several other desirable options: Porsche crest in headrests, small aluminum package in interior, on-board computer, power seats both sides, premium audio with factory CD changer under hood, litronic headligts, stainless steel door door sills, three spoke steering wheel with detailed crest, hand painted wheel centers, and more. I do have all the books, manuals, as well as the convertible wind blocker (make sure the ones you look at have this–the thing sells for hundreds of dollars!) . There is not a curb or changing mark on a wheel–I just had them all refinished to perfection. It is also ding and scratch free, gone over by our best guys. It still smells like a new 996 when you open the door. She is of course professionally detailed by a concours winner and judge (me!) and on my indoor showroom.

But of course the most desirable feature is the wide body Cabriolet. The most recent issue of Porsche "Excellence" Magazine has rated this a super desirable Porsche, and shows the "excellent" value on this car at $45000, well more than my price. The 996 is a great Porsche–comfortable, AC that really works, reliable, and not expensive to repair. This is a really desirable example–don't miss an opportunity!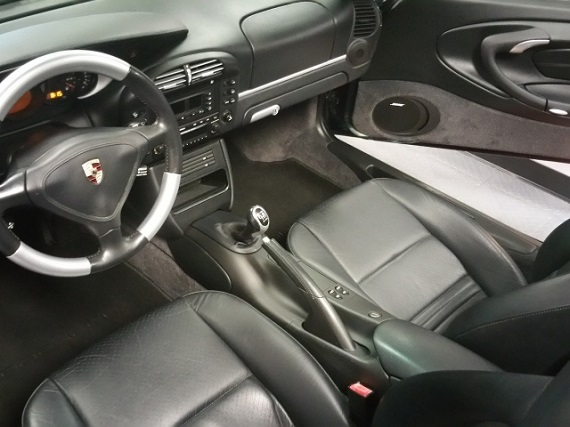 While I know green isn't always the most popular exterior color on 911s, among the sea of silver and black 996s that we see this one at least sets itself apart. The general condition of the paint looks very good and we find similar quality in the interior. Given the very low miles and that it's only a little over 10 years old, that's the sort of thing we'd hope to find. While the impulse here won't be toward viewing this as a collector it would still be useful to know this 911's history and its documentation. At the very least, we know that as a southern-only car it should have been spared from much of the ravages of the northern climate.
Fans of open-top motoring may be hard-pressed to find comparable options, especially among 911s. The C4S provides a wealth of sure-footed performance and even though it won't be as pure as a rear-drive setup, Cabriolet shoppers aren't necessarily looking for the purest driving expression possible. It's about enjoying the elements, but without too many compromises to performance. That's more or less what the C4S does, especially when equipped with the 6-speed manual as we see here. At just under $40K the price is about what we expect given the mileage and certainly isn't unreasonable. While you could argue that this price gets mighty close to that of the Turbo, you certainly won't get a Turbo with this few miles. And a Turbo Cabriolet would likely require even more. Could you find a comparable example with more miles for less money? Sure, but for not too much more here you can get a prettier one and spend time putting those miles on yourself.
-Rob