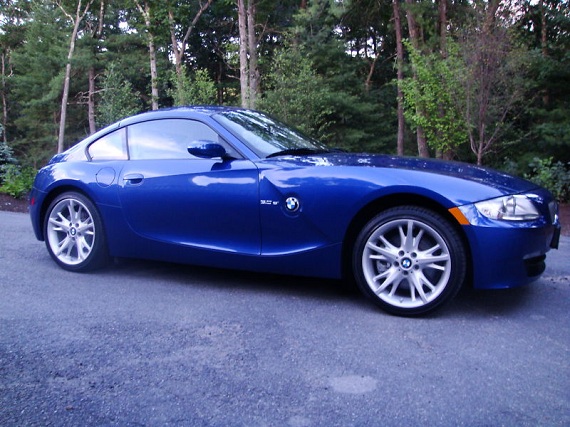 Recently, Rob wrote up a pristine and well priced Z3 M Coupe and hinted that this will be a future collectable. I have to agree; they're rare cars to see, they had a neat design, great driving characteristics and the limited production numbers guaranteed exclusivity. Like Rob, I remember well my first drive in one of these Z Coupes; it was a Imola Red Z3 M Coupe and the BMW rep said to me "I just ate my lunch, so don't go crazy, okay?" It was a fun rocket ship in a clever package that looked like it wanted to beat you up. Great, so go grab one and wait for it to appreciate, right? Well, not so fast; while the M versions of both the Z3 and Z4 were quite desirable, there is a slightly less traveled road to take if you care to speculate. Welcome, then, to the quite rare non-M versions of both the Z coupes; today we're looking at a Z4 3.0si Coupe and a Z3 2.8 Coupe. Let's start with the Z4: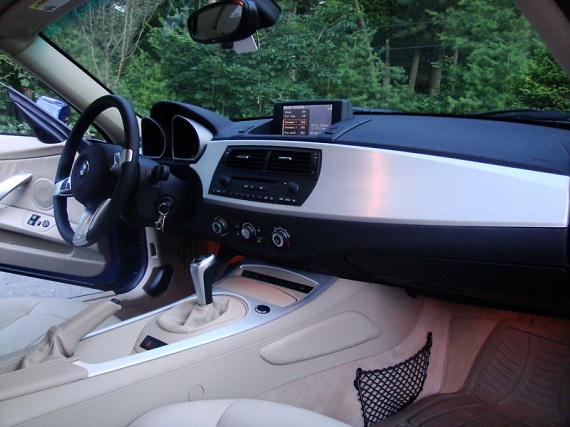 Year: 2008
Model: Z4 3.0si Coupe
Engine: 3.0 liter inline-6
Transmission: 6-speed manual
Mileage: 33,000 mi
Price: $26,900 Buy It Now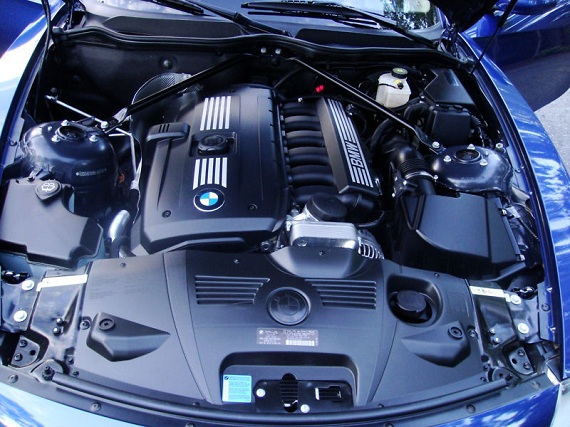 The 2008 BMW Z4 roadster comes in three models (3.0i, 3.0si, and M), and coupes come in two trims (3.0si and M). Each trim brings different engines underhood. The 3.0i is powered by a 215-horsepower, 3.0L in-line six-cylinder engine, while the 3.0si gets a more powerful, 255-horsepower version of the 3.0L; both have Valvetronic variable valve lift. The top-of-the-range M includes a 330-horsepower, 3.2L six. All three models come with a six-speed manual gearbox, but a six-speed Steptronic automatic transmission with steering-wheel shift paddles is optional on the 3.0i and 3.0si.Roadsters have a fully automatic power folding soft top, with dual-layer material, an aluminum and magnesium frame for light weight, and a heated rear window.The Z4's proportions, with a long hood and a rearward seating position, allow for an excellent weight distribution and good dynamics for high-performance driving. The 3.0i and 3.0si models have electric power steering, while the M has a hydraulic power steering system. Coupes get a special performance-optimized suspension calibration, and all Z4s come with run-flat tires.Inside, the Z4's interior is rather tight, as can be expected from a small two-seater, but it is appointed with luxurious upholster and trim. The dash is trimmed in either wood or brushed aluminum; 3.0i models have faux-leather upholstery inside, while the 3.0si gets "High Performance" leather upholstery in one of four color schemes. The 3.0si also adds automatic climate control, and its top, THX-certified audio system has ten speakers, seven-band digital sound processing, and two subwoofers.M models get a number of high-performance improvements and appearance enhancements, including M Dynamic Driving Control, a system that allows the driver to change the characteristics of throttle response along with other variables. There's also a semi-dry sump lubrication system, computer-controlled variable differential lock, a heavy duty clutch, a performance-oriented version of BMW's dynamic stability control which includes dynamic brake control and cornering brake control, cross-drilled special-compound four-wheel disc brakes, and larger front and rear stabilizer bars. Inside, the M models also get Nappa leather seat trim with firmer side bolsters, automatic climate control, white-on-black gauges, a thicker steering wheel, and brushed aluminum trim.A Premium Package brings power sport seats with memory, auto-dimming mirrors, and Bluetooth, while a Sport Package includes Dynamic Driving Control (similar to that in the M), a sportier suspension, and larger 18-inch wheels. Standalone options include a headlight cleaning system, extended leather upholstery, a navigation system, M sport seats, and heated seats.

This is a one of a kind BMW Z4 coupe. There were only a few hundred BMW Z4 coupes imported to the US in 2008, and there are no known to be equipped with this color combination and this array of options.

I purchased this vehicle when it had 1600 miles. It was previously a demo vehicle for BMW corporate. For its life I have meticulously maintained this vehicle. It is not a primary driver in my car collection and typically has been driven only on warm sunny days at a vacation home in Maine. It has never seen snow and has only been rarely caught in the rain. Four new tires were placed at 30,000 miles. The rims were professionally refinished at this time as well to relieve minor scuffs. A full service oil change was conducted in August 2013. The exterior is in generally good condition. There are some minor paint imperfections due to road spray which is consistent with a car of this age and mileage. The leather interior is also in good condition with only minor wear consistent with mileage. There is no history of any accidents. I fully own the vehicle and possess a clean title.

I will provide 2 sets of keys, the original BMW Z4 manual in its leather case, and copy of the original window sticker. The buyer is responsible for shipping.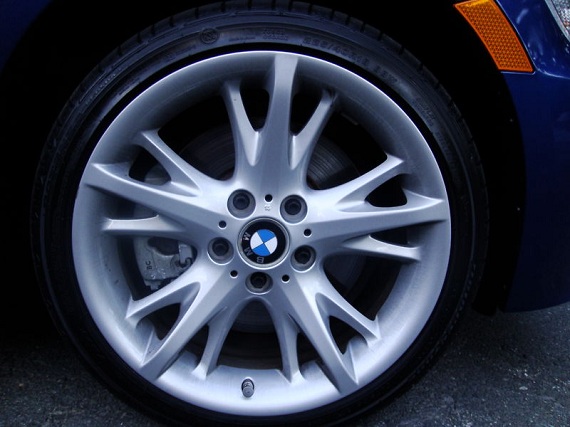 The first thing that stood out to me on this car were the wheels, and they grabbed my attention because I had never seen them, anywhere. Not only that, no one at GCFSB had seen them before. Personally, I love them! Top that off with a great looking and classic color combination and this is one seriously slick package. It seems like the owner has been very good to the car and is an enthusiast, providing some great information about the car. With low but not museum-low mileage, this offers a great opportunity to get into a seriously rare BMW. I've seen many more M coupes than I have non-M, something that I think could be said for most individuals. Driving this Z4 will let you fly under the radar without the M flashiness but still have a very rare and exclusive car. But perhaps if the fluid looks of the Z4 aren't quite for you, you'd prefer an equally rare bit of BMW history – a Z3 2.8 coupe: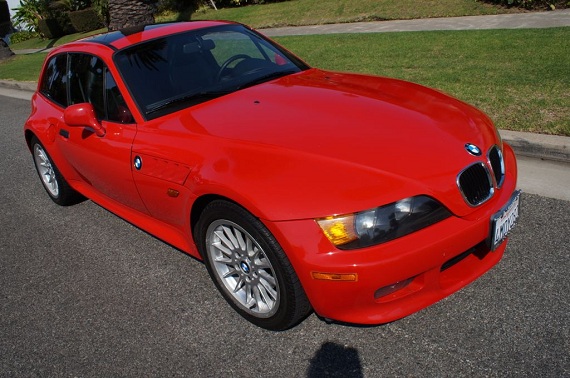 Year: 1999
Model: Z4 2.8 Coupe
Engine: 2.8 liter inline-6
Transmission: 5-speed manual
Mileage: 87,300 mi
Price: $17,500 Buy It Now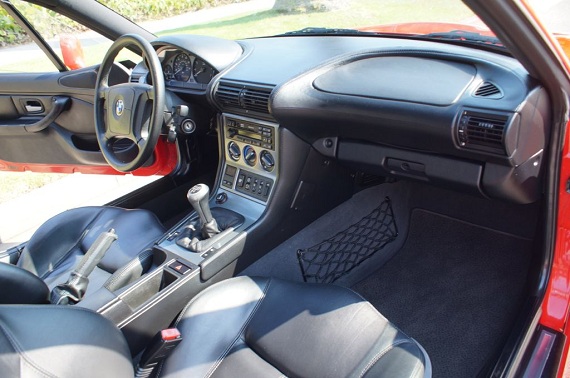 Please note that experience shows us that the photobucket of over 100 large pixel pictures posted here are in most cases best viewed and downloaded using the very latest and most updated version of the 'Firefox' browser as some other browsers and especially older browser versions are not capable of accommodating the size of the download. Over the years our clients have overwhelmingly been appreciative of our many unaltered large pixel photos posted in our ads and our feedback has been that it is very rare that a seller will post all but the most flattering of photographs. We prefer to expose the complete roll of film taken of the car, in sometimes unflattering but natural sunlight, in order for our prospective buyers to be able to see true and reliable images of the car advertised and that is the reason for some seemingly duplicated shots. We trust you will agree.

West Coast Classics are proud to present an absolutely exceptional example of this original southern California owner 1999 BMW Z3 2.8L 6 cylinder Coupe with 5 speed manual transmission, 2.8 liter DOHC 24 valve 6 cylinder engine with variable valve timing and with 87K original miles!

The BMW Z3 2.8 and M Coupes are highly desirable and collectible cars from the ultimate driving machine! Cutting edge performers in the revered tradition of the original GT 'Gran Turismo' sports cars. Right out of the gate the M Coupe attained 'Car & Driver's' "10 Best Cars Status" and 'Automobile Magazine' named it as both "Best Sports Car of the Year" and "Design of the Year" in the year 1999! With potent engines and unparalleled responsiveness both the M & Z3 2.8 Coupes delivered both head-turning looks and supreme driving pleasure. The original Z3 roadster was introduced in 1995 with the prototype featuring in the James Bond movie of that year but the rarer Coupe version with a chassis stiffening rear hatchback was introduced to much acclaim in 1999 with the Z3 Coupes only available with the largest 6 cylinder engine offered, the 2.8L in 1999 and 2000 and the 3.0L in 2001. The 2.8L straight six was primed to deliver true GT performance with 193HP which pumped out 0-60 in just 6.2 seconds! It was replaced in 2002 with the BMW Z4.

Purchased and primarily always serviced by original and only southern California owner at 'Terry York's Valencia BMW' of Valencia, California with all original dealer manuals and handbooks and copy of original window sticker and dealers brochure available! Finished in the beautiful color combination of 'Bright Red' exterior paint with an upgraded factory interior of Black Extended Leather interior with Aluminum Trim!

Standard Options include:

2.8L 6 cylinder Engine
5 Speed manual transmission
4 Wheel Anti Lock Disc Brakes, vented front
All Season Traction which controls wheelspin and enhances stability in low traction situations
Power Steering with engine speed sensitive assist
Driver & Passenger front & side airbags with differential deployment
Automatic seatbelt tensioners
BMW coded driveway protection – vehicle will not start without BMW coded owner keys
Cruise Control
Halogen Free Form Low Beam Headlights & Foglights
Non CFC Air Conditioning
Anti-theft AM/FM stereo cassette radio
Harman-Kardon Premium Sound System with 10 speakers & High Performance Multi Channel Amplifier
Central Locking System
Power Windows with one touch function
Electrically Adjustable Leather Sports Seats with matching door trim inserts
Leather Wrapped Steering Wheel and Gear Shift Knob
LCD Digital Clock

Additional Factory options include:

Convenience package:

Black Leather Extended Trim with trim glowing to the instrument panel areas, console sides, handbrake boot and upper door ledges for truly all encompassing luxury ($1,200)
17″ Radial Style Alloy Wheels ($1,125)
Aluminum Interior Trim Package with striking center note to console, steering wheel spokes, inside door handle surrounds, shift knob and instrument cluster ($150)
Power Glass Moonroof ($300)
Heated Front Seats ($500)
Luggage Net to keep cargo safely away from passenger compartment ($180)
On-Board Computer with range to empty, average speed, outside temperature, etc ($300)

Total Original Sales Price over $40K.

Recently purchased from original southern California owner with a clean CARFAX report with no history of any accidents! An obviously always babied and pampered example if there ever was one! The original factory 'Bright Red' color paint is in absolutely beautiful condition and the gorgeous extended Black Leather interior with Aluminum trim is also in beautiful condition with virtually no signs of any wear and all the options are working as they should including the ice-cold A/C!

The car drives exactly like such a well maintained and babied low mileage model should and must be seen and driven to be truly appreciated! The engine is extremely strong and as new with no oil leaks, the 5 speed manual transmission has a very smooth transmission through all the gears and the temperature always remains cool!

You will surely look long and hard to find a finer example of this original southern California owner rare 1999 BMW Z3 2.8L 5 spd Coupe for the ultimate BMW driving experience available anywhere else!

For further information contact West Coast Classics through EBay or on 310-399-3990 during regular California business hours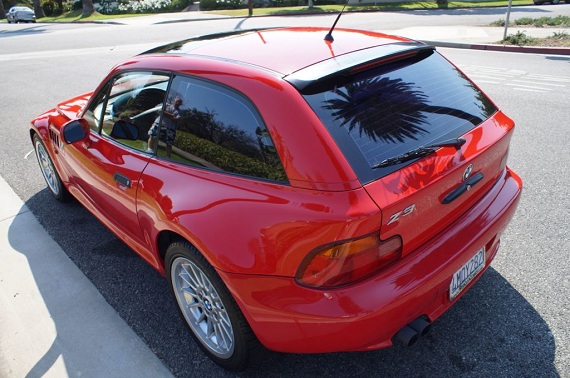 While I'm not a fan of the red/black combination of this particular example, there is no denying that this is a great looking car that is certainly unique. Similar to the Z4, I often see Z3 M Coupes but rarely see the non-M version. Loose the window tint and I really think this car would look a little more subdued. It is a great affordable package to have fun in, and if you don't rack up a ton of miles I think this car will retain value.
Keep these cars in their stock configuration, drive them on weekends and special events, and I really think they're not likely to cost you much money in the long run. Running costs of the non-Ms is a bit lower than the M models, and while neither will blow your socks off leaving the line, they're not exactly slow, either. The future owners of these pieces of BMW history will be enjoying a truly rare site, and I really think in another 10-15 years these will be highly valued; it wouldn't surprise me to see clean examples keep up with M values given their rarity. If it were my money, I'd pick up the Z4; I love the Z3s but something about that Z4 package really ticks the right boxes for me!
Which one would you have?
-Carter