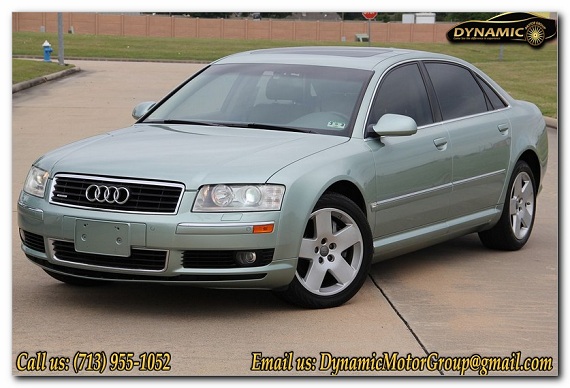 Today on 10K Friday we're going to look at how much luxury you can buy for around $10,000. Unlike last week's look at two sport sedans, today's cars are more focused at isolating their drivers from the proletariat. It's hard for some people to believe that on a Kia hatchback budget you can pick up a top-of-the-line German luxury car. But if you're a fan of the bigger German cars, it should be no surprise that at around 10 years old, the value on them falls; but it's a delicate balance between buying one that's new enough that it won't be a heap and buying one old enough that you can afford on a budget. Today we're going to look at one from each marque; a 2004 Audi A8L, a 2004 BMW 745i, and a 2004 Mercedes-Benz S500 4Matic. We'll start with the Audi EDIT: it appears the original A8 sold; I have updated the links to a similar 2005 with slightly more miles:
Year: 2004
Model: A8L
Engine: 4.2 liter V8
Transmission: 6-speed automatic
Mileage: 101,551 mi
Price: $9,990 Buy It Now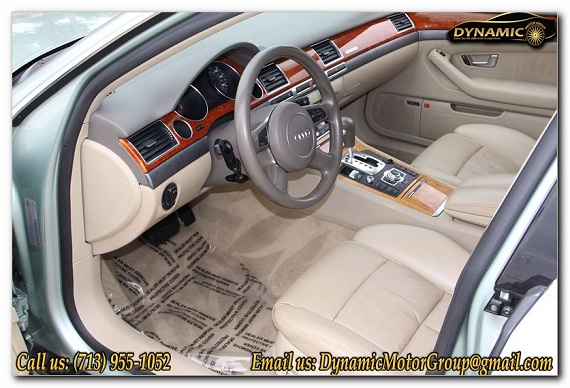 2004 AUDI A8L AWD Quattro. Beautiful Sparkling green color with tan leather interior. Nice and Sharp Looking loaded with most of the options. Texas Owner. Even with slightly high miles, it runs and drives awesome. Non Smoker. Equipped with Navigation, Heated Seats, Xenon Lights. Engine sounds great and transmission shift swiftly. I personally drove it for over 50 miles and checked the A/C, alignment, and Suspension. NO flood, water. Clean Texas Title with no lien.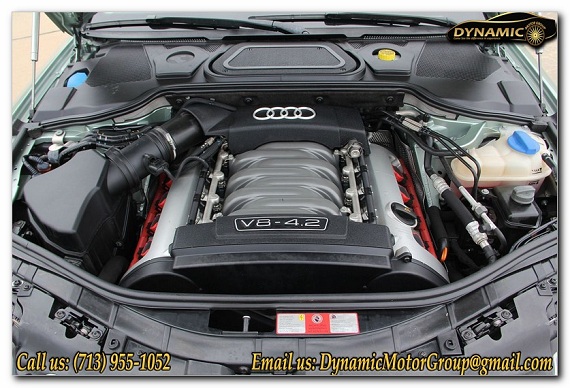 I have to say, I really like the light mint green, and that you can get into a D3 for under 10K. The interior on these cars is beautiful and well laid out; on the outside, while the D3 isn't as pretty to me as the D2 was, it's still quite a handsome car. I always felt the taillights were too large on this model, but like that this car does have acres of rear leg room. I haven't heard of D3s suffering the same transmission issues that saddled D2s, and with just over 100,000 miles, there should be plenty of life in this mill. The front bumper shows signs of some curb contact and in typical fashion the dealer has failed to replace a few little things that would dress the car up ($10 centercap, anyone?), but the one item that would concern me is the trunk lid seems out of alignment; these mostly-aluminum A8s need special repairs if they've contacted something hard. If the thought of a higher mile Audi scares you too much, perhaps the BMW is for you: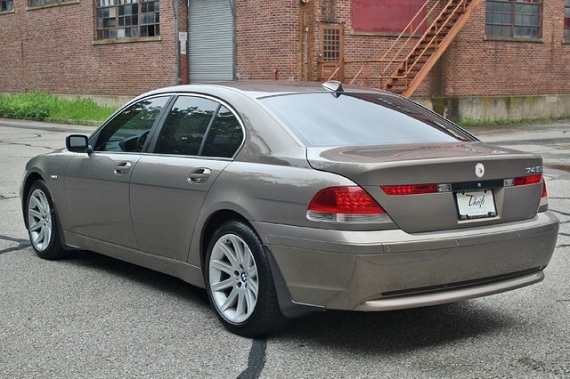 Year: 2004
Model: 745i
Engine: 4.4 liter V8
Transmission: 5-speed automatic
Mileage: 119,140 mi
Price: $10,995 Buy It Now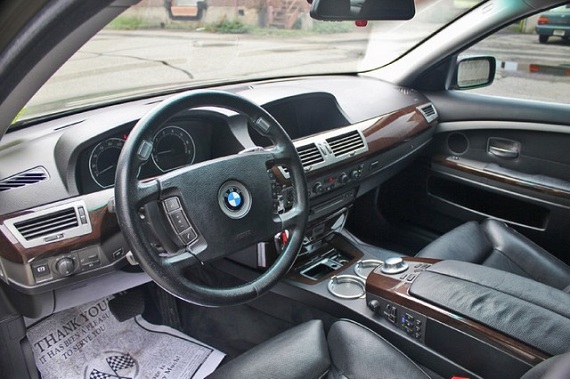 2004 BMW 7 Series 745i
04 745i-119K-SPORT PKG-LUXURY SEATING PKG-XM RADIO-PARKING AID-NAVIGATION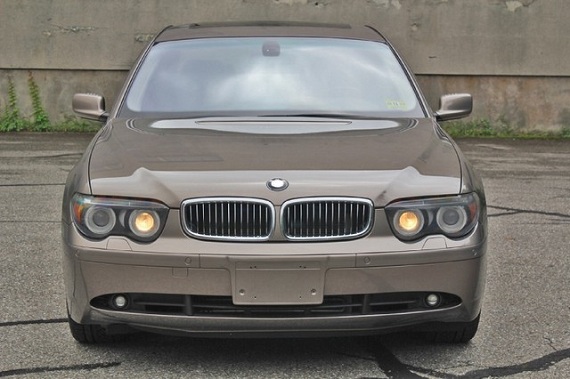 The E65 won't go down in many people's books as a great looking car, and few would argue that it's really good looking; but, it is stately and it's hard to argue with the combination of a sport and luxury. This particular car was pretty well optioned with the sport package, cold weather package, luxury package, park distance control, and upgraded wheels. Kalahari Beige looks quite nice without dating the car too much. The interior is less well laid out than the Audi but still pretty trick and full of gadgets you can (and will need to) play with all day. Like the Audi, the drivetrains in these cars were pretty tried and true, so with normal maintenance one shouldn't expect too many issues immediately. Bangle-era BMWs not your thing? Well, how about a Mercedes-Benz S500 4Matic: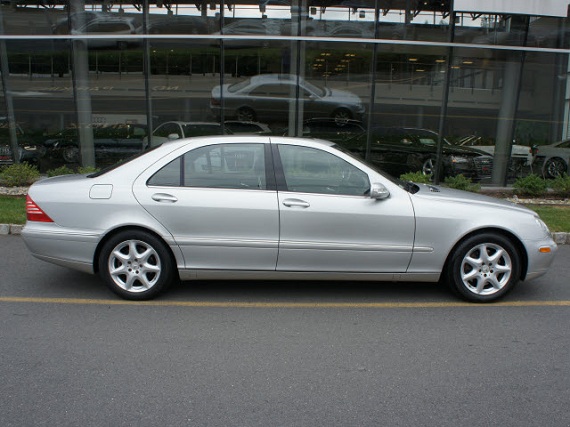 Year: 2004
Model: S500 4Matic
Engine: 5.0 liter V8
Transmission: 7-speed automatic
Mileage: 137,339 mi
Price: $8,863 Buy It Now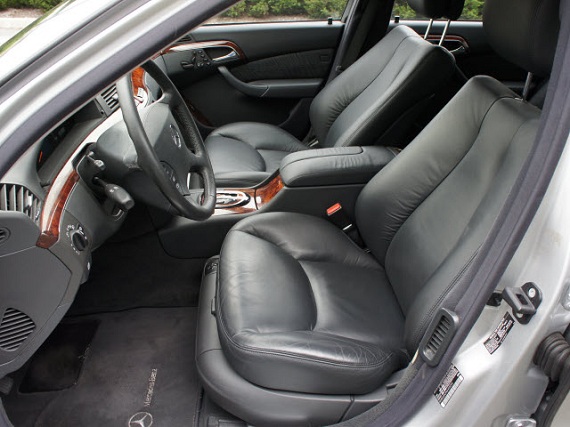 THIS MERCEDES RUNS,DRIVES AND BRAKES AS IT SHOULD.THIS CAR WAS INVOLVED IN AN ACCIDENT AND WAS CLAIMED TO BE TOTALED AND THE PREVIOUS CUSTOMER LIKED IT SO MUCH PURCHASED IT BACK FROM THE INSURANCE COMPANY AND HAD IT FIXED AS EVIDENT ON THE AUTOCHECK REPORT.THIS CAR DOES HAVE A SALVAGE TITLE AND IS BEING REPRESENTED THAT WAY….THIS CAR IS BEING SOLD AS-IS NO WARRANTY EXPRESSED OR IMPLIED.THIS CAR HAS NOT BEEN THRU OUR SHOP AND WE RECOMMEND HAVING IT CHECKED OUT BY AND OUTSIDE GARAGE…..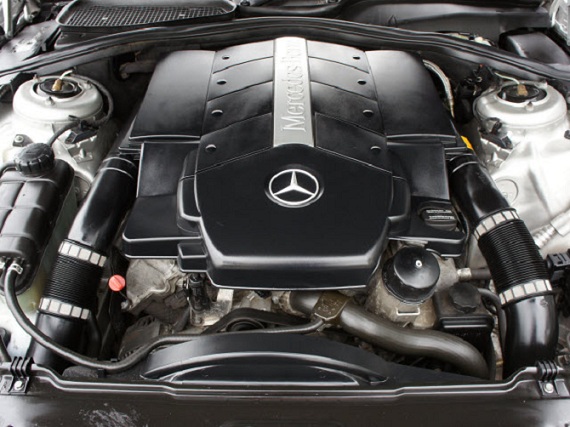 Although this S-Class is the cheapest car here and sports the largest motor, there are items that give me pause; chief among which is the salvage title. However, repair costs on these cars "by the book" are sometimes so high, it's not unusual to see totaled cars without tremendous damage. Provided it checks out, I'm not sure the title would scare me away as I don't think this is a long term keeper anyway. The mileage is also higher than the other two, and like the E65, the W220 isn't high on the "favorites" list of many enthusiasts. Despite this, they're pretty solid cars that will quietly whisk you away from your daily grind.
Were it my money, hands down it would be the Audi. More power and lower weight than the Mercedes, less technologically dependent than the BMW, and better looking than both, to me that's the winner of the group. Which one would you like to show off in?
-Carter