Warning!
This post is in our archives. Links in this post may have been updated to point to similar cars available to bid on eBay.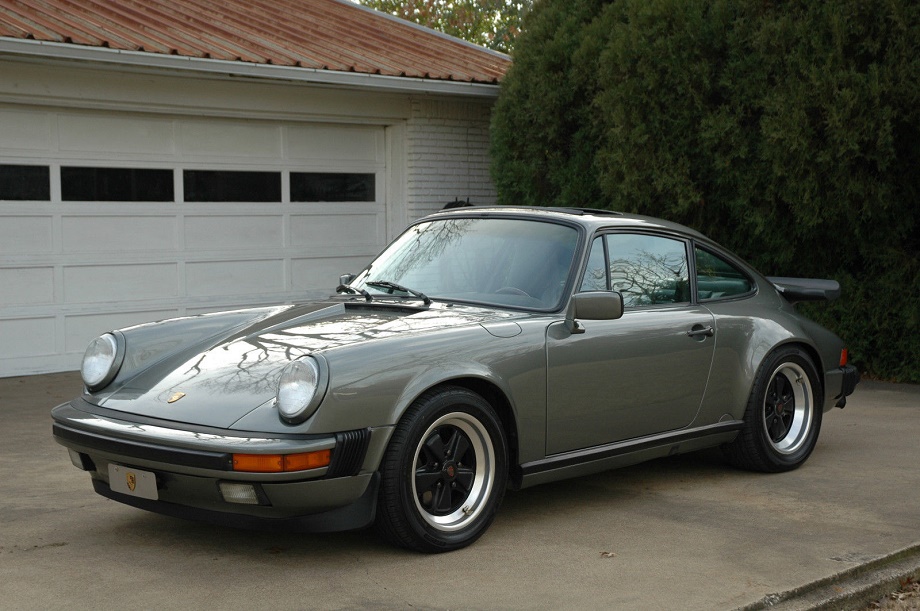 We sometimes can be a bit hard on cars with very low mileage. Why buy any car – especially a performance car – to park it in a garage and treat it like a museum piece? Or some ornamental furniture? It seems wasteful. This 911 has suffered from no such stagnation. It has almost 250K miles on it. While that's still not a ton of miles per year, it is a good bit more than most 911s we see. It's been enjoyed. It has stories; drives bringing its owners excitement, and perhaps even some heartache whenever it was sold. It's also damn good looking and sitting mostly in its original specification of Granite Green Metallic over a Grey-Green interior. All of this beauty is on auction with no reserve. We really can't ask for too much more with any 911.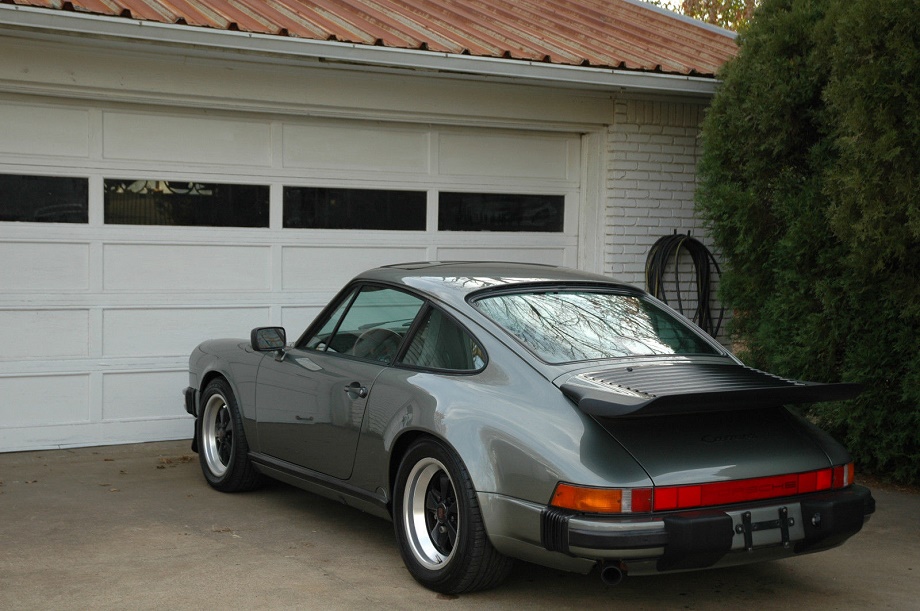 Year: 1987
Model: 911 Carrera
Engine: 3.2 liter flat-6
Transmission: 5-speed manual
Mileage: 247,000 mi
Price: Auction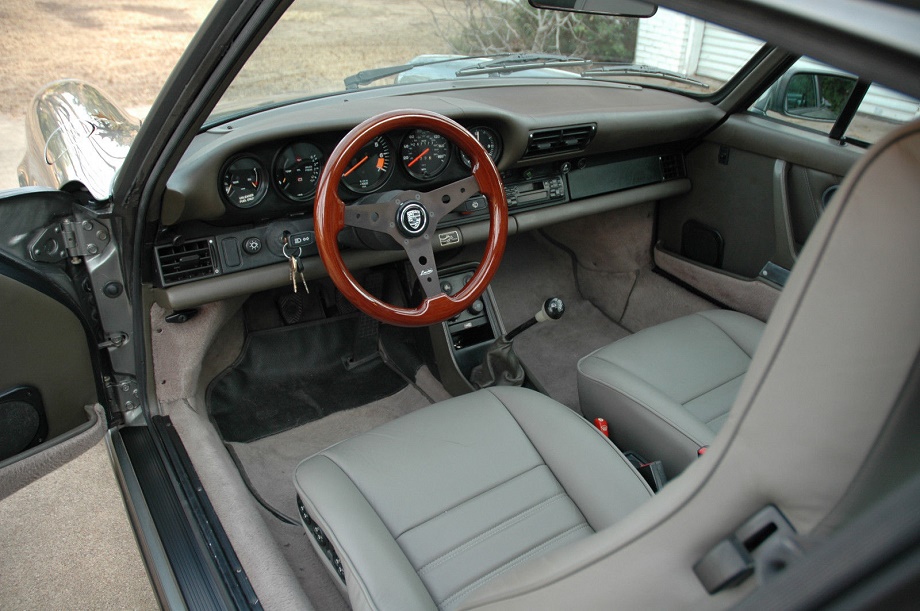 NO RESERVE G50 coupe, Granite Green, all original, books, window sticker

This is an all original 1987 Carrera G50 Coupe in rare Granite Green/green interior selling at NO RESERVE. This must be the best example of any 911 I've ever seen or driven with this mileage. The car looks and drives as if it had 50k miles. It's remarkable. The car presents absolutely beautiful with the gorgeous and rare Granite Green color that was completely and professionally repainted in 2009 by the Porsche dealership, at no expense spared. This has to be one of the very best paint jobs I've ever seen. I would rate the paint on the car a 9.8/10. I cannot find a single scratch, ding, or imperfection to the paint. It was done to the very highest level, bar-none. And the color and shade is spot on. The fit and finish on all body panels is factory perfect. Period. All panels are original to the car (with VIN stickers) with the exception of the decklid which was tapped into by the previous owner in a parking lot and had to be replaced. When the car was repainted at Porsche, Porsche also replaced most all rubbers and seals. Again, it's near perfect. The correct ride height stance along with the optional mega-desirable wide Fuchs wheels (7 and 9s?)make the car look outstanding and near mint.

The interior is absolutely original minus the steering wheel and the radio (original steering wheel included!). The entire interior is optioned in rare Granite Green leather. The front seats were professionally recovered in leather a few years ago. The vintage Sony radio still works well and still plays music through all the original speakers. The sunroof seals were replaced not along ago. Opens up flawlessly. Most the functions work on the highly optioned 12-way seats, but some of the positions don't work and will need to need get the switch replaced. Lights work as they should. All glass is still original, even the front windshield is still original. The original dash does have a crack down the middle. Mechanically the car drives amazing. It has been serviced regularly throughout it's ownership. It starts up immediately, no smoke, no leaks, no hesitation, and very powerful. I was told the engine was fully rebuilt. The G50 gearbox shifts smooth as butter in all gears. Brakes excellent. You can rev-match the gears effortlessly on downshifts. The underneath of the engine looks very clean too. The front trunk and underbody looks near new. Absolute zero rust or major dents on the underbody. Always in a dry climate. Never any major accidents except the light tap on the decklid. The car is accompanied with it's original toolkit, spare, Porsche air compressor, Original WINDOW STICKER, options sticker, books, and complete file of service receipts dating back to 1993. This truly is one of the best condition driver G50 coupes on the market that comes complete with history file and mega options. The advantage of this car is you can jump in and enjoy the car, not worrying to keep the mileage low and it still looks like a spectacular 40k mile car. G50s are some, if not, the best Porsches ever built. They have stood the test of time and have guaranteed owners years & years of pleasure due to their outright build quality. It was truly the last of an era. I have a free and clear title. I have many more high resolution pictures of the car that I can send. Please feel free to ask any questions you have and remember this car is selling at NO RESERVE, so bid to win!

The factory options from the original window sticker

MY 1987 Porsche 911 Coupe

-Granite Green metallic $715.00

-Lthr/Lthtte belt-Grey Green $1412.00

-Steering wheel with Raised hub $52.00

-Radio "Reno" $133.00

-Central Locking system $309.00

-16-inch forged alloy wheels $624.00

-Full power seat left $390.00

-Full power seat right $507.00

-Automatic speed control $365.00

-Sport shock absorbers $247.00

-Lumbar support- right seat $422.00

-Alarm system $222.00

-Lumbar support- left seat $422.00

-Electric sunroof $1092.00

-Luggage compartment blk velour $139.00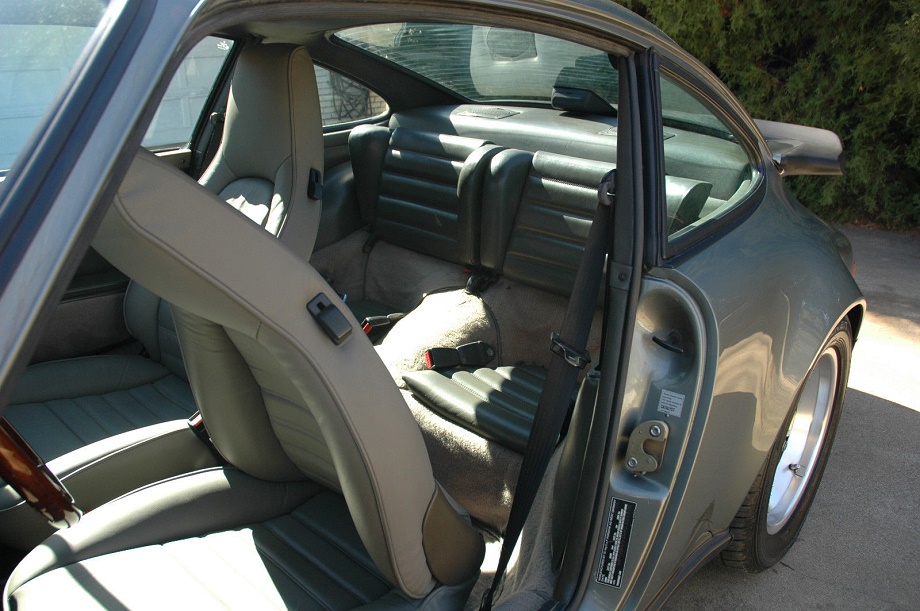 When I was looking through this ad the very last thing I looked at was the mileage. I was shocked. Nothing I had seen or read led me to believe this 911 would have over 200K miles. Given that it's been repainted and the interior reupholstered, perhaps I should have expected higher mileage, but the overall condition really didn't suggest anything of the sort. This is a good thing. This 911 looks nothing like most other higher mileage examples I've come across. At the very least that should provide a degree of peace of mind to prospective buyers. It's not perfect. The seats don't look like they're quite the same color as the original green. The doors and rear seats both appear to be darker. I also don't like the wood steering wheel, but that's an easy fix. Otherwise? It looks good!
As with most 911s, and especially those with this kind of mileage, you'll want to have a thorough perusal of any available documentation. The seller says he was told the engine was rebuilt, suggesting documents for that rebuild are not available, a point that stands somewhat at odds with the statement that complete service records dating to 1993 come with the car (unless the engine was rebuilt prior to 1993, which would seem unlikely, though not impossible). Hopefully something about the rebuild can be determined since it'd be nice to know just how long ago it occurred. Given the mileage, it's possible it was a while ago.
Issues of documentation aside, this 911 looks in really nice shape, a G50-equipped 3.2 Carrera is fairly desirable, and I'm betting it's led a fairly joyous life thus far. On offer with no reserve we can feel confident it'll find itself in a new home and hopefully with a new owner who can continue to enjoy it. Maybe even for another 250K miles!
-Rob