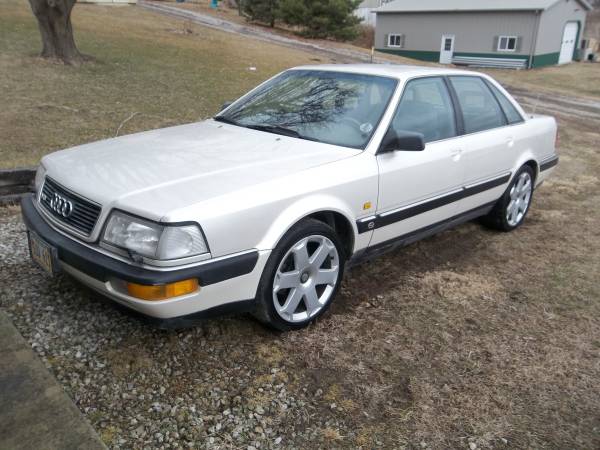 Like the closest counterparts, the BMW M3/M5 and the Mercedes-Benz 190E 2.3 16v/500E, the Audi V8 quattro has long enjoyed a cult following. Unlike those other cars, though, finding a decent V8 quattro these days is quite tough. First, not many were imported – a few thousand may sound like a lot, but it's less than the total number of E30 M3s imported, for example, by a long shot. By the time they got to their last production year, only a few hundred of the super-sedans were imported. Second, because they're complicated, older cars that lost a lot of their value in the 1990s, many fell into states of disrepair. Over its short life, the Audi V8 underwent numerous changes; from the introductory options of automatic or manual, the 3.6 liter quad-cam all-aluminum V8 pumped a respectable 240 horsepower but by the end of the run the automatic-only 4.2 liter displacement bump resulted in nearly 280 horsepower. Sure, that's small potatoes today, but outside of the limited Sport Quattro, these were the most powerful production Audis made before 1995. Today we'll take a look at two of the more desirable models for different reasons – a 3.6 5-speed and a late 4.2 model, both Pearlesant White with Grey Connolly leather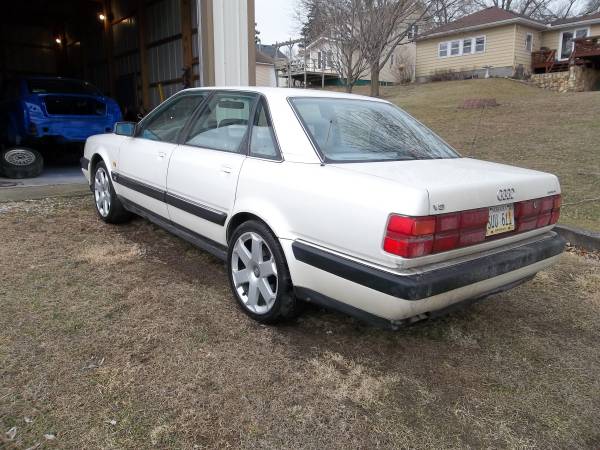 Year: 1991
Model: V8 quattro
Engine: 3.6 liter V8
Transmission: 5-speed manual
Mileage: 184,000 mi
Price: $5,000 Buy It Now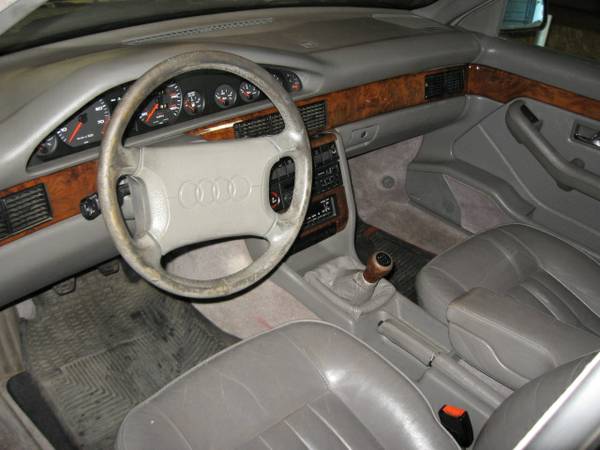 Legendary V8 quattro. One of 72 with Very rare 5 speed manual transmission. 32 Valve V8 runs great with new timing belt service done. Two torsen differentials, one in center and one in rear so unstoppable in snow and ice. Bought from original owner 3 years ago, very nice condition. Paintless dent removal took out all the dings. Heated front and rear seats, cruise works, AC works, sunroof, seat memory, rear sunshade, headlight wipers, heated mirrors and windshield washer nozzles, heated door lock. Rare Conolly leather seats. Pearl white paint, gray interior. 3500 V8's were built from 1990-1994, but only 72 were made with the 5 speed. This car was appraised by an antique car appraiser at $5000 with a prediction that it could double in value in the next decade.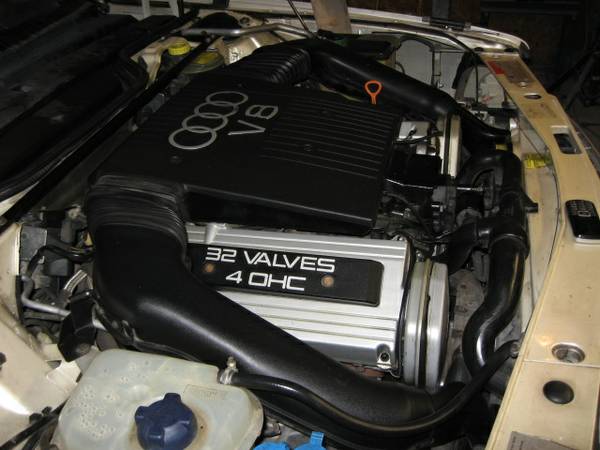 Our reader John and I have a email chain going back and forth, sending each other V8s. While I was the first to spot the 5-speed from this seller, John was the one who actually called and found out the seller had not one, but three V8 5-speeds in varying states of repair. This is the nicest of the trio, which despite the higher miles presents well. Unlike more recent Audi V8s that have people scared between chain tensioners and carbon buildup, these early V8s are more simple and generally run like clocks once you have all of the problems fixed. I got over 250,000 miles out of mine and it was still running before the hydraulic system let the car down. Though I like the Avus B6 S4 wheels, I don't think they're the best match for the early cars and I'd probably opt to run the original BBS RZ wheels were this car mine. $5,000 seems like a fair bit of money for an older, smaller displacement Audi V8 these days, but pickings in the 5-speed market are quite slim and while you might find one cheaper, finding one complete and without major refit needs ultimately will save you money. The 5-speed V8s are the only Torsen/Torsen quattro drivetrain that came to the U.S., and those that have driven these cars in the snow still marvel at how good that combination is, this author included.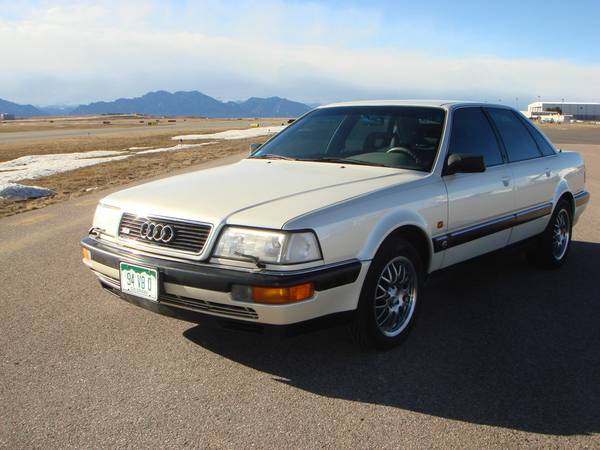 Later in the run, the options slimmed down on the V8. There were less colors available, the sunshade and quattro-script rear window went away, and it received the updated climate control unit along with some minor changes to the dashboard. Heads and headers changed along with displacement, but the PT and ABH-code motors are generally pretty similar. The ABH definitely felt stronger with the bump in displacement, though it was only available in automatic. Audi went away from it's discrete "no badges" look to proudly display both quattro and "V8" badges front and rear on the 4.2, along with a plate on the front of the motor boasting displacement. Other changes that weren't noticeable immediately were the brake changes – from the floating rotor "UFO" brakes of the early cars, the 4.2 now ran twin-piston Girling G60 brakes just like the S4. The exhaust and transmission were also revised, and generally the 4.2s seem to experience less transmission issues from overheating than the early cars. BBS wheels were standard as was Connolly leather on all of the 4.2s.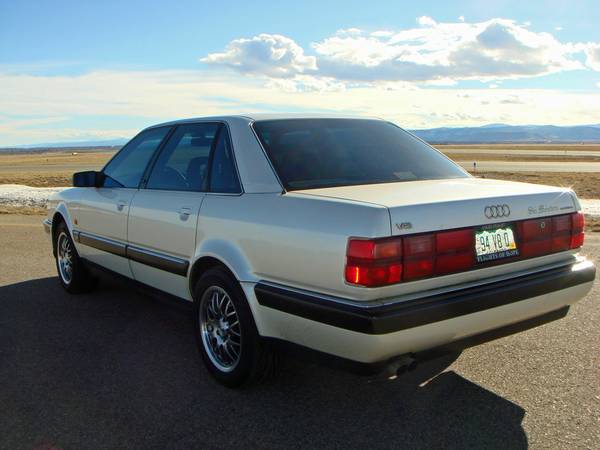 Year: 1994
Model: V8 quattro
Engine: 4.2 liter V8
Transmission: 4-speed automatic
Mileage: 152,400 mi
Price: $3,999 Buy It Now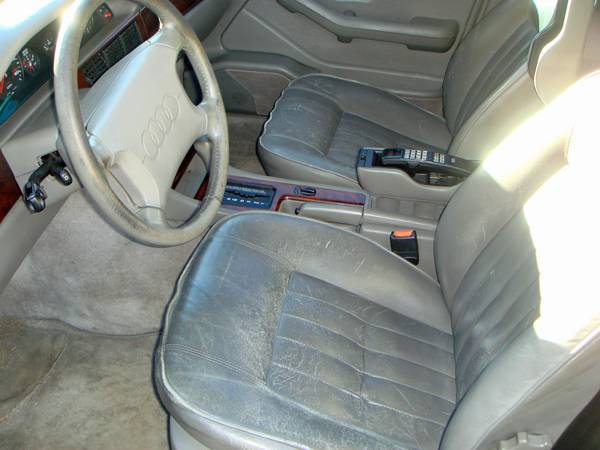 This rare low mileage V8 Quattro has been in dry Colorado since 1996. My wife's car, it was purchased it from the second owner in 2004. It averages 24 mpg highway driving, and 16 to 18 mpg for short trips in town. The Quattro 276 hp drive train and the car's low center of gravity provide excellent handling on Colorado's mountain roads-It's a joy to drive! Please email or phone for details including complete summary of maintenance since 1997.

Thanks for looking!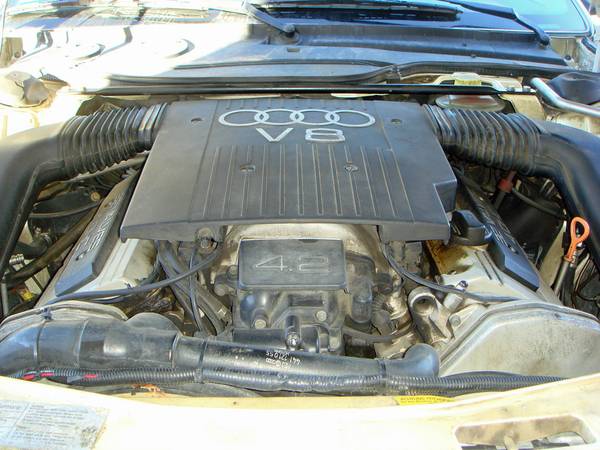 This example looks nice, but as with the first is missing the original wheels and the replacements look out of place. Also as with the first, the seller seems to be an enthusiast (witness the plate), and maintenance records – while not disclosed – are available. We've seen this car before in a V8 roundup, but the pricing really has dropped in line with where the market supports a reasonably good example of the V8. While not everyone's cup of tea, these cars offer great highway performance, a sporty yet luxury-biased ride, and a great burble from under the hood. The styling is also a great refinement of the Type 44 chassis, and even today a well presented V8 quattro holds a tremendous presence. If you want one, I generally feel that the later 4.2 is a better car overall but the original 5-speed sure throws a monkey wrench in that belief. Which would you prefer?
-Carter