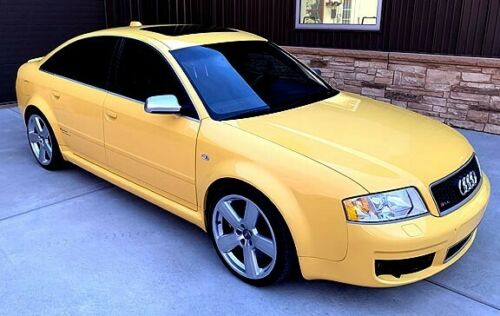 Well, if it's not evident already, you know why this one is here. First off, it's one of just about 1,200 RS6s imported. But the vast majority of those are black, gray, or blue. A little over a year ago I took a look at a rare one that wasn't – one of five Polar White examples. But in terms of rarity, this one is 250% less likely to be seen. It's one of a claimed two Imola Yellow examples sold in the US. Some people claim color doesn't matter, but let's be honest – here, it does.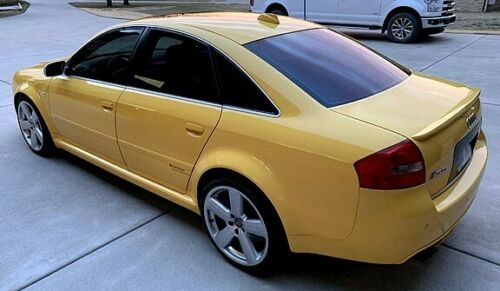 Year: 2003
Model: RS6
VIN: WUAPV54B03N904997
Engine: twin-turbocharged 4.2-Liter V8
Transmission: 5-speed automatic
Mileage: 79,400 mi
Location: Winfield, Kansas
Price: Reserve auction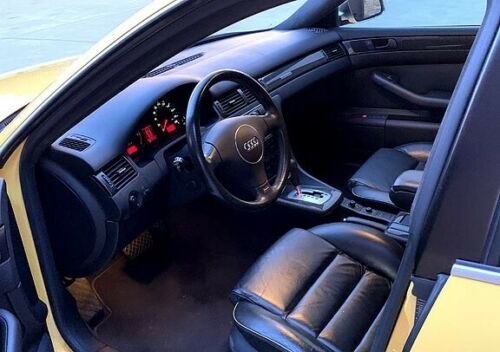 2003 Audi RS6 – 79,353 Miles

Factory Special Build in Imola Yellow (PTS, 1 of2 ever made, VERY rare color for an RS6)
Factory Carbon Fiber Interior Package Option
Factory Warm Weather Package Option
Factory Sound Enhancing Exhaust System
Rear Side Airbag Supplemental Restraints Option
Audi Navigation System Option
19"x9" J Wheels
Completely Stock with the exception of upgraded turbo hoses

Includes complete service records
Service up to date including 75,000 mile service ($7,500+ Spent)
Brand new tires just installed

Selling several cars from my collection. FYI…I take exceptional care of all my cars!
My RS6 drives and runs perfectly. Everythingworks as it should. Selling because Ijust do not drive it.
Interior is perfect including all the buttons which normally have scratches orare peeling. My car does not have theseissues. Also, all carbon fiber is perfect with no cracks or scratches. Pictures might show reflections that appearto be cracks or scratches but they are not. Front seats are in excellent condition with very little wear. Backseat are absolutely perfect and as new. Exterior is in excellent condition. Thefront does have a few small rock chips. All glass is great with no cracks. Wheels are fantastic with no road rash. Brand new tires just installed for the next new owner.
I really hate to sell but as I stated before, I am letting several carsout of my collection go that I just do not drive and would like them to go to agood home. Reserve is set low as it is timeto let someone else enjoy my RS6. (Private Sale)

If you have any question please let me know. Email at flightpacks@yahoo.com or call /text me at
620 – two, two, nine – thirty one, forty three.

Please do not bid if you do not have funds ready. If you have less than 5 for feedback, please emailme first before bidding.

Shipping charges are buyer's responsibility.
Notice to Bidders: I reserve the rightto end an auction early

Deposit: I require a non-refundable$500 deposit within 24 hours of winning the auction.
Payment Types:Cash in person, Wire Transfer, Certified Funds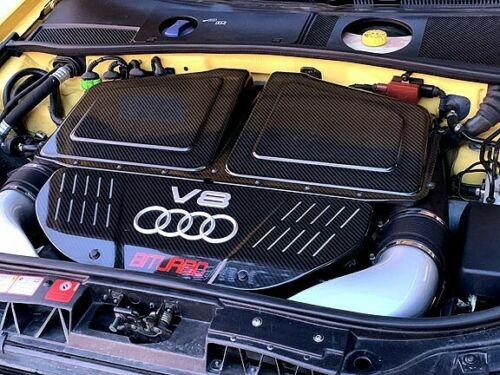 So you probably either love or hate the color. Personally, I don't think Imola Yellow works quite as well on big-body cars as it does on, say, the TT. And, in a lot of ways, the color defies the whole point of the Q-Ship nature of the RS6. But condition and rarity are king in these cars, and this one might be one of the rarest out there. Bids have been relatively subdued, with the auction ending soon and still well below $20,000. Unfortunately the pictures don't seem to do the car justice, with low-resolution images leaving an incomplete story. We're not likely to see the reserve broken on this auction, but I'm curious as to whether you think the color adds or detracts from the value here!
-Carter