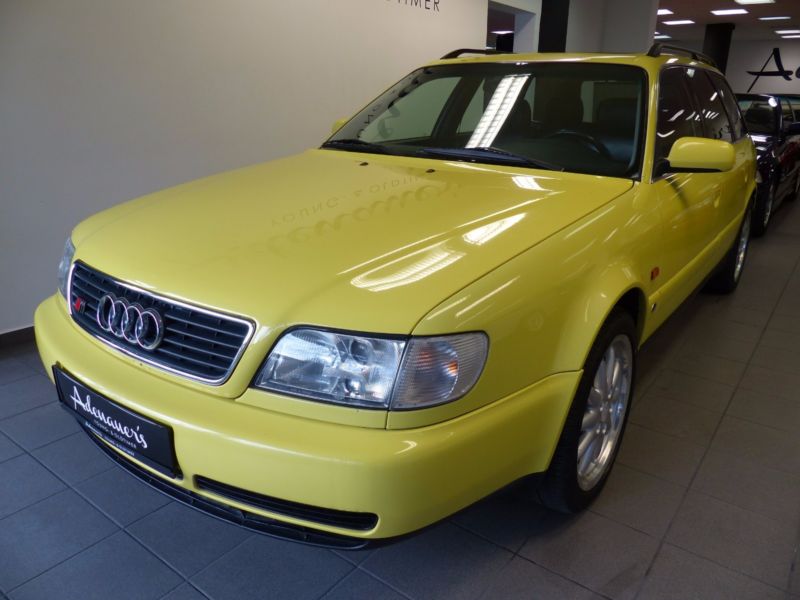 Ah, the used car market in Europe. It's the stuff of dreams for U.S. fans. First off, you get cars that were never available to our market. Often, those cars come with colors or options that weren't offered here. They are usually closer to original specification. Europeans seem to drive less and value their expensive cars more, too – so they turn up with lower than normal mileage and in better than average condition. And, as if to top it off, they're dangled in front of us at cut-rate pricing. Because of the cost of keeping these cars down stream in Europe with taxes, insurance, and – most importantly for most – the space to keep multiple cars, older cars are often offered at prices that would immediately have several fans on U.S. shores throwing money at the sellers.
Today's S6 4.2 Avant combines all of those things into one package: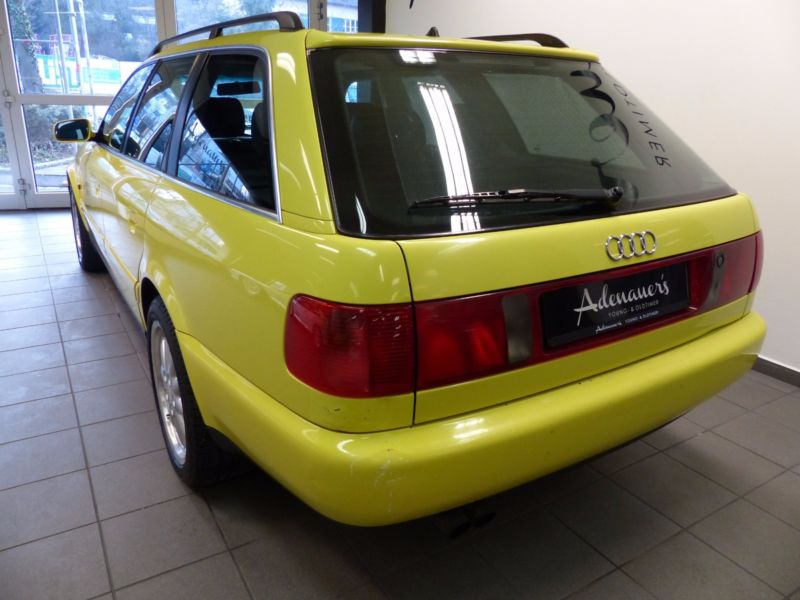 Year: 1997
Model: S6 4.2 Avant
Engine: 4.2 liter V8
Transmission: 6-speed manual
Mileage: 263,955 km (164,000 mi)
Price: E. 7,990 ($8,600)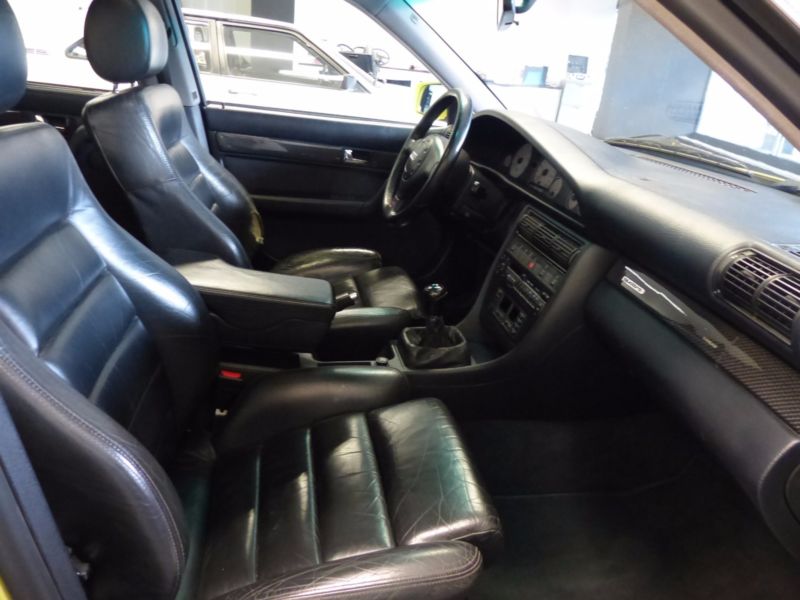 Service History:
04.11.1997 at 15700KM KD according to the manufacturer's specification
02.04.1998 at 25740KM KD with additional work at Audi
15.01.1999 at 41467KM KD with additional work at Audi
03.04.2001 at 61344KM KD according to the manufacturer 's specification
11.04.2001 at 63942KM KD according to the manufacturer's specification
04.10.2001 at 76379KM KD according to the manufacturer's specification
22.10.2002 at 91308KM KD according to the manufacturer's instructions
29.07.2003 at 108743KM according to the manufacturer's specification
30.03.2004 at 122992KM KD according to the manufacturer's specification
Toothed belt change at Audi
October 14th 2005 at 158000KM KD at Audi
07.08.2007 at 195467KM KD according to the manufacturer 's specification
03.05.2011 at 228253KM KD according to manufacturer specifications
06.12.2013 at 250700KM KD according to the manufacturer's specification + toothed belt + water pump
Trailer coupling (ball head detachable)
CD changer in the luggage compartment
Roofing
Through-loading device (rear armrest)
Cruise control (cruise control)
Interior finish Leather Silk nappa (Black)
Automatic climate control
Light alloy rims 8×17 (10-spoke)
Sunroof electr. With automatic preselection
Power steering electronically controlled
heated seats in the front
seat heating on the back
Xenon headlights
3rd brake light
Airbag driver and passenger side
SECTION
All-wheel drive permanent
Outside mirror aspherical left
Outside mirror convex right
Theft alarm system
Electronic Differential Lock (EDS)
Driver Information System (FIS) outdoor temperature display
Electric windows front and rear
Adjustable lumbar supports
Steering wheel (sports / leather 3-spoke)
Engine 4.2 Ltr – 213kW V8 32V CAT (AEC)
Fog lights integrated
Front height adjustable
Sports suspension
Sports seats
Rear stabilizer
Heat protection glazing green tinted
Immobilizer
Winter package (outside mirrors electrically adjustable and heatable, window washers can be heated, door locking cylinder can be heated)
central locking system
Additional instruments (volt, oil pressure, oil temperature)
Financing and trade-in possible
Subject to errors and prior sale
All information is non-binding and does not serve as a guarantee. The seller assumes no liability for write or data transmission errors. The listed properties must be checked separately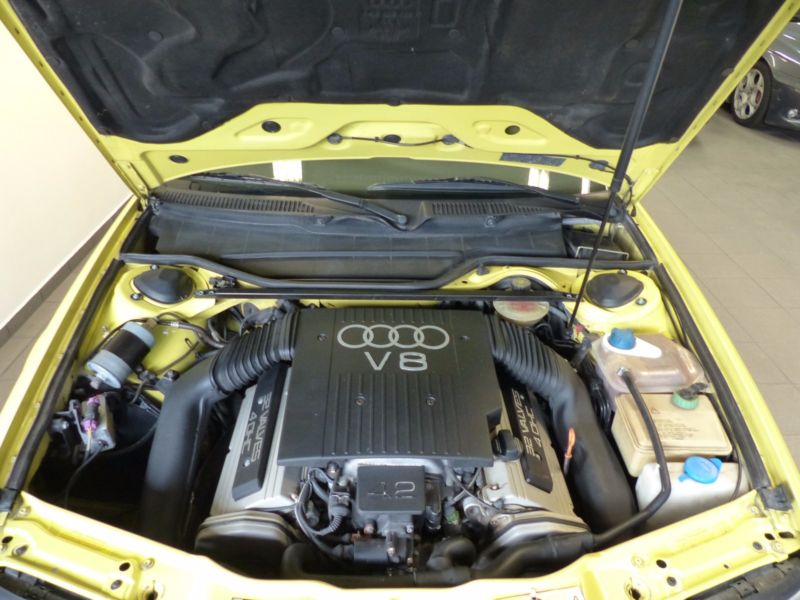 Brilliant Yellow wasn't a color offered in the C4 lineup for the U.S., but you could buy an A4 at the same time here. Indeed, Audi's more exotic hues are often seen on the S variants, just not in the U.S. market. The color is offset well by the awesome optional Votex Bolero 17″ wheels. Again, this design was optional on the A4 (in different offset) on U.S. shores, but never to C4 fans. The slimmer Euro bumpers suit the design well and the lack of badges is discrete on a car which is, well, not particularly discrete.
Under the hood lies the AEC 4.2 32 valve V8, introduced as a revision of the ABH found in the V8 4.2 quattro and European S4 4.2. It was good for 285 horsepower; 40 short of the S6 Plus , but still plenty for most. The condition of the car is excellent overall, with acceptable levels of wear on what is now a 20 year old car. The wheels could be refinished and under the hood tidied up a bit, and it would look like an example with half the mileage on the clock. Such is the beauty of the C4. But the kicker to all of this – outside of the rare color, awesome spec and great condition, is the $8,500 price tag. Granted, you're still a few years from being legally able to import this easily – but it's possible to petition for an exemption considering the similar ABH came here. It will cost more, but frankly you couldn't get a 20V version of this car here in similar condition, and this one will draw the collective breath of the older Audi fans wherever you go.
Is there a downside? Well, the same seller also has an S6 Plus Avant, and were I going through the effort of importation the Pus would be high on my hit list. But this "regular" S6 4.2 certainly checks the right boxes for me, and if you spend another $3,000 – $4,000 on importation, still strikes me as quite a reasonable deal compared to what that money buys in other cars.
Thanks to our reader John for the spot!
-Carter