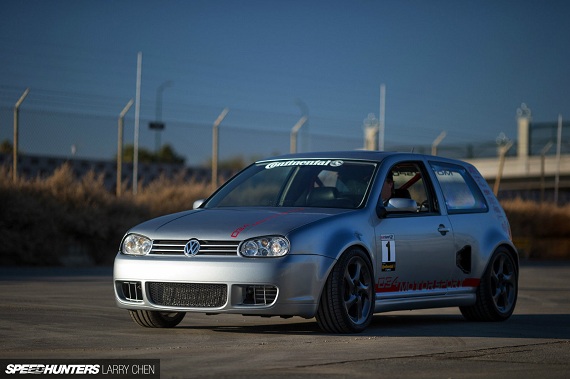 Being a fan of older Audis – and owning one – I've followed with much excitement the development of a small California-based tuning firm called 034 Motorsports. 034 – a reference to the 5-cylinder Audi motor part numbers – has taken a niche community and turned it into a flowering business. Initially starting with turbo modifications to the older 5 cylinder cars, the folks that make up the brain trust at 034 created some legendary Audis – most notable, the 1,000 horsepower turbocharged 80 quattro. But the reality is that these now 25 year old cars make up a very small percentage of the tuning market, so 034 turned to the much more popular A4 and Volkswagen GTi crowds, creating two stunning cars in the process. Less spectacular but stunningly effective was the A4 Time Attack car which went through several different engine configurations; but much more notable and impressive is what 034 attempted next; mid-mounting a V6 turbo into a 2001 GTi. The results are nothing short of stunning: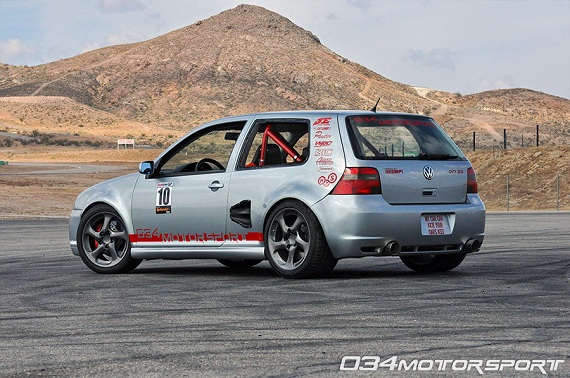 Year: 2001
Model: GTi
Engine: 3.0 liter turbocharged V6
Transmission: 6-speed manual
Mileage: Not Listed
Price: Reserve Auction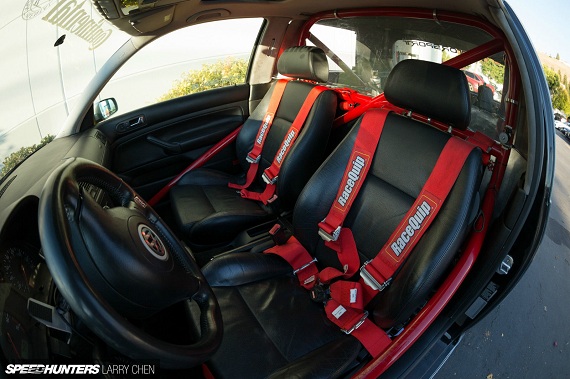 The Infamous 034Motorsport GTI-RS is For Sale!

This is the balls-out mid-engine single-turbo project car that we built for the sole purpose of competing in the Eurotuner GP. The GTI-RS has made over 1,000 crank horsepower, features a Porsche 996T rear suspension, more drivetrain and suspension development than you can shake a stick at, and a completely custom metal widebody. It was the cover car for the December 2010 issue of Eurotuner Magazine, and took home 1st Overall at the 2011 Eurotuner Grand Prix.

This is your chance to take home a truly insane, one-of-a-kind work of moving art. Did we mention it has lots of horsepowers?

Complete, Set-Up, Ready-to-Run, Includes Spare Parts

What you get with this car isn't just the parts list, but the extensive level of testing, upgrading and the knowledge that just about anything that could ever break on this car has and has been re-engineered and tested to ensure it cannot fail again. The chassis has 105,323 miles on it, and the engine has less seen less than 1,000 miles of use.

Please Note: The GTI-RS has a "Salvaged" title and is registered as "Non-Operational". It is not street-legal in California, and may not be street legal in other states.

Magazine Features:

Eurotuner Magazine – December 2010 – Cover Feature
2010 Eurotuner Magazine Grand Prix
2011 Eurotuner Magazine Grand Prix – Overall Winner
SEMA 2013 – "Best European Import" in Gran Turismo 6 Awards
March 2014 – SpeedHunters Feature

Horsepower/Torque:

Precision Turbo CEA 62mm GT35R
601.5 Wheel Horsepower
490.6 Wheel Torque
Garrett GT42RS
807.2 Wheel Horsepower (Traction/Wheelspin Limited)
596.4 Wheel Torque (Traction/Wheelspin Limited)
The vehicle can be purchased with either turbo configuration and tuned as desired.

034Motorsport GTI-RS – Technical Specifications

Vehicle:

2001 Volkswagen GTI Chassis – Mid-Engine Conversion
2001 Audi S4 2.7T APB Engine – Bored & Stroked to 3.0L
Single Turbo
Precision Turbo CEA 62mm GT35R
Garrett GT42RS

Engine Block:

B5 Audi S4 2.7T APB Block – Bored for 83mm Pistons
B6 Audi A4 3.0L Forged Crankshaft – 92.8mm Stroke
Pauter Rods with ARP 625+ Rod Bolts
Custom JE Pistons – 83mm Bore & 9.0:1 Compression
034Motorsport Coated Main Bearings
034Motorsport Coated Rod Bearings
ARP Main Studs
ARP Head Studs
Billet Main Bearing Caps
Main Bearing Girdle Kit

Cylinder Head & Valvetrain:

B5 Audi A4 2.8L Large Port Cylinder Heads – 034Motorsport Stage 3 Porting
Supertech 1mm Oversized Intake & Exhaust Valves
Supertech High Rate Valve Springs & Titanium Retainers
CAT Cams 264/250 High Performance Camshaft Set

Turbocharger, Intake, Exhaust:

Turbocharger Options
Precision Turbo CEA 62mm GT35R
Garrett GT42RS
034Motorsport Long Tube Exhaust Manifolds & Secondary Pipes
Allows for Twin-Scroll Turbine Housings
Dual Tial 38mm V-Band Wastegates
Tial Q-Vent Blow Off Valve
034Motorsport Oil & Water Line Kit
034Motorsport Custom Dual Exit Exhaust
034Motorsport Custom Air Intake
B5 Audi RS4 Intake Manifold
Custom Air to Water Intercooler with Bell Core
Large Front-Mount Heat Exchanger
5-Gallon Water Tank & High Flow Electric Water Pump

Engine Management, Electronics, Fueling, Ignition:

034EFI Stage IIc Standalone Engine Management
AIM Sports MXL Pro Dash
Fully-Functional Motronic ECU Controlling Tachometer and ABS
All Readiness Codes Set
No Check Engine Light
Limited Diagnostics and OBD-2 Functions Still Available
Push to Pass Steering Wheel Button with Tunable Boost Levels
ECU Map Switch Between Two Maps
034Motorsport Direct-Acting Boost Control Solenoid
034Motorsport 2.7T Fuel Rails
Fuel Lab Adjustable Fuel Pressure Regulator
Bosch 850cc EV14 Fuel Injectors
ATL Fuel Cell
034Motorsport Surge Tank
Dual Bosch 044 Fuel Pumps
-10AN to Dual -6AN Fuel Lines
034EFI High Output DIS Coils

Drivetrain:

6-Speed Audi 01E 2WD Transmission with Custom Gear Ratios
WPC Treated Transmission
034Motorsport/SPEC Triple Disc Carbon Clutch Kit
034Motorsport Lightweight Aluminum Flywheel
034Motorsport Custom Clutch-Type Limited Slip Differential
Porsche 911 Turbo Shifter Box & Cables
034Motorsport Billet Shift Linkage
Drive Shaft Shop High Strength Axles
034Motorsport Engine Mounts
034Motorsport Transmission Mounts

Suspension & Steering:

Front Suspension
Ohlins 3-Way Adjustable Dampers with Remote Reservoir
Custom Valving for Weight & Wheelbase of GTI
H2Sport Front Sport Spindles
H2Sport Front Spherical Control Arms
Ground Control Adjustable camber plates/strut tops
Front Strut Tie Bar
5×100 to 5×130 Wheel Adapters
Rear Suspension
Custom Tubular Rear Subframe
Provisions for Engine/Transmission Mounts
Pickup Points for Suspension Links
Complete 996 Turbo Rear Suspension
Ohlins 3-Way Adjustable Dampers with Remote Reservoir
Custom Valving for Weight & Wheelbase of GTI
Stock 996 Turbo Rear Sway Bar
Optimized Bump Steer Adjustable Toe Links

Brakes:

Porsche 993 Turbo Front Brake Calipers
Custom 034Motorsport Front Brake Rotors
Porsche 996 Turbo Rear Brake Calipers & OEM Rear Rotors
Cobalt Friction Brake Pads
Stainless Steel Brake Lines
Front/Rear Brake Bias Adjustments
Optimized for Mid-Engine Chassis Dynamics
Factory ABS Fully Functional

Wheels & Tires:

Porsche 996 Turbo Twist "Hollow Spoke" Wheels
18×8 Front
18×11 Rear
Continental ExtremeContact DW Tires

Chassis, Safety, Aerodynamics:

034Motorsport Aluminum Front Subframe Mounts
Custom Metal Widebody
NHRA Legal Main Roll Hoop & Rear Chassis Reinforcement
MkIV Volkswagen R32 Steering Wheel
MkIV Volkswagen GTI Seats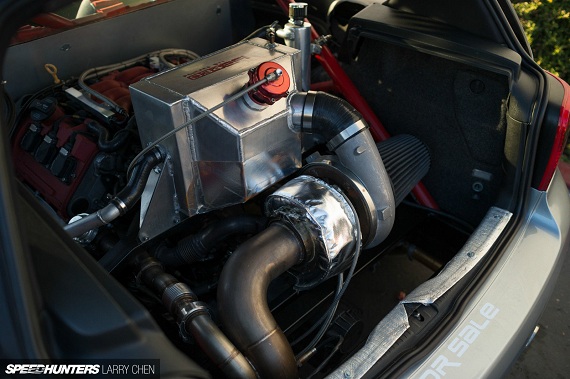 The build sheet on this car is unbelievably impressive, and it should be as it's pumped out 1,000 horsepower through the 911 Turbo spec rear end. You've probably seen videos of Clarkson driving the GTi 650 – or at least attempting to drive it, so you can probably appreciate this is a tough project to just jump in to. Making a front drive economy car into a rear drive, mid engine supercar has been attempted several times, and the cars both inspire dreams in enthusiasts and fear in drivers. But 034 managed to sort their car well enough to win overall the 2011 Eurotuner Grand Prix – an impressive achievement for an equally impressive project. It's not for everyone and it won't come cheap; reading the build sheet alone will quickly have you realize if you were to pay someone to do this you'd be looking at a 6-figure bill without difficulty, and for that you get a questionably road-legal car that's probably not much fun to drive on most roads. But take it to the track, and you'll have a much different experience – one that will likely leave Porsche, Ferrari and other exotic car owners scratching their heads.
-Carter