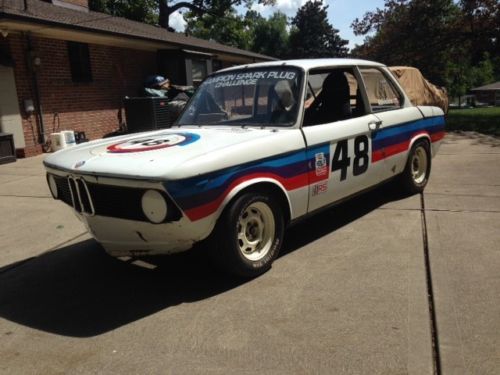 The end of Summer has many traditions; the days wane as children head back to school. Temperatures fall as families head towards apple orchards and plan for haunted hay rides. Pumpkin spice is everywhere. But there's one tradition I've particularly enjoyed for the last few years; the live stream from West Sussex, England of the Goodwood Revival.
For me, a lover of vintage cars and especially vintage race cars, it's a special treat. Both of the events put on by Lord March are impressive in their own right, and if you want to see a little bit of everything the season opener Festival of Speed is probably the venue you should consider. But if you want to see cars and motorcycles from periods you weren't even alive for race flat-out, the Revival is the one to tune in to. Heavily modified Jaguars, Ferraris, Aston-Martins, and just about everything in between head to the track as combinations of professional and amateur drivers (at least, those with quite deep pockets) take their prized possessions to the limit and sometimes beyond. You might be lucky enough once in your life to witness an original GT40 in person; head to the Revival, and you'll run across a dozen or so of the model, many of which are driven nearly as quickly as they were originally. This is coupled with period livery and dress on one of the fastest circuits in England, filmed with some of the best cameras out there. The result, as a car lover, is one of the most evocative spectacles conceivable.
Each time I witness a Goodwood event, my love of these race-prepared vintage cars is re-inspired. And though this particular BMW 2002 is just a few years too new to be eligible for competition at the Goodwood circuit, it caught my attention because of the claimed IMSA link. This chassis, while not an original BMW factory racer, was originally constructed and raced in the IMSA RS series in the early 1970s, making it the perfect candidate for vintage racing today: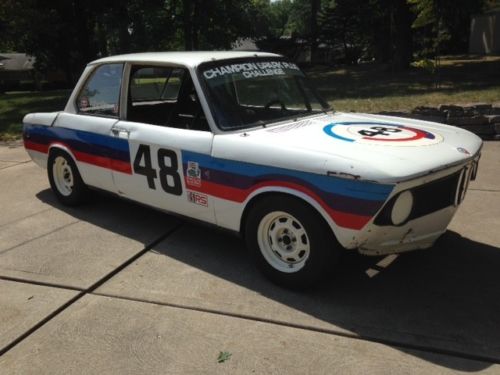 Year: 1968
Model: 2002
Engine: 2.0 liter inline-4
Transmission: 4-speed manual
Mileage: Not Listed
Price: Reserve Auction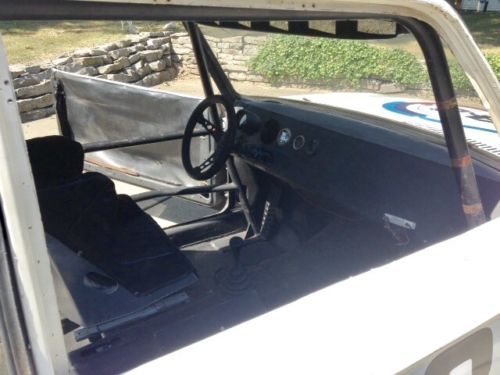 1968 BMW 2002 IMSA RS race car
IMSA and B/S race history
Period correct, vintage racing eligible
One of the last original IMSA RS/BS 2002 race cars remaining
2.0 liter M10 inline four cylinder engine
4 speed transmission
adjustable suspension
100% locked differential

The car is currently the 1982 Livery (and condition) and has not been worked on since the engine blew up at Road Atlanta in '82. The main attraction of this particular e10 racer is it's long well documented race history under IMSA RS and SCCA B Sedan (B/S) specifications. With only a few outings in SCCA B sedan, (SCCA number 8074 is stamped on the roll cage) the car was almost exclusively campaigned professionally in IMSA RS series. It's 99% complete and ready for total restoration.

The race chassis was professionally built in 1973 by Quality Car Service of Rockford MD, and racer Jerry Cohen over saw the construction. It was raced a few times in 1974 by Gerry Thanner as the number #15 at Road Atlanta, Mid Ohio, Lime Rock and Daytona. Cliff Rickmers bought the chassis in 1975. The number was changed to #14 (because of Al Holbert and AJ Foyt's success with the number) and painted orange with yellow and blue stripes. He ran several SCCA Regionals at Nelson Ledges in B Sedan with BFG Street tires and usually won. Cliff also ran the car in IMSA as a 1600 at Road Atlanta, Mid Ohio, Mid America Raceway, Daytona In 1976, the car was sponsored by Chemflex Corp. the distributor of Flex Oil as #14. The color was changed to white and black with oranges/yellow highlights and raced at Road Atlanta, Mid Ohio, Lime Rock, and two races at Mid Ohio. In 1977 Rickmers raced the #14 at Road Atlanta, Talladega, and Hallett . In 1978 through 1980, the car was competing in its current livery, Imron white with traditional BMW motorsport colored stripes. Cliff with Donnie Crider campaigned the #14 at Hallett, and Road Atlanta. In 1981 the car ran at Atlanta with the car number of 19, then at Mid Ohio (Donnie qualifying second) with the car number of 4, and in the fall at Road Atlanta with the car number of 44. In 1982 the car only raced at Road Atlanta when it blew the engine about the half way point in the 3hr race while running second. Donnie and Cliff were co-driving. That bottom half of the engine remains with the car.

Other than the white imron paint with the traditional BMW motorsport stripes, the car looks largely stock on the outside, masking what lays beneath. It comes equipped with period correct, 2.0L SOHC m10 inline 4 cylinder engine, Holley 500 CFM with "Turbo" intake manifold, Getrag 4-speed manual transmission, semi-tubed chassis, adjustable front and rear suspension, large diameter race header & exhaust, 100% locked rear differential, full specification roll cage, Richardson racing seat. Included with the sale is a 1972 tii (minus the injection) engine, three cylinder heads and some miscellaneous race spares. Sold in "As is" condition with no title.

*The IMSA RS Series (abbreviation for Radial Sedan) began as the Baby Grand Series in 1971. Originally sponsored by B.F. Goodrich (therefore known as Goodrich Radial Challenge) until they dropped sponsorship midway through 1975 or 1976 then Goodyear (becoming the Goodyear Radial Challenge), and later as Champion Spark Plug Challenge.

On Sep-17-17 at 12:39:13 PDT, seller added the following information:

There is no log book for car. It does have two original IMSA tech stickers on the roll cage, as well as the SCCA number.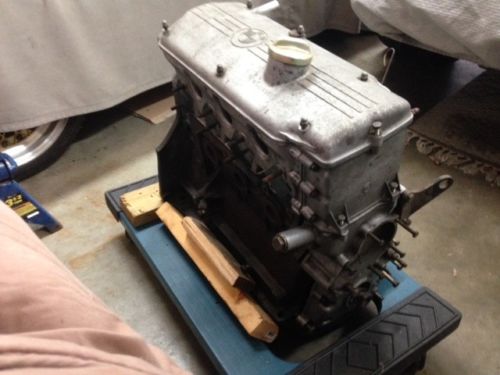 The seller has some great history and information regarding the car, which is often lost along the way – like, unfortunately, the log book has been. But the story seems to check out; presuming this is the same car, Racing Sports Cars has a listing for Cliff Rickmers which includes 1978-1979 running of a 2002 at races such as the 6 Hours of Daytona. Of note, and lacking from the seller's listing, is that one of the fastest females in the 1980s; Indycar, Trans-Am and IMSA Group C racer Lyn St. James partnered with Rickmers in the '68 Daytona race.
Unfortunately, the car doesn't appear to be particularly fresh and is obviously in need of a thorough restoration in order to return it to its former glory. The seller seems to have most of the parts included to get it running but this is would be a labor of love for a relatively obscure and not particularly successful chassis. But that should ultimately help to keep the price quite reasonable – at least, in theory. With a week to go bidding is in the mid-$5,000 range with the reserve still on. Typically running track-prepared 2002s sticker between $15,000 and $25,000 depending on level of preparation, and figuring this one needs a lot of love, you're not currently likely to come ahead in that equation. But as vintage racers go, that's still quite cheap, and maybe the allure of a period racer – even if it's in a state of disrepair – is enough to motivate some buyers looking for a classic value.
-Carter