I don't really feature a lot of Mercedes-Benz race cars not because I don't like them, but rather there just aren't a whole lot of them out there. Very rarely do I see these kind of cars come up for sale as opposed to say a BMW E36. There really isn't a "go-to" Mercedes chassis for building a race car like the E36 and even cars that do tend to respond well to being stripped out, the aftermarket support is either lacking or very expensive. Although one Mercedes from the past 25 years does seem to be the favorite of the track rats alike, the W201.
This 1986 190E up for bid in Florida doesn't have much left of its original engine and interior left of it, if any. The car has been totally stripped of basically everything including the original M103 inline-6 engine that was replaced with the next generation M104 3.2 inline-6. A 5-speed gearbox was bolted up to this car and nearly every single piece of the interior was removed to be replaced by the bare essentials.  A single seat, a tachometer and some switches are all that remain inside this W201 that cut the weight to around 2,000 pounds. This doesn't sound like a half bad combination now.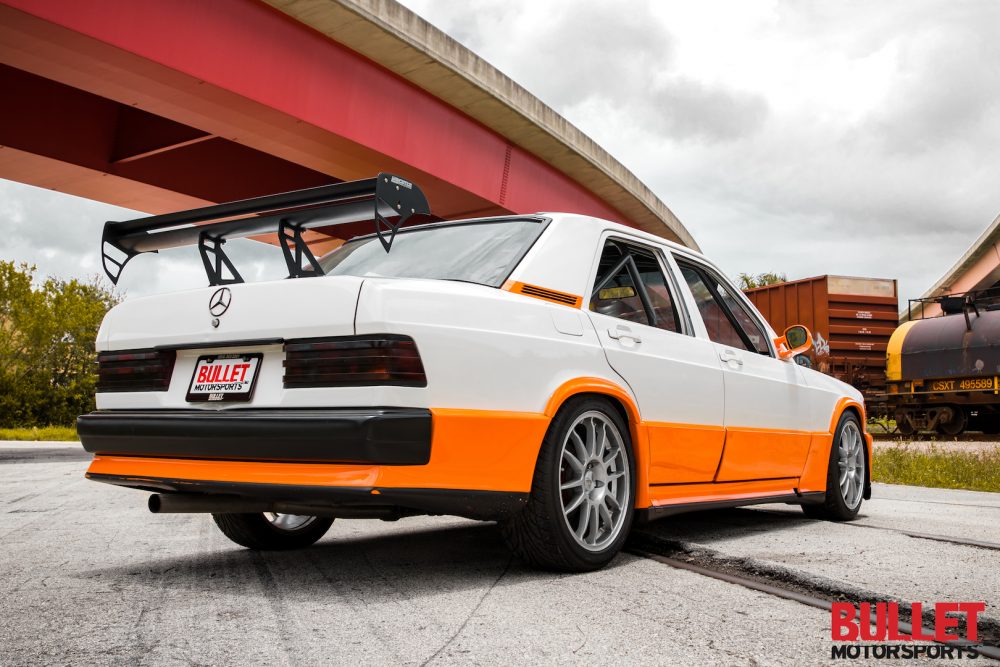 Year: 1987
Model: 190E
Engine: 3.2 liter inline-6
Transmission: 5-speed manual
Mileage: Unknown
Price: No Reserve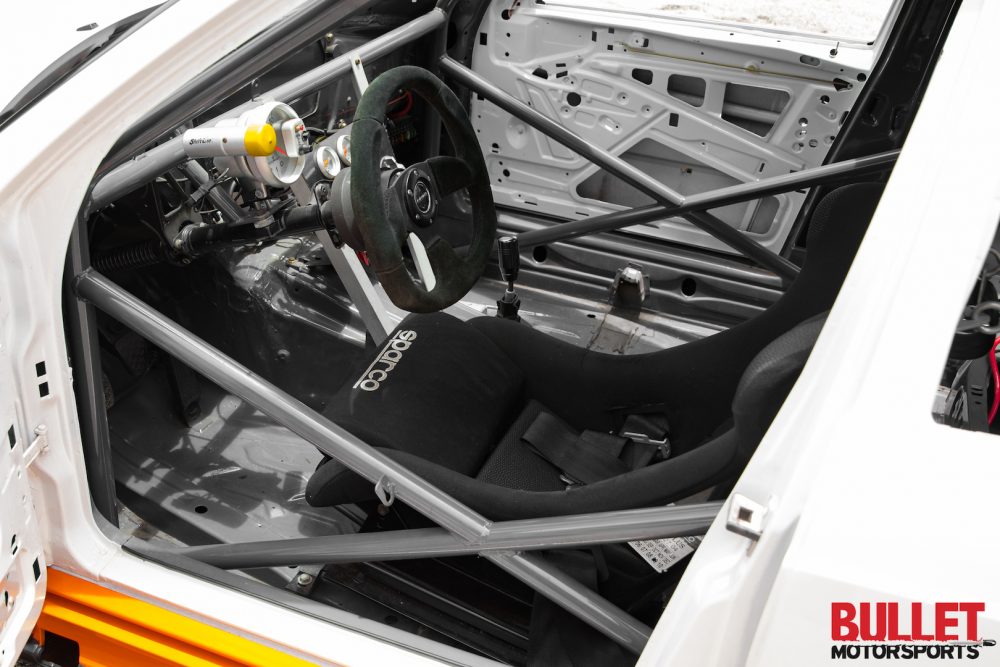 NO RESERVE HIGHEST BIDDER WINS THIS BEAST!

Description:

Ready to Race! This is a classic 87 190 with a 97 Euro Spec E320 Motor Mated to a 5-speed transmission, it runs excellent once warmed up. 2K pounds with 231hp is really fun! Watch the video, it will not get traction until the top of second gear! There is well over 25K into this Machine we call her "TROPICANA" This Racecar comes with a clear Florida title, it is ready for stickers/decals for marketing. She is just a shakedown away from winning your local autocross and or track day.

Interior:

It is a fully gutted Racecar with no side glass. It has a single Sparco Racing seat, a fire suppression bottle, a custom Carbon center dash with gauges. The steering wheel is a quick disconnect. Several of the interior gauges are not operating (fuel/tach)

Exterior:

The exterior paint presents itself very well. The orange and white theme works perfect, we call her "TROPICANA" The OZ racing wheels are in excellent condition and have no rash, the tires are street tires with 75% tread.

Drivetrain:

Motor comes from a Euro-spec 97 E320 it is mated to a borg warner 5-speed transmission; the drivetrain is solid! It has to be at operating temperature for optimal performance. It was dyno-ed at 231hp and 211tq, she is really fun to drive. Brakes are firm and stop "TROPICANA" easily, the Hawk pads really grab once warm. Suspension consists of Koni Struts up front, Bilstein shocks in the rear along with H and R lowering springs and upgraded sway bars. ECU is a DTA Pro series. The Leistritz exhaust and custom piping are very aggressive. It has an Aeromotive Fuel System with a 20-gallon fuel cell with baffles.

Key Facts:

Racecar with street legal Florida title
DTA pro series ECU
231hp and 211tq
Leistritz Exhaust
Full suspension
6pt roll cage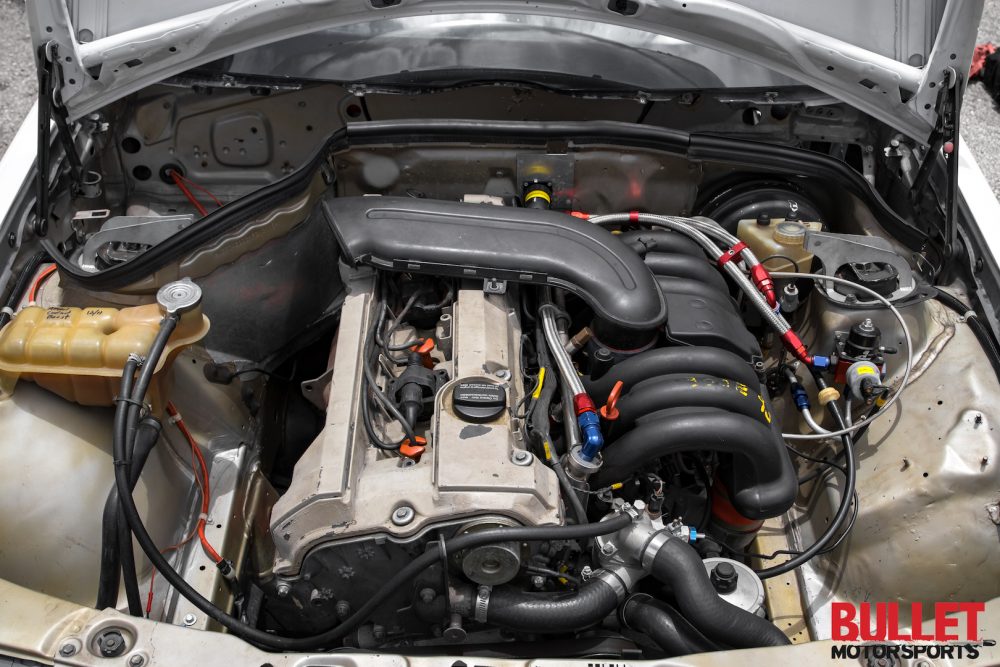 I'm not going to lie, this combination was really odd to me at first. The M104 is far from a peppy, free-revving engine that enjoys being ripped around a racetrack. I'm surprised that out of all the engines available from Mercedes and other brands, this was the one the builders of the car picked. This car has a custom ECU setup so it wasn't like they had to stay in the Mercedes family to make sure all the electronics got along, but now that it's built I can't really see anything wrong with it. The interior setup is super focused on saving weight and whoever did this build really went all out. Everything looks professional as can be down to the fuel cell in the trunk. I'm really shocked that this car still has a title for street use but then again, this is Florida we are talking about. You could stick wheels on an alligator and they'd give you a title for it.
This shop is selling this car as a true no reserve auction, so whoever wins this car is taking it home no matter what. It's extremely hard to put values on race cars outside of simply tallying up all the parts and labor and trying to make a judgement that way. If you wanted a turn-key car that could run on the track in what type of events you want, it's hard to overlook this car. It's simple to be use and repair if anything goes wrong including body panes. I'm predicting this one will pass $10,000 by the time we are all said and done, but from where it goes from there is anyone's guess.
– Andrew