Warning!
This post is in our archives. Links in this post may have been updated to point to similar cars available to bid on eBay.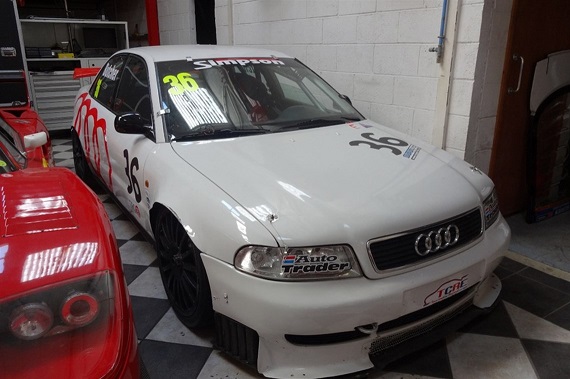 While Touring Car fans are widespread (after all, we can interpret NASCAR as a form of Touring Cars, right? crickets chirp in the distance), it seems that every fan has their favorite era. For some, it's the wild wings and gold BBS wheels from the 1970s that defined production-based racers. For others, the winged warriors from the 1980s and early 1990s are the best era; after all, we get the M3 and 190E 2.5-16 Evolution from those generations. I have to admit that my personal favorite touring car has to be the V8 quattro that was won the Deutsche Tourenwagen Meisterschaft in 1990 and 1991 is my favorite because Audi just did things differently. They took their largest car, kept some luxury details like the wood trim, and stomped on both BMW and Mercedes-Benz with their lightened luxury liner. But although there was some stellar racing from some superstars of the 1980s in the DTM around then, it's not personally my favorite period. For that, I'd have to move up towards the mid-1990s, when even more companies like Nissan, Opel and Renault joined Audi and BMW at the front of race series like the British Touring Car Championship. I watched in awe as pilots like championship-winning Frank Biela rubbed doorhandles with the Alain Menu, Matt Neil and John Cleland. And who could forget Rickard Rydell, the Super Swede piloting the 850 wagon replete with inflatable dog in the back? It gave the series more character; you genuinely weren't sure who would win any day the flag fell, and that made for some great watching. Today, two stars from that period are for sale and allow us the rare opportunity to get into a touring car – if you have the means: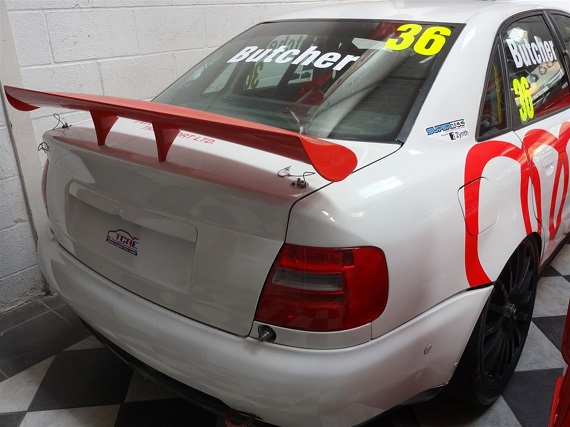 Year: 1995
Model: A4 quattro STW
Engine: 2.0 liter inline-4
Transmission: 6-speed sequential
Mileage: Not Listed
Price: Auction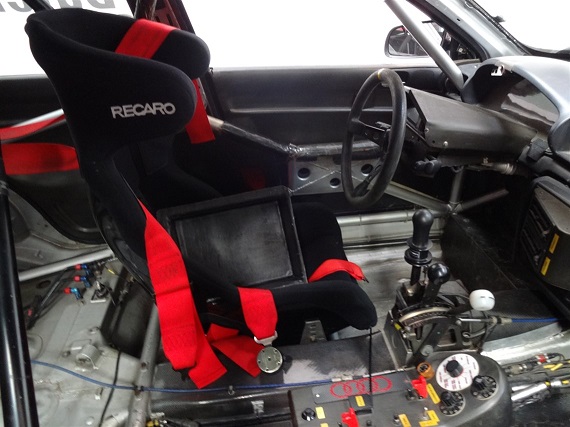 Registration: n/a

Chassis Number: ST05

Engine Number: Not Specified

Number of cylinders: 4

CC: 2000

Year of Manufacture: 1995

Estimate (£): 65,000 – 70,000

Offered here is an Audi A4 Super Touring car built in 1995, although not raced until the following year, when it was campaigned in the '96 ADAC Super Touren Wagen Cup by respected German team ABT Sportsline, and piloted by Danish racer Kris Nissen. Chassis number ST05 was then raced in the 1997 FIA Cental European Zone Super Touring Championship in the hands of Josef Venc with some success.

For a brief period between 1998 -1999 the car is believed to have been used in Sweden, before being picked up in 2002 by Tyssline Racing to run in the Swedish SLC Championship. 2003/4 saw a change of ownership when chassis #ST05 was purchased by the Spanish racing team, B9 Racing to prepare and race in the Spanish Hillclimb Championship for a number of seasons.

Purchased in early 2015 by our vendor and raced at Castle Combe in April of this year and Donington Park in May, the car is now being repainted and liveried to emulate the famous works BTCC car driven by Frank Biela to championship victory in 1996. ST05 is suitable for entry into the HSCC Super Touring Car Challenge in the ST2 – class. Included with the sale is a spares package comprising; gear ratios 25+, 8 wheels, 4 shock absorbers, 2 sets of disc brakes & bells, and a box of used small parts.

*Available to the purchaser by way of separate negotiation and at a cost of £12,000 is a rebuilt ST1-class spare engine with sub-frame.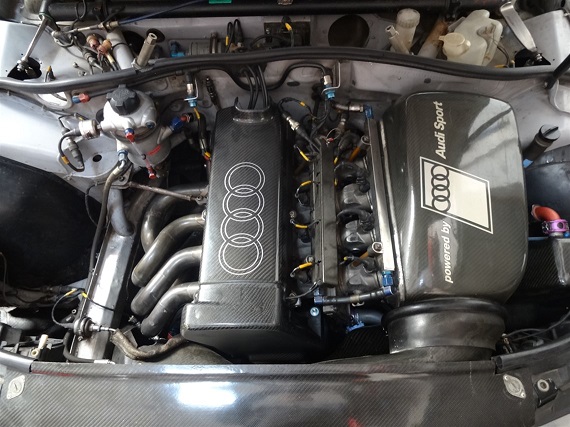 It's not unusual for these ex-racers to pass through many hands and have storied pasts, but this one is linked to noted Audi specialists Abt and is currently being liveried in the Audi Sport silver/red colors from the BTCC. That's a bit of a shame, because the distinctive yellow Abt livery is pretty cool, too – though not as remembered. While those not in the know will be disappointed to hear it's not a S4, those who do know recognize that Audi Sport managed to squeeze a reported 305 horsepower out of the 2.0 liter 16V inline 4 – impressive stats. Coupled with a sub 2,500lb. curb weight, bespoke Audi Sport suspension and stiffening and 19″ OZ magnesium wheels, these are serious competition machines capable of hanging with much "faster" cars around a track. So successful were these A4 quattro touring cars that eventually they were completely banned in the following years, making owners turn towards alternate race series or hillclimb championships. They're also eligible in multiple historic race series now that they're 20 years on, including – if you're lucky enough – an invitation to Goodwood Festival of Speed. The auction is expected to bring in excess of $100,000; pricey no doubt, but cheap compared to building your own, obviously. As a historic racer with some interesting history and lots of potential, it's a neat bit of kit.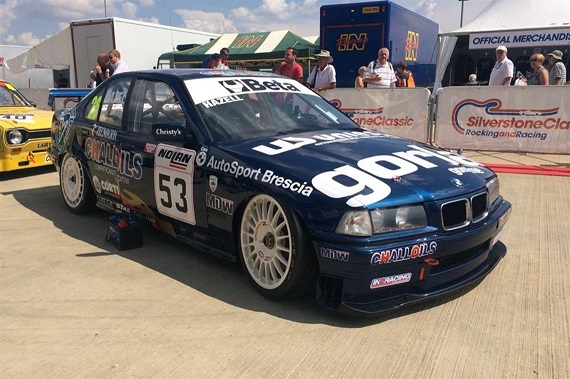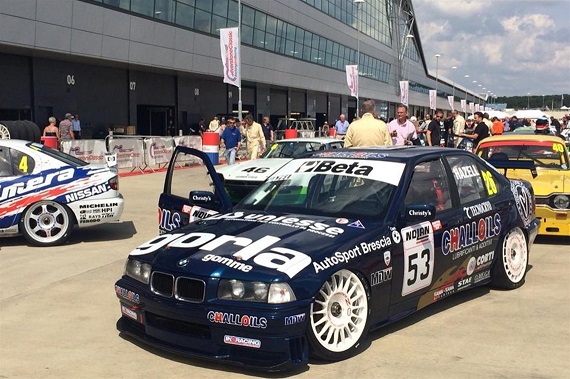 Year: 1997
Model: 320i Super Touring
Engine: 2.0 liter inline-4
Transmission: 6-speed sequential
Mileage: Not Listed
Price: GBP. 138,000 ($215,493 today)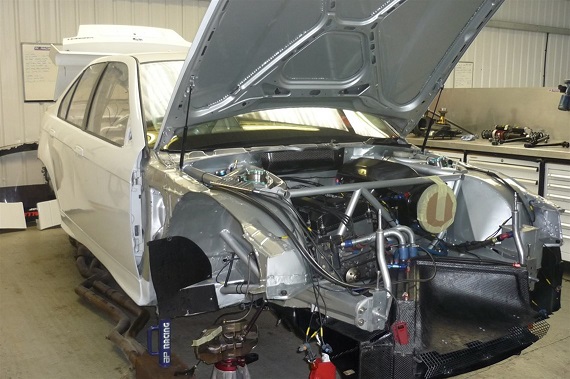 Description:

BMW E36 STC 320 I

Chassis NO 05/97

Fiche ST008

Fully rebuilt in 2014 and only one race since at the Silvesrtone Classic 2014.

Full History Run by BMW Italia and CIBIEMME

Driven by : De Simone / Sardelli

BMW STW Spares to Include:

BMW Manuals

Schniztter Set Up Sheets

Pi Manuals and Leads

BMW Engine Management System and Download Leads

Wheel Sockets

Pre Heat System

Coolant Psi System

Parts to Include

Rear Uprights

Front Uprights

Track Arms

Front and Rear Clevis

Rear Rocker Arms

Roll Bar Blades

Needle Roller Bearings

Rose Joints

Springs

Top Mounts

Starter Motor

Alternator

Throttle Bodies

Coil Pack and Spark Plugs

Engine Belts

Car Doors

Screens Lexon and Glass

Rear Wing

Carbon Undertray

Carbon air Intakes

Pagid Pads – Assorted New Sets 15 Sets +

Front Crash Structure x 2

Dunlop Tyres x 5 Sets

Exhausts and Tailpipes

Fuel Drain Hose

Hollinger Gearbox Complete built for Brands Indy 2015

Gear Ratio's assorted 20 + Sets

Full Gearbox Internals / Shafts

Carbon Prop Shaft

Drive Shafts

Fuel Cell New One in Car for 2014

Coolers

Dampers Spare Set

Car Lights

Fuel and Oil Filters

Brake Discs x Assorted New Disc Sets

Wiring Harness

Electrical Assorted Parts

Wheels around 5 Sets Inc.

OZ Wheels

BBS Open and Closed

Spares Package Lots More to List – Inspection advised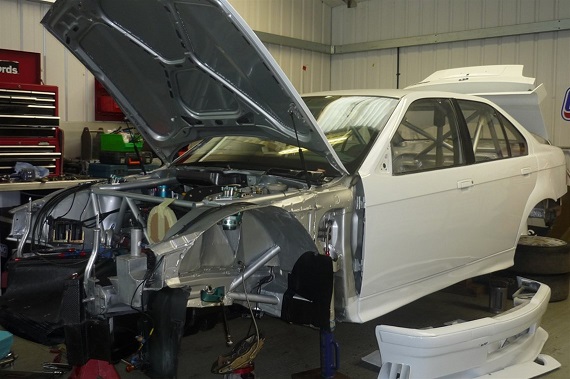 Similar to Audi, BMW didn't utilize it's M3 for the race series, but instead ran the rear-drive 320i. Most of the competition was either front or all-wheel drive, giving the BMW a supposed advantage; though those that remember the race series, the BMWs seldom walked away with it. This example was reportedly run in the Italian Superturismo Championship and has a healthy list of spares, and it's notable that a similar 320i won the ISC in 1997. Fully refreshed and reportedly good for similar numbers to the Audi, this is also a rare opportunity to get into a BMW touring car. The price is pretty staggering, though – over double what the Audi is priced at despite no better history. I think it's pretty overpriced even considering the recent work; perhaps if it were the championship winning car or a more recognizable example (Winklehock's FINA liveried 320i, for example) they might pull those numbers. Both, though, are a great reminder of an even great time of racing and one that I miss with the current silhouette formula in the DTM.
-Carter